Monday was the fiftieth anniversary of Loving v. Virginia, the landmark Supreme Court case that struck down laws prohibiting interracial marriage. Almost fifty years later, in 2015, the Supreme Court cited this case, among others, in its Obergefell v. Hodges decision, which struck down laws prohibiting same sex marriage. The Lovings' story continues to reverberate.
Kelly and I have given to the American Civil Liberties Union (ACLU) jointly before, but I've never given to them as part of my Monthly Giving campaign here at Stacked. They represented the Lovings in their case before the Supreme Court, and they continue to fight for our civil rights today. In the wake of the November 2016 presidential election, membership in the ACLU spiked dramatically, and donations continue to pour in. There are many worthy organizations out there, but few are so broad in scope and so effective in results as the ACLU.
The book list below is a combination of titles about Loving v. Virginia and titles about kids and teens fighting censorship and for their right to free speech – the initial reason the ACLU was founded in 1920. Descriptions are from Goodreads.

The Case for Loving: The Fight for Interracial Marriage by Selina Alko
This is the story of one brave family: Mildred Loving, Richard Perry Loving, and their three children. It is the story of how Mildred and Richard fell in love and got married in Washington, D.C. But when they moved back to their hometown in Virginia, they were arrested (in dramatic fashion) for violating that state's laws against interracial marriage. The Lovings refused to allow their children to get the message that their parents' love was wrong and so they fought the unfair law, taking their case all the way to the Supreme Court – and won!
Loving vs. Virginia: A Documentary Novel of the Landmark Civil Rights Case by Patricia Hruby Powell
From acclaimed author Patricia Hruby Powell comes the story of a landmark civil rights case, told in spare and gorgeous verse. In 1955, in Caroline County, Virginia, amidst segregation and prejudice, injustice and cruelty, two teenagers fell in love. Their life together broke the law, but their determination would change it. Richard and Mildred Loving were at the heart of a Supreme Court case that legalized marriage between races, and a story of the devoted couple who faced discrimination, fought it, and won.
The Lovings: An Intimate Portrait by Grey Villet and Barbara Villet
Mildred, a woman of African American and Native American descent and Richard, a white man, were arrested in July 1958 for the crime of interracial marriage, prohibited under Virginia state law. Exiled to Washington, DC, they fought to bring their case to the US Supreme Court. Knowledge of their struggle spread across the nation, and in the spring of 1965, the Life magazine photojournalist Villet spent a few weeks documenting the Lovings and their family and friends as they went about their lives in the midst of their trial.
The Lovings presents Grey Villet's stunning photo-essay in its entirety for the first time and reveals with striking intensity and clarity the powerful bond of a couple that helped change history.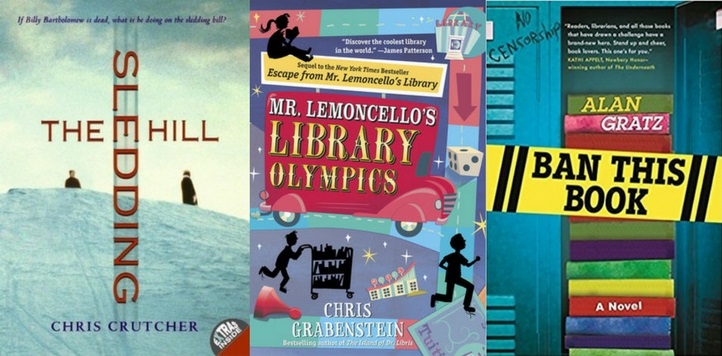 The Sledding Hill by Chris Crutcher
Billy, recently deceased, keeps an eye on his best friend, fourteen-year-old Eddie, who has added to his home and school problems by becoming mute, and helps him stand up to a conservative minister and English teacher who is orchestrating a censorship challenge.
Mr. Lemoncello's Library Olympics by Chris Grabenstein
Welcome, boys and girls, readers of all ages, to the first-ever Library Olympiad! Kyle and his teammates are back, and the world-famous game maker, Luigi Lemoncello, is at it again!
This time Mr. Lemoncello has invited teams from all across America to compete in the first ever LIBRARY OLYMPICS. Will it be fun? Like the commercials say. . . HELLO? It's a Lemoncello! But something suspicious is going on . . . books are missing from Mr. Lemoncello's library. Is someone trying to CENSOR what the kids are reading?! In between figuring out mind-boggling challenges, the kids will have to band together to get to the bottom of this mystery.
Now it's not just a game—can Mr. Lemoncello find the real defenders of books and champions of libraries?
Ban This Book by Alan Gratz
It all started the day Amy Anne Ollinger tried to check out her favorite book in the whole world, From the Mixed-Up Files of Mrs. Basil E. Frankweiler, from the school library. That's when Mrs. Jones, the librarian, told her the bad news: her favorite book was banned! All because a classmate's mom thought the book wasn't appropriate for kids to read.
Amy Anne decides to fight back by starting a secret banned books library out of her locker. Soon, she finds herself on the front line of an unexpected battle over book banning, censorship, and who has the right to decide what she and her fellow students can read.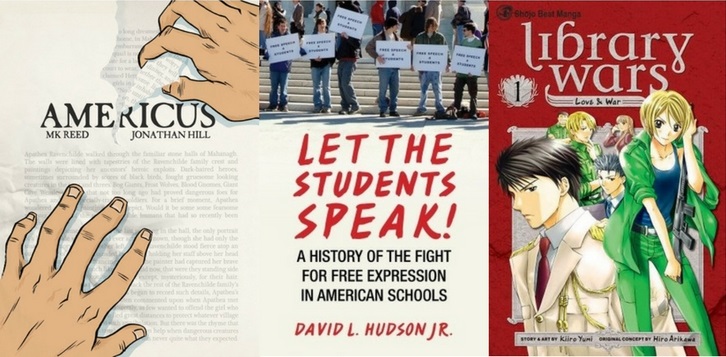 Americus by MK Reed and Jonathan Hill
Neal Barton just wants to read in peace. Unluckily for him, some local Christian activists are trying to get his favorite fantasy series banned from the Americus public library on grounds of immoral content and heresy. Something has to be done, and it looks like quiet, shy Neal is going to have to do it. With youth services librarian Charlotte Murphy at his back, Neal finds himself leading the charge to defend the mega-bestselling fantasy series that makes his life worth living.
Let the Students Speak!: A History of the Fight for Free Expression in American Schools by David L. Hudson Jr.
Let the Students Speak! details the rich history and growth of the First Amendment in public schools, from the early nineteenth-century's failed student free-expression claims to the development of protection for students by the U.S. Supreme Court. David Hudson brings this history vividly alive by drawing from interviews with key student litigants in famous cases, including John Tinker of Tinker v. Des Moines Independent School District and Joe Frederick of the "Bong Hits 4 Jesus" case, Morse v. Frederick.
He goes on to discuss the raging free-speech controversies in public schools today, including dress codes and uniforms, cyberbullying, and the regulation of any violent-themed expression in a post-Columbine and Virginia Tech environment.
Library Wars: Love & War by Kiiro Yumi
In the near future, the federal government creates a committee to rid society of books it deems unsuitable. The libraries vow to protect their collections, and with the help of local governments, form a military group to defend themselves–the Library Forces!
Iku Kasahara has dreamed of joining the Library Defense Force ever since one of its soldiers stepped in to protect her favorite book from being confiscated in a bookstore when she was younger. But now that she's finally a recruit, she's finding her dream job to be a bit of a nightmare. Especially since her hard-hearted drill instructor seems to have it in for her!