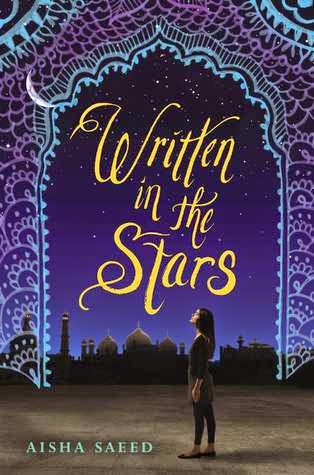 Naila is a first-generation American, the daughter of conservative Pakistani immigrants. Her parents allow her a fair amount of freedom, they think: she can choose her friends and what she studies in college and what her career will be, but boys are off-limits. They will choose her husband.
But Naila has fallen in love with a classmate, Saif, a boy of whom she knows her parents will disapprove. When they find out, they are disappointed, angry, outraged. They decide to visit Pakistan over the summer, ostensibly to help Naila learn about her culture and her heritage. Naila actually enjoys her time there, getting to know family she has never met and a place she's never been. But her parents keep delaying their return to the United States, and Naila eventually learns the reason for the frequent visits from families with young sons: her parents intend to marry her off, and Naila will not have a choice in the matter.
This is a nail-biter of a book. It's under 300 pages with relatively large text and short chapters. Naila's knowledge of her impending forced marriage comes rather late in the book, but it's something the reader has known all along (provided they read the jacket flap). I think this actually heightens the tension, allowing us to keep our eyes peeled for clues and hoping against hope that Naila will figure it out soon enough. She doesn't. Her escape attempts are harrowing. Saeed is very good at getting us inside Naila's head, letting us see just how terrifying it is to be alone, in a country you know very little about, where no one seems to wish you well. Where your own family treats you as less than a person.
The following paragraph is somewhat of a spoiler, but I think it's important to discuss in my review, so you can feel free to skip to the next paragraph if you want to go in relatively blind. Once Naila's marriage actually happens, the book takes a turn into some very dark territory. She's deposited on her new family's doorstep, and now lives with him and her mother-in-law plus two sisters-in-law. None of them are sympathetic to her. None of them care that she didn't want this marriage. None of them even think to ask. ("Life is full of sadness. It's part of being a woman. Our lives are lived for the sake of others. Our happiness is never factored in," one of her new sisters-in-law tells her.) Her mother-in-law has no patience with Naila's sadness and treats her cruelly. Her husband rapes her. She becomes pregnant. She has no passport and no visa and no method of transportation. Her immediate family has returned to America. She becomes resigned to her new life. It's hard to read about, but it's honest and wouldn't have been a believable part of the story otherwise.
Despite the book's brevity, Saeed packs a lot into it. Her writing style is simple, but it works for Naila's story and the voice is authentic. Her descriptions of Pakistan, of the markets and the food and the buses and the packed house with visiting aunts and cousins, sprinkled with Urdu words, paint a vivid picture. It's not difficult to see why Naila falls in love with the place and with her extended family.
Saeed's own experience with a happy, arranged marriage (not a forced marriage, as Naila's is) adds interest to the novel. Along with Saeed's deft descriptions of Pakistan and the people not directly involved in Naila's marriage, it helps prevent the book from being an indictment of Pakistani culture for non-Pakistani readers (not necessarily the most vital thing, but important when providing windows to young readers). It's also important to note that arranged marriages (by choice or forced) happen in many cultures, including Western ones, which is something Saeed addresses in her author's note.
Written in the Stars is a debut novel and it's not perfectly polished. Some transitions happen too quickly or seem awkward, and the ending is rushed. Despite the imperfections, this is a heck of a book, one that I read in a single sitting and that should have high appeal to teens. I think the concept sells itself, particularly when I consider that it's written like a thriller but actually happens to teenage girls (not the case with a lot of thrillers). It's fascinating, intense, horrifying, and ultimately hopeful – a novel packed with love and a great deal of nuance. Definitely worth a read.
Written in the Stars will be published March 24. I received a finished copy from the publisher.