I haven't written many reviews this year, so it's been interesting to try to get back into that mindset with these books (in a genre I generally do not review so much as consume!). But I want to be better at talking about the strengths and weaknesses of nonfiction, so expect a handful of reviews over the next few months as Cybils season rolls on. Some will be stand-alone reviews, while others, like this one, will pair up books for shorter reviews.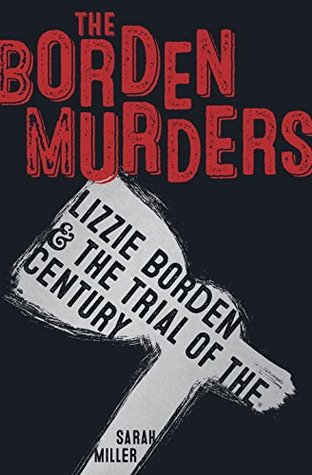 Confession time: I know nothing about Lizzie Borden or the entire field of study and obsession with the murder case involving her father and stepmother. Her name is familiar, as is that song you sing as a kid, but otherwise, I am ignorant about it. And I think in a lot of ways, that was the ideal mindset to have while going into Sarah Miller's excellent true crime book The Borden Murders: Lizzie Borden and the Trial of the Century.
Miller's book begins by exploring how little is actually known about Lizzie Borden nor the murders of her family members, and it continues through its pages by setting up the scene, discussing what is known, and talking about how a number of missteps and missing pieces of the puzzle have created a flurry of conspiracy theories and questions surrounding Borden's involvement in (or non-involvement in) the crime.
The book attempts to be even-handed, though savvy readers will understand that Miller's portrait of Borden is quite sympathetic. Since little information exists about Borden's demeanor — and little consistency exists even about her appearance — Miller wants readers to feel as though Borden's entire experience was one that would make today's general public rightfully angry. This angle was one that helped the book be more than a courtroom drama. We get to "know" Borden through Miller's depiction.
The Borden Murders does an excellent job in terms of design and layout, though one small thing bothered me a bit: the photos in the book are not in the order of the text. A few photos which fell in the first collection were not written about until later in the book, making looking at them while reading a bit jarring. Likewise, Miller talks in depth about the gruesome murder photos at length, and when we finally get to see it, it's really not at all gruesome. For the time period, it sure was, but by the buildup of the image and today's standards, I can see teen readers going "what's the big deal?"
It was a smart packaging decision to create this in the trim size of a novel. For readers who aren't familiar with the printing side of things, this can mean making a lot of compromises in terms of how photos are included in the book. In this particular title, they're in two 8-page spreads on glossy paper. A few reviews I've read criticized this, wishing instead the images were interspersed. This would have taken the quality down significantly, as well as made them tiny.
Readers who love true crime and who are fascinated with the legends of history, like Lizzie Borden, will absolutely devour Miller's book. It's well-written, compelling, and leaves a nice open door at the end for consideration of what it is that makes a person guilty — or innocent. I can see this being an easy sell to readers who love mysteries, too, and who enjoy procedural television shows like Law & Order.
A small nugget that stayed with me and I think was a great takeaway from this read: Borden was NOT a girl when this all happened. She was in her 30s. Many readers may know this, but knowing how she's rendered in pop culture, it may also come as a surprise she was a fully mature adult woman.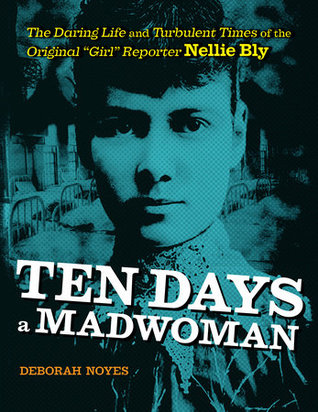 Where I knew little about Lizzie Borden before diving into Miller's book, I'm able to say quite the opposite of my knowledge of Nellie Bly. I'm having the hardest time remembering whether it was a film I watched or a book I read, but my familiarity with Bly and her stint at Blackwell Island was good when I began Deborah Noyes's middle grade title Ten Days a Madwoman.
That said, after coming out of reading the book, I loved Bly even more than I already had.
Noyes traces through the early part of Bly's life, and she does so in a way that doesn't depict Bly as a woman with everything made for her to succeed — that was an image I had, not knowing her young upbringing — but rather, she's shown to be a grit-fueled, hard-edged girl who came from little. Her mother, widowed when Bly was young, remarried because she needed help financially after Bly's father's death, but she ended up marrying a violent alcoholic. Her mother then divorced him, causing the cycle of money challenges to continue; Noyes does an excellent job of painting an image of being a woman in this time period and the sorts of challenges making a decision like divorce had, not just in terms of finances, but on social standing and more.
At age 23 (!!) after dropping out of school and working in Pittsburgh for a number of years, Bly decided she was going to go to New York City and get a newspaper job. It wasn't a successful idea immediately, and she struggled to get work that was beyond the socially acceptable women's reporting jobs. Until she busted down the doors of the World newspaper and was given the assignment of investigating the conditions of the public mental institution on Blackwell Island. This would, of course, be Bly's break into the newspaper world.
Noyes balances this period of time in Bly's life well with the actual conditions of Blackwell Island. We get a sense of what it was like to be there, but we're not given the blow-by-blow. The focus remains on Bly and how she did her reporting.
This isn't the whole of the book, and Noyes continues by highlighting many of the other important pieces of work Bly did. She'd interviewed — and was one of the first to offer sympathy for — women like Emma Goldman, who she interviewed whole Goldman was in prison. Although logically, I knew many famous individuals were alive during this time, it was still fascinating to see names referenced throughout as Bly's contemporaries, including Susan B. Anthony and Charles Dickens.
But my favorite part of the whole book was a tiny part: Willa Cather wrote a scathing letter about Bly's style of journalism. Despite breaking barriers for women reporters, many, like Cather, believed stunt journalism wasn't valuable or groundbreaking, either. Seeing what Cather wrote about Bly mirrored so much of what happens in contemporary times: one person does a thing, gets recognition for it, and then also sees criticism from those who don't agree with their work. I loved that push and pull and think Noyes does a huge service in showing how feminism and women in America struggled with representation, with work conditions, and more.
Ten Days a Madwoman is formatted with a bigger trim size and utilized double columns of text, just like many newspapers do. There are a lot of boxes and images scattered throughout, all of which are laid out smartly and make the work of stopping to read them easy on readers. There is excellent back matter, as well.
Hand this book to middle graders who are writers or who love stories about women breaking down boundaries. Bly was daring and full of grit, and it's a story so many readers will relate to in terms of their desires to pursue their dreams, no matter how they have to get there. Noyes's exploration of working conditions at the turn of the century, especially in the ever-industrializing city of New York, will appeal to readers who love history. It's neat to see the parallels of this era in time with our contemporary times.
The most interesting takeaway from this: when Bly took her infamous round-the-world-by-ship trip, she decided on only one souvenir. It was a monkey she named McGinty. Nellie Bly owned a pet monkey. I'm not going to be over this for a while because I cannot think of anything more fitting to her after reading this book. (Also, if you're interested, the first thing the monkey did when they got back home was break her dishes).
Both of these books are available now. Both copies were picked up from my local library.