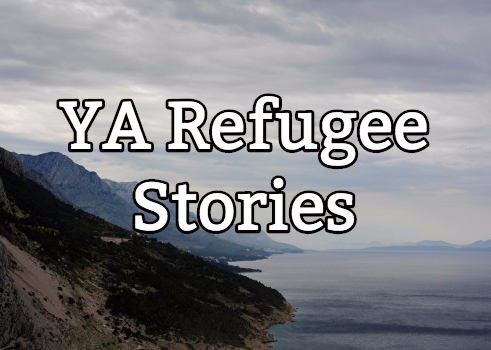 I admit a lot of ignorance in regards to the refugee crisis in Syria. I've been trying to get a handle on it by reading the news and understanding what, exactly, is going on in that country that is making people flee in ways that are horrifying to even think about, let alone see in images and on video.
In an attempt to get some sort of understanding, I've been reading and watching what I can. A couple of the most valuable and insightful pieces I've experienced might be useful for others grappling with what's going on:
Of course, these pieces are only the beginning and they're not giving a full picture of the scope. It's difficult to admit to ignorance, and it's worse to not know where to begin educating yourself.
One way to delve into the lives and stories of refugees, though, is through fiction. I thought it'd be worthwhile to round-up some of the YA and upper middle grade offerings that highlight refugee stories. While not all refugee stories are the same — and not every issue going on in each country is identical nor even close to similar — the thing that matters most, or at least the part that's easiest to think, talk about, and grapple with, is the human element. That's what's in these stories.
All descriptions are from WorldCat, and I would love any additional suggestions in the comments. I'm sticking to fiction, but feel free to recommend solid non-fiction titles, too. I'd love this to be a valuable resource for YA readers, educators, and librarians who are asked questions or want to highlight these stories today and in the future. Likewise, any worthwhile online resources would be welcome.
90 Miles to Havana by Enrique Flores-Galbis: When unrest hits the streets of Havana, Cuba, Julian's parents must make the heartbreaking decision to send him and his two brothers away to Miami via the Pedro Pan operation. But when the boys get to Miami, they are thrust into a world where bullies seem to run rampant and it's not always clear how best to protect themselves.
A Long Walk to Water by Linda Sue Park: When the Sudanese civil war reaches his village in 1985, eleven-year-old Salva becomes separated from his family and must walk with other Dinka tribe members through southern Sudan, Ethiopia, and Kenya in search of safe haven. Based on the life of Salva Dut, who, after emigrating to America in 1996, began a project to dig water wells in Sudan.
A Time of Miracles by Anne-Laure Bondoux: In the early 1990s, a boy with a mysterious past and the woman who cares for him endure a five-year journey across the war-torn Caucasus and Europe, weathering hardships and welcoming unforgettable encounters with other refugees searching for a better life.
Bamboo People by Mitali Perkins: Two Burmese boys, one a Karenni refugee and the other the son of an imprisoned Burmese doctor, meet in the jungle and in order to survive they must learn to trust each other.
The Day of the Pelican by Katherine Paterson: In 1998 when the Kosovo hostilities escalate, thirteen-year-old Meli's life as an ethnic Albanian, changes forever after her brother escapes his Serbian captors and the entire family flees from one refugee camp to another until they are able to immigrate to America.
Deep Sea by Annika Thor: Nearly four years after leaving Vienna to escape the Nazis, Stephie Steiner, now sixteen, and her sister Nellie, eleven, are still living in Sweden, worrying about their parents and striving to succeed in school, and at odds with each other despite their mutual love.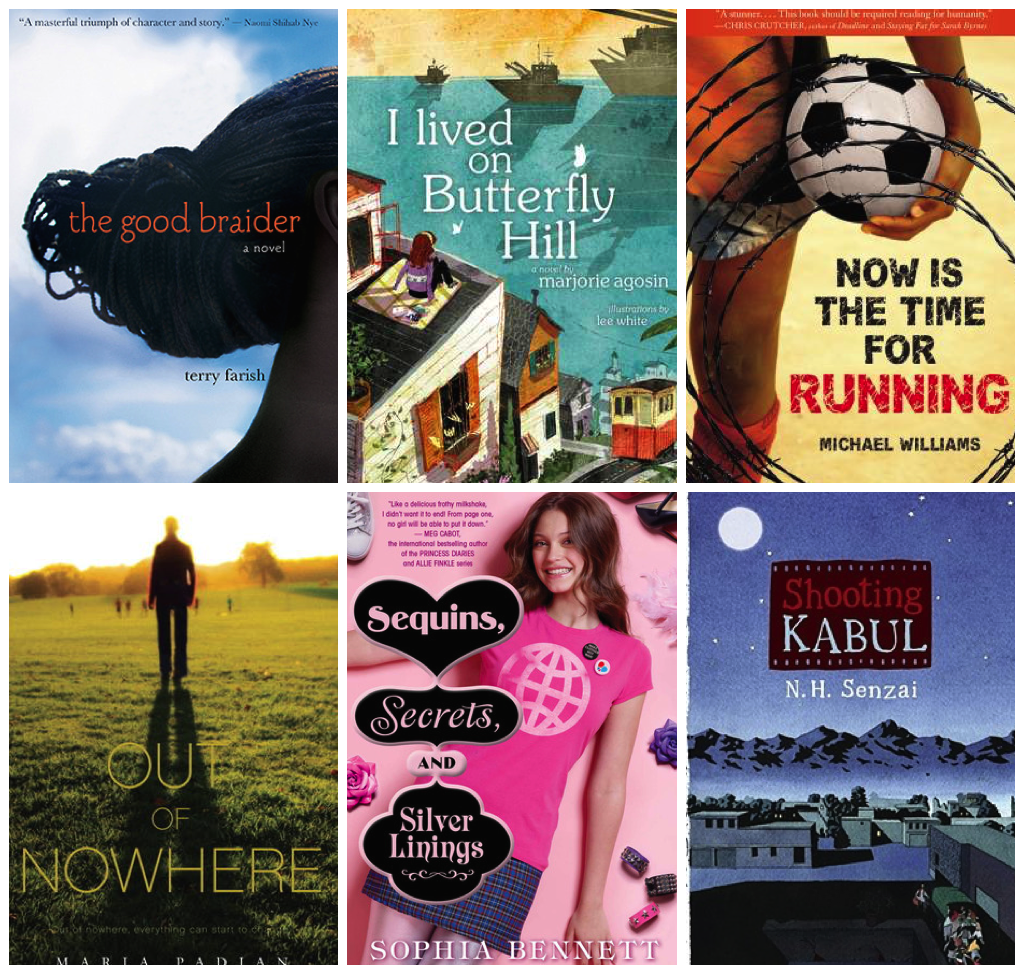 The Good Braider by Terry Farish: Told in spare free verse, the book follows Viola as she survives brutality in war-torn Sudan, makes a perilous journey, lives as a refugee in Egypt, and finally reaches Portland, Maine, where her quest for freedom and security is hampered by memories of past horrors and the traditions her mother and other Sudanese adults hold dear. With unforgettable images, the author's voice sings out the story of her family's journey, and tells the universal tale of a young immigrant's struggle to build a life on the cusp of two cultures. Includes historical facts and a map of Sudan.
I Lived On Butterfly Hill by Marjorie Agosin: Eleven-year-old Celeste Marconi is a dreamer, a writer, a collector of words. But then a new whispered word trickles into her life: "Subversives." Her beloved country of Chile has been taken over by a military dictatorship, and subversives–people considered a threat to the new government–are in increasing danger. Celeste's doctor-parents must go into hiding to remain safe, and Celeste, heartsick, must say good-bye to them. But the situation continues to worsen. More and more people are "disappearing," and soon Celeste herself is sent thousands of miles away, all the way to the coast of Maine–where she doesn't have a single friend or know a word of English. How can she possibly call another country–a country where people eat breakfast out of a box, where the cold grays of winter mirror the fears that envelope her–home? WIll she ever see Chile again? And if she does–what, and who, will she find there?
Now Is The Time For Running by Michael Williams: When soldiers attack a small village in Zimbabwe, Deo goes on the run with Innocent, his older, mentally disabled brother, carrying little but a leather soccer ball filled with money, and after facing prejudice, poverty, and tragedy, it is in soccer that Deo finds renewed hope.
Out of Nowhere by Maria Padian: Performing community service for pulling a stupid prank against a rival high school, soccer star Tom tutors a Somali refugee with soccer dreams of his own.
Sequins, Secrets, and Silver Linings by Sophia Bennett: Three fourteen-year-old friends with very different interests befriend a twelve-year-old Ugandan refugee whose gift for design takes off in the high-fashion world of twenty-first-century London.
Shooting Kabul by NH Senzai: Escaping from Taliban-controlled Afghanistan in the summer of 2001, eleven-year-old Fadi and his family immigrate to the San Francisco Bay Area, where Fadi schemes to return to the Pakistani refugee camp where his little sister was accidentally left behind.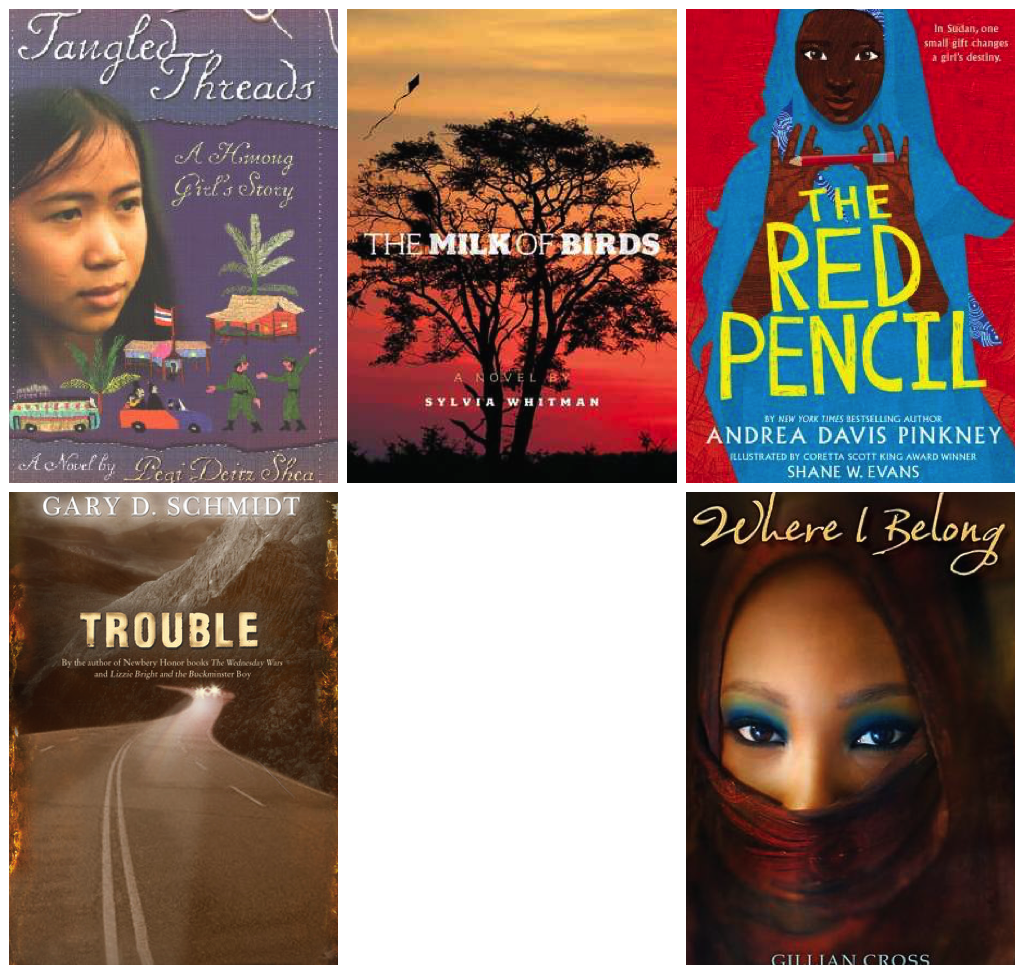 Tangled Threads by Pegi Dietz Shea: After ten years in a refugee camp in Thailand, thirteen-year-old Mai Yang travels to Providence, Rhode Island, where her Americanized cousins introduce her to pizza, shopping, and beer, while her grandmother and new friends keep her connected to her Hmong heritage.
** Readers who want a non-fiction look at Hmong refugee life in America will want to pick up The Spirit Catches You And You Fall Down. It's an adult read but it should have teen appeal.
The Milk of Birds by Sylvia Whitman: When a nonprofit organization called Save the Girls pairs a fourteen-year-old Sudanese refugee with an American teenager from Richmond, Virginia, the pen pals teach each other compassion and share a bond that bridges two continents.
The Red Pencil by Andrea Davis Pinkney: After her tribal village is attacked by militants, Amira, a young Sudanese girl, must flee to safety at a refugee camp, where she finds hope and the chance to pursue an education in the form of a single red pencil and the friendship and encouragement of a wise elder
Trouble by Gary D. Schmidt: Fourteen-year-old Henry, wishing to honor his brother Franklin's dying wish, sets out to hike Maine's Mount Katahdin with his best friend and dog. But fate adds another companion–the Cambodian refugee accused of fatally injuring Franklin–and reveals troubles that predate the accident.
Where I Belong by Gillian Cross: Thirteen-year-old Khadija, a Somali refugee, becomes a model for a famous fashion designer to help her family back home, while the designer's daughter Freya and fourteen-year-old Abdi, whose family Khadija lives with in London, try to protect her.