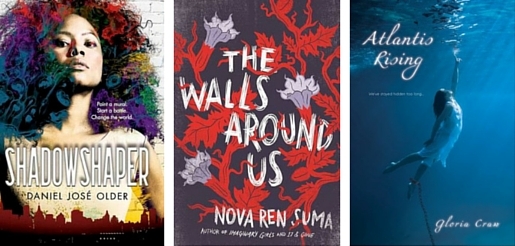 Shadowshaper by Daniel Jose Older
Sierra Santiago is a shadowshaper, meaning she can control spirits through art, including murals and music. Once she discovers this, she quickly learns that shadowshaping has been passed down through her family. It's an ability others who don't inherit would kill for (and that's not a metaphor). Sierra's abuelo tells her to team up with Robbie, another shadowshaper, and together they try and puzzle out just who is targeting shadowshapers and why. There's a lot wrapped up in this story. Through the idea of shadowshaping and its misuse by the primary antagonist who wants it for his own, Older tackles heritage, racism, and cultural appropriation, as well as more standard themes like romance, friendship, and family. Older also asks his readers to consider the field of cultural anthropology, particularly who gets studied and who does the studying. The setting feels alive, not the least because the murals on the building really do come alive thanks to Sierra's abilities. It's also incredibly diverse. I don't think there's a single white person (gasp!), and two of Sierra's friends are lesbians. Sierra herself is proud of her heritage – she's proud to be a shadowshaper and proud to be Puerto Rican, which is demonstrated in one particularly moving scene. I was especially impressed by the dialogue, which feels authentically teen – Sierra and her friends use current slang and rib each other good-naturedly in conversations that go from serious to silly and back to serious again. This is a mega appealing book with lots of twists and a smart, strong protagonist.
The Walls Around Us by Nova Ren Suma
This is a nearly perfect book, and that is no exaggeration. I normally avoid prison stories because they're just so depressing, but I know I can rely on Nova Ren Suma to write a beautiful book. This one is both beautiful and terrifying, a sort of horror story without any gore or sudden frights, a psychological thriller that makes your heart race and your brain light up. It's not fast-paced, per se, but it is intense and completely absorbing. It's told from two different perspectives: Amber, locked up in Aurora Hills juvenile detention center for a crime she insists she didn't commit; and Violet, an aspiring ballerina whose best friend was sent to Aurora Hills for a violent crime a few years ago. This friend of Violet's is Orianna, and while she doesn't ever narrate, she is the key to the story. For a few months, she was Amber's cellmate – until all the girls at Aurora Hills mysteriously died of…food poisoning, perhaps. There are multiple threads that Suma teases out: what happened to the 42 girls at Aurora Hills? What did Orianna do to end up there, and how does Violet fit into it? Just who is guilty of what, and will the guilty parties ever be made to atone? It's a book that tackles what it means to be guilty and what it means to be innocent, how justice is meted out and who can escape it. It's a ghost story that gets creepier as it goes on, with an unsettling yet perfect ending. The characters live and breathe. Suma's writing is haunting and gorgeous. The plot of this story should make it an easy sell to teens and the writing is deserving of its many critical accolades.
Atlantis Rising by Gloria Craw
When I was a teen, I was a sucker for all things Atlantis (one of my many fledgling stories I wrote took place there). I'm always interested to see how the myth is reshaped by writers today. Alison is a "dewing," a member of the Atlantean race and a descendant of the people who used to live on the island before it sank. The dewings have been at war with each other, one side wanting to use their powers to subjugate humanity and the other side fighting against this idea. Alison was raised by humans, thinking she was one of them, though she always knew that her ability to impress thoughts upon other people and make them believe these thoughts were their own was not something normal people could do. Once she discovers her true heritage, she becomes caught up in the war between the two groups – and she is especially prized by both sides for her abilities as a thoughmaker. Craw has created a rich mythology surrounding the Atlanteans/dewings and an interesting, fast-paced story. Readers who can't get enough of contemporary paranormal fantasy will enjoy this a lot, though it does drop a couple of story threads, which seems unintentional as there's no real setup for a sequel. Refreshingly, despite the fact that dewings live to be 300 and look youthful for most of those years, Alison's romance is with another 17 year old dewing.