I've read three really solid contemporary titles recently, and one of the really fascinating threads connecting them together, aside from strong, engaging lead females, is that they all deal with the idea of faith in some capacity. In one story, there's a very loose take on the Virgin Mary story; the second story tackles a girl's decision to leave the Quiverfull movement; and the third explores what happens when a girl decides that following the rules of the cult her family is a part of simply isn't her destiny.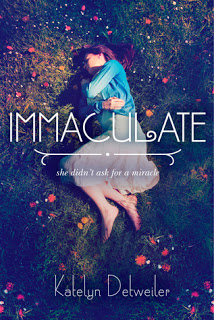 Immaculate by Katelyn Detweiler
I've read almost no reviews of this debut title, which came out last month, and I'm sad about that. While the book's description lends itself to some immediate reactions — a teen girl is pregnant, despite being a virgin — this isn't at all a morality tale or a story with a heavy religious hand in it. Rather, this is a book about faith, both in oneself and more, faith in other people.
When Mina discovers she's pregnant following a very strange conversation with an old woman in the restaurant she works in, she doesn't know what to do. How does she explain to her parents, to her best friends, and to her boyfriend that she's pregnant, even though she's never had sex? As she begins to tell them one by one, we see the ways people react to her story. Is she worth believing? Why would a girl lie about having sex when there's clear-cut evidence that some sort of sexual intercourse happened resulting in a pregnancy?
This isn't entirely a Virgin Mary spin, though that's a bit of a jumping off point for Detweiler's novel. In fact, there's almost nothing about religion in here at all. It's a solid story about how we do and do not believe girls when they tell us something. At the heart of this book, and the thing that really stood out for me, was how much there was about friendship. Mina's two best friends have wildly different reactions to her pregnancy, and those divergent reactions are the heart of the idea of how we do and don't listen, how we do and don't believe, and how we do or don't choose to have faith in another human being.
Immaculate does have an almost too perfect romance in it, but because I found the story was much less about love, much less about the pregnancy, and much less about anything other than girls' stories, it didn't clog up the storytelling nor weigh down the overarching themes. Likewise, readers who go into this one expecting resolution or explanation for the pregnancy may be disappointed. However, that would be the point — the faith you need to take in Mina and in Detweiler's story. This is a longer book, but it's fast-paced, the writing is solid, and the building of a small town scandal is executed well.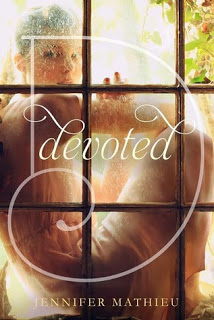 Devoted by Jennifer Mathieu
For her entire life, Rachel Walker has gone along with the beliefs of her large family, which is devoted to the teachings of the Calvary Christian Church. She's never questioned it before; she dresses modestly, takes on much of the care of her siblings, and she believes her role as a woman in life is to become a wife and a mother.
The story picks up when Rachel begins to question the teachings of her family and her church — she becomes quickly intrigued by the story of a girl who had left the movement and began her own life. As Rachel begins to ask more questions about life outside of the church world, she's less and less satisfied by the answers she's given. So when she reaches out to the girl who left and finds herself wanting to know more and more and more, Rachel makes the decision to leave.
I devoured Mathieu's novel, reading the entire book in about one sitting. As a long time fan of the Duggars (and, so it's clear, one who stopped watching the show a while ago and finds the situation going on now to be entirely disgusting and unforgivable), I felt like Mathieu explored a part of the Quiverfull movement I've always been curious about. What happens if someone decides to leave? What could cause a person who'd been brought up in a very specific set of beliefs to want to consider other alternatives? Why do some people do this while the rest choose to stay?
Devoted isn't about a "bad girl" who chooses to flee. It's about a girl who is really good but is curious and wants to know the world beyond the bounds she's grown up in. Mathieu is exceptionally respectful to the Quiverfull movement, though she allows her characters to dig into why some of the beliefs are problematic and damaging, especially to young girls. It'd be really interesting for a reader to pick this one up now in light of the Duggar molestation knowledge; I read it beforehand, and I suspect had I waited to read it, the story would take on an even harder edge to it in light of the power of girls in social worlds such as this. Readers who loved Carol Lynch Williams's The Chosen One should pick this title up.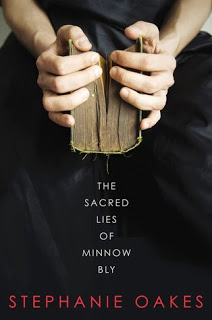 The Sacred Lies of Minnow Bly by Stephanie Oakes
Minnow Bly's story begins bloody. She's murdered — or at least attempted to murder — someone from the closed cult community of which she's a part. But more than that, she tries to do it while being handless. Her hands had been cut off when she chose to disobey the leader of her cult who said it was the prophecy that she'd marry him.
Oakes's book intrigued me from the start and held me through the entire read. What I went into it expecting was a cult story, and I got that. You learn the background and the things that led to the destruction of a cult in Montana. However, I wasn't anticipating how much of the story would take place in a juvenile detention facility and . . . that took the story from being one that checked some of my boxes to one that highlighted each and every single one of them. In many strange ways, this book is reminiscent of Nova Ren Suma's The Walls Around Us without any of the ballet or the magical realistic elements. But rather, it's an exploration of the walls that keep us bound into behaving or acting in certain ways and about the world (in this case, a cult) that demands certain things from girls especially.
What made this book work for me was less the background and story of the cult. Readers who love that and love the world building surrounding a cult's structure and purpose, as well as its rules and expectations will not be let down here. What did it for me, though, was Minnow's relentless voice and pursuance of the things she wanted for herself. It was incredible to read a story about a handless girl and how damn determined she was to do every single thing for herself — and, as I think I've mentioned before, I've come to have a soft spot for books where a teenage girl takes on a grown man without hesitation. Because it's not about the act of violence; it's about the act of rebellion against those who so relentlessly want to keep you down, shut you up, and cut off the tools you have at your own disposal to fight back.
Oakes is a debut to keep an eye on. I'm so excited to see what she does next, as her style really meshed with my reading tastes.
All three of these books are worth shelf space, and all three would make for some interesting discussion alongside one another. While all of them feature "strong female characters," the strength of these teen girls emerges in very distinct, very different manners that is worth talking about in and of itself. In some cases, it's living with the choices you don't have control over and in some, it's about choosing to say to hell with those choices and striking out to begin anew, even though the future may be entirely unknown.
Review copies all received from the publishers. All three titles are available now.