Late last year, I put together a round-up of nonfiction for young adult and middle grade readers that covered books hitting shelves through May. It's time to revisit and update that list, this time with titles hitting shelves from now through the end of the year (as best as possible). This won't be comprehensive, in part because not everything through the end of the year is set in stone with publishing. It also can't be comprehensive because it's so easy to miss nonfiction from smaller publishing houses, from university presses, and other institutions where information isn't as readily available as it is on Edelweiss. Please do feel free to drop additional titles into the comments.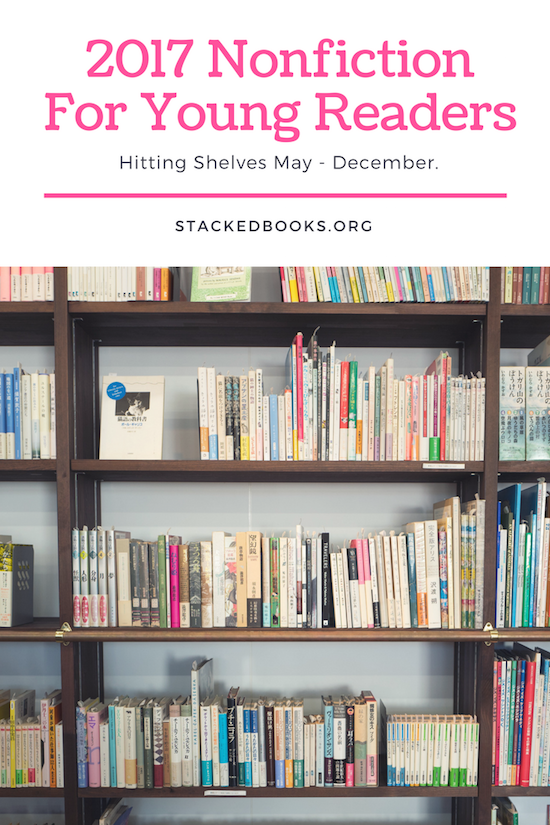 A couple of notes: an interesting aspect of nonfiction for young readers is that divisions between middle grade and YA aren't as clear-cut as they are for fiction. Many nonfiction titles go for the 10-14 age range, which cuts through both the YA and middle grade field. Thus, some of these titles will certainly fall on the younger side while others, the older side. I know I'm going to miss titles, and I've purposely left off the series titles that libraries purchase (you know the kind — they're 80 pages, full color, good for reports and not so much on the narrative).
All publication dates are via publisher catalogs on Edelweiss and all descriptions are from Goodreads.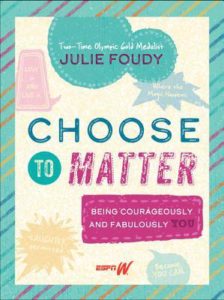 Choose To Matter: Being Courageously and Fabulously YOU by Julie Foudy (May 2)
In Choose to Matter, Julie Foudy, two-time Olympic Gold Medalist and former captain of the US National team, takes you on a journey to discover your authentic self. This book is a roadmap to unleash that courageous YOU and have you singing your dreams out loud. Along with sharing stories from her playing days and personal experiences, Julie taps into the wisdom of other incredible female leaders including "Good Morning America" anchor Robin Roberts, soccer stars Mia Hamm and Alex Morgan, and Facebook superwoman and Lean In founder Sheryl Sandberg. In her Leadership Academy, Julie encourages young women to find the leader that exists in all of them, whatever their personality or vocal chord strength might be. Complete with fun exercises and activities, Choose to Matter guides readers in all aspects of their lives. Julie believes every young woman has the power to be a leader who makes a positive impact. And it all starts by choosing to matter. So go ahead, start now. Because you can.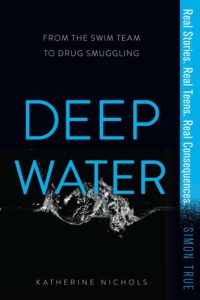 Deep Water by Katherine Nicols (May 2)
A group of teens traffic drugs between Mexico and California in this start to the brand-new Simon True series.
It's 1971 in Coronado, a small southern California beach town. For seventeen-year-old Eddie Otero, a skilled waterman and avid surfer, life is simple. Then a friend makes him an offer: Swim an illicit package across the border from Mexico. The intense workout is dangerous. Thrilling. Lucrative. And the beginning of a small business.
When the young entrepreneurs involve their former high school Spanish teacher, the smuggling adventure grows into a one hundred million dollar global operation.
Soon they become fugitives. Living on the edge, they vow to return to their normal lives—right after one last run…
One Cut by Eve Porinchak (May 2)
A backyard brawl turned media circus filled with gang accusations turns a small, quiet town upside down in this second book in the new Simon True series.
On May 22, 1995 at 7 p.m. sixteen-year-old Jimmy Farris and seventeen-year-old Mike McLoren were working out outside Mike's backyard fort. Four boys hopped the fence, and a fight broke out inside the dark fort made of two-by-four planks and tarps. Within minutes, both Mike and Jimmy had been stabbed. Jimmy died a short time later.
While neighbors knew that the fort was a local hangout where drugs were available, the prosecution depicted the four defendants as gang members, and the crime as gang related. The accusations created a media circus, and added fuel to the growing belief that this affluent, safe, all-white neighborhood was in danger of a full-blown gang war.
Four boys stood trial. All four boys faced life sentences. Why? Because of California's Felony Murder Rule. The law states that "a death is considered first degree murder when it is commissioned during one of the following felonies: Arson, Rape, Carjacking, Robbery, Burglary, Mayhem, Kidnapping." In other words, if you—or somebody you are with—intends to commit a felony, and somebody accidentally dies in the process, all parties can be tried and convicted of first degree murder and sentenced to life without parole, even if nobody had any intention of committing a murder.
What really happened that day? Was it a case of robbery gone wrong? Gang activity? Or was it something else?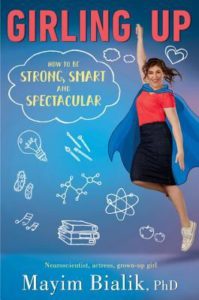 Girling Up: How To Be Strong, Smart, and Spectacular by Mayim Bialik (May 9)
Growing up as a girl in today's world is no easy task. Juggling family, friends, romantic relationships, social interests and school sometimes it feels like you might need to be a superhero to get through it all! But really, all you need is little information.
Want to know why your stomach does a flip-flop when you run into your crush in the hallway? Or how the food you put in your body now will affect you in the future? What about the best ways to stop freaking out about your next math test?
Using scientific facts, personal anecdotes, and wisdom gained from the world around us, Mayim Bialik, the star of The Big Bang Theory, shares what she has learned from her life and her many years studying neuroscience to tell you how you grow from a girl to a woman biologically, psychologically and sociologically.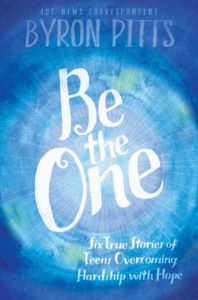 Be The One: Six True Stories of Teens Overcoming Hardship With Hope by Byron Pitts (May 16)
Emmy Award–winning ABC News chief national correspondent and Nightline coanchor, Byron Pitts shares the heartbreaking and inspiring stories of six young people who overcame impossible circumstances with extraordinary perseverance.
Abuse.
Bullying.
War.
Drug Addiction.
Mental Illness.
Violence.
None of these should be realities for anyone, much less a young person. But for some it is the only reality they have ever known. In these dark circumstances, six teens needed someone to "be the one" for them—the hero to help them back into the light. For Tania, Mason, Pappy, Michaela, Ryan, and Tyton, that hero was themselves. Through stirring interviews and his award-winning storytelling, Byron Pitts brings the struggles and triumphs of these everyday heroes to teens just like them, encouraging all of us to be the source of inspiration in our own lives and to appreciate the lives of others around us.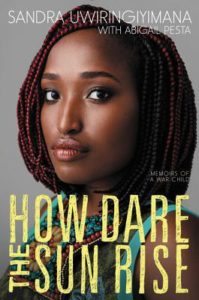 How Dare The Sun Rise: Memoirs of a War Child by Sandra Uwiringiyimana (May 16)
This profoundly moving memoir is the remarkable and inspiring true story of Sandra Uwiringyimana, a girl from the Democratic Republic of the Congo who tells the tale of how she survived a massacre, immigrated to America, and overcame her trauma through art and activism.
Sandra was just ten years old when she found herself with a gun pointed at her head. She had watched as rebels gunned down her mother and six-year-old sister in a refugee camp. Remarkably, the rebel didn't pull the trigger, and Sandra escaped.
Thus began a new life for her and her surviving family members. With no home and no money, they struggled to stay alive. Eventually, through a United Nations refugee program, they moved to America, only to face yet another ethnic disconnect. Sandra may have crossed an ocean, but there was now a much wider divide she had to overcome. And it started with middle school in New York.
In this memoir, Sandra tells the story of her survival, of finding her place in a new country, of her hope for the future, and how she found a way to give voice to her people.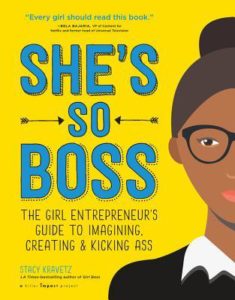 She's So Boss by Stacy Kravetz (May 16)
Whether you already have an idea for a business or you're mulling how to turn the things you enjoy into a self-sustaining enterprise, this book will connect the dots. From inspiration to execution, there are concrete steps every young entrepreneur, creator, or leader needs to take, and this book shows you how.
Packed with information and with the profiles of more than a dozen real-life girl bosses who have turned their passions into business, She's So Boss is about thinking big, aiming high, and becoming the boss of your thing, whether it's a blog about baking organic treats or playing guitar and putting your music videos on YouTube.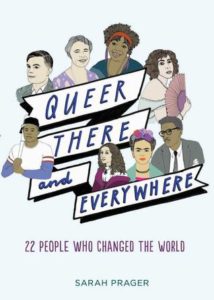 Queer, There and Everywhere: 23 People Who Changed The World by Sarah Prager (May 23)
This first-ever LGBTQ history book for young adults will appeal to fans of fun, empowering pop-culture books like Rad American Women A-Z and Notorious RBG.
World history has been made by countless lesbian, gay, bisexual, transgender, and queer individuals—and you've never heard of many of them. Queer author and activist Sarah Prager delves deep into the lives of 22 people who fought, created, and loved on their own terms. From high-profile figures like Abraham Lincoln and Eleanor Roosevelt to the trailblazing gender-ambiguous Queen of Sweden and a bisexual blues singer who didn't make it into your history books, these astonishing true stories uncover a rich queer heritage that encompasses every culture, in every era.
By turns hilarious and inspiring, the beautifully illustrated Queer, There, and Everywhere is for anyone who wants the real story of the queer rights movement.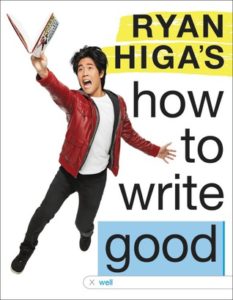 How To Write Good by Ryan Higa (May 30)
An unconventional, irreverent, yet heartfelt memoir by Ryan Higa, one of the top creators on YouTube. With pictures! And illustrations! And, y'know, words.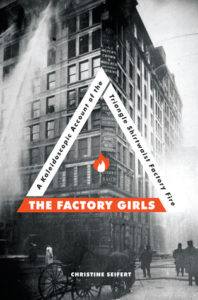 The Factory Girls: A Kaleidoscope Account of The Triangle Shirtwaist Factory Fire by Christine Seifert (May 30)
The twentieth century ushered in a new world filled with a dazzling array of consumer goods. For the first time in American history, fashion could be mass produced. Even the poorest immigrant girls could afford a blouse or two. But these same immigrant teens toiled away in factories in appalling working conditions. Their hard work and sacrifice lined the pockets of greedy factory owners who were almost exclusively white men. The tragic Triangle Waist Factory fire in 1911 resulted in the deaths of over a hundred young people, mostly immigrant girls, who were locked in the factory.
That fire signaled a turning point in American history. This book will examine the events leading up to the fire, including a close look at how fashion and the desire for consumer goods—driven in part by the excess of the Gilded Age—created an unsustainable culture of greed. Told from the perspective of six young women who lived the story, this book will remind us why what we buy and how we vote really matter.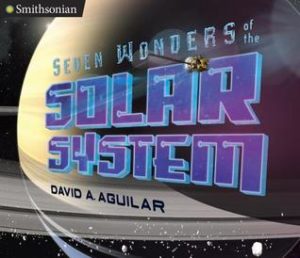 Seven Wonders of The Solar System by David Aguilar (May 30)
Ready for a wondrous celestial journey? How about a trip to our close neighbor Mars, home to the largest volcano in the solar system? Or to Europa, a watery lunar world with a really deep ocean? Or beyond the beyond to mysterious Planet 9, an unseen giant lurking in the far outer regions of space?
This extraordinary book puts you right there: breaking through colorful gaseous hazes; exploring the surface of red-hot or ice-cold planets; hurtling through rings of flying, frozen ice chunks; and rocketing on out to deep space. Astronomer David Aguilar is our navigator on these seven wonderful trips through our solar system–journeys that someday may actually happen!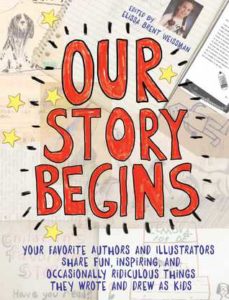 Our Story Begins edited by Elissa Brent Weissman (July 4)
From award-winning author Elissa Brent Weissman comes a collection of quirky, smart, and vulnerable childhood works by some of today's foremost children's authors and illustrators—revealing young talent, the storytellers they would one day become, and the creativity they inspire today.
Everyone's story begins somewhere…
For Linda Sue Park, it was a trip to the ocean, a brand-new typewriter, and a little creative license.
For Jarrett J. Krosoczka, it was a third grade writing assignment that ignited a creative fire in a kid who liked to draw.
For Kwame Alexander, it was a loving poem composed for Mother's Day—and perfected through draft after discarded draft.
For others, it was a teacher, a parent, a beloved book, a word of encouragement. It was trying, and failing, and trying again. It was a love of words, and pictures, and stories.
Your story is beginning, too. Where will it go?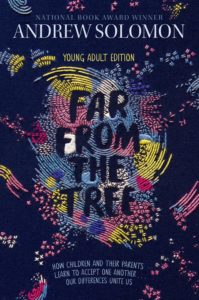 Far From The Tree: Young Reader's Edition by Andrew Solomon, Laurie Calkhoven (July 25)
The old adage says that the apple doesn't fall far from the tree, meaning that children usually resemble their parents. But what happens when the apples fall somewhere else—sometimes a couple of orchards away, sometimes on the other side of the world?
In this young adult edition, Andrew Solomon profiles how families accommodate children who have a variety of differences: families of people who are deaf, who are dwarfs, who have Down syndrome, who have autism, who have schizophrenia, who have multiple severe disabilities, who are prodigies, who commit crimes, and more.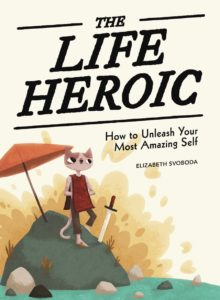 The Life Heroic: How To Unleash Your Most Amazing Self by Elizabeth Svoboda (September 1)
Heroes are superhuman. Or, at least, it's easy to assume that when you read ripped-from-the-news stories of derring-do. But in reality, almost anyone who's motivated can be a hero, and the heroes who make the biggest impact aren't always the ones who make headlines. This approachable, research-backed guide will equip kids with the tools they need to become an everyday hero. Along the way, you'll hear from real heroes living out the truth of psychologist Phil Zimbardo's words: "Most heroes are ordinary. It's the act of heroism that's extraordinary."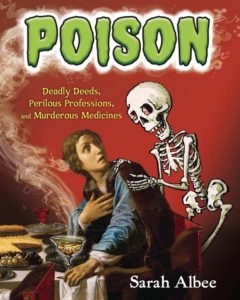 Poison: Deadly Deeds, Perilous Professions, and Murderous Medicine by Sarah Albee (September 5)
For centuries, people have been poisoning one another–changing personal lives and the course of empires alike.
From spurned spouses and rivals, to condemned prisoners like Socrates, to endangered emperors like Alexander the Great, to modern-day leaders like Joseph Stalin and Yasser Arafat, poison has played a starring role in the demise of countless individuals. And those are just the deliberate poisonings. Medical mishaps, greedy "snake oil" salesmen and food contaminants, poisonous Prohibition, and industrial toxins also impacted millions.
Part history, part chemistry, part whodunit, Poison: Deadly Deeds, Perilous Professions, and Murderous Medicines traces the role poisons have played in history from antiquity to the present and shines a ghoulish light on the deadly intersection of human nature . . . and Mother Nature.
42 Is Not Just A Number: The Odyssey of Jackie Robinson, American Hero by Doreen Rappaport (September 12)
Baseball, basketball, football — no matter the game, Jackie Robinson excelled. His talents would have easily landed another man a career in pro sports, but such opportunities were closed to athletes like Jackie for one reason: his skin was the wrong color. Settling for playing baseball in the Negro Leagues, Jackie chafed at the inability to prove himself where it mattered most: the major leagues. Then in 1946, Branch Rickey, manager of the Brooklyn Dodgers, recruited Jackie Robinson. Jackie faced cruel and sometimes violent hatred and discrimination, but he proved himself again and again, exhibiting courage, determination, restraint, and a phenomenal ability to play the game. In this compelling biography, award-winning author Doreen Rappaport chronicles the extraordinary life of Jackie Robinson and how his achievements won over — and changed — a segregated nation.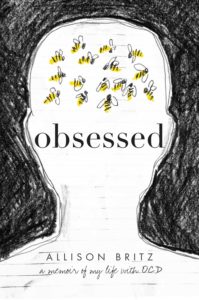 Obsessed: A Memoir of My Life With OCD by Allison Britz (September 19)
Until sophomore year of high school, fifteen-year-old Allison Britz lived a comfortable life in an idyllic town. She was a dedicated student with tons of extracurricular activities, friends, and loving parents at home.
But after awakening from a vivid nightmare in which she was diagnosed with brain cancer, she was convinced the dream had been a warning. Allison believed that she must do something to stop the cancer in her dream from becoming a reality.
It started with avoiding sidewalk cracks and quickly grew to counting steps as loudly as possible. Over the following weeks, her brain listed more dangers and fixes. She had to avoid hair dryers, calculators, cell phones, computers, anything green, bananas, oatmeal, and most of her own clothing.
Unable to act "normal," the once-popular Allison became an outcast. Her parents questioned her behavior, leading to explosive fights. When notebook paper, pencils, and most schoolbooks were declared dangerous to her health, her GPA imploded, along with her plans for the future.
Finally, she allowed herself to ask for help and was diagnosed with obsessive-compulsive disorder. This brave memoir tracks Allison's descent and ultimately hopeful climb out of the depths.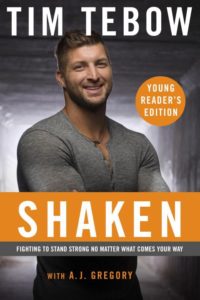 Shaken: Young Reader's Edition by Tim Tebow (September 19)
The Heisman Trophy winner and New York Times best-selling author of Shaken shares a vision for young Christians still forming their identity and finding their God-given purpose–even when life doesn't go as planned. Tebow is the beloved college football champion who was drafted in the first round of the 2010 NFL Draft, but after a miracle season and playoff appearance with the Denver Broncos, he experienced a disappointing end to his pro career with three other teams. In his life Tebow's won big victories and felt the depths of failure. In Shaken: The Young Reader's Edition, Tebow writes about how neither the highs nor the lows of his life define him. Ultimately, only God can do that. Tebow's goal in this writing is to inspire young people to find their identity and purpose in God too.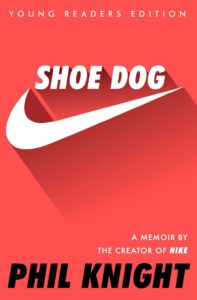 Shoe Dog: Young Reader's Edition by Phil Knight (September 26)
In this young readers edition of the New York Times bestseller, Nike founder and board chairman Phil Knight "offers a rare and revealing look at the notoriously media-shy man behind the swoosh" (Booklist, starred review), opening up about how he went from being a track star at an Oregon high school to the founder of a brand and company that changed everything.
You must forget your limits.
It was only when Nike founder Phil Knight got cut from the baseball team as a high school freshman that his mother suggested he try out for track instead. Knight made the track team and he found he could run fast and even more he liked it.
Ten years later, young and searching, Knight borrowed fifty dollars from his father and launched a company with one simple mission: import high quality running shoes from Japan. Selling the shoes from the trunk of his car to start, he and his gang of friends and runners built one of the most successful brands ever.
Phil Knight encountered risks and setbacks along the way, but always followed his own advice. Just keep going. Don't stop. Whatever comes up, don't stop. Filled with wisdom, humanity, humor, and heart, the young readers edition of the bestselling Shoe Dog is a story of determination that inspires all who read it.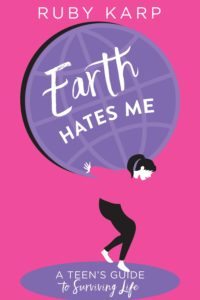 Earth Hates Me by Ruby Karp (October 3)
Earth Hates Me presents a look inside the mind of the modern teenager–from a modern teenager's perspective. Fifteen-year-old Ruby Karp addresses the issues facing every highschooler, from grades to peer pressure to Snapchat stories, and unpacks their complicated effects on the teen psyche. With dashes of humor throughout, Ruby advises her peers on the importance of feminism ("not just the Spice Girls version"), how to deal with jealousy and friend break-ups, family life, and much more. The book takes an in-depth look at the effect of social media on modern teens and the growing pressures of choosing the right college and career. With Ruby's powerful underlying message "we are more than just a bunch of dumb teenagers obsessed with our phones," Earth Hates Me is the definitive guide to being a teen in the modern age.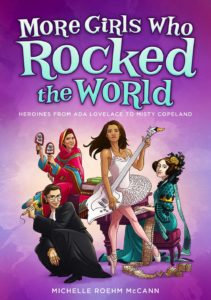 More Girls Who Rocked The World by Michelle Roehm McCann (October 3)
From the inspiring author of Girls Who Rocked the World comes another comprehensive collection of true, inspiring profiles of successful young women throughout history who made their mark on the world before turning twenty.
Young women today crave strong, independent role models to look to for motivation. In the follow-up to the bestseller Girls Who Rocked the World, More Girls Who Rocked the World offers a fun and uplifting collection of influential stories with forty-five more movers and shakers who made a difference before turning twenty.
From Annie Oakley and Queen Victoria to Malala Yousafzai and Adele—each with her own incredible story of how she created life-changing opportunities for herself and the world—you'll get to know these capable queens of empires and courageous icons of entertainment. Also included are profiles of gutsy teenagers who are out there rocking the world right now and personal aspirations from today's young women.
Secrets Of The Sea by Kate Baker, Eleanor Taylor (October 3)
This book takes you on a journey to discover an incredible and rarely seen world. From the rock pools along the shoreline to the deepest, darkest depths of the ocean, breathtaking illustrations reveal the sea's creatures–from the microscopic and the bizarre to the fragile and the deadly–in all their startling beauty. Welcome to the secrets of the sea.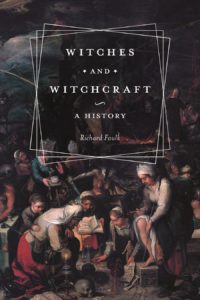 Witches and Witchcraft: A History by Richard Faulk (October 3)
The witch is an indelible part of our cultural imagination, but what do we really know about her? Is she a hapless victim of history or symbol of female resistance? What's really the difference between a wise elder and an old crone? Witches and Witchcraft sifts through the rich and contradictory evidence to trace the development of the witch as a cultural phenomenon. Ultimately, the changing face of the witch is a mirror of our constantly changing ideas of spirituality, magic, creativity, gender, and the human relationship with the natural world. The witch's story is far from over.
Sinking The Sultana: A Civil War Story of Imprisonment, Greed, and a Doomed Journey Home by Sally M. Walker (October 10)
In 1865, the Civil War was winding down and the country was reeling from Lincoln's assassination. Thousands of Union soldiers, released from Confederate prisoner-of-war camps, were to be transported home on the steamboat Sultana. With a profit to be made, the captain rushed repairs to the boat so the soldiers wouldn't find transportation elsewhere. More than 2,000 passengers boarded in Vicksburg, Mississippi . . . on a boat with a capacity of 376. The journey was violently interrupted when the boat's boilers exploded, plunging the Sultana into mayhem; passengers were bombarded with red-hot iron fragments, burned by scalding steam, and flung overboard into the churning Mississippi. Although rescue efforts were launched, the survival rate was dismal — more than 1,500 lives were lost. In a compelling, exhaustively researched account, renowned author Sally M. Walker joins the ranks of historians who have been asking the same question for 150 years: who (or what) was responsible for the Sultana's disastrous fate?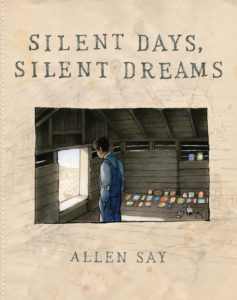 Silent Days, Silent Dreams by Allen Say (October 31)
James Castle was born two months premature on September 25, 1899, on a farm in Garden Valley, Idaho. He was deaf, mute, autistic and probably dyslexic. He didn't walk until he was four; he would never learn to speak, write, read or use sign language.
Yet, today Castle's artwork hangs in major museums throughout the world. The Philadelphia Museum of Art opened "James Castle: A Retrospective in 2008." The 2013 Venice Biennale included eleven works by Castle in the feature exhibition "The Encyclopedic Palace." And his reputation continues to grow.
Caldecott Medal winner Allen Say, author of the acclaimed memoir Drawing from Memory, takes readers through an imagined look at Castle's childhood, allows them to experience his emergence as an artist despite the overwhelming difficulties he faced, and ultimately reveals the triumphs that he would go on to achieve.
Becoming Kareem: Growing Up On and Off The Court by Kareem Abdul-Jabbar, Raymond Obstfeld (November 7)
Like many kids in elementary school, Kareem (then Lew Alcindor) struggled with fitting in, pleasing a strict father, and severe shyness that made him socially awkward. Unlike most kids, he also had to grapple with a sudden growth spurt that shot him up taller than pretty much everyone around him, including students, teachers, and even his own father. His increasing fame as a basketball player throughout high school brought new challenges as this shy boy was shoved into the national spotlight. At the same time, social unrest in the country, particularly involving the growing civil rights movement, tugged at his conscience as he tried to find his place in it. After all, he was just a kid. What could he do?
Recruited to UCLA, his fame as an unstoppable center made him a college superstar. But as his fame rose, so did the social turmoil in the country: Vietnam War protests, Malcolm X and the Nation of Islam, Dr. Martin Luther King, Jr., large-scale riots, the Women's Movement. He could have hidden from all the turmoil as a sports celebrity, but he chose to join in the social evolution. The result was converting to Islam and changing his name to Kareem Abdul-Jabbar. The public backlash was blistering, but he didn't waver.
Victoria: Portrait of a Queen by Catherine Reef (November 7)
Catherine Reef brings history vividly to life in this sumptuously illustrated account of a confident, strong-minded, and influential woman.   Victoria woke one morning at the age of eighteen to discover that her uncle had died and she was now queen. She went on to rule for sixty-three years, with an influence so far-reaching that the decades of her reign now bear her name—the Victorian period. Victoria is filled with the exciting comings and goings of royal life: intrigue and innuendo, scheming advisors, and assassination attempts, not to mention plenty of passion and discord. Includes bibliography, notes, British royal family tree, index.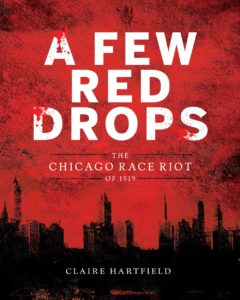 A Few Red Drops: The Chicago Race Riot of 1919 by Claire Hartfield (January 2018…but this looks so good I'm putting it here anyway!)
On a hot day in July 1919, three black youths went swimming in Lake Michigan, unintentionally floating close to the "white" beach. An angry white man began throwing stones at the boys, striking and killing one. Racial conflict on the beach erupted into days of urban violence that shook the city of Chicago to its foundations. This mesmerizing narrative draws on contemporary accounts as it traces the roots of the explosion that had been building for decades in race relations, politics, business, and clashes of culture.