Last fall, I did a really quick round-up of YA covers for books coming out this year that featured diversity right square on the front cover. It was not only great to look at them all together that way, but it was nice to find more books to add to my own to-read list.
As more covers have been revealed or re-revealed in the last few months, I thought it would be worth revisiting that topic. Here's a look at even more fabulously diverse YA covers for books coming out this year. Some of these are less front-facing than before, but they're worth including because you know the character is a person of color. Like last time, I'll include descriptions for the book, pulled from Goodreads, as well as the publication dates, so you can put them on your own reading and buying lists.
If I've missed some, either on this post or the previous one, let me know in the comments. Let's see more cover work like this.
Hello, I Love You by Katie M. Stout (June 9): Grace Wilde is running—from the multi-million dollar mansion her record producer father bought, the famous older brother who's topped the country music charts five years in a row, and the mother who blames her for her brother's breakdown. Grace escapes to the farthest place from home she can think of, a boarding school in Korea, hoping for a fresh start.
She wants nothing to do with music, but when her roommate Sophie's twin brother Jason turns out to be the newest Korean pop music superstar, Grace is thrust back into the world of fame. She can't stand Jason, whose celebrity status is only outmatched by his oversized ego, but they form a tenuous alliance for the sake of her friendship with Sophie. As the months go by and Grace adjusts to her new life in Korea, even she can't deny the sparks flying between her and the KPOP idol.
Soon, Grace realizes that her feelings for Jason threaten her promise to herself that she'll leave behind the music industry that destroyed her family. But can Grace ignore her attraction to Jason and her undeniable pull of the music she was born to write? Sweet, fun, and romantic, this young adult novel explores what it means to experience first love and discover who you really are in the process.
P.S. I Still Love You
by Jenny Han (May 26, companion to
To All The Boys I've Loved Before
): Lara Jean didn't expect to
really
fall for Peter.
She and Peter were just pretending. Except suddenly they weren't. Now Lara Jean is more confused than ever.
When another boy from her past returns to her life, Lara Jean's feelings for him return too. Can a girl be in love with two boys at once?
Most Likely to Succeed by Jennifer Echols (August 4, final book in the "Superlative" series): As vice president of Student Council, Kaye knows the importance of keeping order. Not only in school, but in her personal life. Which is why she and her boyfriend, Aidan, already have their lives mapped out: attend Columbia University together, pursue banking careers, and eventually get married. Everything Kaye has accomplished in high school—student government, cheerleading, stellar grades—has been in preparation for that future.

To his entire class, Sawyer is an irreverent bad boy. His antics on the field as school mascot and his love of partying have earned him total slacker status. But while he and Kaye appear to be opposites on every level, fate—and their friends—keep conspiring to throw them together. Perhaps the seniors see the simmering attraction Kaye and Sawyer are unwilling to acknowledge to themselves…

As the year unfolds, Kaye begins to realize her ideal life is not what she thought. And Sawyer decides it's finally time to let down the facade and show everyone who he really is. Is a relationship between them most likely to succeed—or will it be their favorite mistake?
The Wrath & The Dawn
by Renee Ahdieh (May 12): Every dawn brings horror to a different family in a land ruled by a killer. Khalid, the eighteen-year-old Caliph of Khorasan, takes a new bride each night only to have her executed at sunrise. So it is a suspicious surprise when sixteen-year-old Shahrzad volunteers to marry Khalid. But she does so with a clever plan to stay alive and exact revenge on the Caliph for the murder of her best friend and countless other girls. Shazi's wit and will, indeed, get her through to the dawn that no others have seen, but with a catch . . . she's falling in love with the very boy who killed her dearest friend.
She discovers that the murderous boy-king is not all that he seems and neither are the deaths of so many girls. Shazi is determined to uncover the reason for the murders and to break the cycle once and for all.
Lying Out Loud by Kody Keplinger (April 28, companion to The DUFF): Sonny Ardmore is an excellent liar. She lies about her dad being in prison. She lies about her mom kicking her out. And she lies about sneaking into her best friend's house every night because she has nowhere else to go.

Amy Rush might be the only person Sonny shares everything with — secrets, clothes, even a nemesis named Ryder Cross.

Ryder's the new kid at Hamilton High and everything Sonny and Amy can't stand — a prep-school snob. But Ryder has a weakness: Amy. So when Ryder emails Amy asking her out, the friends see it as a prank opportunity not to be missed.

But without meaning to, Sonny ends up talking to Ryder all night online. And to her horror, she realizes that she might actually like him. Only there's one small catch: he thinks he's been talking to Amy. So Sonny comes up with an elaborate scheme to help Ryder realize that she's the girl he's really wanted all along. Can Sonny lie her way to the truth, or will all her lies end up costing her both Ryder and Amy?
Of Dreams and Rust
by Sarah Fine (August 4, sequel to
Of Metal and Wishes
): In the year since the collapse of the slaughterhouse where Wen worked as her father's medical assistant, she's held all her secrets close. She works in the clinic at the weapons factory and sneaks away to nurse Bo, once the Ghost, now a boy determined to transform himself into a living machine. Their strange, fragile friendship soothes some of the ache of missing Melik, the strong-willed Noor who walked away from Wen all those months ago—but it can't quell her fears for him.
The Noor are waging a rebellion in the west. When she overhears plans to crush Melik's people with the powerful war machines created at the factory, Wen makes the painful decision to leave behind all she has known—including Bo—to warn them. But the farther she journeys into the warzone, the more confusing things become. A year of brutality seems to have changed Melik, and Wen has a decision to make about him and his people: How much is she willing to sacrifice to save them from complete annihilation?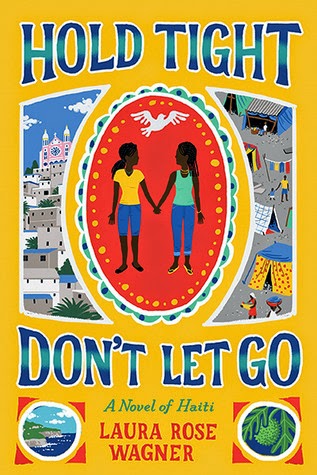 Hold Tight, Don't Let Go by Laura Rose Wagner (available now): Hold Tight, Don't Let Go follows the vivid story of two teenage cousins, raised as sisters, who survive the devastating 2010 earthquake in Haiti. After losing the woman who raised them in the tragedy, Magdalie and Nadine must fend for themselves in the aftermath of the quake. The girls are inseparable, making the best of their new circumstances in a refugee camp with an affectionate, lively camaraderie, until Nadine, whose father lives in Miami, sends for her but not Magdalie. As she leaves, Nadine makes a promise she cannot keep: to bring Magdalie to Miami, too. Resourceful Magdalie focuses her efforts on a reunion with Nadine until she realizes her life is in Haiti, and that she must embrace its possibilities for love, friendship, and a future.