We're taking part in the blog tour for Ben Hatke's brand new graphic novel for kids, Little Robot. You can see the full schedule here and you should visit all of the sites to check out what they have to say about this delightful read.
***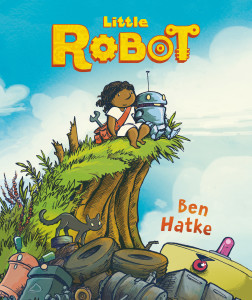 Ben Hatke's Little Robot is a near-wordless graphic novel suitable for upper elementary, middle grade, and older readers — and more than that, it's a sweet story about friendship, about girls who do and make things, and about how it's not always a bad thing to be different. It is a feminist graphic novel for even the youngest of readers.
Our main character is a young black girl, and while she's unnamed, we know a lot about her. She lives in a poor area, in a trailer home, and she often feels left out by her peers and siblings. During the time other kids are at school, she prefers to sneak through the fence to one of the neighborhood backyards and swing on their swing set. This is an activity that seems to be noticed by the homeowner, but it's not something he shoos her away from.
One day, though, the main character decides to go on an adventure. When she wanders down to the dump to wander around through the broken and abandoned pieces of other people's lives, she sees a box floating in the nearby creek. Upon further investigation, she discovers it's not just a box; inside is a robot.
Using her skills, she builds the robot into a complete creature, and they quickly become close friends.
It becomes apparent quickly, though, that something is odd about the robot being discovered. As readers, we're privy to it because we've seen the beginning of the book, but neither the young girl nor the robot know. The robot had fallen off a truck heading to a plant where he'd be shipped elsewhere, and now, machines are out on the hunt to recover the lost robot. When the robot is discovered and his return to the warehouse seems inevitable, can the little girl use her strengths to keep her friend near her? Or will she lose him?
Little Robot, being as light on text as it is, relies on story telling through its pictures, and those pictures are, without question, the stars of the book. Each little detail is carefully drawn, and emotions and thoughts are depicted clearly through slight changes in character faces, stances, and actions. This is true of both the girl and the robot, and seeing how they interact with one another is sweet without being saccharine or cloying: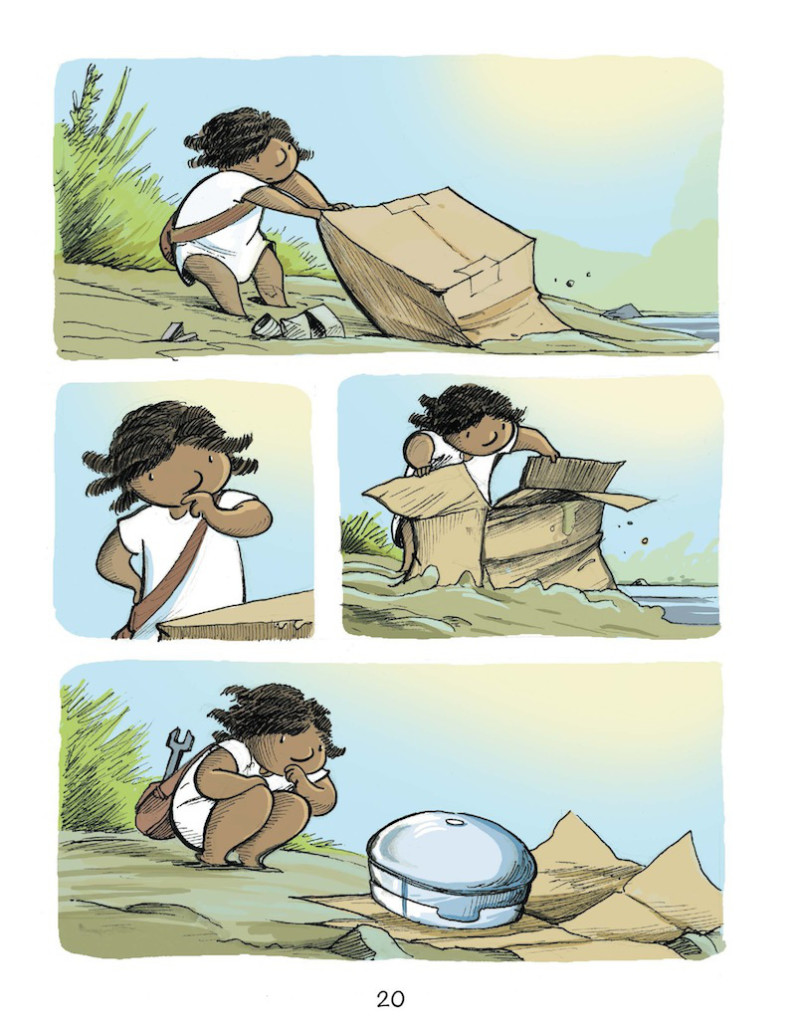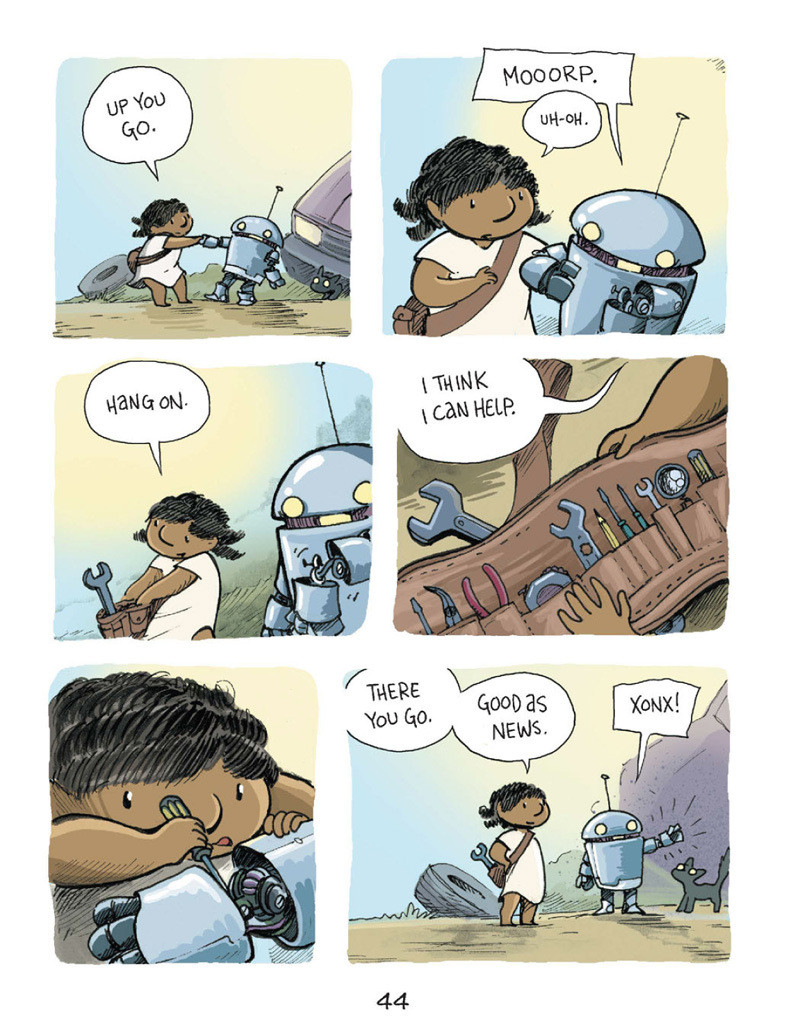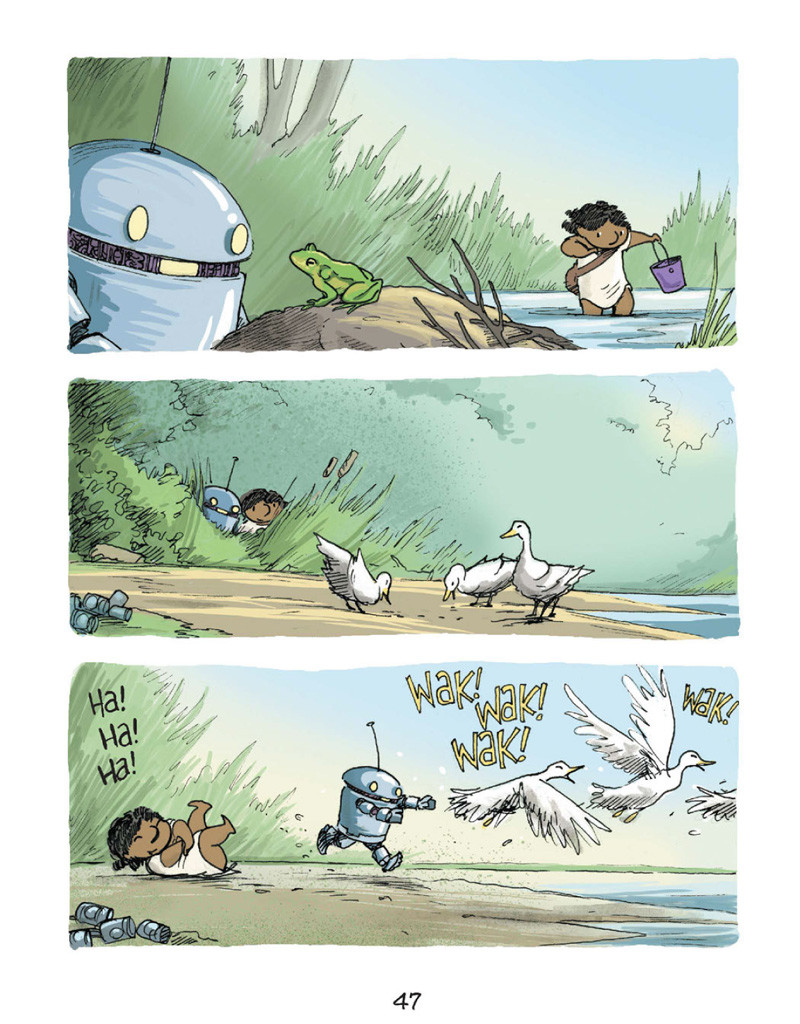 But what really makes this graphic novel resonate is the way that the main character is a girl who loves science and technology. She's clever and she's industrious, with no fear of trying new things, even if they don't always work out the way she hopes. There's curiosity and interest in trying and in making, and seeing that played out in such a fearless manner is memorable. More, that it's a black girl who isn't from the best of circumstances makes it even more powerful — STEM is for anyone who wants to explore science and tech, and Hatke does a major service in showing this through his story. Girls will see someone like them tinkering and toying and having fun with it. The gleeful expression in the very last panel above says it all.
Graphic novels like this are so enjoyable to read, and Little Robot is no exception. In many ways, this reminded me of Sara Varon's work, particularly Robot Dreams. It's smart, charming, funny, and full of heart without shying away from tackling some big complex issues on a level that young readers just "get." This is a must-purchase for libraries and school classrooms, though because it's by Ben Hatke, I probably don't even need to say that.