In case you missed it, the winners of the 2016 Cybils were announced on February 14! I loved both of our winners selected for the Graphic Novels categories this year: Lowriders to the Center of the Earth by Cathy Camper and Raul the Third (Elementary/Middle Grade) and March: Book Three by John Lewis, Andrew Aydin, and Nate Powell (Young Adult). Since I was a Round 2 judge, I couldn't discuss my thoughts on each finalist as I read them – but now that the winners have been revealed, I'm free to do so. This week, I'll talk about the Young Adult shortlist and next week, the Elementary/Middle Grade one.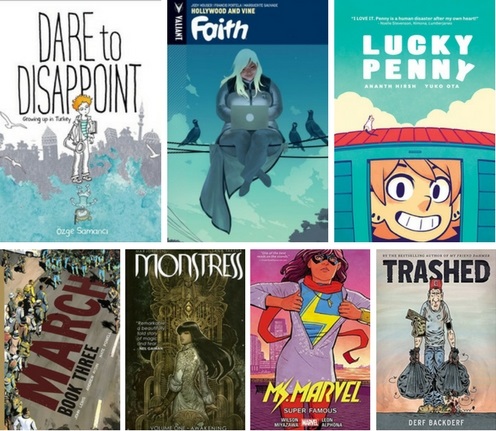 Dare to Disappoint: Growing Up in Turkey by Ozge Samanci
Samanci's graphic memoir tells of her childhood in Turkey in the 80s and 90s, a time of great political strife in the country. It's a fascinating backdrop for Samanci's own coming of age. She struggles to fit in, to please her parents, to excel in school, to understand her country's shifting politics, and pursue her dreams – if she can figure out what those are. Teen readers will be interested by the history of Turkey during this time period – a place not much studied in school, but in the news here more recently because of the attempted coup last year – as well as drawn to Samanci's universal struggles to become an adult and discover who she's meant to be. Samanci's art is unique, a hodge podge of cartoonish figures with collage elements that complements much of the humor in the story and provides a foil for the infrequent violence depicted.
Faith Volume 1: Hollywood and Vine by Jody Houser, Francis Portela, and Marguerite Sauvage
Faith is a psiot, which means she has superpowers – ones that enable her to fly and put up a protective shield. She works as a staff writer for a Buzzfeed-type website during the day, in a red wig, and fights off bad guys in her spare time as white-haired Zephyr. The baddies in this volume are aliens with world domination on their minds. It's not a terribly unique storyline, but Faith is such a great character, I didn't mind. She's into lots of different fandoms, which means she drops fun one-liners all the time that readers who love nerd pop culture will love picking up on. She's one of the few fat superheroes out there, and her body size is never an issue in her heroics – though it's not a non-issue in the book as a whole. This is a worthy start to a well-written, appealing series that I look forward to reading more of.
Lucky Penny by Ananth Hirsh and Yuko Ota
I thought this was…fine. It's about a young adult in the more traditional sense of the phrase – it seems like Penny is in her early 20s. She's kind of terrible at being an adult. She can't afford rent so she moves into a friend's storage unit instead. She finds a job at a laundromat where her boss is a twelve year old kid. She's awful at dating, but that's okay, because the guy she finds is pretty awful at it too. Penny's antics are funny for a while, but I soon got annoyed with her. And her life made me feel kind of sad. Perhaps that makes me old.
March: Book Three by John Lewis, Andrew Aydin, and Nate Powell
So much has been said about this book already, I won't make my own summary terribly long. This book really is as good as everyone says it is. It's timely, engrossing, important, and moving, and the art is a terrific complement. I learned so much but never felt like I was reading a textbook or being lectured. Highly deserving of all its accolades.
Monstress Volume 1: Awakening by Marjorie Liu and Sana Takeda
Monstress is a bit tricky to sum up in a pithy one-or-two-sentence synopsis. It's about a war between two different species (human and arcanic), dark magic, revenge, and a teenage girl with strange powers she doesn't want or understand. The world-building is complex (matriarchal, multiple different cultures with long histories) and the story isn't immediately understandable – but stick with it, and you'll be rewarded. Liu's storytelling abilities are on full display here, and I loved how creative and intricate her creation is. Takeda's art is a perfect match – beautiful and dark, with a slight anime influence. All that said…this is not a book for teenagers, despite the age of the protagonist. I don't doubt many teenagers could handle it, but Image rates it M for mature and it more than earns that designation. The violence is ever-present, bloody, and gory. Children are murdered, bodies are dismembered, and people are sucked of their life essence – and we're shown the result. There's occasional nudity and frequent f-bombs as well, but it's the explicit violence and dark themes that really put this out of the YA range. It's beyond what I comfortably read as an adult, and I do read adult comics pretty regularly. This is good…but I wouldn't recommend it to a teenager unless I knew that teen pretty well.
Ms. Marvel Volume 5: Super Famous by G. Willow Wilson, Takeshi Miyazawa, Adriean Alphona, and Nico Leon
I really enjoyed the first volume of Ms. Marvel that I read when it first debuted a few years ago, but I hadn't kept up with it. No matter – this volume functions well as a starting place for new readers. Kamala Khan is officially an Avenger, which she has to juggle alongside everything else in her life: school, her brother's upcoming marriage, keeping up her friendships…it's all a bit much. Plus there's a new baddie in town in the form of a real estate development company that's using Ms. Marvel's image without her permission to push their product! This volume tackles a lot that is relevant to teens' lives (religion, an overabundance of schoolwork, family and friend obligations) plus some important social issues teens often care about, like gentrification and fat acceptance. Text and art work in tandem to tell a gripping story, and Wilson really has a way with her characters. Even though it had been years since I last read about Kamala, I fell in love with her and her friends all over again instantly.
Trashed by Derf Backderf
Backderf tells a hybrid fiction/nonfiction story about garbage collectors, based on a year in his own life that he spent as one. The nonfiction aspect is definitely stronger than the fiction – Backderf gives his readers lots of great information on how much humans throw away, what kinds of things we throw away, what percentage gets recycled, and where it all ends up. The two primary facts that have stuck with me are 1. landfills weren't regulated much at all until recently (and even now not so much); and 2. Even though we recycle a greater percentage of our waste now than ever before, we also send more by volume to the landfill than ever before, simply because we generate so much waste. This book will make you want to double down on recycling and discarding less in general. The story itself was so-so for me. Characters didn't have much personality, there was no real plot (no building action, climax, or resolution), and the main character, who was supposed to be in his late teens or early 20s, looked about 45.