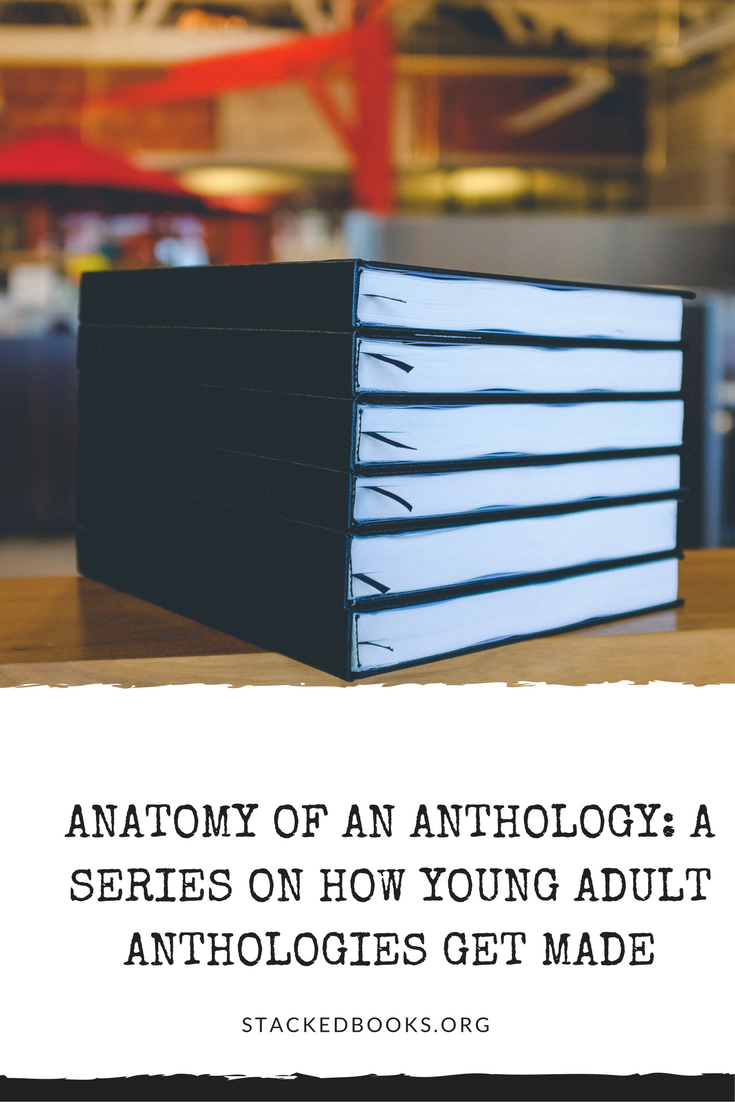 "Anatomy of a YA Anthology" is back again today with another interview. Today, Natalie C. Parker talks about the inspirations behind Three Sides of a Heart, which hits shelves tomorrow, December 19. I've had a copy of this sitting at the top of my to-read for a while and after reading Natalie's piece, I am itching even more to dive in.
Your Anthology's Name
Three Sides of a Heart: Stories About Love Triangles
Anthology Description
You may think you know the love triangle, but you've never seen love triangles like these.
These top YA authors tackle the much-debated trope of the love triangle, and the result is sixteen fresh, diverse, and romantic stories you don't want to miss.
This collection, edited by Natalie C. Parker, contains stories written by Renée Ahdieh, Rae Carson, Brandy Colbert, Katie Cotugno, Lamar Giles, Tessa Gratton, Bethany Hagen, Justina Ireland, Alaya Dawn Johnson, EK Johnston, Julie Murphy, Garth Nix, Natalie C. Parker, Veronica Roth, Sabaa Tahir, and Brenna Yovanoff.
A teen girl who offers kissing lessons. Zombies in the Civil War South. The girl next door, the boy who loves her, and the girl who loves them both. Vampires at a boarding school. Three teens fighting monsters in an abandoned video rental store. Literally the last three people on the planet.
What do all these stories have in common?
The love triangle.
How did you get your idea/what was the initial spark?
Keen irritation.
Once upon a time, I wasn't the sort of person who had a strong opinion about the love triangle. In my experience some were effective and others weren't, but that was the same with any trope. But one day I attended a panel during which the panelist were asked which trope in young adult fiction they wanted to see die in a fire. One panelist answer, "the love triangle" and I felt an unexpected rage in response.
As I listened to the discussion that followed, I realized that the ire toward the love triangle, specifically in young adult fiction, was centered around opinions of a single, well known love triangle. In other words, a single manifestation of a trope with a long and exciting history had fixed some readers so firmly against it that they'd written off all future iterations. I decided that the best way to engage with that conversation was by inviting others to explore the trope with me. An anthology seemed the best way to do that.
What steps did you take from idea to proposal?
Immediately after that panel, I shared my frustrations with a few friends. And at the end of my doubtlessly eloquent tirade I proclaimed my intentions to build an anthology filled to the brim with love triangles. When my passions cooled and I looked around the room, I found every single person nodding their heads. They were already on board, so my initial steps were a little shorter than they might have been. Essentially, I polished my thoughts about the love triangle and invited a collection of authors to join me in defending, exploding, and exploring the trope.
So the project proposal ended up as something of a problem statement and a list of authors willing to tackle it.
Did you use an agent?
I did and boy, oh boy, am I glad. Before bringing my list of contributors on board, I reached out to my agent and asked if they'd be willing to represent an anthology. We discussed what that might look like both creatively and administratively and when we were on the same page, she took the proposal out to market.
As an editor, were you responsible for contracts between you and your writers? Did your publisher or agent handle the administrative/legal side of things?
While my contract is with the publisher, all of the contributor contracts are with me. So this was a huge learning curve and plenty of paperwork on my end, but my agent managed all contract negotiations. BLESS AGENTS.
How did the editing process work between you and your writers?
I worked in concert with my editors at HarperTeen and we decided on our approach at the very beginning of the process. We would read the stories as they came in then hop on a conference call and discuss our notes. When we were all on the same page, we drafted notes together and I gave them a final review before sending them to the author.
From there, the authors primarily communicated with me via email.
Money talk: how did you get paid for your work?
The publisher paid me via my agency, and I sent payment to each of my authors. Sounds simple, but if anyone reading this is planning an anthology proposal, you should know that you'll also be responsible for creating tax documents at year's end*. There's a fair bit of administrative cost that goes into managing an anthology, so make sure you pay yourself an editor's fee!


Where and how did you come to "direct" the anthology? Did you have an idea of how you wanted pieces to progress early on or did you wait until all pieces were available to you to begin constructing the collection?
I was fairly hands off in the initial stages. In my invitation to contributors, I told them that I was interested in love triangles all every sort and stories in all genres, and that's precisely what I got. As the stories began to roll in, I found that we had a fairly even distribution of genres, representation, and triangle outcomes. But we had a few notable gaps and I asked three authors if they would be willing to tackle those gaps. Having that flexibility a little later in the process allowed us to create a more complete collection.
What was your favorite part of the anthology creation process?
By far, my favorite part was working with each of the authors on their stories. It was such a challenge moving between them, bending my mind toward the author's vision. I loved every moment of exercising my creative and editorial muscles in new ways.
What was your least favorite part?
The paperwork! Part of being a published author is also learning how to run a small business, but this took everything to a whole new level.
What were some of the biggest lessons you as an editor learned in creating an anthology? One of the more magical aspects of an anthology is how it comes together. An editor can begin to arrange the pieces, but the shape of the puzzle won't become clear for a long, long while. I found that even though I'd invited a kickass team of authors to contribute, I had no idea what the project would end up looking like — no idea whose story would sit where, which would be in conversation with which. It was like trying to see a Magic Eye picture while the pixels were still sorting themselves out.
I learned that there's a balance between directing an anthology and letting authors do whatever they like. I ended up with the opportunity to cover a few gaps later in the construction process, but that was mostly luck and definitely not by design. If I were to do this again, I would be slightly more active in the early stages offering a broad set of possibilities and parameters. I would also ask for story pitches up front so I could get a sense of the shape of the finished product early on.
What were some of the biggest successes? We received a starred review from School Library Journal in which they said: "The depiction of various identities and romantic choices make this collection an inclusive, relevant one that is likely to foster acceptance among high school readers." If I'd had a mission statement for this collection, that would have been it. Receiving this review was an incredible moment in my career. I'm proud of it and of the authors who made it happen.
If you aren't already working on another anthology, would you do another one? Why/why not?
I would absolutely do another one. The process was invigorating and rewarding and I have a trove of ideas waiting.
*Note from Kelly: this is true if you pay your contributors over $600 each. Under $600, and you don't need to create the documents.