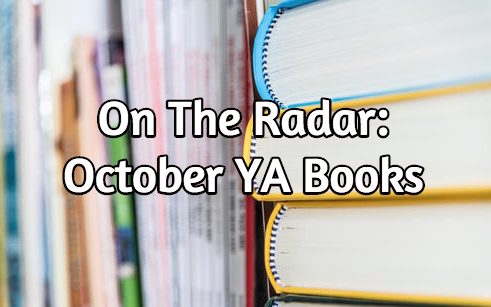 One of the most popular posts I do over at Book Riot is the round-up of upcoming YA fiction titles, and one of the most popular questions I seem to get on Twitter and in my inboxes is "what should I be looking out for in YA?" For a lot of readers, especially those who work with teens either in classrooms or in libraries, knowing what's coming out ahead of time is valuable to get those books into readers' hands before they even ask.Each month, I'll call out between 8 and 12 books coming out that should be on your radar. These include books by high-demand, well-known authors, as well as some up-and-coming and debut authors. They'll be across a variety of genres, including diverse titles and writers. Not all of the books will be ones that Kimberly or I have read, nor will all of them be titles that we're going to read and review. Rather, these are books that readers will be looking for and that have popped up regularly on social media, in advertising, in book mail, and so forth. It's part science and part arbitrary and a way to keep the answer to "what should I know about for this month?" quick, easy, and under $300 (doable for smaller library budgets especially).
For October, here are 12 titles to have on your radar. All descriptions are from WorldCat, and I've noted why it should be included.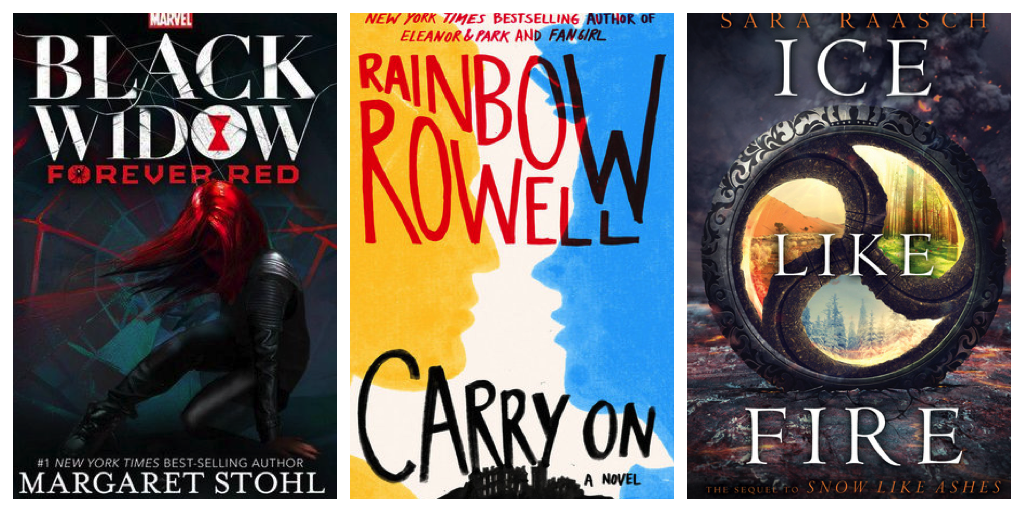 Black Widow: Forever Red by Margaret Stohl: Natasha Romanov, called the Black Widow, agent of S.H.I.E.L.D, rescues a young girl from Ivan, the man who once trained her as an assassin–and eight years later she is called upon to protect the teenager Ava has become from a threat from the past–and possibly from S.H.I.E.L.D itself.
Why: A full-length novel about Black Widow is going to do well. A female comic hero getting a whole book dedicated to her story? Rare and awesome.
Carry On 
by Rainbow Rowell: Simon Snow is the worst Chosen One who's ever been chosen.That's what his roommate, Baz, says. And Baz might be evil and a vampire and a complete git, but he's probably right.Half the time, Simon can't even make his wand work, and the other half, he starts something on fire. His mentor's avoiding him, his girlfriend broke up with him, and there's a magic-eating monster running around, wearing Simon's face. Baz
would be having a field day with all this, if he were here — it's their last year at the Watford School of Magicks, and Simon's infuriating nemesis didn't even bother to show up.
Why: Rainbow Rowell.
Ice Like Fire by Sara Raasch: When Cordellan debt forces the Winterians to dig their mines for payment, they unearth something powerful and possibly dangerous: Primoria's lost chasm of magic. Theron sees this find as an opportunity — with this much magic, the world can finally stand against threats like Angra. But Meira fears the danger the chasm poses — the last time the world had access to so much magic, it spawned the Decay.
Why: This is the sequel to Snow Like Ashes, which did quite well. It's a female-driven fantasy series with comparisons to Graceling.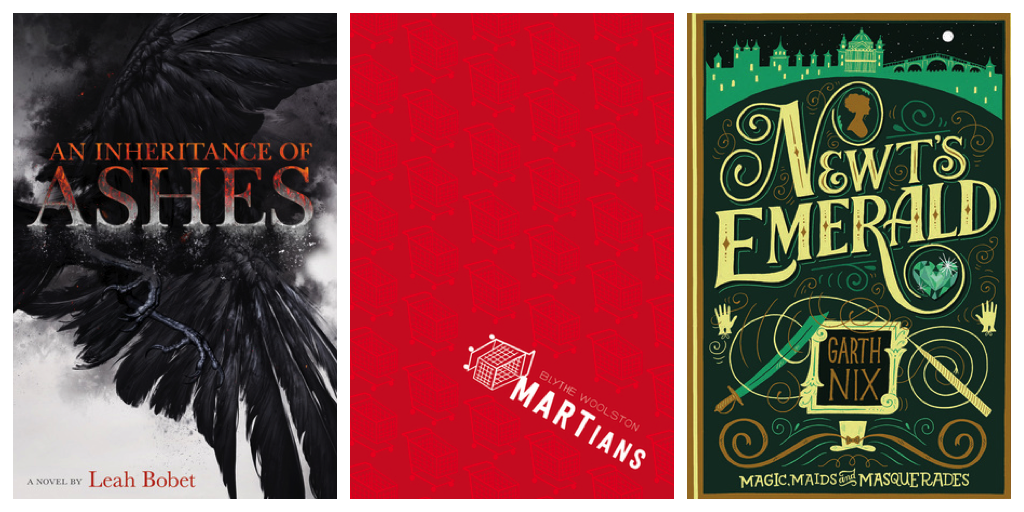 An Inheritance of Ashes by Leah Bobet: The strange war down south—with its rumors of gods and monsters—is over. And while sixteen-year-old Hallie and her sister wait to see who will return from the distant battlefield, they struggle to maintain their family farm.
When Hallie hires a veteran to help them, the war comes home in ways no one could have imagined, and soon Hallie is taking dangerous risks—and keeping desperate secrets. But even as she slowly learns more about the war and the men who fought it, ugly truths about Hallie's own family are emerging. And while monsters and armies are converging on the small farm, the greatest threat to her home may be Hallie herself.
Why: It's a stand alone fantasy! I'm not usually a fantasy reader but this one sounds really neat.
MARTians by Blythe Woolston: ast girl Zoë Zindleman, numerical ID 009-99-9999, is starting work at AllMART, where "your smile is the AllMART welcome mat." Her living arrangements are equally bleak: she can wait for her home to be foreclosed and stripped of anything valuable now that AnnaMom has moved away, leaving Zoë behind, or move to the Warren, an abandoned strip-mall-turned-refuge for other left-behinds. With a handful of other disaffected, forgotten kids, Zoë must find her place in a world that has consumed itself beyond redemption. She may be a last girl, but her name means "life," and Zoë isn't ready to disappear into the AllMART abyss. Zoë wants to live.
Why: Woolston always writes thought-provoking, challenging YA titles and this sounds like no exception.
Newt's Emerald by Garth Nix: After the Newington Emerald is stolen at the height of a conjured storm, eighteen-year-old Lady Truthful Newington goes to London, disguised as a man, to search for the magical heirloom of her house, and is soon caught up in a dangerous adventure where she must risk her life, her reputation, and her heart.
Why: A new Garth Nix book is reason enough.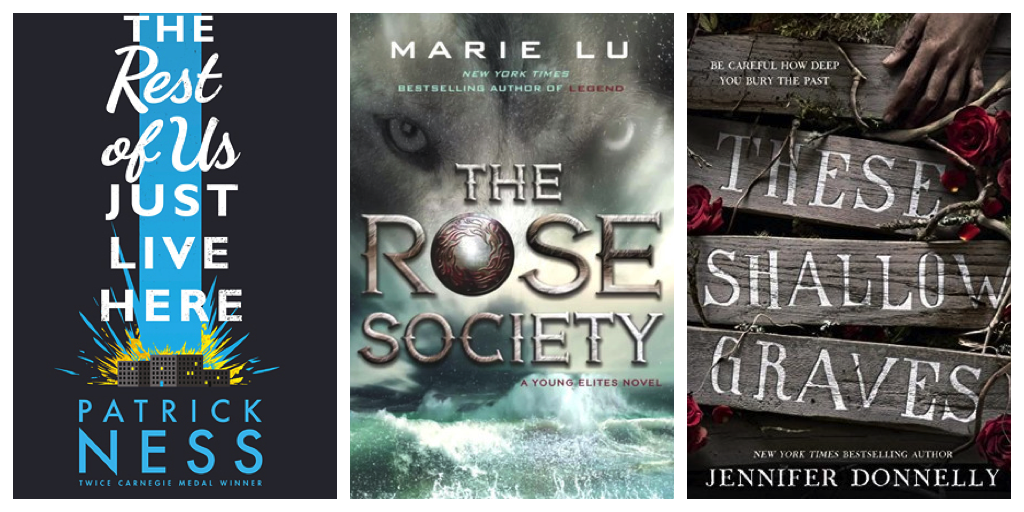 The Rest of Us Just Live Here 
by Patrick Ness: What if you aren't the Chosen One? The one who's supposed to fight the zombies, or the soul-eating ghosts, or whatever the heck this new thing is, with the blue lights and the death? What if you're like Mikey? Who just wants to graduate and go to prom and maybe finally work up the courage to ask Henna out before someone goes and blows up the high school. Again. Because sometimes there are problems bigger than this
week's end of the world, and sometimes you just have to find the extraordinary in your ordinary life. Even if your best friend is worshipped by mountain lions.
Why: Patrick Ness writes about those characters who aren't "the chosen ones."
The Rose Society 
by Marie Lu: Known and feared as the White Wolf, Adelina Amouteru and her sister flee Kenettra to find other Young Elites in the hopes of building her own army of allies. But as Adelina's powers (fed only by fear and hate) start to grow beyond her control, she also distrusts her newfound Elite friends. Teren Santoro, leader of the Inquisition, wants her dead. And her former friends, Raffaele and the Dagger Society, want to stop
her thirst for vengeance. Adelina struggles to cling to the good within her. But how can someone be good, when her very existence depends on darkness?
Why: The sequel to Marie Lu's bestselling Young Elites. It's going to be popular.
These Shallow Graves by Jennifer Donnelly: A young woman in nineteenth-century New York City must struggle against gender and class boundaries when her father is found dead of a supposed suicide, and she believes there is more than meets the eye, so in order to uncover the truth she will have to decide how much she is willing to risk and lose.
Why: Sounds like a solid historical mystery, and that it's written by Jennifer Donnelly only adds to the appeal.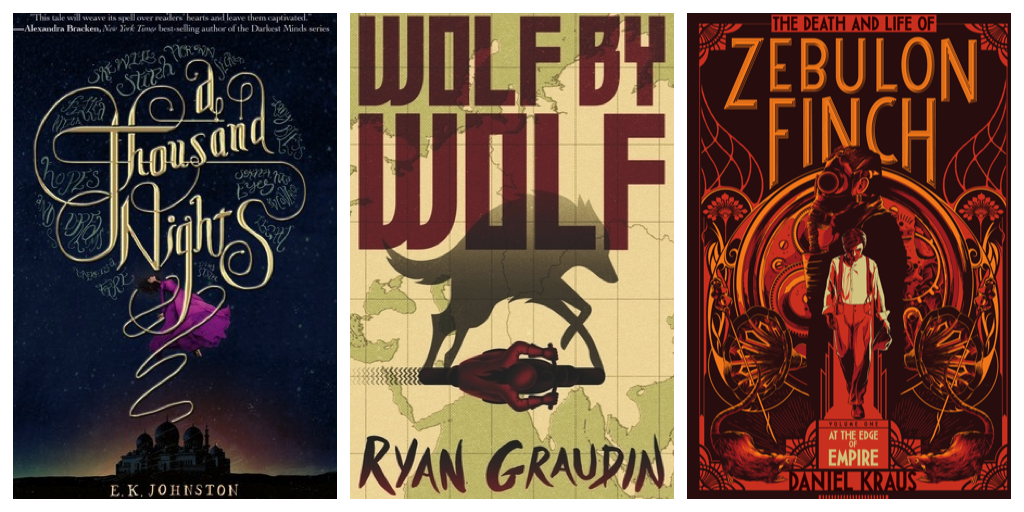 A Thousand Nights 
by EK Johnston: Lo-Melkhiin killed three hundred girls before he came to her village, so when she is taken to the king's dangerous court she believes death will soon follow, but night after night Lo-Melkhiin comes to her and listens to the stories she tells, leading her to unlocking years of fear that have tormented and silenced the kingdom, and soon she is dreaming of bigger, more terrible magic, power enough to save a king, if
she can put an end to rule of a monster.
Wolf by Wolf by Ryan Graudin: The first book in a duology about an alternate version of 1956 where the Axis powers won WWII, and hold an annual motorcycle race across their conjoined continents to commemorate their victory.
Why: Graudin is doing some risky fiction with Little Brown and this is no exception. Her last book with them, The Walled City, didn't get the attention that it should have. This particular title had a nice promotional mailing with it, so it's going to be bigger. First in a new duology.
The Death and Life of Zebulon Finch by Daniel Kraus: The story follows Zebulon Finch, a teenager murdered in 1896 Chicago who inexplicably returns from the dead and searches for redemption through the ages.
Why: Kraus never disappoints with his work, and this is a massive, challenging tome that readers looking for a long, thought-provoking read, will be eager to dig into.