Every month, we've been highlighting a genre or subgenre within YA and offering up a definition, a discussion, and a thick reading list featuring titles that fit. All of the guides can be found here under the tag genre fiction.
This month, rather than tackle a traditional genre or subgenre, I thought it would be worthwhile to tackle an emerging theme in YA fiction that could easily become a category, if not a full-blown genre within itself: climate fiction. Climate fiction, or cli-fi for short, has been making waves throughout the adult literary world. What is cli-fi? It's exactly what it sounds like — fiction that features climate change at the core of the story. The events within the story are caused by or impacted profoundly by the changing climate on Earth. It's meant to be both a key component of the story, as well as offer a bigger message about the impact we're leaving on the planet now. Over the last few years, it's hard to ignore the number of YA titles that could be classified as cli-fi.
The term cli-fi was coined by a climate activist in 2007 named Dan Bloom. You can read a bit about how the term arose and the history behind it here. It's noted there that Bloom believes, at least at this point, it's best a subgenre of science fiction. But because it's an evolving idea and one that could easily play out beyond science fiction, there's still growth and change to happen with it. He notes, too, that it's up to those outside the science fiction sphere to see whether it's got a lasting power or not.
What makes cli-fi different from other genres, and why it may not even be a traditional genre at all, is that titles which fit the category — or may fit the category in the future — fall across a range of genres and subgenres. Climate fiction could easily include appropriate contemporary realistic fiction, fantasy, and, as has been seen most frequently within YA, dystopia (which we know is a subgenre of science fiction but which seems to operate in YA as its own genre). I haven't seen it, but I suspect there could be an argument that a historical novel could also be cli-fi, and perhaps there already is but it hasn't popped up in my searching. No doubt horror is a ripe arena for cli-fi, too.
The discussion of cli-fi as a genre exploded in the last year and a half, but the bulk of writing about it so far has focused on adult fiction, rather than YA. Although Bloom noted in the article above he was disappointed that major outlets who talked about cli-fi didn't credit him appropriately as the term's creator, he thinks that the fact it's out there and people are talking about what it is and what it could be really important. Here's a look at some further reading on the topic:
VOYA Magazine did a feature on cli-fi in February of this year, and though the magazine focuses on youth topics, the bulk of the piece featured adult titles with teen crossover appeal. You can access it as a .pdf here.
Because this is such a new area of fiction — or at least the term we used to describe this kind of fiction is so new — there aren't many dedicated sites to these books. But the one that does exist is constantly growing and expanding:
Nature Fiction and Cli-Fi Books
. Keep this one on your radar if this is a genre that interests you. I think that as we think more about how we label and discuss books, cli-fi is going to become a really worthwhile term and concept to have in mind. Less from the standpoint of organizing books but more from the standpoint of how to recommend and connect different books to one another. If cli-fi is a wider swath of books beyond science fiction — and I think it is — it's a really valuable means of offering new books to readers hungry for books that explore the effect climate has on not just the globe, but the people living on it.
Here's a look at a pile of YA titles that could easily be categorized (or genrefied!) as cli-fi. The bulk have published in the last couple of years, though a few come before that. Any additional titles you can think of that would fit, I'd love to hear about, especially if it's something outside of science fiction or dystopia. All descriptions are via WorldCat.
Not A Drop To Drink by Mindy McGinnis: Sixteen-year-old Lynn will do anything to protect her valuable water source, but the arrival of new neighbors forces her to reconsider her attitudes.
H2O by Virginia Bergin (October 7): When a strange rain falls bearing a fatal, contagious disease, Ruby finds herself alone with the only drinkable water quickly running out.
Love in the Time of Global Warming by Francesca Lia Block: After a devastating earthquake destroys the West Coast, causing seventeen-year-old Penelope to lose her home, her parents, and her ten-year-old brother, she navigates a dark world, holding hope and love in her hands and refusing to be defeated.
Memory of Water by Emmi Itaranta: In the far north of the Scandinavian Union, now occupied by the power state of New Qian, seventeen-year-old Noria Kaitio studies to become a tea master like her father. It is a position that holds great responsibility and a dangerous secret. Tea masters alone know the location of hidden water sources, including the natural spring that once provided water for her whole village. When Noria's father dies, the secret of the spring reaches the new military commander. and the power of the army is vast indeed. But the precious water reserve is not the only forbidden knowledge Noria possesses, and resistance is a fine line. Threatened with imprisonment, and with her life at stake, Noria must make an excruciating, dangerous choice between knowledge and freedom.
The Carbon Diaries 2015 (and its sequel, The Carbon Diaries 2017) by Saci Lloyd: In 2015, when England becomes the first nation to introduce carbon dioxide rationing in a drastic bid to combat climate change, sixteen-year-old Laura documents the first year of rationing as her family spirals out of control.
Exodus by Julie Bertagna: In the year 2100, as the island of Wing is about to be covered by water, fifteen-year-old Mara discovers the existence of New World sky cities that are safe from the storms and rising waters, and convinces her people to travel to one of these cities in order to save themselves.
Ship Breaker by Paolo Bacigalupi: In a futuristic world, teenaged Nailer scavenges copper wiring from grounded oil tankers for a living, but when he finds a beached clipper ship with a girl in the wreckage, he has to decide if he should strip the ship for its wealth or rescue the girl.
The Water Wars by Cameron Stracher: In a world where water has become a precious resource, Vera and her brother befriend a boy who seems to have unlimited access to water and who suspiciously disappears, prompting a dangerous search challenged by pirates, a paramilitary group, and corporations.
Aquifer by Jonathan Friesen: In 2250, water is scarce and controlled by tyrants, but when sixteen-year-old Luca descends to the domain of the Water Rats, he meets one who captures his heart and leads him to secrets about a vast conspiracy, and about himself.
The White Horse Trick by Kate Thompson: In the late twenty-first century, dramatic climate change has made life in Ireland almost impossible, and soon Tir na n'Og is faced with a refugee problem, partly because of a warlord who is a member of the Liddy family.
Ashfall by Mike Mullin (series): After the eruption of the Yellowstone supervolcano destroys his city and its surroundings, fifteen-year-old Alex must journey from Cedar Falls, Iowa, to Illinois to find his parents and sister, trying to survive in a transformed landscape and a new society in which all the old rules of living have vanished.
Survival Colony 9 by Joshua Bellin: In a future world of dust and ruin, fourteen-year-old Querry Genn struggles to recover the lost memory that might save the human race.Querry is a member of Survival Colony Nine, one of the small, roving groups of people who outlived the wars and environmental catastrophes that destroyed the old world. The commander of Survival Colony Nine is his father, Laman Genn, who runs the camp with an iron will. He has to–because heat, dust, and starvation aren't the only threats in this ruined world. There are also the Skaldi. Monsters with the ability to infect and mimic human hosts, the Skaldi appeared on the planet shortly after the wars of destruction. No one knows where they came from or what they are. But if they're not stopped, it might mean the end of humanity. Six months ago, Querry had an encounter with the Skaldi–and now he can't remember anything that happened before then. If he can recall his past, he might be able to find the key to defeat the Skaldi. If he can't, he's their next victim. (Description via Goodreads)
Orleans by Sherri L. Smith: Set in a futuristic, hostile Orleans landscape, Fen de la Guerre must deliver her tribe leader's baby over the Wall into the Outer States before her blood becomes tainted with Delta Fever.
Some Fine Day by Kat Ross: Sixteen-year-old Jansin Nordqvist is on the verge of graduating from the black ops factory known as the Academy. She's smart and deadly, and knows three things with absolute certainty: 1. When the world flooded and civilization retreated deep underground, there was no one left on the surface. 2. The only species to thrive there are the toads, a primate/amphibian hybrid with a serious mean streak. 3. There's no place on Earth where you can hide from the hypercanes, continent-sized storms that have raged for decades. Jansin has been lied to. On all counts. (Description via Goodreads).
After the Snow by S. D. Crockett: Fifteen-year-old Willo Blake, born after the 2059 snows that ushered in a new ice age, encounters outlaws, halfmen, and an abandoned girl as he journeys in search of his family, who mysteriously disappeared from the freezing mountain that was their home.
Wasteland by Susan Kim and Laurence Klavan: In a post-apocalyptic world where everyone dies at age nineteen and rainwater contains a killer virus, loners Esther and Eli band together with a group of mutant, hermaphroditic outsiders to fight a corrupt ruler and save the town of Prin.
Birthmarked by Caragh M. O'Brien (series): In a future world baked dry by the sun and divided into those who live inside the wall and those who live outside it, sixteen-year-old midwife Gaia Stone is forced into a difficult choice when her parents are arrested and taken into the city.
Breathe by Sarah Crossan (series)In a barren land, a shimmering glass dome houses the survivors of the Switch, the period when oxygen levels plunged and the green world withered. A state lottery meant a lucky few won safety, while the rest suffocated in the thin air. And now Alina, Quinn, and Bea–an unlikely trio, each with their own agendas, their own longings and fears–walk straight into the heart of danger. With two days' worth of oxygen in their tanks, they leave the dome. What will happen on the third day?:
Dark Life by Kat Falls: When fifteen-year-old Ty, who has always lived on the ocean floor, joins Topside girl Gemma in the frontier's underworld to seek and stop outlaws who threaten his home, they learn that the government may pose an even greater threat.
Drowned by Nichola Reilly: Coe is one of the few remaining teenagers on the island of Tides. Deformed and weak, she is constantly reminded that in a world where dry land dwindles at every high tide, she is not welcome. The only bright spot in her harsh and difficult life is the strong, capable Tiam– but love has long ago been forgotten by her society. The only priority is survival. Until the day their King falls ill, leaving no male heir to take his place. Unrest grows, and for reasons Coe cannot comprehend, she is invited into the privileged circle of royal aides. She soon learns that the dying royal is keeping a secret that will change their world forever. Is there an escape from the horrific nightmare that their island home has become? Coe must race to find the answers and save the people she cares about, before their world and everything they know is lost to the waters.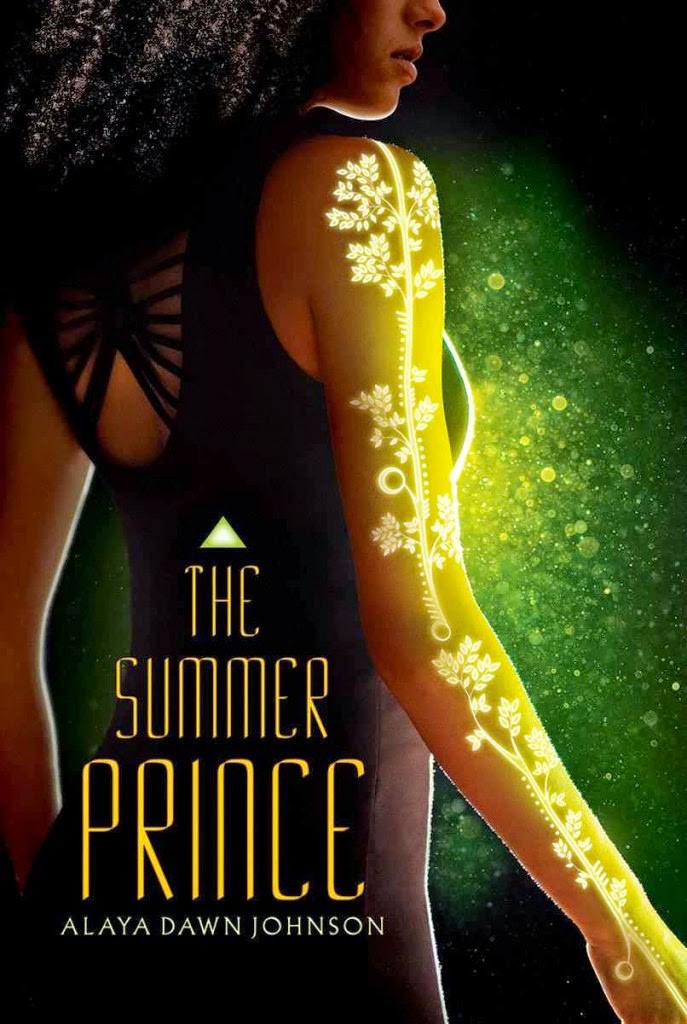 The Summer Prince by Alaya Dawn Johnson: In a Brazil of the distant future, June Costa falls in love with Enki, a fellow artist and rebel against the strict limits of the legendary pyramid city of Palmares Três' matriarchal government, knowing that, like all Summer Kings before him, Enki is destined to die.