We're skipping our monthly "Get Genrefied" series this month for a couple of reasons. The first is that we're curious what genres we haven't explored that are worth devoting an entire post to writing about — and that's where we ask straight out if there's a topic we should write about, we'd like to know about it in the comments. Should we look at some subgenres? Rework some of our previous posts with updated titles? Let us know.
The other reason is that we haven't spent a lot of time talking about YA non-fiction. Part of it has to do with the fact that, like YA memoirs, there really isn't a whole lot out there about it. There's the Excellence in Non-Fiction Award, as administered by YALSA, and many of the writing awards for YA books do fold non-fiction into them (Morris and Printz, for example, as well as the National Book Award). There's also a nice selection of teen adaptations of adult non-fiction titles, which is even larger than this list written last year suggests.
But it wasn't until the last few years and the implementation of Common Core in education standards that YA non-fiction grew. It used to be tough to find, and now, it's becoming more and more visible and not only is it becoming more visible, it's approaching topics in new, interesting, inventive, and novel ways.
Though I'm a non-fiction reader, I don't tend toward YA non-fiction as much as I do adult. As a teen, there wasn't good non-fiction for a YA audience and I found what it was I wanted in the adult section. I never shook the habit, though the more I read about non-fiction for YA readers, the more I want to read it.
And as Malinda Lo pointed out: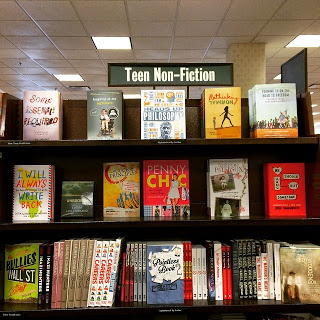 Here's a round-up of recent YA non-fiction that's hit shelves in the last few months, as well as a pile of forthcoming titles worth knowing about. I'm avoiding replicating titles you can find on the Excellence in Non-Fiction Award list. I'm also sticking to major publishers and titles that aren't part of an educational series; in other words, these are the kinds of non-fiction titles you'd most likely find for sale in a retail bookstore. I've included memoirs and biographies that have not otherwise been mentioned here before. As has been talked about before, non-fiction can take on multiple formats, so some of these titles are graphically-driven or otherwise non-traditional narrative formats. I've included those titles reaching the 10-14 age group, as well as those targeting the 14 and older group, so there's some stuff that will work better for the younger YA readers, as well as some better for the older YA readers.
All descriptions come from Edelweiss, and I would love to hear about not only what we should be considering for future installments of "Get Genrefied," but also, what YA non-fiction have you read recently that would be a great place to start reading? Is there something you're looking forward to reading that should be on my radar? Let's talk non-fiction.
The Bullies of Wall Street by Sheila Bair: Can knowing how a financial crisis happened keep it from happening again? Sheila Bair, the former chairman of the FDIC, explains how the Great Recession impacted families on a personal level using language that everyone can understand.
In 2008, America went through a terrible financial crisis, and we are still suffering the consequences. Families lost their homes, had to give up their pets, and struggled to pay for food and medicine. Businesses didn't have money to buy equipment or hire and pay workers. Millions of people lost their jobs and their life savings. More than 100,000 businesses went bankrupt.
As the former head of the Federal Deposit Insurance Corporation, Sheila Bair worked to protect families during the crisis and keep their bank deposits safe. In The Bullies of Wall Street, she describes the many ways in which a broken system led families into financial trouble, and also explains the decisions being made at the time by the most powerful people in the country—from CEOs of multinational banks, to heads of government regulatory committees—that led to the recession.
Please Excuse This Poem by Brett F Lauer, Lynn Melnick, and Carolyn Forche: 100 award-winning poets in their 20s and 30s. A diverse collection of voices, styles, and backgrounds. Please Excuse This Poem: 100 New Poets for the Next Generation is a groundbreaking, life-changing anthology that speaks directly to the heart of the teenage and New Adult experience, smashing through boundaries with every page. Anthologists Brett Fletcher Lauer and Lynn Melnick have their ears to the ground, and have crafted a book that is sure to be carried in backpacks, hip pockets, and into the classroom. With an introduction from award-winning poet, editor, and translator Carolyn Forché, this is a book that stands head and shoulder above other collections for teenagers today.
Unlikely Warrior by Georg Rauch: An astounding memoir about a Jewish teenager forced to become a German soldier.
As a young adult in wartime Vienna, Georg Rauch helped his mother hide dozens of Jews from the Gestapo behind false walls in their top-floor apartment and arrange for their safe transport out of the country. His family was among the few who worked underground to resist Nazi rule. Then came the day he was drafted into Hitler's army and shipped out to fight on the Eastern front as part of the German infantry—in spite of his having confessed his own Jewish ancestry. Thus begins the incredible journey of a nineteen year old thrust unwillingly into an unjust war, who must use his smarts, skills, and bare-knuckled determination to stay alive in the trenches, avoid starvation and exposure during the brutal Russian winter, survive more than one Soviet labor camp, and somehow find his way back home.
Dare to Disappoint: Growing Up in Turkey by Ozge Samanci (November 17): Growing up on the Aegean Coast, Ozge loved the sea and imagined a life of adventure while her parents and society demanded predictability. Her dad expected Ozge, like her sister, to become an engineer. She tried to hear her own voice over his and the religious and militaristic tensions of Turkey and the conflicts between secularism and fundamentalism. Could she be a scuba diver like Jacques Cousteau? A stage actress? Would it be possible to please everyone including herself?
In her unpredictable and funny graphic memoir, Ozge recounts her story using inventive collages, weaving together images of the sea, politics, science, and friendship.
Invisible Girl by Mariel Hemingway and Ben Greenman: "I open my eyes. The room is dark. I hear yelling, smashed plates, and wish it was all a terrible dream." Welcome to Mariel Hemingway's intimate diary of her years as a girl and teen. In this deeply moving, searingly honest young adult memoir, actress and mental health icon Mariel Hemingway shares in candid detail the story of her troubled childhood in a famous family haunted by depression, alcoholism, mental illness, and suicide. Born just a few months after her grandfather, Ernest Hemingway, shot himself, Mariel's mission as a girl was to escape the desperate cycles of debilitating mental health that had plagued generations of her family. In a voice that speaks to young readers everywhere, she recounts her childhood growing up in a family tortured by alcoholism (both parents), depression (her sister Margaux), suicide (her grandfather and four other members of her family), schizophrenia (her sister Muffet), and cancer (mother). It was all the young Mariel could do to keep her head. She reveals her painful struggle to stay sane as the youngest child in her family, and how she coped with the chaos by becoming OCD and obsessive about her food. Young readers who are sharing a similar painful childhood will see their lives and questions reflected on the pages of her diary—and they may even be inspired to start their own diary to channel their pain. Her voice will speak directly to teens across the world and tell them there is light at the end of the tunnel.
Sondheim by Susan Goldman Rubin (November 3): Talented lyricist and composer. Innovative collaborator. Musical visionary. Go behind the scenes of Stephen Sondheim's most celebrated musicals in this in-depth look at his life and career.
In high school, Stephen Sondheim put a script in front of his friend and mentor Oscar Hammerstein. "I want you to treat this as if it were a script that just came across your desk," Sondheim told the older man.
"In that case, it's the worst thing I ever read."
So Stephen Sondheim kept writing. He kept composing and in time he became the greatest composer Broadway had ever seen.
Beginning with the opening night of the classic musical West Side Story in 1957, and tracing Stephen's life from boyhood to his struggles as an up and coming Broadway composer/lyricist to a musical theater legend, Susan Rubin's Putting It Together draws readers into the passionate, tumultuous, and musical world of Stephen Sondheim.
Enchanted Air by Margarita Engle (August 4): In this poetic memoir, Margarita Engle, the first Latina woman to receive a Newbery Honor, tells of growing up as a child of two cultures during the Cold War.
Margarita is a girl from two worlds. Her heart lies in Cuba, her mother's tropical island country, a place so lush with vibrant life that it seems like a fairy tale kingdom. But most of the time she lives in Los Angeles, lonely in the noisy city and dreaming of the summers when she can take a plane through the enchanted air to her beloved island. Words and images are her constant companions, friendly and comforting when the children at school are not.
Then a revolution breaks out in Cuba. Margarita fears for her far-away family. When the hostility between Cuba and the United States erupts at the Bay of Pigs Invasion, Margarita's worlds collide in the worst way possible. How can the two countries she loves hate each other so much? And will she ever get to visit her beautiful island again?
Honor Girl by Maggie Thrash (September 8): Maggie Thrash has spent basically every summer of her fifteen-year-old life at the one-hundred-year-old Camp Bellflower for Girls, set deep in the heart of Appalachia. She's from Atlanta, she's never kissed a guy, she's into Backstreet Boys in a really deep way, and her long summer days are full of a pleasant, peaceful nothing…until one confounding moment. A split-second of innocent physical contact pulls Maggie into a gut-twisting love for an older, wiser, and most surprising of all (at least to Maggie), female counselor named Erin. But Camp Bellflower is an impossible place for a girl to fall in love with another girl, and Maggie's savant-like proficiency at the camp's rifle range is the only thing keeping her heart from exploding. When it seems as if Erin maybe feels the same way about Maggie, it's too much for both Maggie and Camp Bellflower to handle, let alone to understand.
Symphony for the City of the Dead by M. T. Anderson (September 22): In September 1941, Adolf Hitler's Wehrmacht surrounded Leningrad in what was to become one of the longest and most destructive sieges in Western history—almost three years of bombardment and starvation that culminated in the harsh winter of 1943–1944. More than a million citizens perished. Survivors recall corpses littering the frozen streets, their relatives having neither the means nor the strength to bury them. Residents burned books, furniture, and floorboards to keep warm; they ate family pets and—eventually—one another to stay alive. Trapped between the Nazi invading force and the Soviet government itself was composer Dmitri Shostakovich, who would write a symphony that roused, rallied, eulogized, and commemorated his fellow citizens—the Leningrad Symphony, which came to occupy a surprising place of prominence in the eventual Allied victory.

This is the true story of a city under siege: the triumph of bravery and defiance in the face of terrifying odds. It is also a look at the power—and layered meaning—of music in beleaguered lives. Symphony for the City of the Dead is a masterwork thrillingly told and impeccably researched by National Book Award–winning author M. T. Anderson.
I Will Always Write Back by Caitlin Alifirenka and Martin Ganda: It started as an assignment. Everyone in Caitlin's class wrote to an unknown student somewhere in a distant place.
Martin was lucky to even receive a pen-pal letter. There were only ten letters, and forty kids in his class. But he was the top student, so he got the first one.
That letter was the beginning of a correspondence that spanned six years and changed two lives.
In this compelling dual memoir, Caitlin and Martin recount how they became best friends –and better people–through their long-distance exchange. Their story will inspire you to look beyond your own life and wonder about the world at large and your place in it.
We Should Hang Out Sometime by Josh Sundquist When I was twenty-five years old, it came to my attention that I had never had a girlfriend. At the time, I was actually under the impression that I was in a relationship, so this bit of news came as something of a shock.
Why was Josh still single? To find out, he tracked down each of the girls he had tried to date since middle school and asked them straight up: What went wrong?
The results of Josh's semi-scientific investigation are in your hands. From a disastrous Putt-Putt date involving a backward prosthetic foot, to his introduction to CFD (Close Fast Dancing), and a misguided "grand gesture" at a Miss America pageant, this story is about looking for love–or at least a girlfriend–in all the wrong places.
Poignant, relatable, and totally hilarious, this memoir is for anyone who has ever wondered, "Is there something wrong with me?"
(Spoiler Alert: the answer is no.)
Breakaway by Alex Morgan (June 2): Get inspired to be your best—in sports and in life—with this uplifting memoir from star soccer player and Olympic gold medalist Alex Morgan that includes eight pages of full-color photos as well as book jacket that doubles as a poster!
As a talented and successful female athlete, Alex Morgan is a role model to thousands of girls who want to be their best, not just in soccer, but in other sports and in life. The story of her path to success, from playing in the 2011 Women's World Cup, to winning gold in the 2012 London Olympics, to ranking as one of the National Team's top scorers, will inspire everyone who reads it.
From her beginnings with the American Youth Soccer Organization to her key role in the 2015 Women's World Cup, Alex shares the details that made her who she is today: a fantastic role model and athlete who proudly rocks a pink headband.
Chocolate by Kay Frydenborg: A fascinating account for teen readers that captures the history, science, and economic and cultural implications of the harvesting of cacao and creation of chocolate. Readers of Chew On This and The Omnivore's Dilemma will savor this rich exposé.

Chocolate hits all the right sweet–and bitter–notes: cutting-edge genetic science whisked in with a strong social conscience, history, and culture yield one thought-provoking look into one of the world's most popular foods. Readers who savored Chew on This and Food, Inc. and lovers of chocolate will relish this fascinating read.
Drowned City: Hurricane Katrina and New Orleans by Don Brown (August 4): Marking the 10th anniversary of Hurricane Katrina, this companion to The Great American Dust Bowl combines lively drawings and authoritative memoir in graphic novel form to recount one of the most destructive and devastating natural disasters in our American history.


On August 29, 2005, Hurricane Katrina's monstrous winds and surging water overwhelmed the protective levees around low-lying New Orleans, Louisiana. Eighty percent of the city flooded, in some places under twenty feet of water. Property damages across the Gulf Coast topped $100 billion. One thousand eight hundred and thirty-three people lost their lives. The riveting tale of this historic storm and the drowning of an American city is one of selflessness, heroism, and courage—and also of incompetence, racism, and criminality.
Don Brown's kinetic art and as-it-happens narrative capture both the tragedy and triumph of one of the worst natural disasters in American history. A portion of the proceeds from this book has been donated to Habitat for Humanity New Orleans.
The Prisoners of Breendonk by James M. Deem (August 4): This absorbing and captivating nonfiction account (with never-before-published photographs) offers readers an in-depth anthropological and historical look into the lives of those who suffered and survived Breenkdonk concentration camp during the Holocaust of World War II.


Fort Breendonk was built in the early 1900s to protect Antwerp, Belgium, from possible German invasion. Damaged at the start of World War I, it fell into disrepair . . . until the Nazis took it over after their invasion of Belgium in 1940. Never designated an official concentration camp by the SS and instead labeled a "reception" camp where prisoners were held until they were either released or transported, Breendonk was no less brutal. About 3,600 prisoners were held there–just over half of them survived. As one prisoner put it, "I would prefer to spend nineteen months at Buchenwald than nineteen days at Breendonk."
With access to the camp and its archives and with rare photos and artwork, James M. Deem pieces together the story of the camp by telling the stories of its victims–Jews, communists, resistance fighters, and common criminals–for the first time in an English-language publication. Leon Nolis's haunting photography of the camp today accompanies the wide range of archival images.
The story of Breendonk is one you will never forget.
Just Add Water by Clay Marzo (July 14): Clay Marzo has an almost preternatural gift with a surfboard. From his first moments underwater (he learned to swim at two months old) to his first ventures atop his father's surfboard as a toddler, it was obvious that Marzo's single-minded focus on all things surfing was unique. But not until late in his teens, when this surfing phenom was diagnosed with Asperger's syndrome, did the deeper reasons for his obsession—and his astonishing gift for surfing—become clear.

Just Add Water is the remarkable story of Marzo's rise to the top of the pro surfing world—and the personal trials he overcame in making it there. Marzo endured a difficult childhood. He was a colicky baby who his mother found could be soothed only with water. Later, as he entered school, his undiagnosed Asperger's made it tough for him to relate to his peers and fit in, but his relationship with the wave was elemental. Marzo could always turn to surfing, the only place where he truly felt at peace.

Unflinching and inspiring, Just Add Water is a brave memoir from a one-of-a-kind surfing savant who has electrified fans around the world with his gift and whose story speaks boldly to the hope and ultimate triumph of the human spirit.
Taking Hold by Francisco Jimenez: Francisco Jimenez leaves everything behind in California-a loving family, a devoted girlfriend, and the culture that shaped him- to attend Columbia University in New York City.
With few true accounts of the Latino experience in America, Francisco Jimenez's work comes alive with telling details about the warmth and resiliency of family and the quest for identity against seemingly impossible odds.
The Story of Seeds by Nancy Costaldo (February 23, 2016): Something as small as a seed can have a worldwide impact. Did you know there are top-secret seed vaults hidden throughout the world? And once a seed disappears, that's it—it's gone forever? With the growth of genetically modified foods, the use of many seeds is dwindling—of 80,000 edible plants, only about 150 are being cultivated. With a global cast of men and women, scientists and laypeople, and photographic documentation, Nancy Castaldo chronicles where our food comes from, and more importantly, where it is going as she digs deeper into the importance of seeds in our world. This empowering book also calls young adult readers to action with suggestions as to how they can preserve the variety of one of our most valuable food sources through simple everyday actions. Readers of Michael Pollen will enjoy the depth and fascinatingly intricate social economy of seeds.
Fight Like A Girl by Laura Barcella (January 5, 2016): Nearly every day there's another news story, think piece, or pop culture anecdote related to feminism and women's rights. And today's teens are encountering these issues from their own unique perspective-but what's often missing from this discussion is an understanding of how we've gotten to this place. Fight Like a Girlintroduces readers to the history of feminist activism in the U.S. through profiles of fifty incredible women, including Hillary Clinton, Ruth Bader Ginsburg, Roxane Gay, and more.
It's Getting Hot in Here by Bridget Heos (February 23, 2016): Tackling the issue of global warming head-on for a teen audience, Bridget Heos examines the science behind it, the history of climate change on our planet, and the ways in which humans have affected the current crisis we face. It's Getting Hot in Here illustrates how interconnected we are not just with everyone else on the planet, but with the people who came before us and the ones who will inherit the planet after us. This eye-opening approach to one of today's most pressing issues focuses on the past human influences, the current state of affairs, the grim picture for the future—and how young readers can help to make a positive change.
Last of the Giants by Jeff Campbell (December 1): More than 40,000 years ago, the earth was ruled by megafauna: mammoths and mastodons, saber-toothed tigers and giant sloths. But evolution and the arrival of the wildly adaptive human species have led to extinction for many of these giants. Globalization, beginning with Columbus, has already destroyed the black rhino, the giant tortoise, and the great auk; but for other species, there is still time. Last of the Giants chronicles these giant animals, and provides an astonishing portrait of an ancient world that is vanishing before our very eyes.
Prison Island by Colleen Franks (September 1): McNeil Island in Washington State was home to one of the last island prisons in the U.S.-and accessible only by air or sea. But for Colleen Frakes and her family, it was also just "home." When the island was closed in 2011, the Frakes family returned for one last visit. Colleen's memories still linger (the boat rides to school, a day-long hunt for pizza, and a birthday party ruined by an escape), but the island is rapidly changing. Luckily, this final tour offers Colleen a unique opportunity to catch hold of her past.
UnSlut by Emily Linder (December 29): When Emily Lindin was eleven years old, she was branded a "slut" by her classmates. For the next few years of her life, she was bullied at school, after school, and online. At the time, Emily didn't feel comfortable confiding in anyone-but she did keep a diary. UnSlut presents this diary alongside comments from the adult Emily of today. Together, these two sets of reflections-one from the past, one from the present-shed light on the increasingly important issues of sexual bullying and slut shaming.
Whoppers by Christine Seifert (September 1): History is full of liars. Not just fibbers, or little-white-lie-telling liars, but big-honkin'-whopper-telling liars-people who have tried to convince us that even the most improbable, outrageous, nonsensical stories are true. And the worst part? We've believed them! From famous such as P. T. Barnum, who made a living off his deceptions, to more obscure figures such as Victor Lustig, who managed to "sell" the Eiffel Tower twice in the 1920s, Whopperstells the story of history's greatest liars and the crazy, incredible, but often quite successful stories they told.
The Boys Who Challenged Hitler by Phillip Hoose At the outset of World War II, Denmark did not resist German occupation. Deeply ashamed of his nations leaders, fifteen-year-old Knud Pedersen resolved with his brother and a handful of schoolmates to take action against the Nazis if the adults would not. Naming their secret club after the fiery British leader, the young patriots in the Churchill Club committed countless acts of sabotage, infuriating the Germans, who eventually had the boys tracked down and arrested. But their efforts were not in vain: the boys' exploits and eventual imprisonment helped spark a full-blown Danish resistance. Interweaving his own narrative with the recollections of Knud himself, here is Phil Hoose's inspiring story of these young war heroes.
The Making of a Navy SEAL by Brandon Webb (August 25): Members of the Navy SEAL elite sniper corps must complete some of the toughest and longest military training in the world. This is the dramatic tale of how Brandon Webb overcame a tough childhood to live his dream and enter the exciting and dangerous world of Navy SEALS and Special Forces snipers. From his grueling years of training in Naval Special Operations to his combat tours in the Persian Gulf and Afghanistan, THE MAKING OF A NAVY SEAL is a rare look at the inner workings of the U.S. military through the eyes of a covert operations specialist.

But it is Webb's second career as a lead instructor for the shadowy "sniper cell" and Course Manager of the Navy SEAL Sniper Program that trained some of America's finest warriors—including Marcus Luttrell (LONE SURVIVOR) and Chris Kyle (AMERICAN SNIPER)—that makes this story so special. THE MAKING OF A NAVY SEAL is Webb's tale of overcoming the odds to be the best, and a secret look inside one of the finest and most difficult military training courses ever.
The Young Ben Franklin
by Julian Hanshaw (August 2, 2016): This graphic novel tells the story of young Ben Franklin's quest for moral perfection-and relies primarily on his own words to do so! Adapted from
The Autobiography
and using additional text from
Poor Richard's Almanac
, readers are visually transported into Ben Franklin's world of printing presses, quills, and beer steins. Franklin undertakes an experiment to try and live out thirteen 'virtues' and achieve moral perfection-with mixed results. Readers will relate to his disillusionment at and disgust with the way people around him give into their vices, and, along with Franklin, learn that achieving moral perfection may be harder than it seems.
Most Dangerous by Steven Sheinkin (September 22): From Steve Sheinkin, the award-winning author of The Port Chicago 50 and Bomb, comes a tense, exciting exploration of what the New York Times deemed "the greatest story of the century": how Daniel Ellsberg transformed from obscure government analyst into "the most dangerous man in America." On June 13, 1971, the front page of the New York Times announced the existence of a 7,000-page collection of documents containing a secret history of the Vietnam War. Known as the Pentagon Papers, they revealed a decades-long pattern of deception that forever changed the relationship between American citizens and the politicans claiming to represent their interests. A provocative book that interrogates the meanings of patriotism, freedom, and integrity, Most Dangerous further establishes Steve Sheinkin as a leader in children's nonfiction.
Tommy: The Gun That Changed America by Karen Blumenthal (June 30): John Taliaferro Thompson had a mission: to develop a lightweight, fast-firing weapon that would help Americans win on the battlefield. His Thompson submachine gun could deliver a hundred bullets in a matter of seconds—but didn't find a market in the U.S. military. Instead, the Tommy gun became the weapon of choice for a generation of bootleggers and bank-robbing outlaws, and became a deadly American icon. Following a bloody decade—and eighty years before the mass shootings of our own time—Congress moved to take this weapon off the streets, igniting a national debate about gun control. Critically-acclaimed author Karen Blumenthal tells the fascinating story of this famous and deadly weapon— of the lives it changed, the debate it sparked, and the unprecedented response it inspired.
Turning 15 On The Road to Freedom by Lynda Blackmon Lowery: Jailed eleven times before her fifteenth birthday, Lynda Blackmon Lowery refused to give up the fight for equal rights. She was the youngest marcher on the historic 1965 voting rights march from Selma to Montgomery, Alabama. Lynda vowed that she would make a difference—and she did. In her own words, she shows today's young readers what it means to fight nonviolently (even when the police are using violence, as in the "Bloody Sunday" protest), and how it felt to overcome terror and win a battle that affected the entire country.

Straightforward and inspiring, this memoir brings us into the middle of the Civil Right Movement and offers compelling proof that young adults can be heroes.
The Boy Who Harnessed The Wind by William Kamkwamba: When a terrible drought struck William Kamkwamba's tiny village in Malawi, his family lost all of the season's crops, leaving them with nothing to eat and nothing to sell. The family was starving, and they could hardly find money for food, let alone school fees. Forced to drop out, William began to explore the science books in his village library. There, he came up with an idea that would change his family's life forever: He could build a windmill. Made out of scrap metal and old bicycle parts, William's windmill would bring electricity to his home and help his family pump the water they needed to farm the land.
FDR and the American Crisis by Albert Marrin: The definitive biography of president Franklin Delano Roosevelt for young adult readers, from National Book Award finalist Albert Marrin.

Brought up in a privileged family, Franklin Delano Roosevelt had every opportunity in front of him. As a young man, he found a path in politics and quickly began to move into the public eye. That ascent seemed impossible when he contracted polio and lost the use of his legs. But with a will of steel he fought the disease—and public perception of his disability—to become president of the United States of America.

FDR used that same will to guide his country through a crippling depression and a horrendous world war. He understood Adolf Hitler, and what it would take to stop him, before almost any other world leader did. But to accomplish his greater goals, he made difficult choices that sometimes compromised the ideals of fairness and justice.

FDR is one of America's most intriguing presidents, lionized by some and villainized by others. National Book Award finalist Albert Marrin explores the life of a fascinating, complex man, who was ultimately one of the greatest leaders our country has known.
Stonewall by Ann Bausum: The first history of gay rights for teen readers, written by an award-winning nonfiction author

Not that long ago, laws throughout the country criminalized homosexual behavior, the medical community viewed being gay as a sign of mental illness, and coming out could lead to being fired, shunned, and disowned. Then came Stonewall. And things began to change.
In her dramatic retelling of the Stonewall riots of 1969, award-winner Ann Bausum introduces teen readers to the decades-long struggle for gay rights. Vividly narrated and illustrated with archival photographs, Stonewalldemonstrates how far the battle has come in the past four decades and yet how universal the struggles remain as young people of any era grow into their sexuality.
Make It Messy by Marcus Samuelsson (June 9): Marcus Samuelsson's life and his journey to the top of the food world have been anything but typical. Orphaned in Ethiopia, he was adopted by a loving couple in Sweden, where his new grandmother taught him to cook and inspired in him a lifelong passion for food. In time, that passion would lead him to train and cook in some of the finest, most demanding kitchens in Europe.

Samuelsson's talent and ambition eventually led him to fulfill his dream of opening his own restaurant in New York City: Red Rooster Harlem, a highly acclaimed, multicultural dining room, where presidents rub elbows with jazz musicians, aspiring artists, and bus drivers. A place where anyone can feel at home.
Steve Jobs: Insanely Great by Jessie Hartland (July 21): This fast-paced and entertaining biography in graphic format is a perfect complement to more text-heavy books on Steve Jobs like Walter Isaacson's biography. Presenting the story of the ultimate American entrepreneur, who brought us Apple Computer, Pixar, Macs, iPods, iPhones and more, this unique and stylish book is sure to appeal to the legions of readers who live and breathe the techno-centric world Jobs created.

Jobs's remarkable life reads like a history of the personal technology industry. He started Apple Computer in his parents' garage and eventually became the tastemaker of a generation, creating products we can't live without. Through it all, he was an overbearing and demanding perfectionist, both impossible and inspiring.

Capturing his unparalleled brilliance, as well as his many demons, Jessie Hartland's engaging biography illuminates the meteoric successes, devastating setbacks, and myriad contradictions that make up the extraordinary life and legacy of the insanely great Steve Jobs.
The Amazing Book is Not on Fire: The World of Dan and Phil
by Dan Howell and Phil Lester (October 13): From YouTube sensations Dan Howell (danisnotonfire) and Phil Lester (AmazingPhil) comes a laugh-out-loud look into the world created by two awkward guys who share their lives on the Internet. More than 8 million YouTube subscribers can't wait for this book!
Since uploading their first ever videos as teenagers, Dan and Phil have become two of the world's biggest YouTube stars. Now they invite you on a behind-the-scenes journey, filled with absolutely essential advice, tons of humor, lots of awkwardness, and TMI honesty that they will probably regret. Here's just a small sample of the fun surprises readers can look forward to:
• The inside story of that time they met One Direction.
• Excerpts from Phil's teenage diary.
• Reasons why Dan's a fail (so far).
• How to draw the perfect cat whiskers.
• Reasons why Phil was such a weird kid (back then).
• Quizzes! Which of their dining room chairs represents you emotionally?
• What really happened in Vegas….
In
The Amazing Book Is Not on Fire
, Dan and Phil are candid, heartfelt, and hilarious. Their struggles and success haven't changed their strong friendship or their core belief that it's okay to be weird. The cat whiskers come from within!
Becoming Maria by Sonia Manzano (August 25): Set in the 1970s in the Bronx, this is the story of a girl with a dream. Emmy Award-winning actress and writer Sonia Manzano plunges us into the daily lives of a Latino family that is loving–and troubled. This is Sonia's own story rendered with an unforgettable narrative power. When readers meet young Sonia, she is a child living amidst the squalor of a boisterous home that is filled with noisy relatives and nosy neighbors. Each day she is glued to the TV screen that blots out the painful realities of her existence and also illuminates the possibilities that lie ahead. But–click!–when the TV goes off, Sonia is taken back to real life–the cramped, colorful world of her neighborhood and an alcoholic father. But it is Sonia's dream of becoming an actress that keeps her afloat among the turbulence of her life and times.

Spiced with culture, heartache, and humor, this memoir paints a lasting portrait of a girl's resilience as she grows up to become an inspiration to millions.
The Inker's Shadow by Allen Say (September 29): For Allen Say, life as a teen in Southern California was a cold existence. His father, one of the leading hamburger salesmen in Japan, ran a booming burger business, much like McDonald's, and sent Allen to an American military academy, so that his son could learn English and "become a success in life."

As the school's first and only Japanese student, he experienced immediate racism among his fellow cadets and his teachers. The other kids' parents complained about Allen's presence at the all-white school. As a result, he was relegated to a toolshed behind the mess hall. Determined to free himself from this oppression, Allen saved enough money to buy a 1946 Ford for $50–then escaped to find the America of his dreams!

In this follow-up to Drawing From Memory, Allen continues to reinvent himself as an author and illustrator. Melding his paintings with cartoon images and archival photos, Allen Say delivers an accessible book that will appeal to any reader in search of himself.
Really Professional Internet Person
by Jenn McAllister (August 25): Through her pranks, sketches, and videos about everyday life, Jenn has become a mouthpiece for millennials and one of YouTube's fastest rising stars!
Jenn McAllister, better known as JennxPenn, has been obsessed with making videos since she found her parents video camera at the age of eight. A shy child, Jenn turned to film because, unlike with life, you can always have a do-over.
Really Professional Internet Person offers both an insider's guide to building a successful YouTube channel and an intimate portrait of the surreality of insta-fame and the harsh reality of high school.
Brimming with honesty, heart and Jenn's patented sense of humor, Really Professional Internet Person features top ten lists, photos, screenshots, social media posts and never-before-posted stories chronicling Jenn's journey from an anxious middle-schooler just trying to fit in, to a YouTube sensation unafraid to stand out.