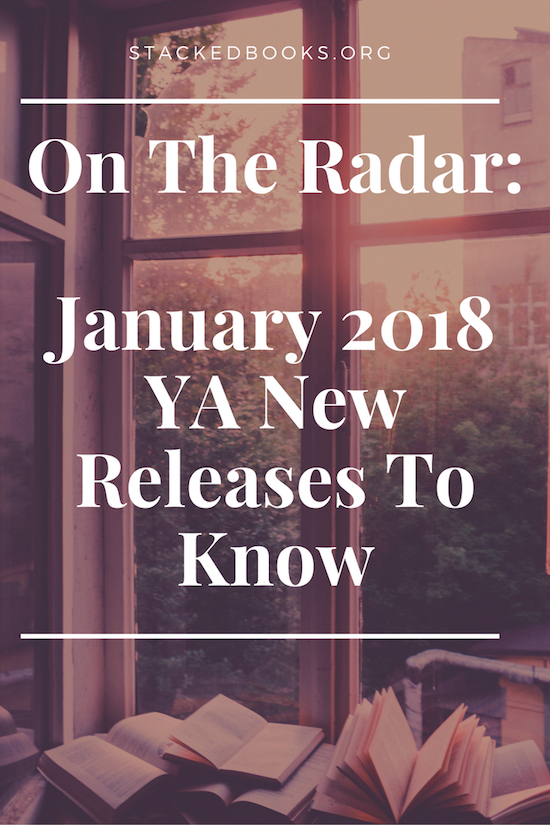 "On The Radar" is a monthly series meant to highlight between 9 and 12 books per month to fit a budget of roughly $300 or less. These lists are curated from a larger spreadsheet I keep with a running list of titles hitting shelves and are meant to reflect not only the big books coming out from authors readers know and love, but it's also meant to showcase some of the titles that have hit my radar through review copies, publicity blasts, or because they're titles that might otherwise not be readily seen or picked up through those traditional avenues. It's part science and part art.
This month's selection showcases a variety of continuing series, new titles by long-time favorites, and a handful of YA books which have seen some good buzz. There are also not one, but two, superhero novelizations.
Book descriptions come from Goodreads and reasons for them being on your radar are mine and mine alone. Titles are alphabetical, with pub dates beside them. Titles with a * in front of them are books that are starting or a continuation of a series.
Batman: Nightwalker by Marie Lu (1/2)
Before he was Batman, he was Bruce Wayne. A reckless boy willing to break the rules for a girl who may be his worst enemy.
The Nightwalkers are terrorizing Gotham City, and Bruce Wayne is next on their list.
One by one, the city's elites are being executed as their mansions' security systems turn against them, trapping them like prey. Meanwhile, Bruce is turning eighteen and about to inherit his family's fortune, not to mention the keys to Wayne Enterprises and all the tech gadgetry his heart could ever desire. But after a run-in with the police, he's forced to do community service at Arkham Asylum, the infamous prison that holds the city's most brutal criminals.
Madeleine Wallace is a brilliant killer . . . and Bruce's only hope.
In Arkham, Bruce meets Madeleine, a brilliant girl with ties to the Nightwalkers. What is she hiding? And why will she speak only to Bruce? Madeleine is the mystery Bruce must unravel. But is he getting her to divulge her secrets, or is he feeding her the information she needs to bring Gotham City to its knees? Bruce will walk the dark line between trust and betrayal as the Nightwalkers circle closer.
Why it should be on your radar: Marie Lu, powerhouse YA author, writes a Batman novel. That's enough reason.
*The Cruel Prince by Holly Black (1/2)
Of course I want to be like them. They're beautiful as blades forged in some divine fire. They will live forever.
And Cardan is even more beautiful than the rest. I hate him more than all the others. I hate him so much that sometimes when I look at him, I can hardly breathe.
Jude was seven years old when her parents were murdered and she and her two sisters were stolen away to live in the treacherous High Court of Faerie. Ten years later, Jude wants nothing more than to belong there, despite her mortality. But many of the fey despise humans. Especially Prince Cardan, the youngest and wickedest son of the High King.
To win a place at the Court, she must defy him–and face the consequences.
In doing so, she becomes embroiled in palace intrigues and deceptions, discovering her own capacity for bloodshed. But as civil war threatens to drown the Courts of Faerie in violence, Jude will need to risk her life in a dangerous alliance to save her sisters, and Faerie itself.
Why it should be on your radar: This is the first in a new series by Holly Black, who has been a YA staple for a long time. This book has seen a ton of great reader reviews so far, and I suspect this is going to be a popular faerie world YA series.
The Hazel Wood by Melissa Albert (1/30)
Seventeen-year-old Alice and her mother have spent most of Alice's life on the road, always a step ahead of the uncanny bad luck biting at their heels. But when Alice's grandmother, the reclusive author of a cult-classic book of pitch-dark fairy tales, dies alone on her estate, the Hazel Wood, Alice learns how bad her luck can really get: Her mother is stolen away―by a figure who claims to come from the Hinterland, the cruel supernatural world where her grandmother's stories are set. Alice's only lead is the message her mother left behind: "Stay away from the Hazel Wood."
Alice has long steered clear of her grandmother's cultish fans. But now she has no choice but to ally with classmate Ellery Finch, a Hinterland superfan who may have his own reasons for wanting to help her. To retrieve her mother, Alice must venture first to the Hazel Wood, then into the world where her grandmother's tales began―and where she might find out how her own story went so wrong.
Why it should be on your radar: If you haven't seen publicity for this debut, stand alone fairy tale yet, you will. This is Flatiron Books's huge title, and for good reason — it's a book that so many readers will devour. Let me say this again: stand alone fairy tale. Not to mention the cover is gorgeous, the author is fairly well known for her work at the Barnes & Noble teen blog, and the writing is magical.
A Land of Permanent Goodbyes by Atia Abawi (1/23)
In a country ripped apart by war, Tareq lives with his big and loving family . . . until the bombs strike. His city is in ruins. His life is destroyed. And those who have survived are left to figure out their uncertain future.
In the wake of destruction, he's threatened by Daesh fighters and witnesses a public beheading. Tareq's
family knows that to continue to stay alive, they must leave. As they travel as refugees from Syria to Turkey to Greece, facing danger at every turn, Tareq must find the resilience and courage to complete his harrowing journey.
But while this is one family's story, it is also the timeless tale of all wars, of all tragedy, and of all strife. When you are a refugee, success is outliving your loss.
Destiny narrates this heartbreaking story of the consequences of war, showing the Syrian conflict as part of a long chain of struggles spanning through time.
An award-winning author and journalist–and a refugee herself–Atia Abawi captures the hope that spurs people forward against all odds and the love that makes that hope grow.
Why it should be on your radar: I know very little about this book beyond the fact it sounds like one we need to see on shelves. It's timely and written by a refugee who likely has some insights into the story that the average writer may not.
Love, Hate, and Other Filters by Samira Ahmed (1/16)
American-born seventeen-year-old Maya Aziz is torn between worlds. There's the proper one her parents expect for their good Indian daughter: attending a college close to their suburban Chicago home, and being paired off with an older Muslim boy her mom deems "suitable." And then there is the world of her dreams: going to film school and living in New York City—and maybe (just maybe) pursuing a boy she's known from afar since grade school, a boy who's finally falling into her orbit at school.
There's also the real world, beyond Maya's control. In the aftermath of a horrific crime perpetrated hundreds of miles away, her life is turned upside down. The community she's known since birth becomes unrecognizable; neighbors and classmates alike are consumed with fear, bigotry, and hatred. Ultimately, Maya must find the strength within to determine where she truly belongs.
Why it should be on your radar: Beyond being an #ownvoices story about a Muslim girl and being one of Soho Teen's big titles of the fall, I read this debut many years ago in an earlier draft and knew it had something special. This one has had a lot of positive reviews, as well.
Meet Cute (1/2)
Whether or not you believe in fate, or luck, or love at first sight, every romance has to start somewhere. MEET CUTE is an anthology of original short stories featuring tales of "how they first met" from some of today's most popular YA authors.
Readers will experience Nina LaCour's beautifully written piece about two Bay Area girls meeting via a cranky customer service Tweet, Sara Shepard's glossy tale about a magazine intern and a young rock star, Nicola Yoon's imaginative take on break-ups and make-ups, Katie Cotugno's story of two teens hiding out from the police at a house party, and Huntley Fitzpatrick's charming love story that begins over iced teas at a diner. There's futuristic flirting from Kass Morgan and Katharine McGee, a riveting transgender heroine from Meredith Russo, a subway missed connection moment from Jocelyn Davies, and a girl determined to get out of her small town from Ibi Zoboi. Jennifer Armentrout writes a sweet story about finding love from a missing library book, Emery Lord has a heartwarming and funny tale of two girls stuck in an airport, Dhonielle Clayton takes a thoughtful, speculate approach to pre-destined love, and Julie Murphy dreams up a fun twist on reality dating show contestants.
This incredibly talented group of authors brings us a collection of stories that are at turns romantic and witty, epic and everyday, heartbreaking and real.
Why it should be on your radar: There's not a single editor attached to this anthology, but this collection out from HMH Teen should appeal to readers who love romance. It's a variety of great voices, with a super appealing cover, and it's been getting a lot of buzz.
Runaways: An Original Novel by Christopher Golden (1/2)
"The Pride, back in L.A.? Their parents, alive? Karolina had never realized hope and fear could feel so much alike."
Written by New York Times best-selling author Christopher Golden, Runaways: An Original Novel is a fresh take on the Marvel fan favorite. Including the first issue of the revived Runaways comic series written by Rainbow Rowell and with art by Kris Anka, it's easy for fans of the comics, fans of the new Hulu TV show, and first-time readers to all enjoy this new take on an old classic.
Turns out murderous Super Villains don't make for good parents. The Runaways had no choice. They had to kill them. Well, more or less. Now Nico, Karolina, Gert, Chase, and Molly are on the run again, hiding out and trying to regain a sense of normalcy. But kids with super powers don't get to be normal.
The city is overrun with criminals, each faction bent on murdering them for one reason or another. It's only when the Runaways uncover the truth behind their parents' past that they realize the evil isn't just in L.A.
It's everywhere.
Why it should be on your radar: Runaways will be big in 2018, and this novelization of the teen comics will kick it all off.
Say You'll Remember Me by Katie McGarry (1/30)
When Drix was convicted of a crime–one he didn't commit–he thought his life was over. But opportunity came with the new Second Chance Program, the governor's newest pet project to get delinquents off the streets, rehabilitated and back into society. Drix knows this is his chance to get his life back on track, even if it means being paraded in front of reporters for a while.
Elle knows she lives a life of privilege. As the governor's daughter, she can open doors with her name alone. But the expectations and pressure to be someone she isn't may be too much to handle. She wants to follow her own path, whatever that means.
When Drix and Elle meet, their connection is immediate, but so are their problems. Drix is not the type of boy Elle's parents have in mind for her, and Elle is not the kind of girl who can understand Drix's messy life.
But sometimes love can breach all barriers.
Fighting against a society that can't imagine them together, Drix and Elle must push themselves–Drix to confront the truth of the robbery, and Elle to assert her independence–and each other to finally get what they deserve.
Why it should be on your radar: A new romance from Katie McGarry is a no-brainer when it comes to developing a good collection. She's popular, especially among readers who like strongly-written romances.
*Thunderhead by Neal Shusterman (1/9)
Rowan and Citra take opposite stances on the morality of the Scythedom, putting them at odds, in the second novel of the chilling New York Times bestselling series from Neal Shusterman, author of the Unwind dystology.
Rowan has gone rogue, and has taken it upon himself to put the Scythedom through a trial by fire. Literally. In the year since Winter Conclave, he has gone off-grid, and has been striking out against corrupt scythes—not only in MidMerica, but across the entire continent. He is a dark folk hero now—"Scythe Lucifer"—a vigilante taking down corrupt scythes in flames.
Citra, now a junior scythe under Scythe Curie, sees the corruption and wants to help change it from the inside out, but is thwarted at every turn, and threatened by the "new order" scythes. Realizing she cannot do this alone—or even with the help of Scythe Curie and Faraday, she does the unthinkable, and risks being "deadish" so she can communicate with the Thunderhead—the only being on earth wise enough to solve the dire problems of a perfect world. But will it help solve those problems, or simply watch as perfection goes into decline?
Why it should be on your radar: The second book in Shusterman's award-winning "Scythe" series.
*Truly Devious by Maureen Johnson (1/16)
Ellingham Academy is a famous private school in Vermont for the brightest thinkers, inventors, and artists. It was founded by Albert Ellingham, an early twentieth century tycoon, who wanted to make a wonderful place full of riddles, twisting pathways, and gardens. "A place," he said, "where learning is a game."
Shortly after the school opened, his wife and daughter were kidnapped. The only real clue was a mocking riddle listing methods of murder, signed with the frightening pseudonym "Truly, Devious." It became one of the great unsolved crimes of American history.
True-crime aficionado Stevie Bell is set to begin her first year at Ellingham Academy, and she has an ambitious plan: She will solve this cold case. That is, she will solve the case when she gets a grip on her demanding new school life and her housemates: the inventor, the novelist, the actor, the artist, and the jokester. But something strange is happening. Truly Devious makes a surprise return, and death revisits Ellingham Academy. The past has crawled out of its grave. Someone has gotten away with murder.
The two interwoven mysteries of this first book in the Truly Devious series dovetail brilliantly, and Stevie Bell will continue her relentless quest for the murderers in books two and three.
Why it should be on your radar: This book kicks off a brand new series by Maureen Johnson and while it's not the same as her last series (which played around with the tale of Jack the Ripper), this one has a number of similar hallmarks and should appeal to mystery readers.
*Unearthed by Amie Kaufman, Meagan Spooner (1/9)
When Earth intercepts a message from a long-extinct alien race, it seems like the solution the planet has been waiting for. The Undying's advanced technology has the potential to undo environmental damage and turn lives around, and Gaia, their former home planet, is a treasure trove waiting to be uncovered.
For Jules Addison and his fellow scholars, the discovery of an alien culture offers unprecedented opportunity for study… as long as scavengers like Amelia Radcliffe don't loot everything first. Mia and Jules' different reasons for smuggling themselves onto Gaia put them immediately at odds, but after escaping a dangerous confrontation with other scavvers, they form a fragile alliance.
In order to penetrate the Undying temple and reach the tech and information hidden within, the two must decode the ancient race's secrets and survive their traps. But the more they learn about the Undying, the more their presence in the temple seems to be part of a grand design that could spell the end of the human race.
Why it should be on your radar: Amie Kaufman and Meagan Spooner have written a successful series together before, and Kaufman's series with Jay Kristoff ("Illuminae") continues to be popular. This new science fiction series — complete with aliens — should appeal to readers who liked either or both series.
*Zenith by Sasha Alsberg, Lindsay Cummings (1/16)
Most know Androma Racella as the Bloody Baroness, a powerful mercenary whose reign of terror stretches across the Mirabel Galaxy. To those aboard her glass starship, Marauder, however, she's just Andi, their friend and fearless leader.
But when a routine mission goes awry, the Marauder's all-girl crew is tested as they find themselves in a treacherous situation and at the mercy of a sadistic bounty hunter from Andi's past.
Meanwhile, across the galaxy, a ruthless ruler waits in the shadows of the planet Xen Ptera, biding her time to exact revenge for the destruction of her people. The pieces of her deadly plan are about to fall into place, unleashing a plot that will tear Mirabel in two.
Andi and her crew embark on a dangerous, soul-testing journey that could restore order to their shipor just as easily start a war that will devour worlds. As the Marauder hurtles toward the unknown, and Mirabel hangs in the balance, the only certainty is that in a galaxy run on lies and illusion, no one can be trusted.
Why it should be on your radar: So this first book in a new series doesn't have particularly great reviews, but it's one readers might know about, as it was self-published and became a best seller prior to being picked up and traditionally published. This would be the last book on the list for "must haves," but I include it because it's possible teen readers will know and be looking for it.