Over the last couple of weeks, I've read two books that traversed some really similar themes and rather than review them at length in separate posts, I thought it would make more sense to review them together. Both explore grief and loss with a hopeful edge that comes from also finding a sweet, satisfying — even if not necessarily easy — romance.
These are also both titles that do one of my favorite things in realistic fiction: they showcase how you can bloom where you're planted when the choice of where you are is outside your control.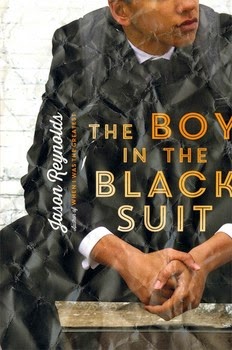 Jason Reynolds's sophomore novel, The Boy in the Black Suit, takes what he did great in his first book and makes it sing even louder.
After Matt's mother dies, he finds himself looking for a job or an internship. He's going to school part-time in order to gain work experience in those afternoons. It's a way for him to escape his father's own spiraling grief and challenges.
When Matt arrives at the local greasy, fast food chicken joint, he's prepared for the work, even if it's not something that interests him in the least — and even if it means dealing with obnoxious, rude customers, as he witnesses when he's there filling out the application.
But when an offer to work at a local funeral home comes his way, he can't pass it up, even if he's hesitant to be working in a world of grief close to his own. It's through witnessing those funerals, though, and seeing how other people process their losses, that Matt is better able to process his own.
It's at one of the funerals, though, where Matt stumbles across Lovey. She looks familiar, and he realizes that's because she's the girl who he saw at the fast food joint when he went to apply who had been dealing with rowdy customers. Soon, the two of them begin talking, then spending time together, then finding themselves falling for one another.
Reynolds's story is a quieter one, featuring the kind of character we don't see enough of in YA: a realistic black boy who — while living in a tough part of Brooklyn and dealing with family and friends who aren't always making smart choices — is himself intelligent, hard-working, and builds solid relationships with his friends, with his boss at work, and ultimately, Lovey. He isn't stereotyped in any way, and he's also not rendered as a boy who is all feelings, even though he has plenty of them. Rather, he's fully fleshed, dynamic, and his story has a fulfilling arc. It's hopeful, but it's also imperfect. There's exceptional compassion extended to Matt, and there's exceptional compassion extended from him, too.
What stood out to me in this story was the way the relationship between Matt and Lovey grew. This is a sweet and realistic romance, one that's tentative at times, and it's one that's not immediately nor easily rewarded. Since both are working through personal grief and change, it's hard for them to be emotionally available to one another, even when they want to be that way. This is a slow-build and satisfying storyline, which begs readers to root for both characters and their successes alone and together.
The funeral home job element made this story unique, as did its gritty, urban setting. The juxtaposition is, at times, uncomfortable. But that's purposeful, and it makes Matt's voice and perspective shine even stronger. This is a quick read, despite being a quieter one. Hand The Boy in the Black Suit to readers looking for urban-set fiction, for those seeking a nice male-led romance or male-led story about grief and loss, or those looking for something "different" in realistic YA fiction — this isn't the go-to pick for those who love the best-selling titles. Readers interested in an intergenerational relationship will appreciate Matt and his boss's connections, and those looking for a good male friendship story will appreciate Matt and Chris's relationship, too.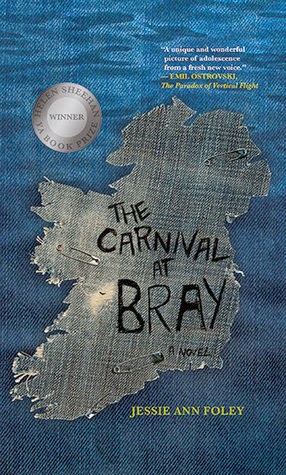 Jessie Ann Foley's The Carnival at Bray had the set up of everything I dislike: a 90s setting that served the purpose of being so for the grunge music and to avoid the social media/mobile phone reality of today.

But I loved it.
When Maggie's mother remarried Colm, they — along with her younger sister Ronnie — move to Bray, a small area on the Eastern shore or Ireland. It's a lonely time in a new place for Maggie, but she's buoyed by her uncle Kevin's letters and packages, as well as by the boy she's run into who she can't keep her eyes off of, even if she has no idea who he is or what he's about. For a short time, Maggie keeps herself occupied with her new friend Aine, but it's not a great friendship. Aine has little interest in Maggie as a person, but in Maggie as a way to spend time with her boyfriend Paddy.
But when Kevin dies unexpectedly, Maggie has to reassess her life as it is and figure out how to make a life in the place she's been planted best she can. There is an adventure to be had, though, when Maggie discovers a letter her mom has hidden from her, where her uncle Kevin has left her a pair of tickets to see Nirvana in Italy, telling her to take the boy with her. Maggie hems and haws about it, being a good girl like she is, but then she and Eoin take the adventure. It costs them both deeply.

What was great: this wasn't about the music as portrayed in the book. It was about the power of music, period. It was about fulfilling that dream of seeing a band you love and being part of a crowd of other people who are sharing an experience with you, but not necessarily sharing the exact same experience you are. It's about friendship and about the challenges of meeting new people and learning to trust their intentions. It's about romance and finding someone who gets you, through thick and thin. It's, even more, about family. The relationship between Maggie and her mother is rendered so well and so painfully, and the relationship between Maggie and her sister Ronnie is so a relationship between a 16-year-old girl and her 11-year-old sister. But more, it was the Kevin-Maggie relationship I loved most.

Foley's use of setting is really great, and the use of third person was surprising and perfect for this story. The writing itself was smooth, and in the first sex scene of the book — not one between Maggie and Eoin, but Maggie and another boy — it was awkward and written in an honest manner that handled it better than many first-person narratives do. But this isn't a book where sex matters much. Rather, what makes it good is the longing we get from Maggie and how much she yearns and craves something physical from Eoin, and he doesn't press her for it. Instead, we see intimacy — they shared a bed, fully clothed, and it's that which Maggie lets linger and sustain her through the separation they have.

This isn't a big story — Kevin's death and subsequent understanding of why and how he died isn't a huge part of the book — and it reads quickly, but there's a lot of story packed in here. This is a story about love and loss, about learning how to make a life and a living when everything that had been a part of your life is torn away, by forces you can never understand. It's about choices other people make and how deeply they impact you personally.
I'd avoided picking this one up because of the time period setting, even after it was named a Morris finalist. The 90s setting is a convenience in the story; there's no way that Maggie would have gotten away with a cross-continental trip in the same way with modern technology, and there's no way the final moments of the story, which happen at a concert after Kurt Cobain's death was announced, would have happened, either. Fortunately, these conveniences for the purpose of plot weren't distracting and didn't overshadow the strengths of the story or of the voice. I suspect most readers won't be paying attention to those workarounds.
Hand The Carnival at Bray to readers who love foreign settings, as well as those who like a story set in another era. This is the kind of book that fans of Melina Marchetta will dig, especially for how it portrays the complexities of family relationships. There's an excellent intergenerational relationship between Maggie and an older man in Bray, and there's an interesting — and surprisingly refreshing — religious school that plays a notable part in the story.