I've read two books recently that tackle some element of gender or sexual identity. Since I'm still not entirely on in terms of wanting to write in-depth reviews — partially because I've been reading a lot lately and want to keep up with that pace and partially because writing reviews feels like a risk more than a reward — I thought I'd talk briefly about both, with their strengths and weaknesses. Both of these books are available now, having released earlier this week.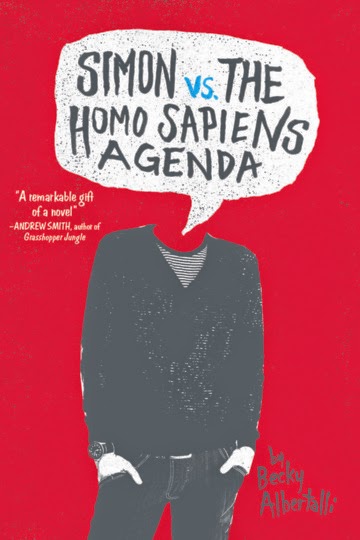 Simon Vs. The Homo Sapiens Agenda by Becky Albertalli
Let's start with a lighter-hearted YA novel about a gay boy who is trying to figure out who spilled the beans about his sexuality. Well, almost spilled the beans — someone knows he's gay, but since he's not out, he's paranoid about who it is who knows the truth and what that person may or may not do with it.
The romance that builds between Simon and Blue, the boy who he's been in an email relationship with, is really sweet and well-drawn. It grows at a realistic pace, and I love the way we're able to see into the way they begin trusting one another and sharing pieces of their day-to-day as well as bigger wants in life.
There's drama in this one, but it doesn't feel manufactured. Simon is playing the role of wingman to one of his classmates in order to try to keep his sexuality under wraps (he's convinced he knows who knows and this is one way of staying on top of it). There's a nice thread throughout this one about friendship and how friendships can shift and change. Simon isn't a perfect guy, and even though he's finding himself in a tough spot, he's also putting some of his closest friends in a hard place, too: he's spent less and less time with them as he's become somewhat self-involved.
The one drawback for me as a reader, which will likely not bother teen readers, was that some of the middle sagged a bit. While it was well-written and at times witty (this is a charming book all around), I found the high school friendship/relationship challenges a little drawn out for me. I'd have liked it a tiny bit tighter. However, I'd recommend this one without hesitation, and I think teens, especially gay teens, will love seeing a story like this. Simon's parents are noteworthy, too — in fact, they might be some of my favorite YA parents in a long time. It's worth noting, too, coming out is a part of this story.
This is a debut that makes me eager for Albertalli's next title.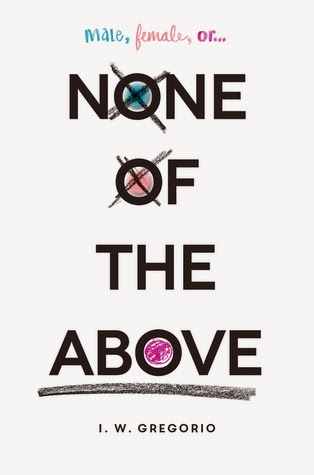 None of the Above by I. W. Gregorio
Were this book out when I was a teenager, I would have eaten it up. Even as an adult, this was a hard one to put down because it was so fascinating.
When Krissy and her boyfriend try having sex for the first time, it hurts. And it's more than a first-time-having-sex kind of pain. Since Krissy's mother isn't around, she doesn't have another woman she can talk to this about, so she seeks out the help of one of her female friends, who recommends she seek a gynecologist. It's at the appointment where Krissy learns that she's not a female; rather, she's intersex — she has a vulva and vagina, but she lacks a female reproductive system and instead has internal testicles. She's 18, so her medical access alone makes sense, but her father does learn about her condition and it's then she's left to make the choice about whether to have surgery to remove her testicles or not.
There's more than the diagnosis, though. The pitch for this book is Middlesex meets Mean Girls. It's the Mean Girls part that ramps up the drama in this title — Kristin thinks she can trust her friends with her diagnosis, but it turns out that someone spilled and she's become not just a laughing stock at school, but she's bullied. Her boyfriend feels utterly betrayed, and he calls it off with her. Even later, when she's able to try to talk to him alone, outside of school, he's still reluctant to accept her as she is.
This is a book about how people can be cruel and unaccepting of those who don't fit into neat societal boxes. Gregorio's book isn't afraid to be feminist, and readers who pick this up will likely be fascinated by intersex individuals. I stopped numerous times to do a little research, and Gregorio weaves in the stories of other intersex people through Krissy's connections via an online listserv and an in-person meeting with another person.
The writing reads like it's from the voice of an 18-year-old girl, which at times doesn't come off as fluid or outstanding as it could. But this isn't a book readers will seek out for killer writing; this one is about character and about the story we rarely, if ever, see or hear. This is a must-add to collections.