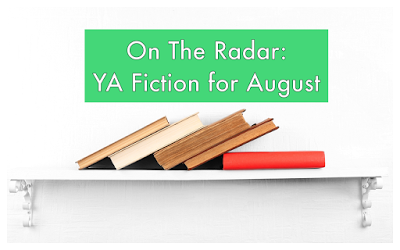 One of the most popular posts I do over at Book Riot is the round-up of upcoming YA fiction titles, and one of the most popular questions I seem to get on Twitter and in my inboxes is "what should I be looking out for in YA?" For a lot of readers, especially those who work with teens either in classrooms or in libraries, knowing what's coming out ahead of time is valuable to get those books into readers' hands before they even ask.

Each month, I'll call out between 8 and 12 books coming out that should be on your radar. These include books by high-demand, well-known authors, as well as some up-and-coming and debut authors. They'll be across a variety of genres, including diverse titles and writers. Not all of the books will be ones that Kimberly or I have read, nor will all of them be titles that we're going to read and review. Rather, these are books that readers will be looking for and that have popped up regularly on social media, in advertising, in book mail, and so forth. It's part science and part arbitrary and a way to keep the answer to "what should I know about for this month?" quick, easy, and under $300 (doable for smaller library budgets especially).
For August, here are 10 titles to have on your radar. All descriptions are from WorldCat, and I've noted why it should be included.
A History of Glitter and Blood by Hannah Moskowitz: Beckan, an immortal teenage fairy, and Tier, a young activist, are on opposite sides of a war, but strike up an unlikely friendship anyway.
Why: I have read nothing but positive reviews of this title, and Moskowitz continues to emerge in the YA world as an author to watch. This is her second release this year, and it's in a completely different genre than Not Otherwise Specifed.
The Accident Season by Moira Fowley-Doyle: Every October Cara and her family become mysteriously and dangerously accident-prone, but this year, the year Cara, her ex-stepbrother, and her best friend are 17, is when Cara will begin to unravel the accident season's dark origins.
Why: This one has had a ton of publicity and press, and it sounds like a fun, different supernatural tale.
Bright Lights, Dark Nights by Stephen Emond: Walter Wilcox's first love, Naomi, happens to be African American, so when Walter's policeman father is caught in a racial profiling scandal, the teens' bond and mutual love of the Foo Fighters may not be enough to keep them together through the pressures they face at school, at home, and online.
Why: I read this one, and while it's imperfect, it's timely and should evoke some great discussion. The romance here is well-drawn and through the perspective of Walter, which makes it stand out in the current YA world. This is also a hybrid novel with illustrations, so it has tremendous appeal.
Court of Fives by Kate Elliott: When a scheming lord tears Jess's family apart, she must rely on her unlikely friendship with Kal, a high-ranking Patron boy, and her skill at Fives, an intricate, multi-level athletic competition that offers a chance for glory, to protect her Commoner mother and mixed-race sisters and save her father's reputation.
Why: I've read nothing but great reviews of this one, and it's had some good publicity. Elliott is no novice in the SFF world, but this is her first foray into YA.
Slasher Girls & Monster Boys edited by April Genevieve Tucholke: Inspired by classic tales and films, a collection of fourteen short stories ranging from bloody horror, to psychological thrillers, to supernatural creatures, to unsettling, all-too-possible realism, by acclaimed YA authors of every genre.
Why: Again, really positive reviews of this one have piqued my own curiosity, as well as a stellar lineup of writers with short horror stories. There's always room for more horror in YA, and in this instance, a collection of short stories is a unique way to offer it. With the names included, an awesome opportunity for new readers to discover the longer works by authors' stories they enjoy, too.
Legacy of Kings by Eleanor Herman: Katerina, on a mission to kill the queen, falls in love with Alexander, Prince of Macedonia. Jacob will go to unthinkable lengths to win Katerina, even if it means having to compete with Hephaestion, a murderer sheltered by the prince. And far across the sea, Zofia, a Persian princess and Alexander's unmet betrothed, wants to alter her destiny by seeking the famed and deadly Spirit Eaters.
Why: Aside from the big push this one has gotten from the publisher, adults might be familiar with the author, who has written the adult non-fiction titles Sex With Kings and Sex With The Queen. She knows her stuff, and I suspect it'll be interesting to see her take that knowledge and apply it into a YA novel.
The Dead Girls of Hysteria Hall by Kate Alender: Sixteen-year-old Cordelia and her family move into the house they just inherited in Pennsylvania, a former insane asylum the locals call Hysteria Hall–unfortunately the house does not want defiant girls like Delia, so it kills her, and as she wanders the house, meeting the other ghosts and learning the dark secrets of the Hall, she realizes that she has to find a way to save her sister, parents, and perhaps herself.
Why: Again, this is a solid horror novel, and Alender has sort of carved a niche for herself here, too. She's an excellent writer of suspense and tension, and this particular novel features a smart main character who knows how horror works, so there's an extra layer of tension added therein. It plays with the tropes horror readers love in unexpected ways.
Reawakened by Colleen Houck: A visit to an Egyptian exhibit brings teen Lilliana Young face to face with a recently awakened mummy-turned-handsome-sun-god as she gets caught up in an adventure with more twists and turns than the Nile itself
Why: Houck has written a series before that did quite well, and this is the first entry into a new one. A mythology-based fantasy sounds fun and different.
After The Red Rain by Barry Lyga, Peter Facinelli, and Robert DeFranco: Set in a future world of environmental collapse and mass poverty, where a mysterious boy named Rose discovers he possesses inhuman powers that can irrevocably change the lives of everyone on the planet.
Why: While the description really doesn't make this one sound particularly unique, look at the names on this book. They're huge and this collaborative effort has seen some good reviews.
Most Likely To Succeed by Jennifer Echols: Sawyer and Kaye fall in love despite hating each other.
Why: Weak description from WorldCat, but Echols continues to produce well-written romance-driven YA novels, and this entire series has been solid. Bonus: look at that black girl on the cover, right in the center.