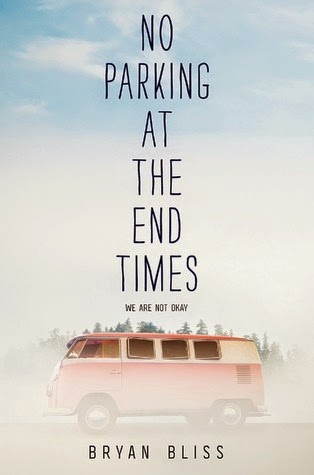 When Abigail's father loses his job, things in her household change. Her father becomes fascinated with Brother John, and soon, he's convinced her mother to follow the word of Brother John as well. He promises a better afterlife, and it's one that's coming soon.
It takes little time for Abigail's father to begin selling their earthly possessions. Despite not being on board, Abigail and her twin brother Aaron are pulled into this world, forced to climb into the traveling van and leave their home town in North Carolina for San Francisco, where Brother John would be waiting with the rest of his followers for the rapture.
But when they arrive in San Francisco, homeless and mostly possession-less, the rapture doesn't come. And rather than turn back or give up, Abigail and Aaron's father decides they have to stick it out. They have to have faith that Brother John knows what's happening.
They have to have faith that God has a reason for things not to come to an end, even on the date Brother John believed it would happen.
No Parking at the End Times is Bryan Bliss's debut novel, and it's a knock out. Where many stories of the rapture in YA happen prior to it, this takes place after the failed event. But this isn't really a story about the rapture. It's much more a story about family and togetherness, with a unique take on homelessness.
Throughout the story, we're shown an angry, frustrated character in Aaron. As much as Abigail tries to break through to him and tries to get him to talk with her, he won't. Instead, he's sneaking out of the van at night. It's not until Abigail threatens to follow him that she finds out his nightly trips are his way of making friends and connections in San Francisco; he's become friends with a group of homeless teens.
Despite finding a sort of community, being in San Francisco is the last thing Aaron wants. He's eager to get out, and he's upfront with Abigail about how they need to figure out how to get away. When they make a plan that seems achievable and make strides toward getting out, though, he becomes unable to follow through because of some of the people with whom he'd been associating at night.
From the start, neither Abigail nor Aaron are on board with their father and mother's devotion to Brother John. As readers, we're also exceptionally frustrated — why would a father do this to his family? He's sold their lives away, and he willingly sacrifices security and safety in the name of faith in this system. He hands over money, and he at times cheats the system. Mother follows along, mostly, her voice and story a far smaller part of the story than the father's until the end.
But there are cracks.
As much as we're left to be angry at both mom and dad for how selfish and self-serving they're being, we're also allowed to see they truly believe that having faith — that believing good things will happen — will get them through this tough situation. They've found places to get free meals, and they've learned where they can park at night to keep their family safe. They continue attending church services, as well as offering money to Brother John, believing with their whole hearts that this is the right thing to do. That it is what will solve their problems and make a better life for their children. Though they want their kids to follow Brother John and his word, they don't force them to attend services or counseling with him.
It's blind faith, of course, and it's the kind of faith that overruns practicality and sufficiency. But it's done out of utter love for their children, even if their children are the ones who suffer the consequences of these decisions.
Bliss does an excellent job in his portrayal of homelessness. In multiple instances throughout the story, Abigail has a painful realization that what she believed homelessness looked like isn't always what homelessness is. The people Aaron hangs out with are homeless, and even though they fit what she thought homelessness would look like, she's surprised to see how human and how relatable and likable some of those people are. When Abigail is confronted with the reality that, despite her internal protests, she and her family are homeless, too, it's tough for her to swallow. She isn't like the them of her imagined state of homeless people. Her family didn't choose to become homeless. And yet, this is still homelessness and it's still the situation her family is in. More, she comes to the realization that adults can be wrong and make poor choices that do indeed change the lives of those for whom they're entrusted to care. It's because of her parents choosing to give all of their money to Brother John that she has a limited selection of things to wear and can't get her clothing dirty. It's because of her parents selling everything for this trip to San Francisco that they're brushing their teeth in public restrooms.
Abigail's voice in this book is what stands out most — she is straightforward in how she feels, even if she doesn't always act upon her intuitions when she thinks she should. She's full of love and full of want, despite the set backs in her life and despite the fact she's learning that her situation is worse than she thought. It's in the moments when reality hits perception that readers see how desperate her and her family's situation really is.
No Parking at the End Times is a respectful story. This isn't about bashing faith or God or belief in any way, despite the premise being about parents who are devoted to a religious cult-like leader. It's an entire story about the limits of faith. Have it, use it, believe in it, but don't let it be the only currency in your life.
The ending of this book is a little tidy, but it doesn't feel undeserved. In fact, it's that final chapter, where Abigail has to face God and faith again where we see that this isn't a story that decries religion but instead, seeks to talk about how it's a deeply personal and sometimes extremely challenging experience.
This is a tightly-written, engaging read and would make for an excellent next read for those who love Sara Zarr, especially Once Was Lost. Pass this along, too, to those readers who loved Blake Nelson's The Prince of Venice Beach — the depictions of homelessness are worth looking at together — and/or Melissa Walker's Small Town Sinners. Bliss is an author to keep an eye on, and I'm really looking forward to seeing what a sophomore novel will look like, after this powerful debut.
Review copy received from the publisher. No Parking at the End Times publishes tomorrow, February 24.