Since I've started doing those huge round-up/previews of YA titles each quarter at Book Riot, I can't help but notice themes and topics that show up again and again. 2016 is undoubtedly the year of romance in YA. They aren't all the same, of course, but romance at the core of YA seems to be bigger this year than in recent memory recalls.
Another interesting observation so far this year, though, has been the road trip. Road trips are perennially popular in YA, though they go through lulls and resurgences. This year, we're in a pretty big upswing.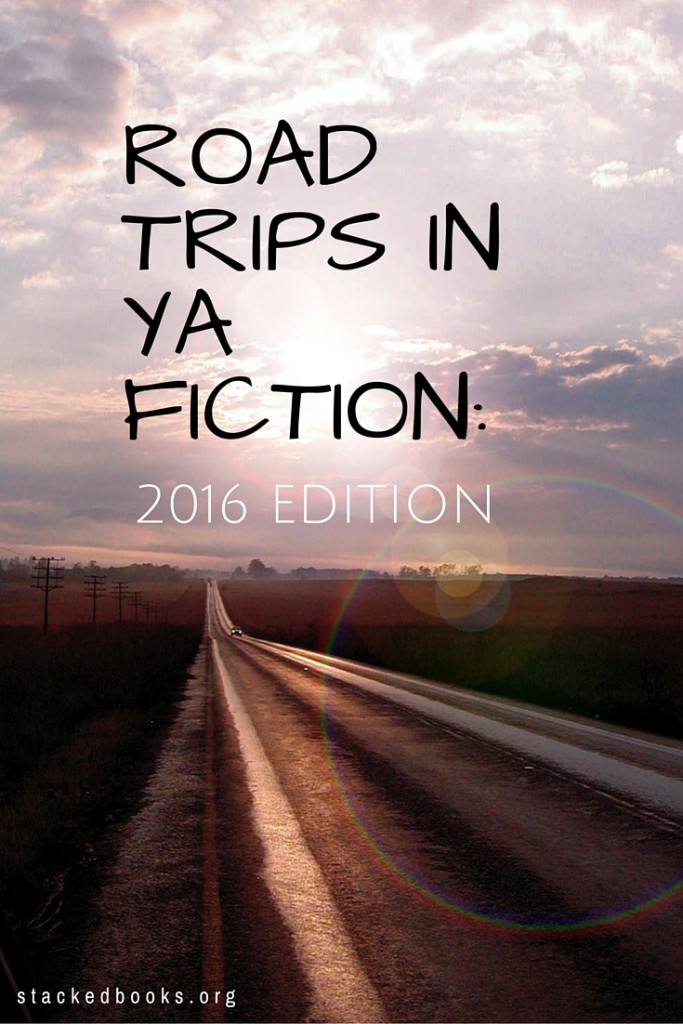 Road trips offer the chance for teens to be free, to have an adventure, and to literally follow an arc from start to finish. It's a journey of discovery and growth. But, it is worth noting that teens who pursue road trips tend to be white more than anything else. It's rare to find teens of color on the road; this is, of course, not surprising given that the challenges of being a person of color on a road trip when you're 17 or 18 are much more life-threatening than if you're a white teen on a road. I've started a list somewhere in my drafts of books that offer this in YA and I'll have to revisit it here in the near future.
In the mean time, why don't we take a look at the 2016 YA books where road trips play a part in the story? If you can think of others hitting shelves this year, drop the title in the comments. I have included epic quests in this list, so those are welcome additions, too. Get ready to hit the road.
All descriptions are from Goodreads.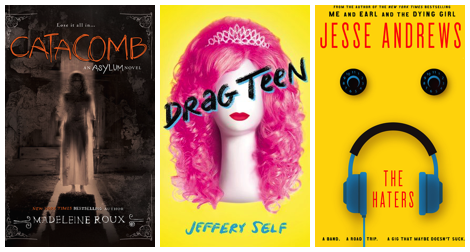 Catacomb by Madeleine Roux (technically this came out at the end of 2015, but go with it here)
Sometimes the past is better off buried.
Senior year is finally over. After all they've been through, Dan, Abby, and Jordan are excited to take one last road trip together, and they're just not going to think about what will happen when the summer ends. But on their way to visit Jordan's uncle in New Orleans, the three friends notice that they are apparently being followed.. And Dan starts receiving phone messages from someone he didn't expect to hear from again—someone who died last Halloween.
As the strange occurrences escalate, Dan is forced to accept that everything that has happened to him in the past year may not be a coincidence, but fate—a fate that ties Dan to a group called the Bone Artists, who have a sinister connection with a notorious killer from the past. Now, Dan's only hope is that he will make it out of his senior trip alive.
Drag Teen by Jeffery Self
Jeffery Self takes us on a road trip with an insecure high school senior who has one goal: to be the first in his family to leave Clearwater, Florida, and go to college. The problem is, he has zero means of paying for school — until his friends convince him to compete in a drag teen competition for a college scholarship.
The Haters by Jesse Andrews
For Wes and his best friend, Corey, jazz camp turns out to be lame. It's pretty much all dudes talking in Jazz Voice. But then they jam with Ash, a charismatic girl with an unusual sound, and the three just click. It's three and a half hours of pure musical magic, and Ash makes a decision: They need to hit the road. Because the road, not summer camp, is where bands get good. Before Wes and Corey know it, they're in Ash's SUV heading south, and The Haters Summer of Hate Tour has begun.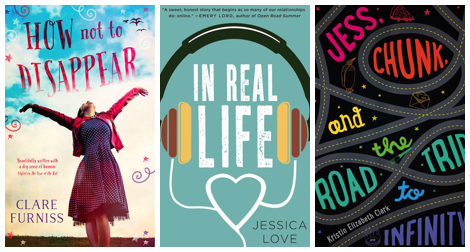 How Not to Disappear by Clare Furniss (Hit shelves at the tail end of 2015)
Hattie's summer isn't going as planned. Her two best friends have abandoned her: Reuben has run off to Europe to "find himself" and Kat's in Edinburgh with her new girlfriend. Meanwhile Hattie is stuck babysitting her twin siblings and dealing with endless drama around her mum's wedding.
Oh, and she's also just discovered that she's pregnant with Reuben's baby…
Then Gloria, Hattie's great-aunt who no one previously knew even existed comes crashing into her life. Gloria's fiercely independent, rather too fond of a gin sling and is in the early stages of dementia.
Together the two of them set out on a road trip of self-discovery – Gloria to finally confront the secrets of her past before they are wiped from her memory forever and Hattie to face the hard choices that will determine her future.
In Real Life by Jessica Love
Hannah Cho and Nick Cooper have been best friends since 8th grade. They talk for hours on the phone, regularly shower each other with presents, and know everything there is to know about one another.
There's just one problem: Hannah and Nick have never actually met.
Hannah has spent her entire life doing what she's supposed to, but when her senior year spring break plans get ruined by a rule-breaker, she decides to break a rule or two herself. She impulsively decides to road trip to Las Vegas, her older sister and BFF in tow, to surprise Nick and finally declare her more-than-friend feelings for him.
Hannah's surprise romantic gesture backfires when she gets to Vegas and finds out that Nick has been keeping some major secrets. Hannah knows the real Nick can't be that different from the online Nick she knows and loves, but now she only has night in Sin City to figure out what her feelings for Nick really are, all while discovering how life can change when you break the rules every now and then.
Jess, Chunk, and the Road Trip to Infinity by Kristin Elizabeth Clark (November 8)
The last time Jess saw her father, she was a boy. Now she's a high school graduate, soon to be on her way to art school. But first she has some unfinished business with her dad. So she's driving halfway across the country to his wedding. He happens to be marrying her mom's ex-best friend. It's not like Jess wasn't invited; she was. She just never told anyone she was coming. Surprise!
Luckily, Jess isn't making this trip alone. Her best friend, Christophe-nicknamed Chunk-is joining her.
Along the way, Jess and Chunk learn a few things about themselves-and each other-which call their feelings about their relationship into question.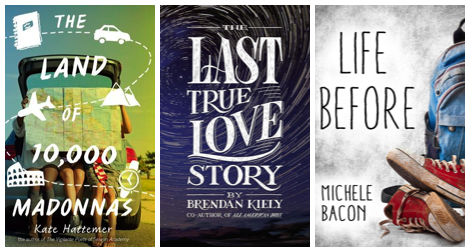 Land of 10,000 Madonnas by Kate Hattemer (less a road trip and more a backpacking trip)
Five teens backpack through Europe to fulfill the mysterious dying wish of their friend.
Jesse lives with his history professor dad in a house covered with postcards of images of the Madonna from all over the world. They're gotten used to this life: two motherless dudes living among thousands of Madonnas. But Jesse has a heart condition that will ultimately cut his life tragically short. Before he dies, he arranges a mysterious trip to Europe for his three cousins, his best friend, and his girlfriend to take after he passes away. It's a trip that will forever change the lives of these young teens and one that will help them come to terms with Jesse's death.
The Last True Love Story by Brendan Kiely (September 13)
The point of living is learning how to love.
That's what Gpa says. To Hendrix and Corrina, both seventeen but otherwise alike only in their loneliness, that sounds like another line from a pop song that tries to promise kids that life doesn't actually suck. Okay, so: love. Sure.
The thing about Corrina—her adoptive parents are suffocating, trying to mold her into someone acceptable, predictable, like them. She's a musician, itching for any chance to escape, become the person she really wants to be. Whoever that is.
And Hendrix, he's cool. Kind of a poet. But also kind of lost. His dad is dead and his mom is married to her job. Gpa is his only real family, but he's fading fast from Alzheimer's. Looking for any way to help the man who raised him, Hendrix has made Gpa an impossible promise—that he'll get him back east to the hill where he first kissed his wife, before his illness wipes away all memory of her.
One hot July night, Hendrix and Corrina decide to risk everything. They steal a car, spring Gpa from his assisted living facility, stuff Old Humper the dog into the back seat, and take off on a cross-country odyssey from LA to NY. With their parents, Gpa's doctors, and the police all hot on their heels, Hendrix and Corrina set off to discover for themselves if what Gpa says is true—that the only stories that last are love stories.
Life Before by Michele Bacon (June 7)
Seventeen years is a long time to keep secrets, so Xander Fife is very good at it: everyone believes he has a normal family. If he can just get through this summer, he'll start his real life in college with a clean slate–no risk, no drama, no fear.
Xander's summer plans include pick-up soccer, regular hijinks with friends, an epic road trip, and—quite possibly— the company of his ideal girlfriend, the amazing Gretchen Taylor.
Instead of kicking off what had promised to be an amazing summer, however, graduation day brings terror. His family's secrets are thrust out into the open, forcing Xander to confront his greatest fear. Or run from it.
Armed with a fake ID, cash, and a knife, Xander skips town and assumes a new identity. In danger hundreds of miles from home, one thing is clear: Xander's real life is already in progress and just getting through it isn't enough.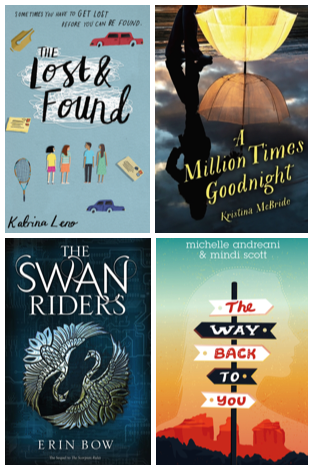 The Lost & Found by Katrina Leno (July 5)
LOST:
Frannie and Louis met in an online support group when they were both younger. They have never met face-to-face. They don't even know each other's real names. All they know is that they both have a mysterious tendency to lose things. Well, not lose them, exactly. Things just seem to…disappear.
FOUND:
They each receive news in the mail that sets them off on a road trip to Austin, Texas, looking for answers—and each other. Along the way, each one begins to find, as if by magic, important things the other has lost. And by the time they finally meet in person, they realize that the things you lose might be things you weren't meant to have at all, and that you never know what you might find if you just take a chance.
A Million Times Goodnight by Kristina McBride (July 5)
One night. Two paths. Infinite danger.
On the night of the big spring break party, seventeen-year-old Hadley "borrows" her boyfriend Ben's car without telling him. As payback, he posts a naked picture of her online for the entire senior class to see.
Now Hadley has a choice: go back to the party and force Ben to delete the picture or raise the stakes and take his beloved car on a road trip as far away from their hometown of Oak Grove, Ohio, as she can get.
Chapters alternate to reveal each possible future as Hadley, her ex-boyfriend, Josh, and her best friends embark on a night of reckless adventure where old feelings are rekindled, friendships are tested, and secrets are uncovered that are so much worse than a scandalous photo.
The Swan Riders by Erin Bow (September 20)
Greta Stuart had always known her future: die young. She was her country's crown princess, and also its hostage, destined to be the first casualty in an inevitable war. But when the war came it broke all the rules, and Greta forged a different path.
She is no longer princess. No longer hostage. No longer human. Greta Stuart has become an AI.
If she can survive the transition, Greta will earn a place alongside Talis, the AI who rules the world. Talis is a big believer in peace through superior firepower. But some problems are too personal to obliterate from orbit, and for those there are the Swan Riders: a small band of humans who serve the AIs as part army, part cult.
Now two of the Swan Riders are escorting Talis and Greta across post-apocalyptic Saskatchewan. But Greta's fate has stirred her nation into open rebellion, and the dry grassland may hide insurgents who want to rescue her – or see her killed. Including Elian, the boy she saved—the boy who wants to change the world, with a knife if necessary. Even the infinitely loyal Swan Riders may not be everything they seem.
Greta's fate—and the fate of her world—are balanced on the edge of a knife in this smart, sly, electrifying adventure.
The Way Back To You by Michelle Andreani and Mindi Scott (May 3)
Six months ago, Ashlyn Montiel died in a bike accident.
Her best friend Cloudy is keeping it together, at least on the outside. Cloudy's insides are a different story: tangled, confused, heartbroken.
Kyle is falling apart, and everyone can tell. Ashlyn was his girlfriend, and when she died, a part of him went with her. Maybe the only part he cares about anymore.
As the two people who loved Ashlyn best, Cloudy and Kyle should be able to lean on each other. But after a terrible mistake last year, they're barely speaking. So when Cloudy discovers that Ashlyn's organs were donated after her death and the Montiel family has been in touch with three of the recipients, she does something a little bit crazy and a lot of out character: she steals the letters and convinces Kyle to go on a winter break road trip with her, from Oregon to California to Arizona to Nevada. Maybe if they see the recipients—the people whose lives were saved by Ashlyn's death—the world will open up again. Or maybe it will be a huge mistake.
With hundreds of miles in front of them, a stowaway kitten, and a list of people who are alive because of Ashlyn, Cloudy and Kyle just may find their way to back to her…and to each other.