A couple of weeks ago, I took a survey for Tumblr about my user experience. One of the repeat questions that came up was about how important it was for what I share on the site to "go viral." Knowing that the target demographic of Tumblr users skews much younger than me, I couldn't help but think about that and the power that going viral might have in a teenager's life.
Of course I'm not alone in this. And of course, this wasn't the first time I've thought about it. "Going viral" is a topic that's been well-traversed in the YA landscape, and it's one that will continue to play a role in storytelling for quite a while. For some teens, it's a thing they seek and for others, it's exactly the kind of thing that they hope to a
void. Unlike stories where social media or blogging are important in the life of a teenager, going viral plays a completely different role in the story and character's life. It's more focused and in-the-moment, a quick thrust into the spotlight, even if the consequences are long-lasting.
Here's a look at a pile of books where going viral on social media plays a noteworthy part in the story. This isn't comprehensive, so feel free to leave additional titles in the comments. Likewise, and not surprising to me, is that this list is quite white. Where are the teens of color going viral? Because anyone who has been around the internet knows that the reality is people of all shapes, sizes, and colors can find themselves in a moment of internet fame.
All descriptions come from either WorldCat or Goodreads.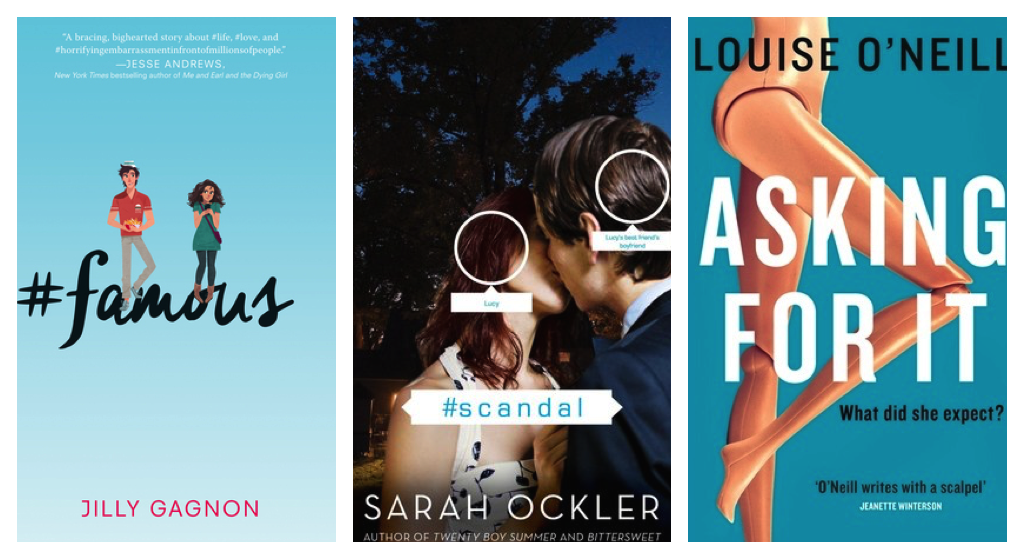 #famous by Jilly Gagnon (February 14, 2017)
In this modern-day love story, Girl likes Boy, Girl takes photo of Boy and posts it online, Boy becomes accidentally insta-famous. And what starts out as an innocent joke spirals into a whirlwind adventure that could change both their lives—and their hearts—forever. But are fame and love worth the price?
Told in alternating points of view, #famous captures the out-of-control thrill ride of falling for someone in front of everyone.
#scandal by Sarah Ockler
Lucy's learned some important lessons from tabloid darling Jayla Heart's all-too-public blunders: Avoid the spotlight, don't feed the Internet trolls, and keep your secrets secret. The policy has served Lucy well all through high school, so when her best friend Ellie gets sick before prom and begs her to step in as Cole's date, she accepts with a smile, silencing about ten different reservations. Like the one where she'd rather stay home shredding online zombies. And the one where she hates playing dress-up. And especially the one where she's been secretly in love with Cole since the dawn of time.
When Cole surprises her at the after party with a kiss under the stars, it's everything Lucy has ever dreamed of… and the biggest BFF deal-breaker ever. Despite Cole's lingering sweetness, Lucy knows they'll have to 'fess up to Ellie. But before they get the chance, Lucy's own Facebook profile mysteriously explodes with compromising pics of her and Cole, along with tons of other students' party indiscretions. Tagged. Liked. And furiously viral.
By Monday morning, Lucy's been branded a slut, a backstabber, and a narc, mired in a tabloid-worthy scandal just weeks before graduation.
Lucy's been battling undead masses online long enough to know there's only one way to survive a disaster of this magnitude: Stand up and fight. Game plan? Uncover and expose the Facebook hacker, win back her best friend's trust, and graduate with a clean slate.
There's just one snag—Cole. Turns out Lucy's not the only one who's been harboring unrequited love.
Asking For It by Louise O'Neill
It's the beginning of the summer in a small town in Ireland. Emma O'Donovan is eighteen years old, beautiful, happy, confident. One night, there's a party. Everyone is there. All eyes are on Emma.
The next morning, she wakes on the front porch of her house. She can't remember what happened, she doesn't know how she got there. She doesn't know why she's in pain. But everyone else does.
Photographs taken at the party show, in explicit detail, what happened to Emma that night. But sometimes people don't want to believe what is right in front of them, especially when the truth concerns the town's heroes.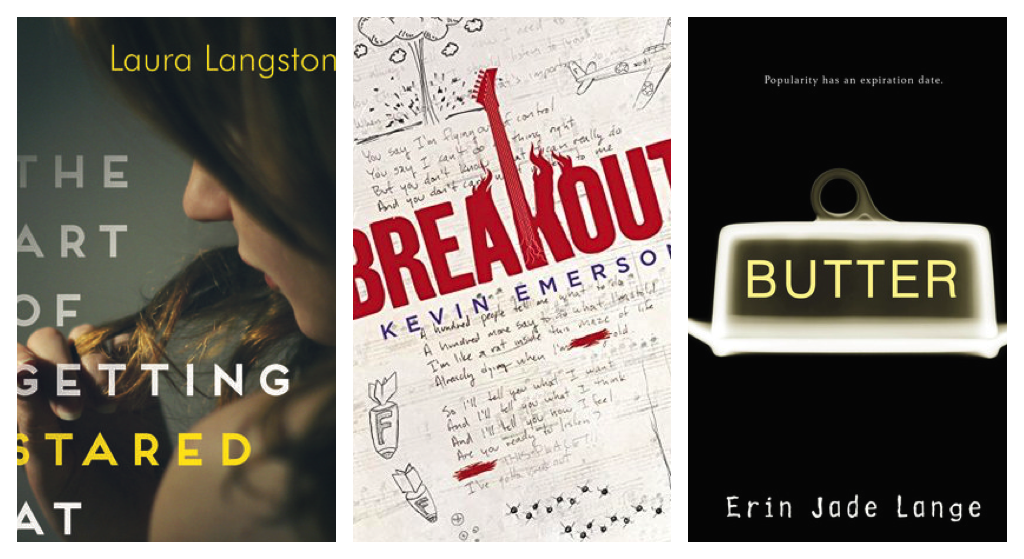 The Art of Getting Stared At by Laura Langston
After a school video she produced goes viral, sixteen-year-old Sloane Kendrick is given a chance at a film school scholarship. She has less than two weeks to produce a second video, and she's determined to do it. Unfortunately, she must work with Isaac Alexander, an irresponsible charmer with whom she shares an uneasy history.
On the heels of this opportunity comes a horrifying discovery: a bald spot on her head. No bigger than a quarter, the patch shouldn't be there. Neither should the bald spots that follow. Horror gives way to devastation when Sloane is diagnosed with alopecia areata. The auto-immune disease has no cause, no cure, and no definitive outcome. The spots might grow over tomorrow or Sloane might become completely bald. No one knows.
Determined to produce her video, hide her condition, and resist Isaac's easy charm, Sloane finds herself turning into the kind of person she has always mocked: someone obsessed with her looks. And just when she thinks things can't get any worse, Sloane is forced to make the most difficult decision of her life.
Breakout by Kevin Emerson
When Anthony's angst-ridden rock 'n' roll lyrics go viral, he's unwittingly cast as the school rebel. The truth is, he's not trying to be anyone's hero.
Anthony Castillo needs a new life. His teachers are clueless autocrats except for Mr. Darren, who's in charge of the rock band program. The girls at school are either shallow cutebots or out of his league. And his parents mean well, but they just make things worse. It's as if Anthony is stuck on the bottom level of his favorite video game, Liberation Force 4.5. Except there is no secret escape tunnel and definitely no cheat code.
Fed up, pissed off, and feeling trapped, Anthony writes his first song for his rock band, the Rusty Soles. His only problem: Arts Night. If he exercises his right to free speech and sings his original lyrics—where his own bombs will drop—he and his band will be through.
The clock is ticking. Time for Anthony to pick his battles and decide what's really worth fighting for.
Butter by Erin Jade Lange
A lonely obese boy everyone calls "Butter" is about to make history. He is going to eat himself to death-live on the Internet-and everyone is invited to watch. When he first makes the announcement online to his classmates, Butter expects pity, insults, and possibly sheer indifference. What he gets are morbid cheerleaders rallying around his deadly plan. Yet as their dark encouragement grows, it begins to feel a lot like popularity. And that feels good. But what happens when Butter reaches his suicide deadline? Can he live with the fallout if he doesn't go through with his plans?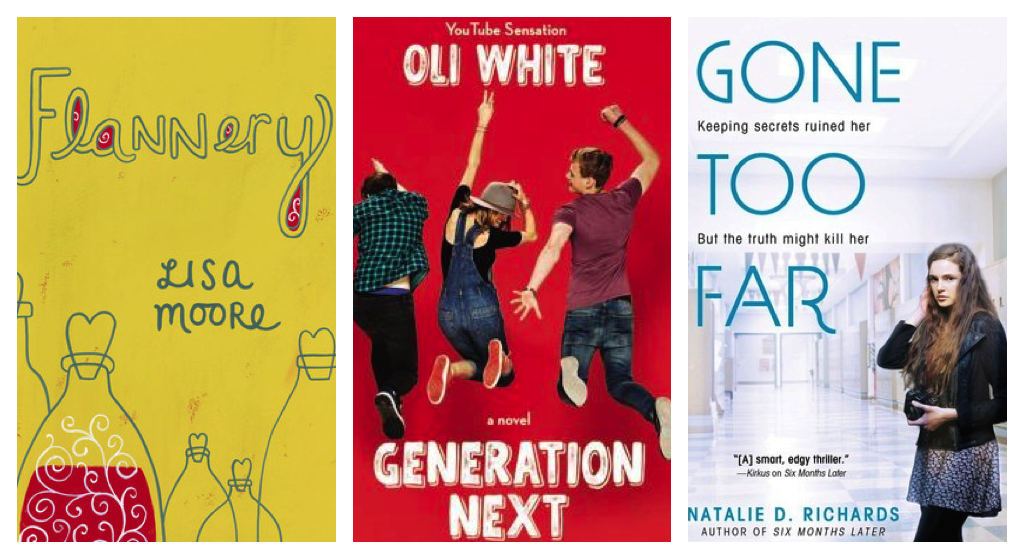 Flannery by Lisa Moore
Sixteen-year-old Flannery Malone has it bad. She's been in love with Tyrone O'Rourke since the days she still believed in Santa Claus. But Tyrone has grown from a dorky kid into an outlaw graffiti artist, the rebel-with-a-cause of Flannery's dreams, literally too cool for school.
Which is a problem, since he and Flannery are partners for the entrepreneurship class that she needs to graduate. And Tyrone's vanishing act may have darker causes than she realizes.
Tyrone isn't Flannery's only problem. Her mother, Miranda, can't pay the heating bills, let alone buy Flannery's biology book. Her little brother, Felix, is careening out of control. And her best-friend-since-forever, Amber, has fallen for a guy who is making her forget all about the things she's always cared most about — Flannery included — leading Amber down a dark and dangerous path of her own.
When Flannery decides to make a love potion for her entrepreneurship project, rumors that it actually works go viral, and she suddenly has a hot commodity on her hands. But a series of shattering events makes her realize that real-life love is far more potent — and potentially damaging — than any fairy-tale prescription.
Generation Next by Oli White
Things haven't been easy for Jack recently – life as a teenager has its ups and downs. But when he meets a new group of friends, who are every bit as geek as they are chic, his luck seems to be changing. Each of the group is talented and when they pool together to create Generation Next, an incredible new kind of social media platform, it's clear that they're on to something special.
What if your Instagram account grew by hundreds of thousands of followers overnight, and big companies were fighting each other to offer you photoshoots? When GenNext suddenly goes viral, Jack and his friends are thrust into a crazy world of fame which is as terrifying as it is awesome.
Because someone out there is determined to trip Jack up at every step. If he doesn't stop them, soon everyone he cares about – his friends, his family, and the girl he's falling for – will be in danger.
Gone Too Far by Natalie D. Richards
Piper Woods can't wait for the purgatory of senior year to end. She skirts the fringes of high school like a pro until the morning she finds a notebook with mutilated photographs and a list of student sins. She's sure the book is too gruesome to be true, until pretty, popular Stella dies after a sex-tape goes viral. Everyone's sure it's suicide, but Piper remembers Stella's name from the book and begins to suspect something much worse.
Drowning in secrets she doesn't want to keep, Piper's fears are confirmed when she receives an anonymous text message daring her to make things right. All she needs to do is choose a name, the name of someone who deserves to be punished…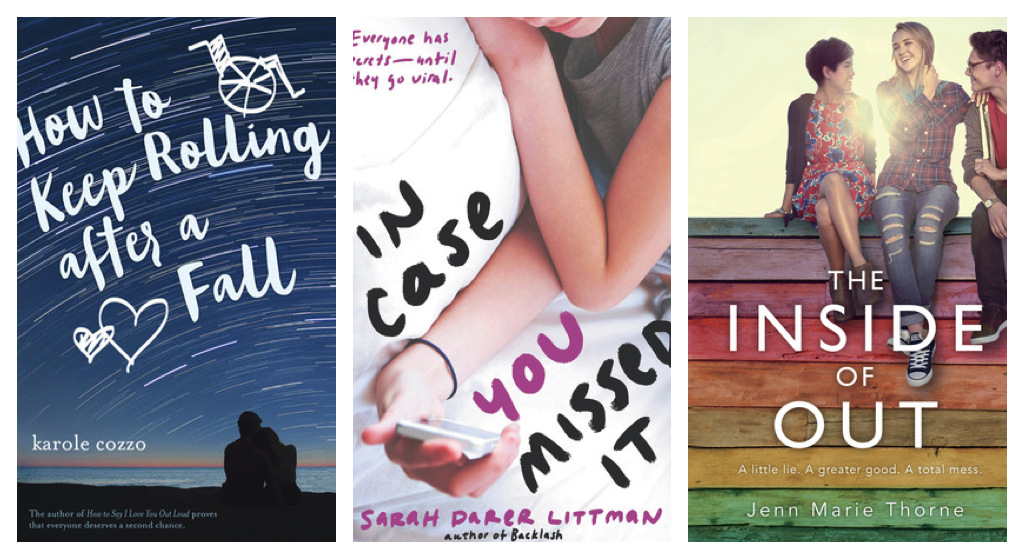 How To Keep Rolling After A Fall by Karole Cozzo
After a cyber bullying incident turns her life upside down, a handsome wheelchair rugby player shows a former mean girl that everyone deserves a second chance.
The party was at her house. The photos were posted to her Facebook account. That's all the evidence anyone needed to condemn Nikki Baylor for a cyberbullying incident that humiliated a classmate and nearly resulted in the girl's suicide. Now Nikki's been expelled from her old school, her friends have abandoned her, and even her own parents can't look her in the eye. With her plans for the future all but destroyed, Nikki resigns herself to being the girl everyone hates – almost as much as she hates herself. But then Nikki meets Pax, a spirited wheelchair rugby player who knows what it's like when one mistake completely shatters your life. Refusing to judge her because of her past, he shows her that everyone deserves a second chance… and everyone deserves to be loved.
In Case You Missed It by Sarah Darer Littman
Sammy Wallach has epic plans for the end of junior year over: Sneak out to the city to see her favorite band. Get crush-worthy Jamie Moss to ask her to prom. Rock all exams (APs and driver's).
With a few white lies, some killer flirting, and tons of practice, Sammy's got things covered. That is, until the bank her dad works for is attacked by hacktivists who manage to steal everything in the Wallach family's private cloud, including Sammy's entire digital life. Literally the whole world has access to her emails, texts, photos, and, worst of all, journal.
Life. Is. Over.
Now Sammy's best friends are furious about things she wrote, Jamie thinks she's desperate, and she can barely show her face at school. Plus, her parents know all the rules she broke. But Sammy's not the only one with secrets — her family has a few of its own that could change everything. And while the truth might set you free, no one said it was going to be painless. Or in Sammy's case, private.
The Inside of Out by Jenn Marie Throne
When her best friend Hannah comes out the day before junior year, Daisy is so ready to let her ally flag fly that even a second, way more blindsiding confession can't derail her smiling determination to fight for gay rights.
Before you can spell LGBTQIA, Daisy's leading the charge to end their school's antiquated ban on same-sex dates at dances—starting with homecoming. And if people assume Daisy herself is gay? Meh, so what. It's all for the cause.
What Daisy doesn't expect is for "the cause" to blow up—starting with Adam, the cute college journalist whose interview with Daisy for his university paper goes viral, catching fire in the national media. #Holy #cats.
With the story spinning out of control, protesters gathering, Hannah left in the dust of Daisy's good intentions, and Daisy's mad attraction to Adam feeling like an inconvenient truth, Daisy finds herself caught between her bold plans, her bad decisions, and her big fat mouth.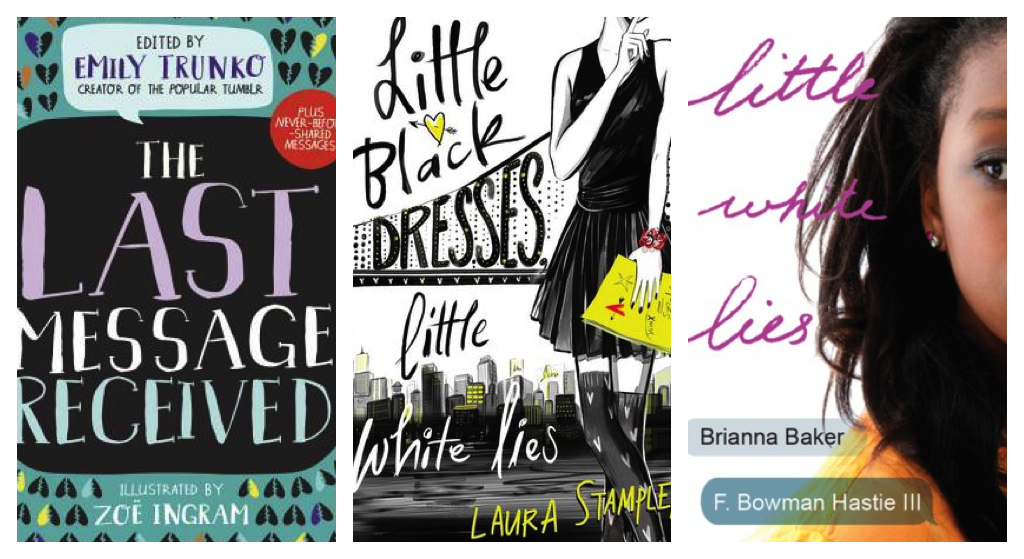 Last Message Received by Emily Trunko (January 10 — going meta on this inclusion!)
Named one of the Top 10 Most Viral Blogs by Mashable, the Tumblr The Last Message Received created by 16-year-old Emily Trunko is now available as a gift book!
What if a message someone sends you today is the last you ll ever receive from them? Would you respond differently, or even at all, if you knew that the end of a friendship, a brutal breakup, or worse might be coming, and that this might be your only chance?
The collection The Last Message Receivedincludes over a hundred final text messages, social media posts, emails, and more. Adapted from the popular Tumblr The Last Message Received followed by more than 85,000 people and selected as a finalist for the Shorty Award the Last Message Received book features sudden endings and the type of loss that will inspire readers to reflect on what s essential in their own lives and the importance of celebrating the people they love every day.
Little Black Dresses, Little White Lies by Laura Stampler
Harper Anderson always believed she belonged somewhere more glamorous than her sleepy Northern California suburb. After all, how many water polo matches and lame parties in Bobby McKittrick's backyard can one girl take? That's why Harper is beyond ecstatic when she lands her dream internship as a dating blogger at the elite teen magazine Shift. Getting to spend the summer in New York City to live her dream of becoming a writer? Harper's totally in.
There's just one teeny, tiny, infinitesimal problem: apart from some dance floor make-outs, Harper doesn't have a lot of—or, really, any—dating expertise. In fact, she might have sort of stolen her best friend's experiences as her own on her Shiftapplication. But she can learn on the job…right?
From awkward run-ins with the cute neighborhood dog walker to terrifying encounters with her crazed editor, from Brooklyn gallery openings to weekends in the Hamptons, Harper finds out what it takes to make it in the Big City—and as the writer of her own destiny.
Little White Lies by Brianna Baker and F. Bowman Hastie
Seventeen-year-old honors student Coretta White's Tumblr, Little White Lies—her witty thoughts on pretty much . . . everything—has gone viral. She's got hundreds of thousands of followers; she's even been offered a TV deal. But Coretta has a secret. She hasn't been writing all her own posts. Stressed from the demands of the sudden attention, she hired an expert ghostwriter, forty-one-year-old Karl Ristoff, to keep the Tumblr going. Now consumed with guilt, she confesses.
Almost instantly, she suffers a public humiliation. The TV deal disappears. Her boyfriend breaks up with her. Then Karl is thrust into the limelight, only to suffer a dramatic fall himself. Together, they vow to find out who is responsible for ruining both of their lives, and why. But in order to exact justice and a wicked revenge, they must first come clean with each other.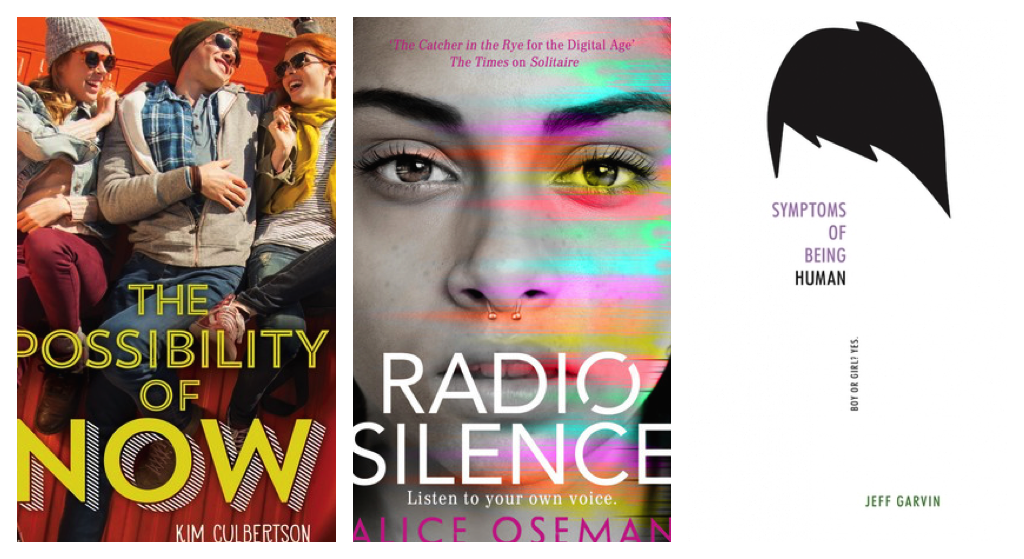 The Possibility of Now by Kimberly Culbertson
Mara James has always been a perfectionist with a plan. But despite years of overachieving at her elite school, Mara didn't plan on having a total meltdown during her calculus exam. Like a rip-up-the-test-and-walk-out kind of meltdown. And she didn't plan on a video of it going viral. And she definitely didn't plan on never wanting to show her face again.
Mara knows she should go back, but suddenly she doesn't know why she's been overachieving all these years. Impulsively, she tells her mom she wants to go live with her estranged dad in Tahoe. Maybe in a place like Tahoe, where people go to get away from everyday life, and with a dad like Trick McHale, a ski bum avoiding the real world, Mara can figure things out.
Only Tahoe is nothing like she thought. There are awesome new friends and hot boys and a chance to finally get to know Trick, but there is also still massive amounts of schoolwork. Can Mara stopping planning long enough to see the life that's happening right now?
Radio Silence by Alice Oseman
What if everything you set yourself up to be was wrong?
Frances has always been a study machine with one goal, elite university. Nothing will stand in her way; not friends, not a guilty secret – not even the person she is on the inside.
But when Frances meets Aled, the shy genius behind her favourite podcast, she discovers a new freedom. He unlocks the door to Real Frances and for the first time she experiences true friendship, unafraid to be herself. Then the podcast goes viral and the fragile trust between them is broken.
Caught between who she was and who she longs to be, Frances' dreams come crashing down. Suffocating with guilt, she knows that she has to confront her past…
She has to confess why Carys disappeared…
Meanwhile at uni, Aled is alone, fighting even darker secrets.
It's only by facing up to your fears that you can overcome them. And it's only by being your true self that you can find happiness.
Frances is going to need every bit of courage she has.
Symptoms of Being Human by Jeff Garvin
Riley Cavanaugh is many things: Punk rock. Snarky. Rebellious. And gender fluid. Some days Riley identifies as a boy, and others as a girl. The thing is…Riley isn't exactly out yet. And between starting a new school and having a congressman father running for reelection in uber-conservative Orange County, the pressure—media and otherwise—is building up in Riley's so-called "normal" life.
On the advice of a therapist, Riley starts an anonymous blog to vent those pent-up feelings and tell the truth of what it's REALLY like to be a gender fluid teenager. But just as Riley's starting to settle in at school—even developing feelings for a mysterious outcast—the blog goes viral, and an unnamed commenter discovers Riley's real identity, threatening exposure. Riley must make a choice: walk away from what the blog has created—a lifeline, new friends, a cause to believe in—or stand up, come out, and risk everything.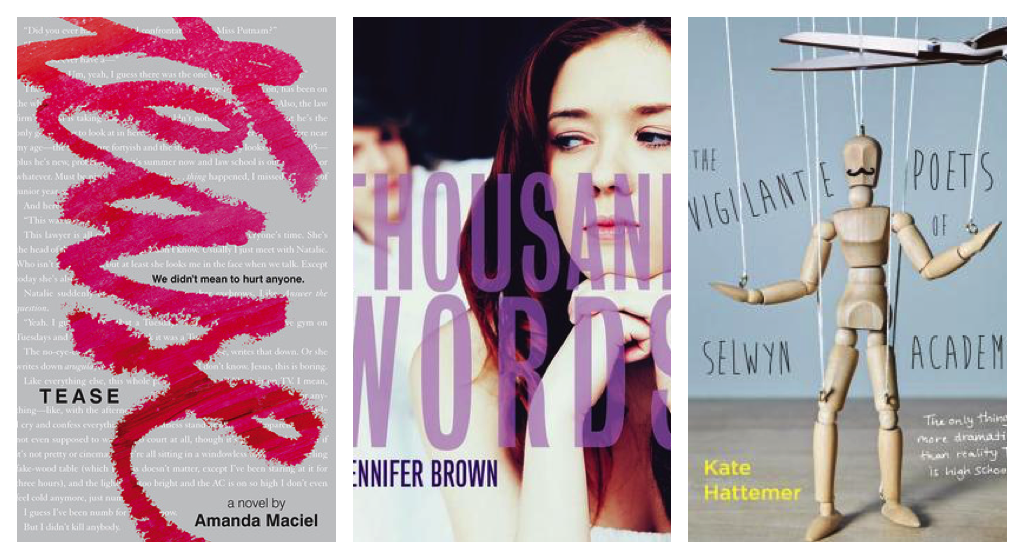 Tease by Amanda Maciel
Provocative, unforgettable, and inspired by real-life incidents, Amanda Maciel's highly acclaimed debut novel Tease is the story of a teenage girl who faces criminal charges for bullying after a classmate commits suicide. With its powerful narrative, unconventional point of view, and strong anti-bullying theme, this coming-of-age story offers smart, insightful, and nuanced views on high school society, toxic friendships, and family relationships.
Emma Putnam is dead, and it's all Sara Wharton's fault. At least, that's what everyone seems to think. Sara, along with her best friend and three other classmates, has been criminally charged for the bullying and harassment that led to Emma's shocking suicide. Now Sara is the one who's ostracized, already guilty according to her peers, the community, and the media. In the summer before her senior year, in between meetings with lawyers and a court-recommended therapist, Sara is forced to reflect on the events that brought her to this moment—and ultimately consider her own role in an undeniable tragedy. And she'll have to find a way to move forward, even when it feels like her own life is over.
Thousand Words by Jennifer Brown
Ashleigh's boyfriend, Kaleb, is about to leave for college, and Ashleigh is worried that he'll forget about her while he's away. So at a legendary end-of-summer pool party, Ashleigh's friends suggest she text him a picture of herself — sans swimsuit — to take with him. Before she can talk herself out of it, Ashleigh strides off to the bathroom, snaps a photo in the full-length mirror, and hits "send."
But when Kaleb and Ashleigh go through a bad breakup, Kaleb takes revenge by forwarding the text to his baseball team. Soon the photo has gone viral, attracting the attention of the school board, the local police, and the media. As her friends and family try to distance themselves from the scandal, Ashleigh feels completely alone — until she meets Mack while serving her court-ordered community service. Not only does Mack offer a fresh chance at friendship, but he's the one person in town who received the text of Ashleigh's photo — and didn't look.
Vigilante Poets of Selwyn Academy by Kate Hattemer
Witty, sarcastic Ethan and his three best friends are students at Selwyn Arts Academy, which has been hijacked by For Art's Sake, a sleazy reality-television show. In the tradition of Ezra Pound, the foursome secretly writes and distributes a long poem to protest the show. They're thrilled to have started a budding rebellion.
But the forces behind the show are craftier than they seem. The web of betrayal stretches farther than Ethan could have ever imagined, and it's up to him, his friends, and a heroic gerbil named Baconnaise to save Selwyn.
And if you're already thinking about books that will hit shelves in 2018 (!!) you'll want to know about Kimberly Reid's forthcoming #Prettyboy Must Die.