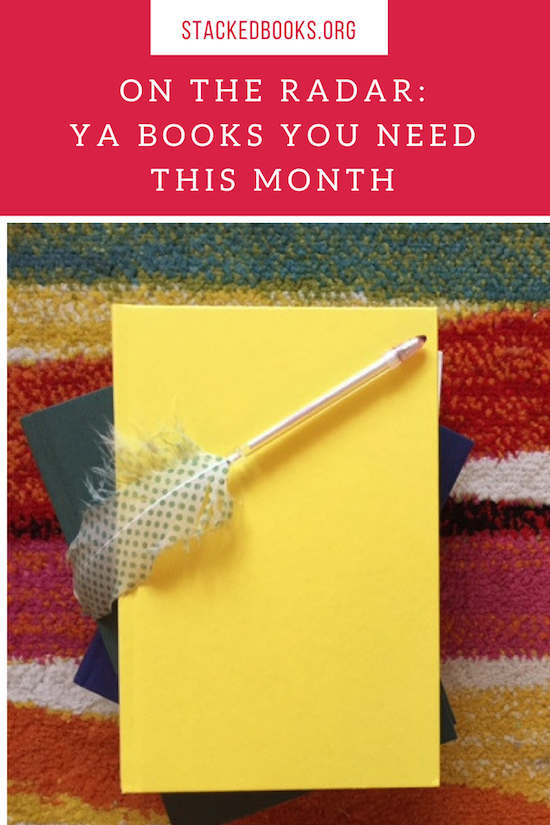 "On The Radar" is a monthly series meant to highlight between 9 and 12 books per month to fit a budget of roughly $300 or less. These lists are curated from a larger spreadsheet I keep with a running list of titles hitting shelves and are meant to reflect not only the big books coming out from authors readers know and love, but it's also meant to showcase some of the titles that have hit my radar through review copies, publicity blasts, or because they're titles that might otherwise not be readily seen or picked up through those traditional avenues. It's part science and part art.
For August, I've pulled 11 titles worth picking up. They include buzzy titles, ones I've seen great reviews for, and a few others which could fall under the radar but deserve a little extra spotlight.
Book descriptions come from Goodreads and reasons for putting on your radar are mine and mine alone! Titles are alphabetical, with pub dates beside them.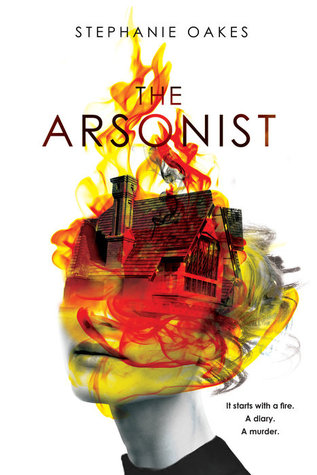 The Arsonist by Stephanie Oakes (8/22)
Molly Mavity is not a normal teenage girl. For one thing, her father is a convicted murderer, and his execution date is fast approaching. For another, Molly refuses to believe that her mother is dead, and she waits for the day when they'll be reunited . . . despite all evidence that this will never happen.
Pepper Yusef is not your average teenage boy. A Kuwaiti immigrant with epilepsy, serious girl problems, and the most useless seizure dog in existence, he has to write a series of essays over the summer . . . or fail out of school.
And Ava Dreyman—the brave and beautiful East German resistance fighter whose murder at seventeen led to the destruction of the Berlin Wall—is unlike anyone you've met before.
When Molly gets a package leading her to Pepper, they're tasked with solving a decades-old mystery: find out who killed Ava, back in 1989. Using Ava's diary for clues, Molly and Pepper realize there's more to her life—and death—than meets the eye. Someone is lying to them. And someone out there is guiding them along, desperate for answers.
Why it should be on your radar: Oakes's first novel, The Sacred Lies of Minnow Bly, was a finalist for the William C Morris Debut Novel Award.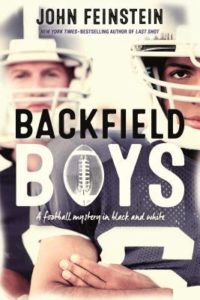 Backfield Boys by John Feinstein (8/29)
Sportswriting powerhouse John Feinstein's young adult novel Backfield Boys follows best friends and football stars Jason Roddin and Tom Jefferson, a perfect, though unconventional, pair: Jason, the Jewish kid, is lightning fast and a natural wide-receiver, while African-American Tom has an amazing arm and a quarterback's feel for the game. After summer football camp at an elite sports-focused boarding school, the boys are thrilled to enroll on scholarship for their freshman year–despite their mothers' fears of injury and especially CTE.
On day one, they're stunned when the coaches make Tom a receiver and Jason a quarterback, a complete contradiction to their skill sets and training. They soon suspect this is a racial issue. The boys speak out, risking both their scholarships and their chance to play. But when Jason gets a concussion in the first game of the season, he and Tom must decide how much they're willing to lose in their quest to expose the ugly remnants of a racist past that still linger in contemporary jock culture.
Why it should be on your radar: Sports novel! Feinstein has been writing YA sports reads for a while, and this sounds like it'll hit on a lot of intersecting interests: football, race, religion, and debilitating injury.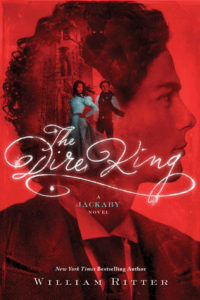 The Dire King by William Ritter (8/22)
The fate of the world is in the hands of detective of the supernatural R. F. Jackaby and his intrepid assistant, Abigail Rook. An evil king is turning ancient tensions into modern strife, using a blend of magic and technology to push Earth and the Otherworld into a mortal competition. Jackaby and Abigail are caught in the middle as they continue to solve the daily mysteries of New Fiddleham, New England — like who's created the rend between the worlds, how to close it, and why zombies are appearing around. At the same time, the romance between Abigail and the shape-shifting police detective Charlie Cane deepens, and Jackaby's resistance to his feelings for 926 Augur Lane's ghostly lady, Jenny, begins to give way. Before the four can think about their own futures, they will have to defeat an evil that wants to destroy the future altogether.
Why it should be on your radar: The final book in the Jackaby series, which has both been exceptionally popular and a New York Times bestselling series.
Dress Codes for Small Towns by Courtney Stevens (8/22)
As the tomboy daughter of the town's preacher, Billie McCaffrey has always struggled with fitting the mold of what everyone says she should be. She'd rather wear sweats, build furniture, and get into trouble with her solid group of friends: Woods, Mash, Davey, Fifty, and Janie Lee.
But when Janie Lee confesses to Billie that she's in love with Woods, Billie's filled with a nagging sadness as she realizes that she is also in love with Woods…and maybe with Janie Lee, too.
Always considered "one of the guys," Billie doesn't want anyone slapping a label on her sexuality before she can understand it herself. So she keeps her conflicting feelings to herself, for fear of ruining the group dynamic. Except it's not just about keeping the peace, it's about understanding love on her terms—this thing that has always been defined as a boy and a girl falling in love and living happily ever after. For Billie—a box-defying dynamo—it's not that simple.
Readers will be drawn to Billie as she comes to terms with the gray areas of love, gender, and friendship, in this John Hughes-esque exploration of sexual fluidity.
Why it should be on your radar: Great reviews for this title have been popping up, and books set in the south about gender, sexuality, and faith are rare.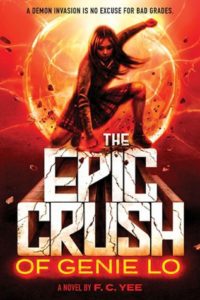 The Epic Crush of Genie Lo by FC Yee (8/8)
The struggle to get into a top-tier college consumes sixteen-year-old Genie Lo's every waking thought. But when her sleepy Bay Area town comes under siege from hell-spawn straight out of Chinese folklore, her priorities are suddenly and forcefully rearranged.
Her only guide to the demonic chaos breaking out around her is Quentin Sun, a beguiling, maddening new transfer student from overseas. Quentin assures Genie she is strong enough to fight these monsters, for she unknowingly harbors an inner power that can level the very gates of Heaven.
Genie will have to dig deep within herself to summon the otherworldly strength that Quentin keeps talking about. But as she does, she finds the secret of her true nature is entwined with his, in a way she could never have imagined.
Why it should be on your radar: A stand-alone fantasy that sounds like a blast, featuring a main character of color. This one showed up at my door in a fancy box, suggesting there's some money and push behind it, so likely, readers may see it popping up and start asking for it.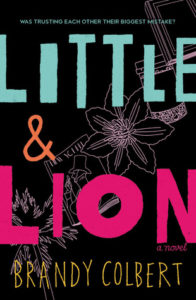 Little and Lion by Brandy Colbert (8/8)
When Suzette comes home to Los Angeles from her boarding school in New England, she isn't sure if she'll ever want to go back. L.A. is where her friends and family are (along with her crush, Emil). And her stepbrother, Lionel, who has been diagnosed with bipolar disorder, needs her emotional support.
But as she settles into her old life, Suzette finds herself falling for someone new…the same girl her brother is in love with. When Lionel's disorder spirals out of control, Suzette is forced to confront her past mistakes and find a way to help her brother before he hurts himself–or worse.
Why it should be on your radar: This one's racked up three starred reviews so far, and Colbert's first novel earned a great amount of critical acclaim. Having read this one, I can say it's easily one of the best of 2017 YA so far. Friendship, sibling relationships, mental illness, and sexuality are some of the big themes throughout.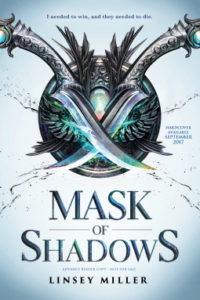 Mask of Shadows by Linsey Miller (8/29)
Sallot Leon is a thief, and a good one at that. But gender fluid Sal wants nothing more than to escape the drudgery of life as a highway robber and get closer to the upper-class―and the nobles who destroyed their home.
When Sal steals a flyer for an audition to become a member of The Left Hand―the Queen's personal assassins, named after the rings she wears―Sal jumps at the chance to infiltrate the court and get revenge.
But the audition is a fight to the death filled with clever circus acrobats, lethal apothecaries, and vicious ex-soldiers. A childhood as a common criminal hardly prepared Sal for the trials. And as Sal succeeds in the competition, and wins the heart of Elise, an intriguing scribe at court, they start to dream of a new life and a different future, but one that Sal can have only if they survive.
Why it should be on your radar: This has been getting more and more buzz the closer it comes to pub date. It's the first in a fantasy series from a debut author.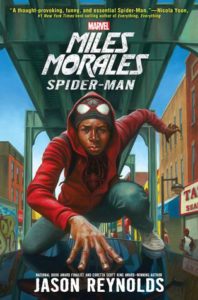 Miles Morales: Spider-Man by Jason Reynolds (8/1)
Miles Morales is just your average teenager. Dinner every Sunday with his parents, chilling out playing old-school video games with his best friend, Ganke, crushing on brainy, beautiful poet Alicia. He's even got a scholarship spot at the prestigious Brooklyn Visions Academy. Oh yeah, and he's Spider Man.
But lately, Miles's spidey-sense has been on the fritz. When a misunderstanding leads to his suspension from school, Miles begins to question his abilities. After all, his dad and uncle were Brooklyn jack-boys with criminal records. Maybe kids like Miles aren't meant to be superheroes. Maybe Miles should take his dad's advice and focus on saving himself.
As Miles tries to get his school life back on track, he can't shake the vivid nightmares that continue to haunt him. Nor can he avoid the relentless buzz of his spidey-sense every day in history class, amidst his teacher's lectures on the historical "benefits" of slavery and the importance of the modern-day prison system. But after his scholarship is threatened, Miles uncovers a chilling plot, one that puts his friends, his neighborhood, and himself at risk.
It's time for Miles to suit up.
Why it should be on your radar: A Spider-Man novelization featuring a brown main character by Jason Reynolds. Enough said! Chances are, you might want to buy more than one copy of this title for your collection.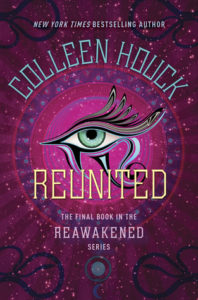 Reunited by Colleen Houck (8/8)
After surviving her otherworldly adventure, Lily wakes up on her nana's farm having forgotten everything. Her sun prince, her travels to Egypt, and her journey to the Afterlife are all distant memories.
But Lily is not the girl she once was. Her body is now part human, part lion, and part fairy. And if that isn't bad enough, she must now harness this power of three and become Wasret: a goddess destined to defeat the evil god Seth once and for all.
With the help of her old friend Dr. Hassan, Lily departs on her final voyage through the cosmos and across the plains of Egypt. On the journey, she will transform into the being she is destined to become.
Reunited is the heart-pounding conclusion to the Reawakened series.
It is time for Lily to find her sunset.
Why it should be on your radar: I will be honest: I know nothing about this series. But it has hit the New York Times list, and it's been selling well. This is the final entry, so worth knowing about if it's one that's popular in your own collection.
When I Am Through With You by Stephanie Kuehn (8/1)
"This isn't meant to be a confession. Not in any spiritual sense of the word. Yes, I'm in jail at the moment. I imagine I'll be here for a long time, considering. But I'm not writing this down for absolution and I'm not seeking forgiveness, not even from myself. Because I'm not sorry for what I did to Rose. I'm just not. Not for any of it."
Ben Gibson is many things, but he's not sorry and he's not a liar. He will tell you exactly about what happened on what started as a simple school camping trip in the mountains. About who lived and who died. About who killed and who had the best of intentions. But he's going to tell you in his own time. Because after what happened on that mountain, time is the one thing he has plenty of.
Why it should be on your radar: Stephanie Kuehn is a Morris winner, as well as an author who continually puts out thought-provoking, intelligent thrillers for your mature YA readers — both in the sense of "older" teens, as well as in the sense of books for those teen readers who are "too cool" for YA.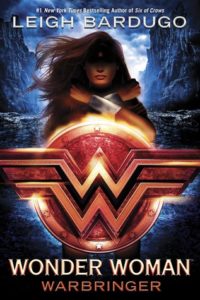 Wonder Woman: War Bringer by Leigh Bardugo (8/29)
She will become one of the world's greatest heroes: WONDER WOMAN. But first she is Diana, Princess of the Amazons. And her fight is just beginning. . . .
Diana longs to prove herself to her legendary warrior sisters. But when the opportunity finally comes, she throws away her chance at glory and breaks Amazon law—risking exile—to save a mere mortal. Even worse, Alia Keralis is no ordinary girl and with this single brave act, Diana may have doomed the world.
Alia just wanted to escape her overprotective brother with a semester at sea. She doesn't know she is being hunted. When a bomb detonates aboard her ship, Alia is rescued by a mysterious girl of extraordinary strength and forced to confront a horrible truth: Alia is a Warbringer—a direct descendant of the infamous Helen of Troy, fated to bring about an age of bloodshed and misery.
Together, Diana and Alia will face an army of enemies—mortal and divine—determined to either destroy or possess the Warbringer. If they have any hope of saving both their worlds, they will have to stand side by side against the tide of war.
Why it should be on your radar: Wonder Woman novel! This is the first in a series, and with a name like Leigh Bardugo attached, I say what I said earlier about the Spider-Man novel: you need a copy, if not more than one, on your shelves.