I have thought a lot recently about black girls.
Earlier this year, a piece on NPR highlighted how black girls are pushed out of schools at higher rates than their white counterparts. Discipline toward black girls is harsher and handed out in ways that aren't equitable to white girls. We have seen this front and center, too, thanks to the horrific and heart-shattering video of a school police officer assaulting a black girl in school. We saw it front and center this summer as a police officer in McKinney, Texas, manhandled a black teen girl.
There's no excuse at all for any of these situations. Black lives matter, and that mattering extends to those teen black girls who deserve to be listened to, acknowledged, boosted, and treated as human beings with immense potential, perspective, and possibility ahead of them.
Because they absolutely, positively do.
I'm not sure I can say much more except that when I start feeling powerless, creating a resource list feels like a small step toward not only acknowledging the issue, but it feels like something that could, I hope, get a book into the hands of a person who desperately needs it. In this case, I hope a teacher or librarian or reader finds one of these books featuring great black female leads and understands that their story — their life — matters hugely.
All descriptions are from WorldCat, and I'm absolutely eager to hear more titles. All are YA books featuring black girls front and center and they include fiction and some non-fiction. A couple of these titles also fall into that crossover category, so while they may technically be "adult" reads, they have great appeal to teens. Several of these authors have written more than one title featuring a black girl at the center, so it's worth checking their other titles, too. Many of these are also on-going series titles. I've limited to one per author.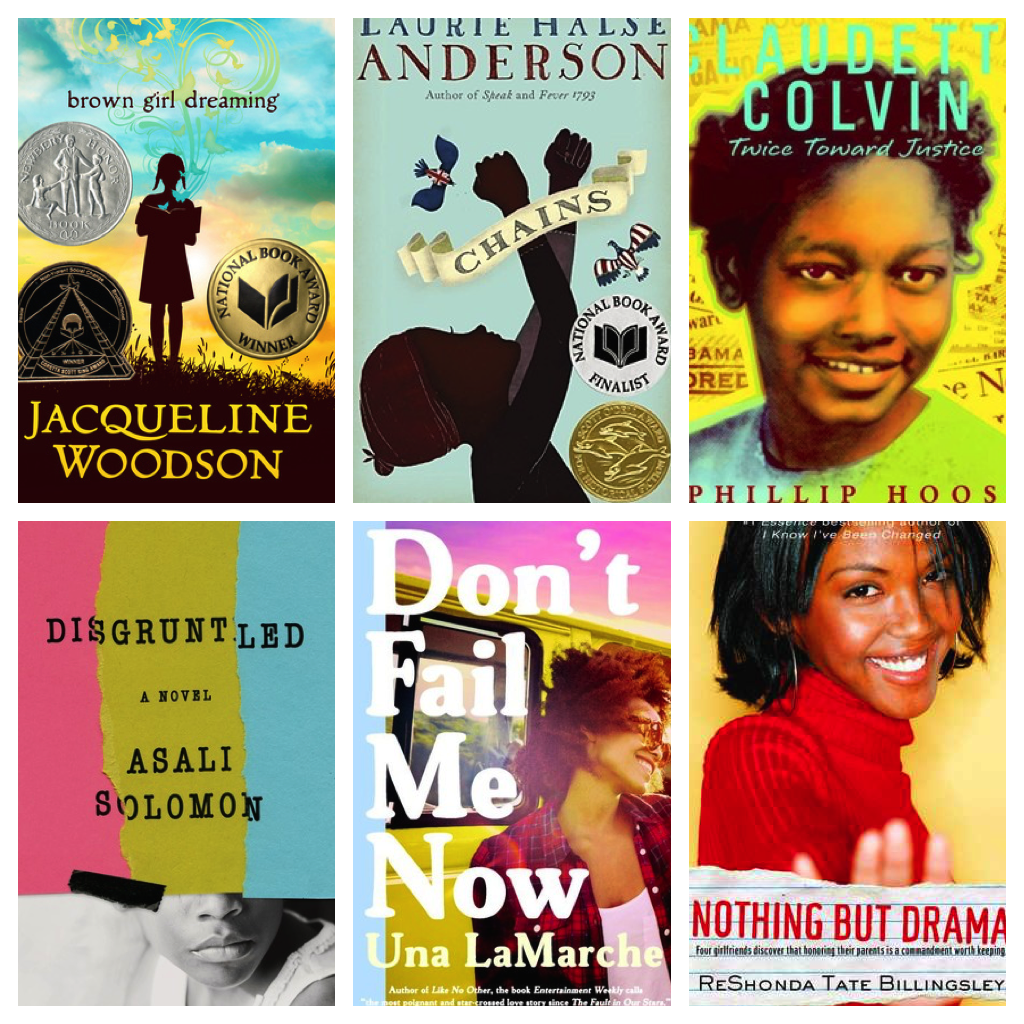 brown girl dreaming by Jacqueline Woodson: Raised in South Carolina and New York, Woodson always felt halfway home in each place. In vivid poems, she shares what it was like to grow up as an African American in the 1960s and 1970s, living with the remnants of Jim Crow and her growing awareness of the Civil Rights movement. Touching and powerful, each poem is both accessible and emotionally charged, each line a glimpse into a child's soul as she searches for her place in the world. Woodson's poetry also reflects the joy of finding her voice through writing stories, despite the fact that she struggled with reading as a child. Her love of stories inspired her and stayed with her, creating the first sparks of the gifted writer she was to become.
Chains by Laurie Halse Anderson: When their owner dies at the start of the Revolution, Isabel and her younger sister are sold to Loyalists in New York, where Isabel is offered the chance to spy for the Patriots.
Claudette Colvin: Twice Toward Justice by Phillip Hoose: Based on extensive interviews with Claudette Colvin and many others, Phillip Hoose presents the first in-depth account of an important yet largely unknown civil rights figure, skillfully weaving her dramatic story into the fabric of the historic Montgomery bus boycott and court case that would change the course of American history.
Disgruntled by Asali Solomon: Kenya Curtis is only eight years old, but she knows that she's different, even if she can't put her finger on how or why. It's not because she's Black–most of the other students in the fourth-grade class at her West Philadelphia elementary school are too. Maybe it's because she celebrates Kwanzaa, or because she's forbidden from reciting the Pledge of Allegiance. Maybe it's because she calls her father–a housepainter-slash-philosopher–"Baba" instead of "Daddy," or because her parents' friends gather to pour out libations "from the Creator, for the Martyrs" and discuss "the community." Kenya does know that it's connected to what her Baba calls "the shame of being alive"–a shame that only grows deeper and more complex over the course of Asali Solomon's long-awaited debut novel. Disgruntled, effortlessly funny and achingly poignant, follows Kenya from West Philadelphia to the suburbs, from public school to private, from childhood through adolescence, as she grows increasingly disgruntled by her inability to find any place or thing or person that feels like home. A coming-of-age tale, a portrait of Philadelphia in the late eighties and early nineties, an examination of the impossible double-binds of race, Disgruntled is a novel about the desire to rise above the limitations of the narratives we're given and the painful struggle to craft fresh ones we can call our own
Don't Fail Me Now by Una LaMarche: Interracial half-siblings come together for the first time and embark on a cross-country road trip to confront their absentee father before he dies.
Nothing But Drama by ReShonda Tate Billingsley: Four teenaged girls from different backgrounds find faith and friendship after joining Good Girlz, an afterschool church youth group.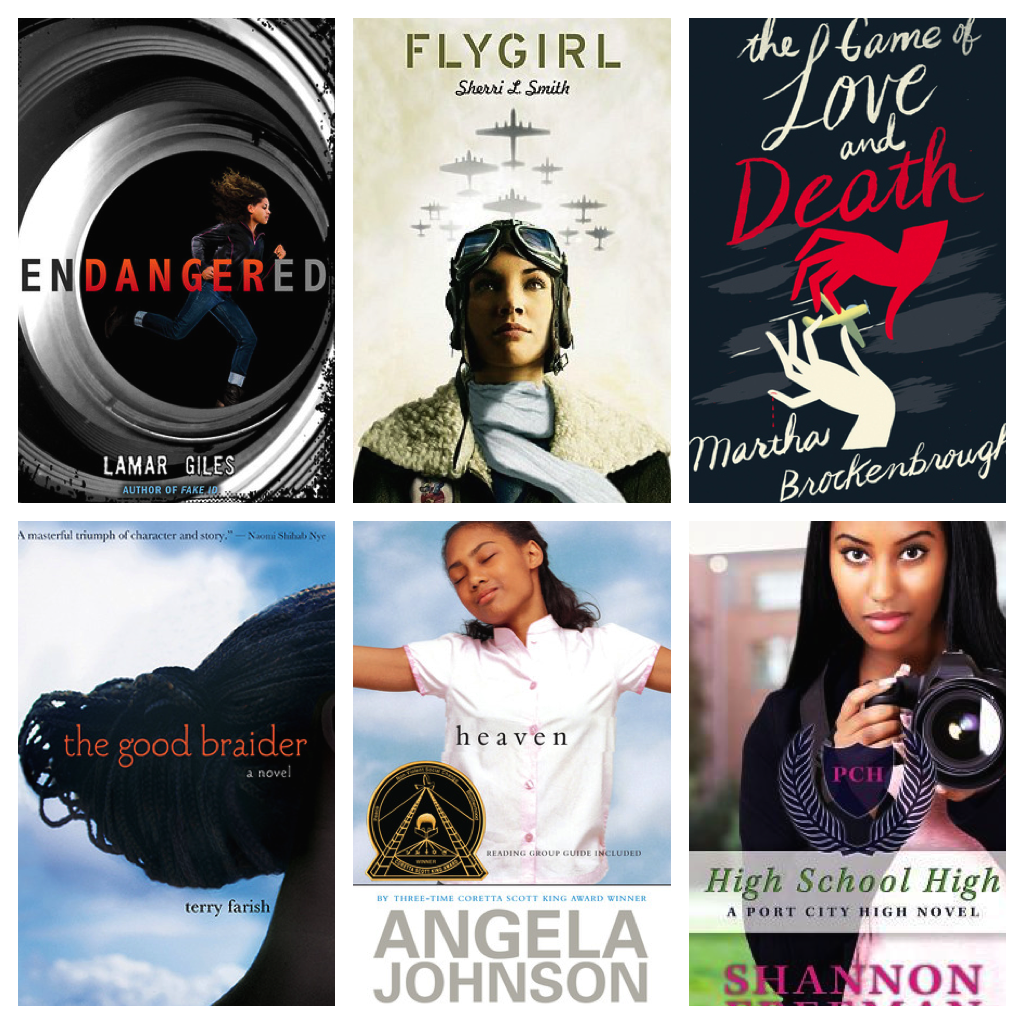 Endangered by Lamar Giles: When Lauren (Panda), a teen photoblogger, gets involved in a deadly game, she has to protect the classmates she despises.
Flygirl by Sherri L Smith: During World War II, a light-skinned African American girl "passes" for white in order to join the Women Airforce Service Pilots.
The Game of Love and Death by Martha Brockenbrough: Antony and Cleopatra. Helen of Troy and Paris. Romeo and Juliet. And now… Henry and Flora. For centuries Love and Death have chosen their players. They have set the rules, rolled the dice, and kept close, ready to influence, angling for supremacy. And Death has always won. Always. Could there ever be one time, one place, one pair whose love would truly tip the balance? Meet Flora Saudade, an African-American girlwho dreams of becoming the next Amelia Earhart by day and sings in the smoky jazz clubs of Seattle by night. Meet Henry Bishop, born a few blocks and a million worlds away, a white boy with his future assured — a wealthy adoptive family in the midst of the Great Depression, a college scholarship, and all the opportunities in the world seemingly available to him. The players have been chosen. The dice have been rolled. But when human beings make moves of their own, what happens next is anyone's guess.
The Good Braider by Terry Farish: Told in spare free verse, the book follows Viola as she survives brutality in war-torn Sudan, makes a perilous journey, lives as a refugee in Egypt, and finally reaches Portland, Maine, where her quest for freedom and security is hampered by memories of past horrors and the traditions her mother and other Sudanese adults hold dear. With unforgettable images, the author's voice sings out the story of her family's journey, and tells the universal tale of a young immigrant's struggle to build a life on the cusp of two cultures. Includes historical facts and a map of Sudan.
Heaven by Angela Johnson: At fourteen, Marley knows she has Momma's hands and Pops's love for ice cream, that her brother doesn't get on her nerves too much, and that Uncle Jack is a big mystery. But Marley doesn't know all she thinks she does, because she doesn't know the truth. And when the truth comes down with the rain one stormy summer afternoon, it changes everything. It turns Momma and Pops into liars. It makes her brother a stranger and Uncle Jack an even bigger mystery. All of a sudden, Marley doesn't know who she is anymore and can only turn to the family she no longer trusts to find out.
High School High by Shannon Freeman:  Brandi, Marissa, and Shane are excited to begin their freshman year at Port City High, but find their friendship tested by Shane's drug addiction and Marissa's relationship with Brandi's ex.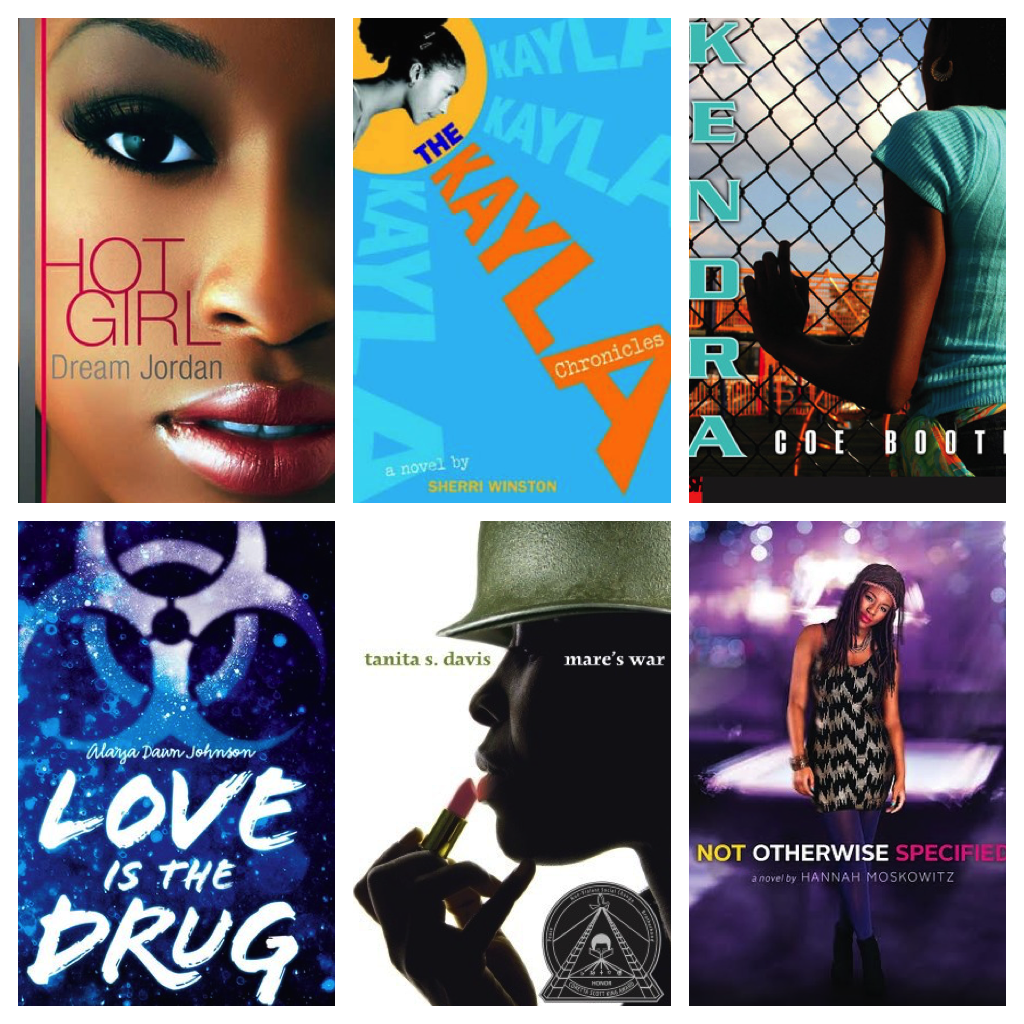 The Hot Girl by Dream Jordan: Kate, a fourteen-year-old Brooklyn girl and former gang member, risks losing her first good foster family when she adopts the risqué ways of her flirtatious new friend, Naleejah.
The Kayla Chronicles by Sherri Winston: At the urging of her pushy best friend, Kayla overcomes her reticence and tries out for the school dance team in order to expose their suspected discrimination, but when she unexpectedly makes the team–and even begins to enjoy performing–she finds her assumptions, and her sense of herself, challenged.
Kendra by Coe Booth: High schooler Kendra longs to live with her mother who, unprepared for motherhood at age fourteen, left Kendra in the care of her grandmother.
Love is the Drug by Alaya Dawn Johnson: Emily Bird is an African American high school senior in Washington D.C., member of a privileged medical family, on the verge of college and the edge of the drug culture, and not really sure which way she will go–then one day she wakes up in the hospital with no memory of what happened.
Mare's War by Tanita S Davis: Teens Octavia and Tali learn about strength, independence, and courage when they are forced to take a car trip with their grandmother, who tells about growing up Black in 1940s Alabama and serving in Europe during World War II as a member of the Women's Army Corps.
Not Otherwise Specified by Hannah Moskowitz: Auditioning for a New York City performing arts high school could help Etta escape from her Nebraska all-girl school, where she is not gay enough for her former friends, not sick enough for her eating disorders group, and not thin enough for ballet, but it may also mean real friendships.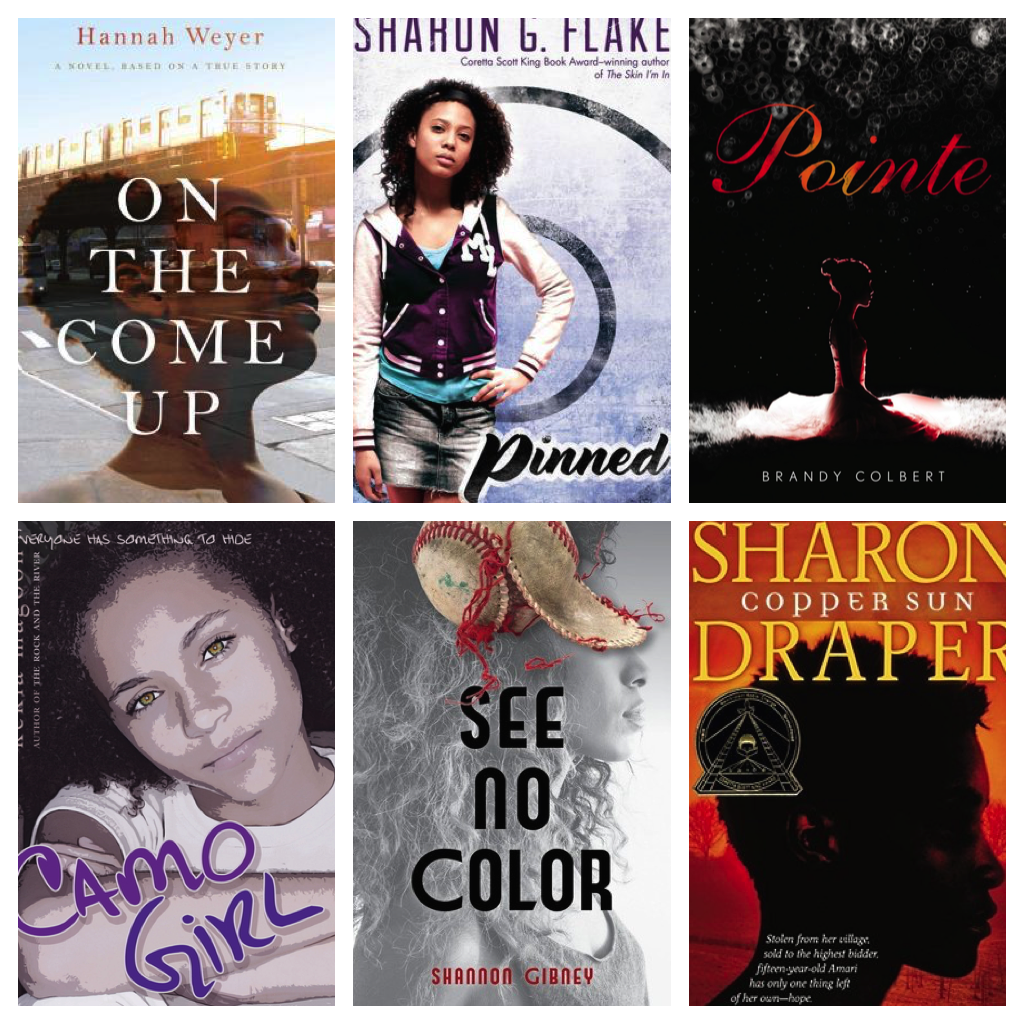 On The Come Up by Hannah Weyer: AnnMarie comes across a flyer advertising movie auditions in Manhattan. Four months before she's due to give birth; she lands a lead role. For a time, AnnMarie soars, acting for the camera, flying to the Sundance Film Festival, seeing her face on-screen. But when the film fades from view and the realities of her life set in, AnnMarie's grit and determination are the only tools left to keep her moving forward. Told with remarkable compassion and based on the real-life story of Anna Simpson.
Pinned by Sharon Flake: Adonis is smart, intellectually gifted and born without legs; Autumn is strong, a great wrestler, and barely able to read in ninth grade–but Autumn is attracted to Adonis and determined to make him a part of her life whatever he or her best friend thinks.
Pointe by Brandy Colbert: Four years after Theo's best friend, Donovan, disappeared at age thirteen, he is found and brought home and Theo puts her health at risk as she decides whether to tell the truth about the abductor, knowing her revelation could end her life-long dream of becoming a professional ballet dancer.
Camo Girl by Kekla Magoon: Ella, a biracial girl with a patchy and uneven skin tone, and her friend Z, a boy who is very different, have been on the bottom of the social order at Caldera Junior High School in Las Vegas, but when the only other African-American student enters their sixth grade class, Ella longs to be friends with him and join the popular group, but does not want to leave Z all alone.
See No Color by Shannon Gibney: Alex has always identified herself as a baseball player, the daughter of a winning coach, but when she realizes that is not enough she begins to come to terms with her adoption and her race.
Copper Sun by Sharon Draper: Two fifteen-year-old girls–one a slave and the other an indentured servant–escape their Carolina plantation and try to make their way to Fort Moses, Florida, a Spanish colony that gives sanctuary to slaves.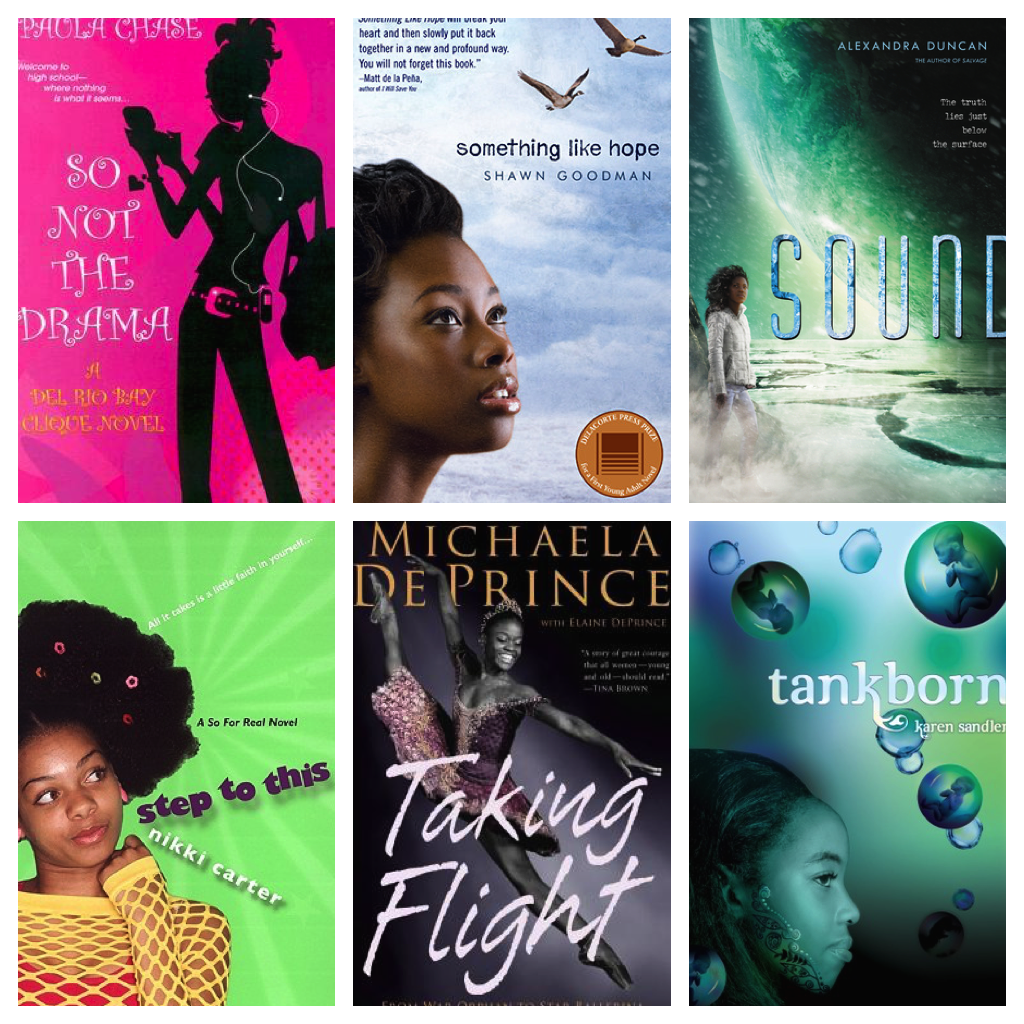 So Not The Drama by Paula Chase: Mina's plans to carry her middle school popularity over into high school do not work out just as she had imagined when her best friend Lizzie gets invited to a party with the social elite, and a class project on prejudice exposes the truth about school cliques.
Something Like Hope by Shawn Goodman: Shavonne, a fierce, desperate seventeen year-old in juvenile lockup, wants to turn her life around before her eighteenth birthday, but corrupt guards, out-of-control girls, and shadows from her past make her task seem impossible.
Sound by Alexandra Duncan: Ava's adopted sister Miyole is finally living her dream as a research assistant on her very first space voyage. But when her ship saves a rover that has been viciously attacked by looters and kidnappers, Miyole–along with a rescued rover girl named Cassia–embarks on a mission to rescue Cassia's abducted brother, and that changes the course of Miyole's life forever
Step To This by Nikki Carter: Gia doesn't have the hair or the clothes, but she's got the moves and the attitude to make her sophomore year at Longfellow High unforgettable. But not everyone agrees, so Gia decides it's time for a makeover. With her stylish new look, she scores a date with hottie football player, Romeo, snags a spot on the Hi-Steppers dance squad, and makes a ton of new friends.
Taking Flight by Michaela DePrince: The memoir of Michaela DePrince, who lived the first few years of her live in war-torn Sierra Leone until being adopted by an American family. Now seventeen, she is one of the premiere ballerinas in the United States.
Tankborn by Karen Sandler: Kayla and Mishalla, two genetically engineered non-human slaves (GENs), fall in love with higher-status boys, discover deep secrets about the creation of GENs, and find out what it means to be human.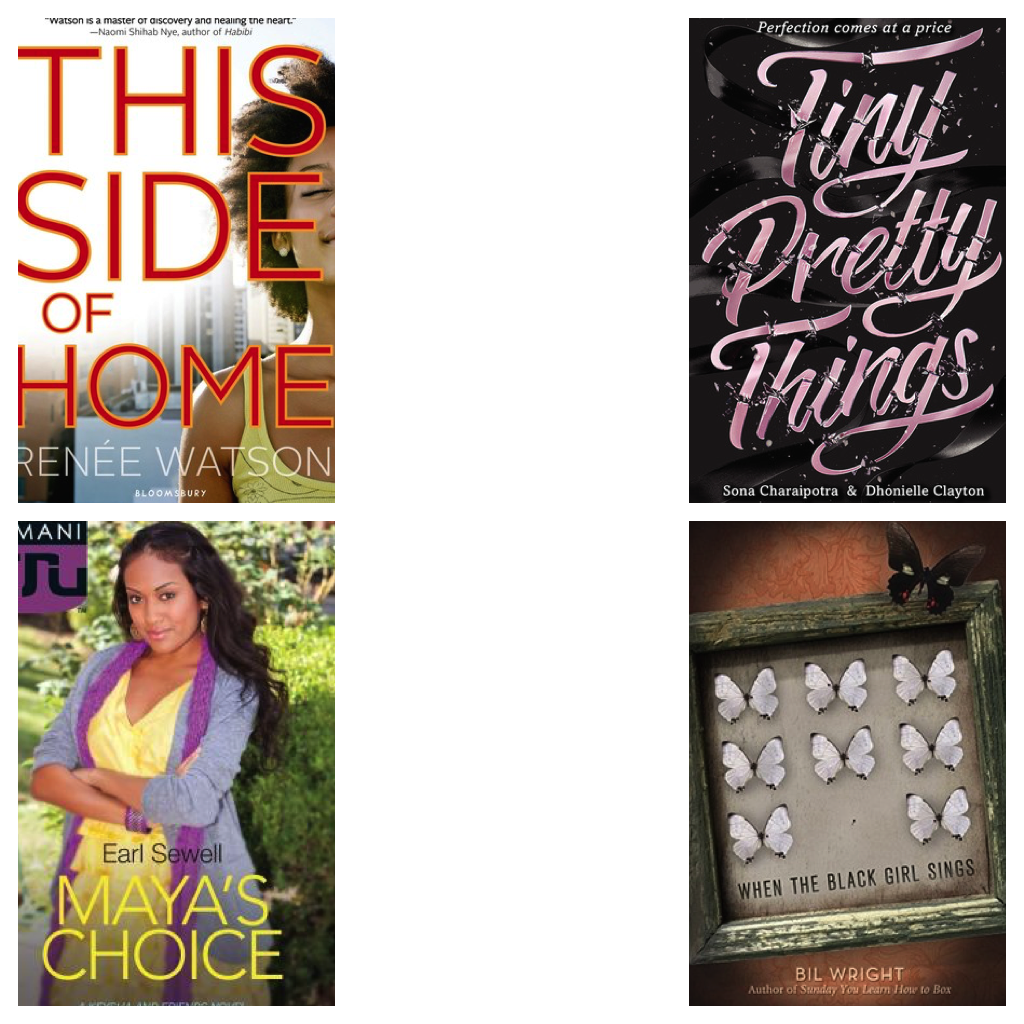 This Side of Home by Renée Watson: Twins Nikki and Maya Younger always agreed on most things, but as they head into their senior year they react differently to the gentrification of their Portland, Oregon, neighborhood and the new–white–family that moves in after their best friend and her mother are evicted.
Tiny Pretty Things by Sona Charaipotra and Dhonielle Clayton: Gigi, Bette, and June, three top students at an exclusive Manhattan ballet school, have seen their fair share of drama. Free-spirited new girl Gigi just wants to dance — but the very act might kill her. Privileged New Yorker Bette's desire to escape the shadow of her ballet star sister brings out a dangerous edge in her. And perfectionist June needs to land a lead role this year or her controlling mother will put an end to her dancing dreams forever. When every dancer is both friend and foe, the girls will sacrifice, manipulate, and backstab to be the best of the best.
Maya's Choice by Earl Sewell: Maya's summer is shaping up to be unforgettable– in both good and bad ways. First she's sent to stay with her grandmother for a month. Living in the city, Maya is too far from her friend Keysha and her boyfriend, Misalo– and too near her rebellious cousin Viviana. When Maya finally comes home, her parents drop a bombshell– Viviana is moving in with them. Her cousin has barely unpacked before she's creating chaos. Truth is, Maya kind of likes the way life is a whole lot less predictable with Viviana around. But her motives are up for debate– especially when it comes to Misalo. And as Maya's little sister, Anna, grows more fascinated with her cool older cousin, Maya begins to see that following where Viviana leads has its price. And it could cost Maya her reputation, her relationship– and maybe even her future. 
When The Black Girl Sings by Bil Wright: Adopted by white parents and sent to an exclusive Connecticut girls' school where she is the only black student, fourteen-year-old Lahni Schuler feels like an outcast, particularly when her parents separate, but after attending a local church where she hears gospel music for the first time, she finds her voice.