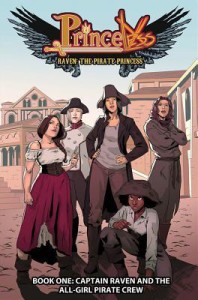 I wrote about how much I loved Princeless before. I didn't think it would be possible to love its spin-off more, but I think I do. Raven the Pirate Princess follows Raven, a pirate princess who was due to inherit her father's ship – until her brothers betrayed her, locking her in a tower to be "rescued." The girls in Princeless don't wait around for a rescuer, though, and when Raven escapes, she sets about hiring her own pirate crew to get revenge. This first volume chronicles her attempts to do this, and it's funny and exciting and entertaining the whole way through.
The cast is diverse (at most, three out of the five main crew are white, with varying body types and sexual orientations, and Raven herself is Asian) and the social commentary is pure genius. I literally laughed out loud during the interview process in the bar, where man after man walks up to Raven, hoping to be hired with pitches like "I've always been really into Eastern Pirate culture" and "I always thought it would be cool to work for a female captain…you know, she could be all stern but sexy" and "You're probably not even a real pirate girl. I bet you don't even know what Captain Fraction's name was before he changed it!" And more. It's like a bingo card of every tired, offensive, "innocuous" thing ever said to nerd girls, Asian girls, powerful girls…girls in general. Oh god, I love this whole scene so much, I want to hug it. Whitley manages to give each of the five main characters distinct personalities in a limited number of pages, and the art by Brandt and Higgins is expressive and builds these characters just as much as the writing does. Flashbacks are at times a little hard to pick up on right away – I didn't notice anything artistically that marked a flashback, and there are no dates or "three years earlier" or anything like that. Still, context eventually got me there. For well-read comics fans, there are a few cameos, too, which are unnecessary to understand the story, but are nice little Easter eggs for those who notice them.
I'd say this book is for an audience a bit older than that of Princeless proper. I opted to place it in our teen section in the library, whereas Princeless is in our juvenile section. There's nothing hugely objectionable, but a lot of the jokes would go over the heads of tweens and younger kids, and they'd likely not understand much of anything that happens in the bar scene, which takes up a big chunk of the book. There's a bit more violence, too, and the characters are all 16 and up. Highly recommended.