"I mean, doing good is so dreary. At least doing bad is inventive."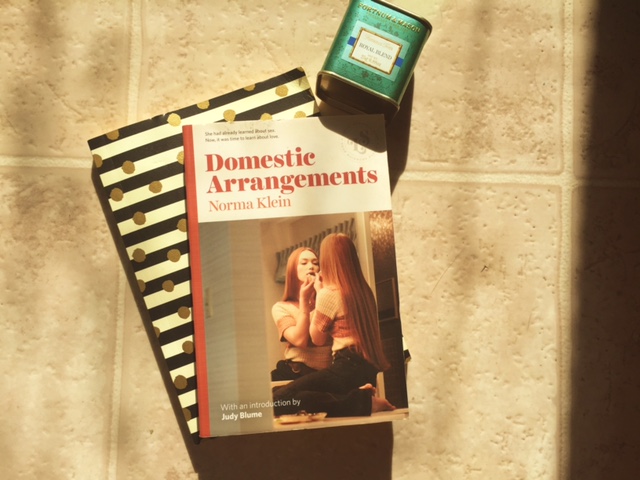 I hadn't had the chance to read any of the Lizzie Skurnick reissues since she began the project a few years back. I'd purchased Domestic Arrangements last fall, though, in hopes of doing that and now, deep into a month of reading nothing but backlist, I had the chance to sink in.
And this book was a knock-out.
Norma Klein wrote fiction for young readers beginning in 1972 and she wrote through her death in 1989. Prior to reading the introduction written by Judy Blume in the Skurnick edition of the book, I didn't realize she was a contemporary of Blume's, nor, to be fair, did I know anything about her or her work. Klein, though, was a trailblazer in young reader fiction. She wrote about complicated families, as well as empowered and mature teenagers navigating the tricky, confusing, and difficult terrain of adolescence. Worth noting that at least in this book, those empowered and mature teenagers are privileged and white. This isn't surprising nor problematic given the time this was published.
Domestic Arrangements, in my initial thinking, would be "like Blume" in terms of exploring a teen girl's sexuality. In many ways, it certainly was; however, what really struck me about this particular book was how absolutely frank main character Rusty is about her interest and participation in sex.
This slice-of-life fiction follows 14-year-old Tatiana (nicknamed Rusty because of her long red hair) in the immediate after of filming her first movie. Her mother had been in the business for a long time, and it was sort of by luck and chance Rusty scored a role in a film. She wasn't an actress nor was she particularly interested in acting. But she landed this role and played the part of a teen girl who serves as an object of lust and fascination to an older man (who, by marriage, becomes a relative). Though her upbringing in New York City and as the daughter of a well-known actress made her turn on the screen not a huge deal in her world, it was the nude scene she did in the film that garnered her so much attention — both warranted and unwarranted.
On the surface, it's a story about Rusty navigating those seas. Does she want to pursue a future in acting? Or does she want to let it go all together?
But deeper down, this is a larger metaphor, of course, for growing up and learning how to traverse the tricky space between being a child who complies with her parents and standing up for one's own choices and decisions in order to become an adult.
Domestic Arrangements is not in any way a shy book. The opening chapter takes us into this immediately; Rusty has gotten in trouble because her father caught her and her boyfriend Joshua having sex in the bathtub. The entire scene is wonderful in how it lays out exactly who these characters are. We know that Rusty is not ashamed of being sexually active and indeed, she's pretty open, especially with her parents, about how she enjoys having sex with her boyfriend and doesn't plan on stopping. There is a great deal of page time given to Rusty discussing the options of birth control, too — and with the aid of her mother, Rusty begins using a diaphragm.
While it sounds incredibly mature in terms of how Rusty handles being sexually active, Klein gives us real depth and teenage-ness to Rusty because of how she then uses this privilege in irresponsible, yet realistic, ways. When her boyfriend makes her angry, Rusty cuts up the diaphragm; this action sends guilt through her not because of what it means for her relationship, but because she knows how much that cost her mother to acquire and how she'll need to keep this action a secret. There is a smart push-and-tug in the exploration of growing up and the ways in which being an adolescent is about making stupid, irrational decisions.
Klein's depiction of a family is excellent, raw, and really boundary pushing for 1982. Though it's not clear early on, Rusty's family situation isn't a smooth, happy one. Her mother and her father aren't in love the way they once were, and that manifests in not only cheating (her mother and her father both take on new partners in the story), but also in how they choose to parent both Rusty and her sister Cordelia (Deel — yes, both girls are named after Shakespeare characters). The way Rusty and Deel talk about their parents and think about the implications of their extramarital relationships is real and somewhat painful. But perhaps what's most interesting and authentic about it is that, while both girls hate seeing their parents hurt each other, both also understand that their parents' relationship is imperfect and might not last. I only wish that we'd gotten a richer exploration of the relationship between Rusty and Deel; at times, it felt like a great relationships and at other times, it felt like Rusty was a downright witch toward her sister. The book description notes that Deel is envious of her sister and her new-found fame, but I never quite got that feeling. I could have gone for even more of that, especially knowing this book is meant to be from Rusty's point of view.
What really made this book a fun read for me was that it's the sort of idealistic, dreamy fantasy realistic world that teens, especially younger teens like Rusty, believe of being a teenager. There's the fame, the starring role in a mature film for adults, and the hot boyfriend who is always available for sex. As readers — and perhaps this is a product of how much YA has exploded in the last decade or so — it's obvious that this isn't 100% realistic but instead, more like a Hollywood depiction of adolescence. Teenagers believe in possibility and dream all of the big, heavy dreams; this allows readers to be part of those dreams and see how, despite the gloss, those dreams aren't always what they're cracked up to be. Beneath the surface of Rusty's perfect life are cracks, are truths, and are the harsh realities of being caught between being a kid and being an adult.
The longer I've been away from Klein's book, the more I've thought about how boundary pushing it was for 1982. But more, it's boundary pushing by today's YA standards. The language, the topics, and the unabashed discussion of sex and sexuality — both on the teen level and on the adults-having-affairs level — is so respectful toward readers. Klein doesn't hold back, and she respects her readers enough to know that they're thinking about and seeing and living through these realities. Putting them on paper shouldn't shy away from the truths, even if they're hard or ugly or even really damn great. Rusty talks about having great sex and it's really outstanding to see a girl say such a thing, especially when so much of what we do have in YA about sexuality rarely allows female autonomy, let alone female pleasure and interest.
It's obvious how much influence Klein and Blume had on one another, and it's really damn unfortunate that Klein died at such a young age. I can only image the sort of powerful pieces we'd see from both of them, together and apart, about the changing landscape of YA fiction and more, the sort of love and reverence both have for and toward teenagers (especially teenage girls!). Domestic Arrangements is certainly dated in places, but the story itself has resonance and would absolutely be a book teenagers today would find interesting, challenging, and compelling. I'd especially pass this along to fans of Judy Blume, particularly those taken with Forever . . . which might be many, many, many teens, and especially teen girls on the younger end of teenhood.
Without doubt, this book would Cause A Stir on today's shelves. And that is one reason why it's so good.
____________________
Since I wanted to do this post as sort of a reflection, as well as a review, I thought it would be fun to round up some of the book's covers through the years. It came out in 1982, so it got the nice 80s touch to it.
Let's start with today's reissue edition from Lizzie Skurnick: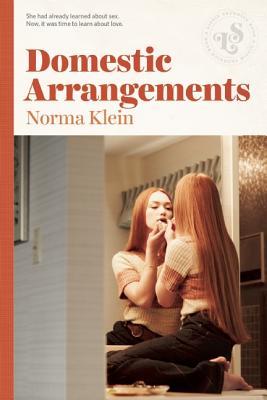 This cover is so moody and captures the essence of Rusty perfectly. There's the long red hair, as well as a real movie star-esque vibe to the whole thing. This teenage girl looks like an any girl, but with something a little bit more dreamy about her.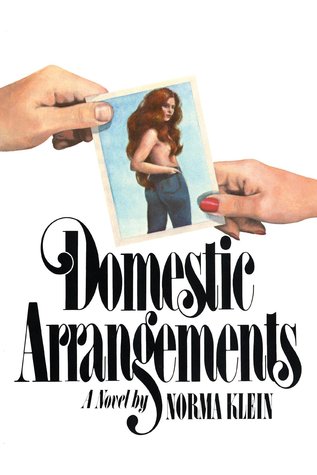 This cover, for one of the original editions, features Rusty in a still from the film that made her famous. It's interesting to me how her hair in this one is curly and big, which is opposite of the cover girl's red hair in the Skurnick reissue. Clearly a reflection of the style and trends. I really love the two hands on this one, with no clear indication of who they belong to. They could as easily be Rusty and Joshua's hands as they could be Rusty's parents. It is an interesting message, though, that it would be Rusty's role in the film tearing apart either — or both! — of those relationships.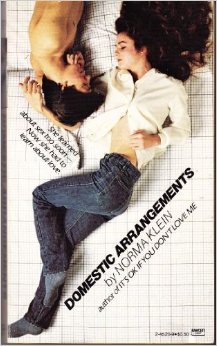 "She learned about sex too soon — Now she has to learn about love." What a tag line. I'm not sure she learns about sex too soon, but the fact she has to figure out what love is IS a central thread through Rusty's story. But this cover! Talk about taking the cover to a level that makes it clear this book tackles sex.
However…
Where is Rusty's red hair? The girl in the cover, from what it looks like, has curly brown hair. Rusty got her nickname, after all, from her trademark hair. It seems like the girl here misses that mark. But man, the 80s fashion here is pretty outstanding.
____________________
Have you read Domestic Arrangements? What did you think? More, if I were to read another Norma Klein book, what should it be? I'm eager to look at what else she's written because this book was a real surprise for me.