Fairy tale retellings are still going strong in YA, and I've not gotten tired of them yet (nor have my patrons). This year I've noticed more contemporary realistic stories without magic, more LGBTQ stories, more stories told from the villain's point of view, and more mish-mashes of fairy tales, whether in a short story collection or a single story that involves multiple different fairy tales.
In order to keep this list under control, I've pretty narrowly defined "fairy tale retelling" to mean older stories where the exact provenance is unknown (with the exception of Hans Christian Andersen). These are stories that spring from cultural legends and traditional stories passed down over generations. Basically, you won't find re-workings of stories like The Wizard of Oz or Alice in Wonderland or Shakespeare here.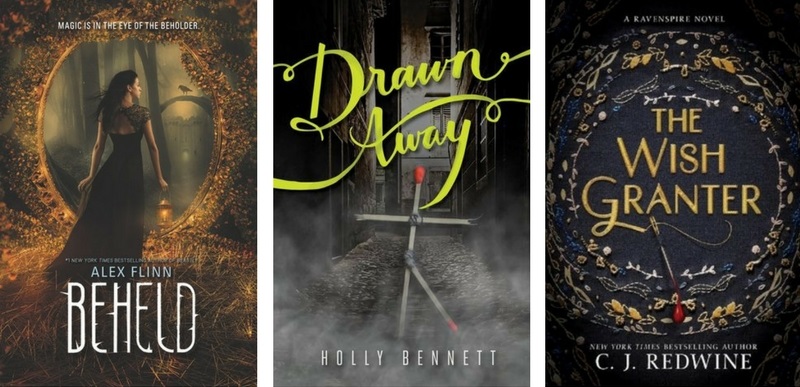 Beheld by Alex Flinn (January 10)
Kendra, a witch, meets James, another witch, in Salem, Massachusetts during the Salem Witch Trials, and he rescues her. This is the story of the three hundred years Kendra spends looking for James, while helping those around her find love. (WorldCat) | multiple fairy tales
Drawn Away by Holly Bennett (January 17)
One minute Jack's in math class. The next, he's on a dark, cobblestoned, empty street. Empty, that is, except for a skinny girl wrapped in a threadbare shawl. "Matches, mister?" she asks, and just like that, Jack's life collides with one of Hans Christian Andersen's grimmest tales. And just when he has almost convinced himself it was just a weird dream, it happens again. Suddenly, Jack's ideas about what is "real" or "possible" no longer apply.
While he and his new girlfriend, Lucy, struggle to understand who or what the Match Girl is, they come to realize they must also find a way to keep Jack away from her. The Match Girl is not just a sad, lonely soul; she's dangerous. And each time Jack is drawn into her gray, solitary world, she becomes stronger, more alive…and more attached to Jack. She wants to keep Jack for her very own, even if that means he will die. (Goodreads) | The Little Match Girl
The Wish Granter by C. J. Redwine (February 14)
In this retelling of Rumpelstiltskin, follow the adventures of Ari, an illegitimate princess who, in an effort to escape her twin brother's fate, trains to be a fighter so that she can defeat an evil wish granter. (WorldCat) | Rumpelstiltskin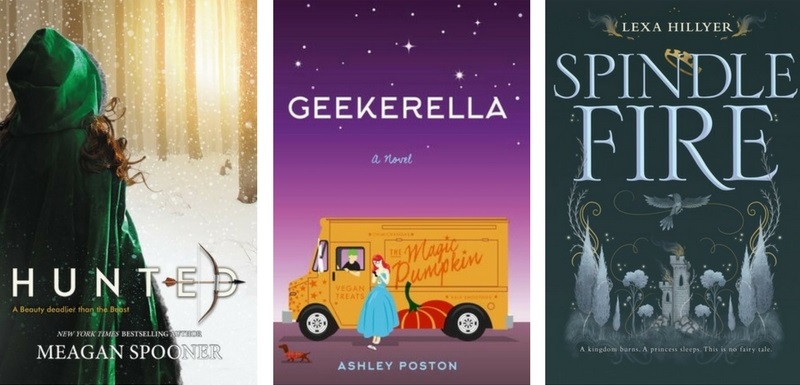 Hunted by Meagan Spooner (March 14)
Beauty knows the Beast's forest in her bones—and in her blood. Though she grew up with the city's highest aristocrats, far from her father's old lodge, she knows that the forest holds secrets and that her father is the only hunter who's ever come close to discovering them.
So when her father loses his fortune and moves Yeva and her sisters back to the outskirts of town, Yeva is secretly relieved. Out in the wilderness, there's no pressure to make idle chatter with vapid baronessas…or to submit to marrying a wealthy gentleman. But Yeva's father's misfortune may have cost him his mind, and when he goes missing in the woods, Yeva sets her sights on one prey: the creature he'd been obsessively tracking just before his disappearance. (Goodreads) | Beauty and the Beast
Geekerella by Ashley Poston (April 4)
Geek girl Elle Wittimer lives and breathes Starfield, the classic sci-fi series she grew up watching with her late father. So when she sees a cosplay contest for a new Starfield movie, she has to enter. The prize? An invitation to the ExcelsiCon Cosplay Ball, and a meet-and-greet with the actor slated to play Federation Prince Carmindor in the reboot. With savings from her gig at the Magic Pumpkin food truck (and her dad's old costume), Elle's determined to win…unless her stepsisters get there first.
Teen actor Darien Freeman used to live for cons—before he was famous. Now they're nothing but autographs and awkward meet-and-greets. Playing Carmindor is all he's ever wanted, but Starfield fandom has written him off as just another dumb heartthrob. As ExcelsiCon draws near, Darien feels more and more like a fake—until he meets a girl who shows him otherwise. But when she disappears at midnight, will he ever be able to find her again? (Goodreads) | Cinderella
Spindle Fire by Lexa Hillyer (April 11)
Half sisters Isabelle and Aurora are polar opposites: Isabelle is the king's headstrong illegitimate daughter, whose sight was tithed by faeries; Aurora, beautiful and sheltered, was tithed her sense of touch and her voice on the same day. Despite their differences, the sisters have always been extremely close. And then everything changes, with a single drop of Aurora's blood–and a sleep so deep it cannot be broken.
As the faerie queen and her army of Vultures prepare to march, Isabelle must race to find a prince who can awaken her sister with the kiss of true love and seal their two kingdoms in an alliance against the queen. Isabelle crosses land and sea; unearthly, thorny vines rise up the palace walls; and whispers of revolt travel in the ashes on the wind. The kingdom falls to ruin under layers of snow. Meanwhile, Aurora wakes up in a strange and enchanted world, where a mysterious hunter may be the secret to her escape . . . or the reason for her to stay. (Goodreads) | Sleeping Beauty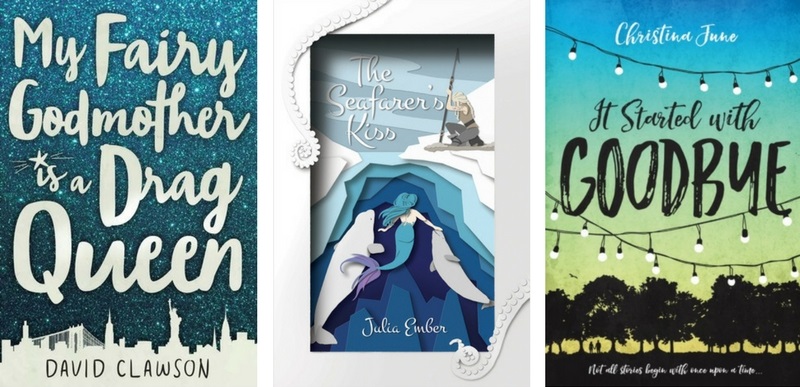 My Fairy Godmother is a Drag Queen by David Clawson (May 2)
Chris Bellows is just trying to get through high school and survive being the only stepchild in the social-climbing Fontaine family, whose recently diminished fortune hasn't dimmed their desire to mingle with Upper East Side society. Chris sometimes feels more like a maid than part of the family. But when Chris's stepsister Kimberly begins dating golden boy J. J. Kennerly, heir to a political dynasty, everything changes. Because Chris and J. J. fall in love . . . with each other.
With the help of a new friend, Coco Chanel Jones, Chris learns to be comfortable in his own skin, let himself fall in love and be loved, and discovers that maybe he was wrong about his step-family all along. All it takes is one fairy godmother dressed as Diana Ross to change the course of his life. (Goodreads) | Cinderella
The Seafarer's Kiss by Julia Ember (May 4)
Having long-wondered what lives beyond the ice shelf, nineteen-year-old mermaid Ersel learns of the life she wants when she rescues and befriends Ragna, a shield-maiden stranded on the mermen's glacier. But when Ersel's childhood friend and suitor catches them together, he gives Ersel a choice: say goodbye to Ragna or face justice at the hands of the glacier's brutal king.
Determined to forge a different fate, Ersel seeks help from Loki. But such deals are never as one expects, and the outcome sees her exiled from the only home and protection she's known. To save herself from perishing in the barren, underwater wasteland and be reunited with the human she's come to love, Ersel must try to outsmart the God of Lies. (Goodreads) | The Little Mermaid
It Started With Goodbye by Christina June (May 9)
Sixteen-year-old Tatum Elsea is bracing for the worst summer of her life. After being falsely accused of a crime, she's stuck under stepmother-imposed house arrest and her BFF's gone ghost. Tatum fills her newfound free time with community service by day and working at her covert graphic design business at night (which includes trading emails with a cute cello-playing client). When Tatum discovers she's not the only one in the house keeping secrets, she finds she has the chance to make amends with her family and friends. Equipped with a new perspective, and assisted by her feisty step-abuela-slash-fairy-godmother, Tatum is ready to start fresh and maybe even get her happy ending along the way. (Goodreads) | Cinderella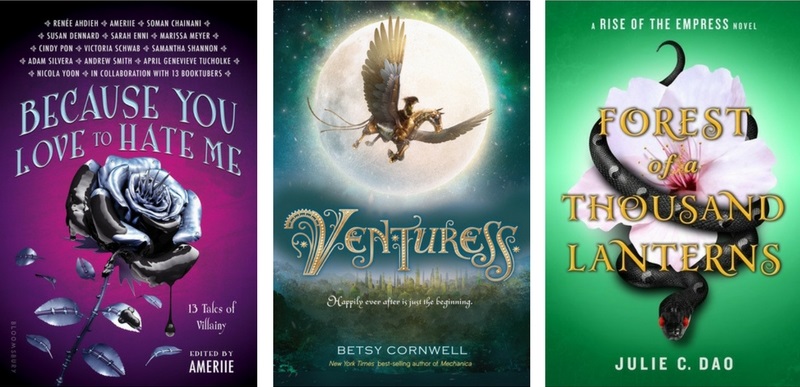 Because You Love to Hate Me: 13 Tales of Villainy edited by Ameriie (July 11)
In this unique YA anthology, thirteen acclaimed, bestselling authors team up with thirteen influential BookTubers to reimagine fairy tales from the oft-misunderstood villains' points of view. These fractured, unconventional spins on classics like "Medusa," Sherlock Holmes, and "Jack and the Beanstalk" provide a behind-the-curtain look at villains' acts of vengeance, defiance, and rage–and the pain, heartbreak, and sorrow that spurned them on. No fairy tale will ever seem quite the same again! (Goodreads) | multiple fairy tales
Venturess by Betsy Cornwell (August 1)
Young inventor Nicolette Lampton is living her own fairy tale happy ending. She's free of her horrible step-family, running a successful business, and is uninterested in marrying the handsome prince, Fin. Instead, she, Fin, and their friend Caro venture to the lush land of Faerie, where they seek to put an end to the bloody war their kingdom is waging. Mechanical armies and dark magic await them as they uncover devastating secrets about the past and fight for a real, lasting happily-ever-after for two troubled countries—and for themselves. (Goodreads) | Cinderella
Girls Made of Snow and Glass by Melissa Bashardoust (September 5)
A feminist reimagining of the Snow White fairy tale, which follows both of the central female characters from the original story: the princess and her stepmother. (Goodreads) | Snow White
Piper by Jay Asher, Jessica Freeburg, and Jeff Stokely (October 31)
Long ago, in a small village in the middle of a deep, dark forest, there lived a lonely, deaf girl named Maggie. Shunned by her village because of her disability, her only comfort comes from her vivid imagination. Maggie has a gift for inventing stories and dreams of one day finding her fairy-tale love.
When Maggie meets the mysterious Piper, it seems that all her wishes are coming true. Spellbound, Maggie falls hard for him and plunges headfirst into his magical world. But as she grows closer to the Piper, Maggie discovers that he has a dark side. The boy of Maggie's dreams might just turn out to be her worst nightmare. (Goodreads) | The Pied Piper of Hamelin

Forest of a Thousand Lanterns by Julie C. Dao (October 10)
Eighteen-year-old Xifeng is beautiful. The stars say she is destined for greatness, that she is meant to be Empress of Feng Lu. But only if she embraces the darkness within her. Growing up as a peasant in a forgotten village on the edge of the map, Xifeng longs to fulfill the destiny promised to her by her cruel aunt, the witch Guma, who has read the cards and seen glimmers of Xifeng's majestic future. But is the price of the throne too high?
Because in order to achieve greatness, she must spurn the young man who loves her and exploit the callous magic that runs through her veins–sorcery fueled by eating the hearts of the recently killed. For the god who has sent her on this journey will not be satisfied until his power is absolute. (Goodreads) | Snow White
Sea Witch by Sarah Henning (October)
Pitched as the never-before-told origin story of the sea witch from Hans Christian Andersen's "The Little Mermaid" told in the vein of Wicked – from the villainess's point of view. (Goodreads) | The Little Mermaid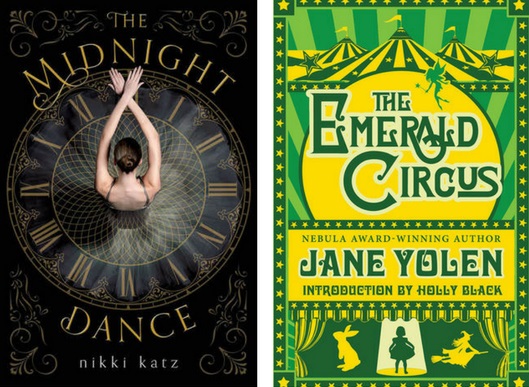 The Midnight Dance by Nikki Katz (October 17)
Penny is a dancer at the Grande Teatro, a finishing school where she and 11 other young women are training to become the finest ballerinas in Italy. Tucked deep into the woods, the school is overseen by the mysterious and handsome young Master who keeps the girls ensconced in the estate and in the only life Penny has ever known.
When new memories appear, showing a life very different from the one she thought she'd been leading, Penny begins to question the Grand Teatro and the motivations of the Master. With the sweet kitchen boy, Cricket, at her side, Penny vows to escape the confines of her school and the strict rules that dictate every step she takes. But at every turn, the Master finds a way to stop her, and Penny must find a way to escape the school and uncover the secrets of her past before it's too late. (Goodreads) | The Twelve Dancing Princesses
The Emerald Circus by Jane Yolen (November)
A young woman trapped in Never Never Land leads a strike due to the unfair labor practices of the Lost Boys. A young girl is blown away from Kansas and returns as a sophisticated woman with unusual gymnastic abilities. While forging an extraordinary sword, a talented apprentice falters and is left to the mercies of Merlin. Poor Alice's nemesis has fearsome jaws and claws, but it also lacks essential qualities—like a sense of humor. Enter the Emerald Circus and be astonished by the transformations of your favorite tales. (Goodreads) | multiple fairy tales

Bonus 2018 Title:
Beast: A Tale of Love and Revenge by Lisa Jensen (March 2018)
They say Château Beaumont is cursed. But servant-girl Lucie can't believe such foolishness about handsome Jean-Loup Henri Christian LeNoir, Chevalier de Beaumont, master of the estate. The chevalier's cruelty is soon revealed, however, and Lucie vows to see him suffer. A wisewoman grants her wish, with a spell that transforms Jean-Loup into monstrous-looking Beast, reflecting the monster he is inside.
But Beast is nothing like the chevalier. Jean-Loup would never patiently tend his roses; Jean-Loup would never attempt poetry; Jean-Loup would never express remorse for the wrong done to Lucie. Gradually, Lucie realizes that Beast is an entirely different creature from the handsome chevalier, with a heart more human than Jean-Loup's ever was. Lucie dares to hope that noble Beast has permanently replaced the cruel Jean-Loup — until an innocent beauty arrives at Beast's château with the power to break the spell. (Goodreads) | Beauty and the Beast