I've always loved a good revenge story, and after I finished reading Carrie Ryan's Daughter of Deep Silence, I decided to put a booklist together for those of you who may be seeking more of the same. I expected to find a good number published within the last few years, but I did not expect to find quite as many as I did. Apparently this kind of story – protagonist is wronged, sets about on personal quest to exact vengeance upon those who did the wronging – is hugely popular and has always been so. It spans genres, too: contemporary, historical, fantasy, science fiction, thriller. I totally get the appeal: seeing bad guys get their comeuppance is deeply satisfying, especially since it happens so rarely in real life.
Because there are so many YA revenge stories, I limited this particular list to the past three years. All titles were published between 2014 and 2016, with a couple of exceptions for books that are a bit older but had sequels out within that time frame. Descriptions are from WorldCat.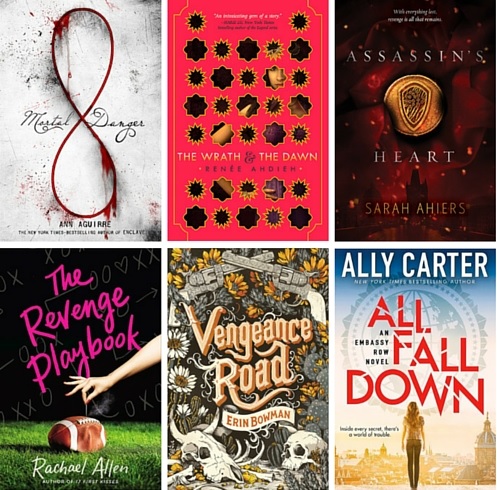 Mortal Danger by Ann Aguirre
Agreeing to join the mysterious Kian's magical faction to exact revenge on a group of bullies who have tormented her, Edie transforms into a beautiful girl and begins to sabotage the bullies' inner circle only to discover dark truths about Kian's world. | Sequels: Public Enemies, Infinite Risk
The Wrath and the Dawn by Renee Ahdieh
In this reimagining of The Arabian Nights, Shahrzad plans to avenge the death of her dearest friend by volunteering to marry the murderous boy-king of Khorasan but discovers not all is as it seems within the palace. | Sequel: The Rose and the Dagger | Kimberly's review
Assassin's Heart by Sarah Ahiers
Seventeen-year-old Lea Saldana, a trained assassin, falls in love with Val Da Via, a boy from a rival clan, until tragedy intervenes and sets her on a course of revenge against the Da Vias family. | Kimberly's review
The Revenge Playbook by Rachael Allen
Liv is the girl everyone gossips about. But when the rumors threaten to crack her relationship with her longtime boyfriend, she's desperate to prove that not everything you hear is true. Peyton is the girl no one know. But flying under the radar doesn't mean she's willing to let people walk all over her. Melanie Jane is the girl everyone wants to be or be with. Beautiful, sassy, and untouchable, she breaks hearts before hers gets broken. Most of the time. Ana is the girl no one talks to. Not after what happened at the party that ended her friendship with Melanie Jane. They have nothing in common … except for revenge.
Vengeance Road by Erin Bowman
When her father is killed by the notorious Rose Riders for a mysterious journal that reveals the secret location of a gold mine, eighteen-year-old Kate Thompson disguises herself as a boy and takes to the gritty plains looking for answers–and justice.
All Fall Down by Ally Carter
There are many powerful people along Embassy Row who want Grace to block out all her unpretty thoughts. But Grace will not stop until she finds out who killed her mother and make the killer pay. | Sequels: See How They Run, Take the Key and Lock Her Up | Kimberly's review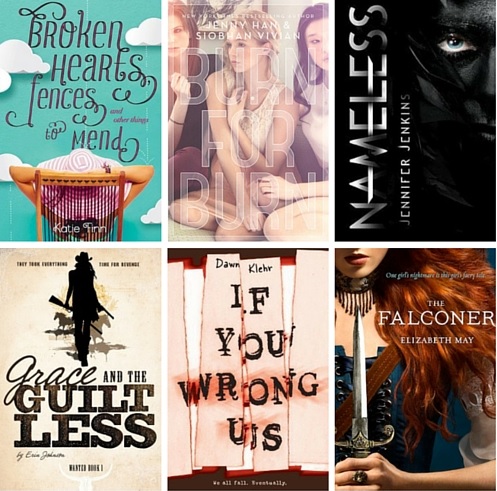 Broken Hearts, Fences, and Other Things to Mend by Katie Finn
Devastated after a painful breakup, Gemma faces a Hamptons summer near a former best friend she wronged years earlier, a risk that compels her to assume a different identity and pursue a relationship with her former friend's brother. | Sequels: Revenge, Ice Cream, and Other Things Best Served Cold, Hearts, Fingers, and Other Things to Cross
Burn for Burn by Jenny Han and Siobhan Vivian
Three teenaged girls living on Jar Island band together to enact revenge on the people that have hurt them. | Sequels: Fire With Fire, Ashes to Ashes
Nameless by Jennifer Jenkins
Zo's despair after losing her parents in a Ram raid has left her seeking both revenge and an end to her own misery. But after her younger sister follows her into Rams Gate, Zo must find a way to survive her dangerous mission and keep her sister safe. What she doesn't expect to find is the friendship of a young Ram whose life she saves, the confusing feelings she develops for a Ram soldier, and an underground Nameless insurrection.
Grace and the Guiltless by Erin Johnson
When Grace's parents and siblings are murdered by the Guiltless Gang for their Arizona horse ranch outside Tombstone, she vows to devote her life to revenge–but the Chiricahua she finds sanctuary with try to teach her a better way. | Sequel: Her Cold Revenge
If You Wrong Us by Dawn Klehr
As Becca and Johnny plot revenge against the person responsible for the car accident that killed their loved ones, they discover that nothing is what it seems–either with the crash or with each other.
The Falconer by Elizabeth May
In 1844 Edinburgh eighteen-year-old Lady Aileana Kameron is neither an ordinary debutante, nor a murderess–she is a Falconer, a female warrior born with the gift for hunting and killing the faeries who prey on mankind and who killed her mother. | Sequel: The Vanishing Throne | Kimberly's review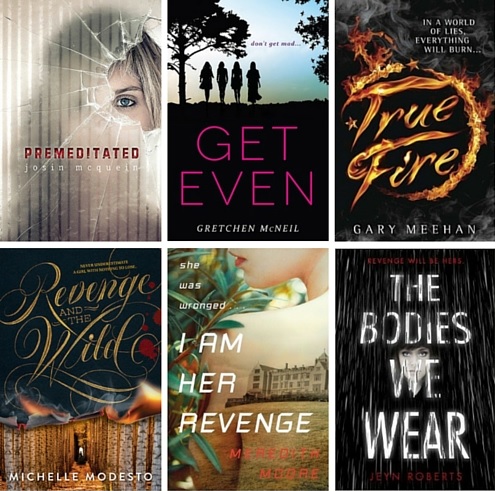 Premeditated by Josin L. McQuein
A contemporary thriller about the lengths one girl will go in order to get revenge on the boy who ruined her cousin's life.
Get Even by Gretchen McNeil
Bree Deringer, Olivia Hayes, Kitty Wei, and Margot Mejia have nothing in common, At least that's what they'd like the students and administrators of their elite private school to think. The girls have different goals, different friends, and different lives, but they share one very big secret: They're all members of Don't Get Mad, a secret society that anonymously takes revenge on the school's bullies, mean girls, and tyrannical teachers. | Sequel: Get Dirty

True Fire by Gary Meehan
Her sister stolen. Her grandfather murdered. Her home burned to the ground. At just 16, her life destroyed. Now, Megan wants revenge. But the men who took Megan's precious twin are no ordinary soldiers. The brutal witches, armour-clad and branded with the mark of the True, will stop at nothing to take back the power they once had. Desperate for a way to destroy them, Megan uncovers a terrifying lie. A lie that will cast doubt on everything she has ever known, and everyone she has ever trusted. A lie that will put Megan at the heart of the greatest war her world has ever seen. | Sequel: True Dark

Revenge and the Wild by Michelle Modesto
Seventeen-year-old foul-mouthed Westie, the notorious adopted daughter of local inventor Nigel Butler, lives in the lawless western town of Rogue City where she sets out to prove the wealthy investors in a magical technology that will save her city are the cannibals that killed her family and took her arm when she was a child.
I Am Her Revenge by Meredith Moore
Enrolled at an English boarding school, Vivian targets an innocent senior as part of a revenge plot her manipulative mother devised, but as the plan is set into motion, Vivian starts to uncover secrets so dark and deadly they threaten to unravel the deceptive being that Mother worked so hard to create.
The Bodies We Wear by Jeyn Roberts
After a powerful new drug causes havoc and deadly addiction, seventeen-year-old Faye trains to take revenge on those who took her future and murdered the boy she loved.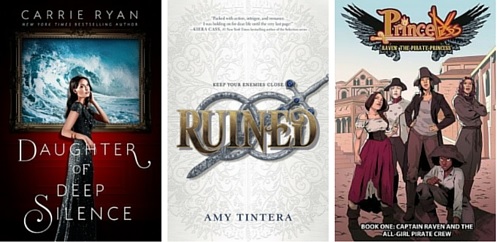 Daughter of Deep Silence by Carrie Ryan
At fourteen, Frances survived a slaughter that claimed the lives of her parents and best friend, Libby. In the aftermath, she took on Libby's identity and wealth, all while plotting revenge against the powerful Wells family. Now, at age eighteen, she is ready to destroy them, including her first love, Grey.
Ruined by Amy Tintera
Emelina Flores has nothing. Her home in Ruina has been ravaged by war; her parents were killed and her sister was kidnapped. Even though Em is only a useless Ruined–completely lacking any magic–she is determined to get revenge by infiltrating the enemy's kingdom, posing as the crown prince's betrothed.
Princeless: Raven the Pirate Princess by Jeremy Whitley, Ted Brandt, and Rosy Higgins
Fresh off her adventures in the pages of Princeless, Raven is ready to set out on her quest for revenge against her brothers. They've stolen everything that should be hers and now she's going to get it back. But first, she needs a crew. Share the laughs, action, and adventure as Raven assembles the fearless crew of awesome ladies who will help her get her revenge. | Kimberly's review