Our justice system is broken in a lot of ways. It disproportionately targets and incarcerates people of color, giving them longer and harsher sentences and funneling them into the school to prison pipeline early. It favors the wealthy and leaves the poor with substandard representation, often leaving them in jail simply because they are poor. It relies on flawed evidence often obtained illegally or unethically and sentences innocent people to life sentences and even death.
The Innocence Project tackles this last facet. Their mission is to "free the staggering number of innocent people who remain incarcerated, and to bring reform to the system responsible for their unjust imprisonment." They do this mainly through DNA testing, helping to free people wrongly convicted through a procedure not available at the time of their conviction. Since 1989, 350 people have been exonerated through DNA evidence. Twenty of these served time on death row. 217 of these – 62% – were African American. The Innocence Project started their work in 1992 and have been instrumental in helping 183 of those wrongly convicted get justice. If you haven't yet donated to an organization this month and have the means to do so, I urge you to join me in supporting their cause.
For this month's book list, I've focused on novels and nonfiction featuring kids and teens in prison or kids and teens whose parents or other loves ones are in prison. If you know of any I'm missing, please let me know in the comments. Also be sure to check out the In the Margins book list, curated each year by Library Services for Youth in Custody. It focuses on recommended books for teens "living in poverty, on the streets, in custody – or a cycle of all three."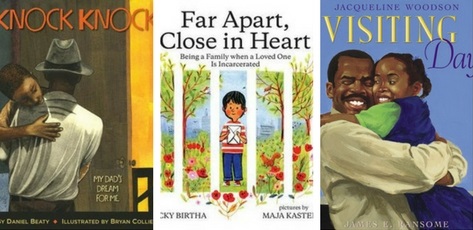 Fiction – Picture Books
Knock Knock: My Dad's Dream for Me by Daniel Beaty
A boy wakes up one morning to find his father gone. At first, he feels lost. But his father has left him a letter filled with advice to guide him through the times he cannot be there.
Far Apart, Close in Heart: Being a Family When a Loved One is Incarcerated by Becky Birtha
Children who have a parent in prison express their feelings of sadness, anger, worry, and embarrassment and suggest that talking to others and keeping in contact with the missing parent helps them deal with the situation.
Visiting Day by Jacqueline Woodson
A young girl and her grandmother visit the girl's father in prison.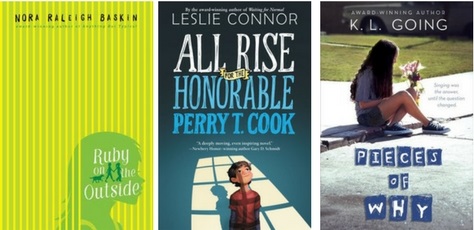 Fiction – Middle Grade
Ruby on the Outside by Nora Raleigh Baskin
Eleven-year-old Ruby Danes is about to start middle school, yet no one in her life, except her aunt, knows her secret–her mother is in prison. Then Margalit Tipps moves into Ruby's condo complex, and the two immediately hit it off. Ruby thinks she's found her first true-blue friend. Is she ready to tell Margalit the truth? When Margalit's family history seems to tie in too closely to the very event that put her mother in prison, Ruby fears she may lose everything–but she may learn the true meaning of friendship, honesty, and love along the way.
All Rise for the Honorable Perry T. Cook by Leslie Connor
Eleven-year-old Perry was born and raised by his mom at the Blue River Co-ed Correctional Facility in tiny Surprise, Nebraska. His mom is a resident on Cell Block C, and so far Warden Daugherty has made it possible for them to be together. That is, until a new district attorney discovers the truth–and Perry is removed from the facility and forced into a foster home. When Perry moves to the "outside" world, he feels trapped. Desperate to be reunited with his mom, Perry goes on a quest for answers about her past crime. As he gets closer to the truth, he will discover that love makes people resilient no matter where they come from .. but can he find a way to tell everyone what home truly means?
Pieces of Why by K. L. Going
Twelve-year-old Tia lives in a white slum in New Orleans with her mother, and her whole world revolves around singing in the gospel choir with her best friend, Keisha–but when practice is interrupted by a shooting outside the church, and a baby is killed, Tia finds that she cannot sing, and she is forced to confront her feelings about her incarcerated father who killed a girl in a failed robbery years before.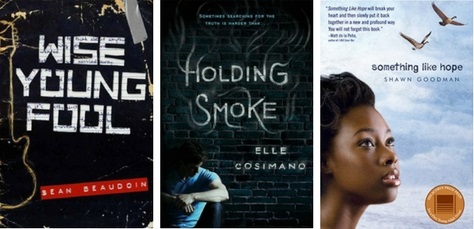 Fiction – Young Adult
Wise Young Fool by Sean Beaudoin
Teen rocker Ritchie Sudden is pretty sure his life just jumped the shark. Except he hates being called a teen, his band doesn't play rock, and "jumping the shark" is yet another dumb cliché. Part of Ritchie wants to drop everything and walk away. Especially the part that's serving ninety days in a juvenile detention center. Telling the story of the year leading up to his arrest, Ritchie grabs readers by the throat before (politely) inviting them along for the (max-speed) ride.
Holding Smoke by Elle Cosimano
John "Smoke" Conlan risks everything to clear his name of the two murders he did not commit while he cultivates his supernatural ability of travelling freely outside the concrete walls of the dangerous juvenile rehabilitation center known as the Y, helping himself and his fellow inmates have a chance at redemption.
Something Like Hope by Shawn Goodman
Shavonne, a fierce, desperate seventeen year-old in juvenile lockup, wants to turn her life around before her eighteenth birthday, but corrupt guards, out-of-control girls, and shadows from her past make her task seem impossible.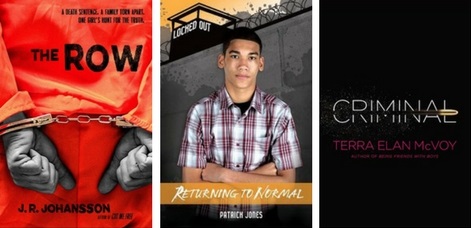 The Row by J. R. Johansson
After visiting her father on death row for twelve years, seventeen-year-old Riley is determined to find out if he is guilty or not before he is either executed or retried and, perhaps, released.
Locked Out (series) by Patrick Jones
Explores the complex ways that parental incarceration affects teens, from physical absence to family histories of crime to stigmas and emotional health.
Criminal by Terra Elan McVoy
Eighteen-year-old Nikki's unconditional love for Dee helps her escape from her problems, but when he involves her in a murder Nikki winds up in prison, confronted with hard facts that challenge whether Dee ever loved her, and she can only save herself by telling the truth about Dee.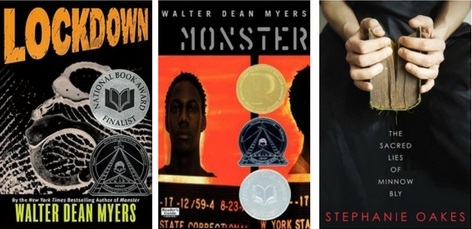 Lockdown by Walter Dean Myers
Teenage Reese, who is serving time at a juvenile detention facility, gets a lesson in making it through hard times from an unlikely friend with a harrowing past.
Monster by Walter Dean Myers
While on trial as an accomplice to a murder, sixteen-year-old Steve Harmon records his experiences in prison and in the courtroom in the form of a film script as he tries to come to terms with the course his life has taken.
The Sacred Lies of Minnow Bly by Stephanie Oakes
A handless teen escapes from a cult, finds herself in juvenile detention, and is suspected of knowing who murdered her cult leader. | Kimberly's review | Kelly's review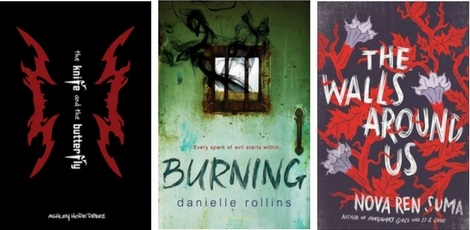 The Knife and the Butterfly by Ashley Hope Perez
After a brawl with a rival gang, sixteen-year-old Azael, a member of Houston's MS-13 gang and the son of illegal Salvadoran immigrants, wakes up in an unusual juvenile detention center where he is forced to observe another inmate through a one-way mirror. | Kelly's review
Burning by Danielle Rollins
After three years in juvenile detention, Angela is just months shy of release, but then ten-year-old Jessica arrives in shackles and is placed in segregation, and while no one knows what she did to end up there, creepy things begin to happen and it becomes clear that Jessica and her possible supernatural powers are more dangerous than anyone expected.
The Walls Around Us by Nova Ren Suma
Orianna and Violet are ballet dancers and best friends, but when the ballerinas who have been harassing Violet are murdered, Orianna is accused of the crime and sent to a juvenile detention center where she meets Amber and they experience supernatural events linking the girls together. | Kimberly's review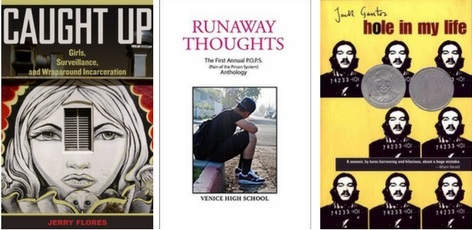 Nonfiction
Caught Up: Girls, Surveillance, and Wraparound Incarceration by Jerry Flores
From home, to school, to juvenile detention center, and back again. This book follows the lives of fifty Latina girls living forty miles outside of Los Angeles, California, as they are inadvertently caught up in the school-to-prison pipeline.
Runaway Thoughts and Ghetto By the Sea edited by Amy Friedman
In 2013, students at Venice High School in Los Angeles formed the first P.O.P.S. (Pain of the Prison System) club, a club for those whose lives have been touched by prison. Many have parents, friends, siblings, uncles and aunts inside; some have had their own brushes with the law. All have stories to tell. These anthologies offer the stories, artwork and essays of those whose voices we too seldom hear.
Hole in My Life by Jack Gantos
The author explains how, as a young adult, he became a drug user and smuggler, was arrested, did time in prison, and eventually got out and went to college, all the while hoping to become a writer.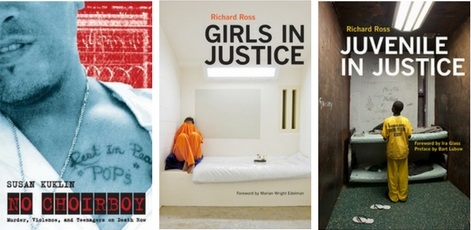 No Choirboy: Murder, Violence, and Teenagers on Death Row by Susan Kuklin
This compelling work takes readers inside America's prisons and allows inmates sentenced to death as teenagers to speak for themselves. In their own voices–raw and uncensored–they talk about their lives in prison and share their thoughts and feelings about how they ended up there.
Girls in Justice by Richard Ross
Reveals the world of incarceration of America's young girls in detention. A rare, multi-dimensional look at these girls' vulnerable lives, this book speaks to the unique issues they face with essays, images, and the life stories shared by girls in custody.
Juvenile in Justice by Richard Ross
The photographs in Juvenile in Justice open our eyes to the world of the incarceration of American youths. The nearly 150 images in this book were made over 5 years of visiting more than 1,000 youth confined in more than 200 juvenile detention institutions in 31 states. These riveting photographs, accompanied by the life stories that these young people in custody shared with Ross, give voice to imprisoned children from families that have no resources in communities that have no power.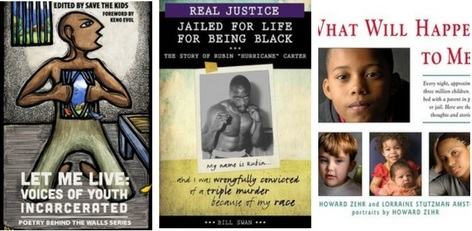 Let Me Live: Voices of Youth Incarcerated edited by Save the Kids
This anthology collects the work of incarcerated youth worldwide. The poems and autobiographical sketches featured remind readers that incarcerated youth are thinking and feeling individuals with the same aspirations and goals as other children, not merely statistics to analyze or incorrigible people to forget and discard. As a creative outlet and space for expression, the book provides a means for the poets to empower themselves and resist victimization by the supposed criminal justice system.
Real Justice (series) published by Lorimer
True stories of wrongfully convicted young people in Canada, including Rubin "Hurricane" Carter and David Milgaard.
What Will Happen to Me? by Howard Zehr and Lorraine Stutzman Amstutz
Pairs portraits of children whose parents are incarcerated with the reflections of grandparents who are caring for them and includes resources for caregivers and advice on dealing with the unique emotions of these children.