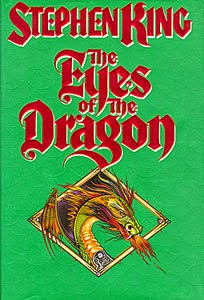 The Eyes of the Dragon by Stephen King
One of the singular pleasures of having a book-lover as a significant other is the fact that often, he will want to read to you. Our reading tastes don't overlap a whole lot, but this book seems to merge them pretty well. It's Stephen King (my boyfriend's favorite author) writing what appears to be a fairly traditional high fantasy story (my favorite thing). Every time I read something by King, I'm struck immediately by his talent with words. The man can write. And when he's not writing horror with a few hundred more pages than necessary, I can get behind his books quite well. He wrote this one in the 80s (that original cover is delightfully retro-80s-fantasy) and I've often heard it called an adult book with crossover YA appeal. I'm not very far into it yet, but I am enjoying it.
The other three books I'm currently working on are all part of what I'm calling "The Great Sequel Read of 2015."
Mortal Heart by Robin LaFevers
This one came out just past the Cybils deadline, which means I put it off in favor of eligible Cybils books. And then I got into a romance kick and my eyes felt tired all the time and all I wanted to do was sit with my eyes closed and let someone else narrate a story for me (I've read more audiobooks this year than print books). But I am working my way through this one, and it is good. It features Annith, who fears she is being groomed to be the new seeress and thus will never get a chance to go on missions like her sisters. She decides she will not let that stand. I appreciate this book so far for showing us a new depth to Annith, which was missing a bit from the previous two books. LaFevers immediately brings the reader into her head and lets us see just how much is simmering below the surface.
The Winner's Crime by Marie Rutkoski
This book is killing my heart and I'm barely 50 pages in. I don't feel like I can say anything more right now.
The Heart of Betrayal by Mary E. Pearson
See above.