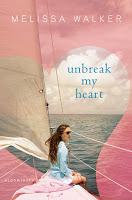 So we're doing something new and wild today. Something we don't think we've ever done before. Something we probably said we wouldn't do before. But we're doing it.
We've got a vlog for you.
It's not us, though. It's Melissa Walker — she's here to talk about the romantic inspirations behind her latest book, Unbreak My Heart, available now. It's a story about a girl who falls in love with a boy during her family's summer boat trip but it's much more than that. It's a story of a girl who also learns what it means to be a friend and what it means when you maybe screw that up, too. It'll appeal to readers who like sweet romances, and the setting, which is aboard a boat, gives it a unique twist.
Now I know what you're thinking about now. I'm a self-professed non-vlog viewer. It's true. For the most part. Once in a while I do watch them, and this one? It's worth it. Melissa will let you in not only on the books that inspired her story, but also some of the music.
Unbreak My Heart will be a great book to hand off to those readers looking for a summer story full of heart and even a little adventure.