A few years ago, I did a brief roundup of YA novels featuring parallel worlds. Since then, the trend seems to have gained a bit of steam, so I figured it was time for an update. I deliberately excluded books that focused on alternate histories unless they also included parallel worlds (the overlap is rather common), otherwise the list would be entirely too long. All descriptions are via Worldcat. What others are out there?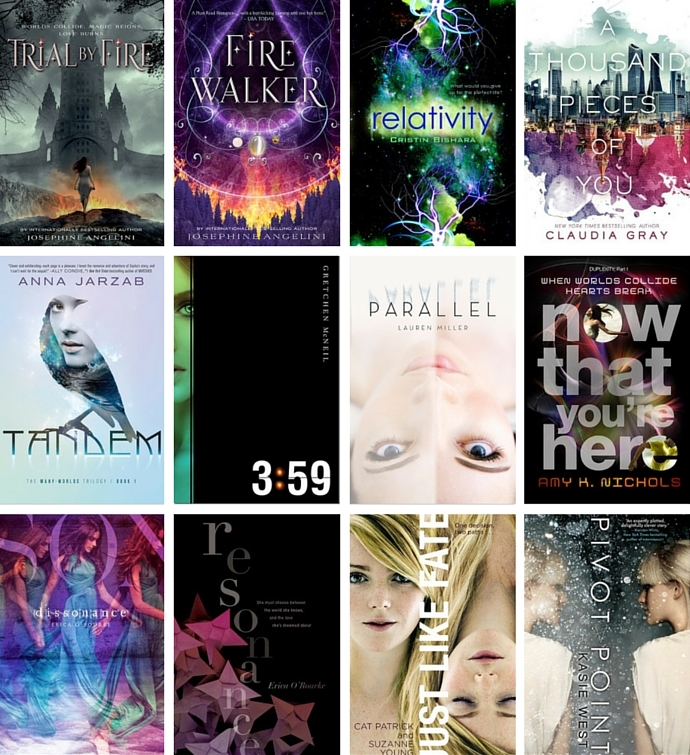 Trial by Fire by Josephine Angelini
In her hometown of Salem Lily Proctor endures not only life-threatening allergies but humiliation at her first high school party with her best friend and longtime crush, Tristan. But in a different Salem — one overrun with horrifying creatures and ruled by powerful women called Crucibles, she is Lillian, the strongest and cruelest Crucible … Lily's other self in an alternate universe that Lily suddenly finds herself where she is torn between responsibilities she can't hope to shoulder alone and a love she never expected. | Sequel: Firewalker | Kimberly's review
Relativity by Cristin Bishara
If Ruby Wright could have her way, her dad would never have met and married her stepmother Willow, her best friend George would be more than a friend, and her mom would still be alive. Then she discovers a tree in the middle of an Ohio cornfield with a wormhole to nine alternative realities. But is there such a thing as a perfect world? What is Ruby willing to give up to find out?
A Thousand Pieces of You by Claudia Gray
When eighteen-year-old Marguerite Caine's father is killed, she must leap into different dimensions and versions of herself to catch her father's killer and avenge his murder. | Sequel: Ten Thousand Skies Above You
Tandem by Anna Jarzab
Sasha, who lives a quiet life with her grandfather in Chicago but dreams of adventure, is thrilled to be asked to prom by her long-time crush, Grant, but after the dance he abducts her to a parallel universe to impersonate a princess. | Sequel: Tether
3:59 by Gretchen McNeil
Betrayed by the two persons she trusts the most, Josie jumps at the chance to trade places with her twin in a parallel universe until Josie becomes trapped in a dangerous world where shadowy creatures feed on human flesh.
Parallel by Lauren Miller
A collision of parallel universes leaves 18-year-old Abby Barnes living in a new version of her life every day, and she must race to control her destiny without losing the future she planned and the boy she loves.
Now That You're Here by Amy K. Nichols
When street smart graffiti artist, Danny, is jolted into a parallel world, only Eevee, an alluring science geek has the know-how to get him home, but as he falls for her, his motives grow foggy. | Sequel: While You Were Gone
Dissonance by Erica O'Rourke
Every time someone makes a choice, a new, parallel world is spun off the existing one and Del's job is to keep the dimensions in harmony. | Sequel: Resonance | Kimberly's review
Just Like Fate by Cat Patrick and Suzanne Young
Torn between an emotionally wrenching vigil by her grandmother's deathbed and attending a party with her best friend, Caroline experiences two parallel lives that reflect the outcomes of each choice, only one of which leads to a happy ending.
Pivot Point by Kasie West
Addison Coleman's life is one big "What if?" As a Searcher, whenever Addie is faced with a choice, she can look into the future and see both outcomes. It's the ultimate insurance plan against disaster. Or so she thought. When Addie's parents ambush her with the news of their divorce, she has to pick who she wants to live with – her father, who is leaving the paranormal compound to live among the "Norms," or her mother, who is staying in the life Addie has always known. | Sequel: Split Second