It's been noted before, but it's becoming more and more obvious that book covers with something shattering or exploding have become legion. You see them in YA as much as you see them in adult fiction — and maybe most interesting to me is that these book covers tend to favor "women's fiction" in the adult category.
Shattering/exploding roses are a thing. The backstory here is wonderfully interesting; to make these images, roses are dipped in liquid nitrogen, which freezes them immediately, then slammed against glass.
Let's take a look at the recent growth of "things exploding" on book covers. Since the YA books and the adult books look like they would have some solid crossover appeal among them, this could make a really striking (heh) display at the library, don't you think?
All descriptions are from WorldCat. If you can think of other exploding covers that have hit shelves in the last couple of years or that will be coming soon, let me know in the comments!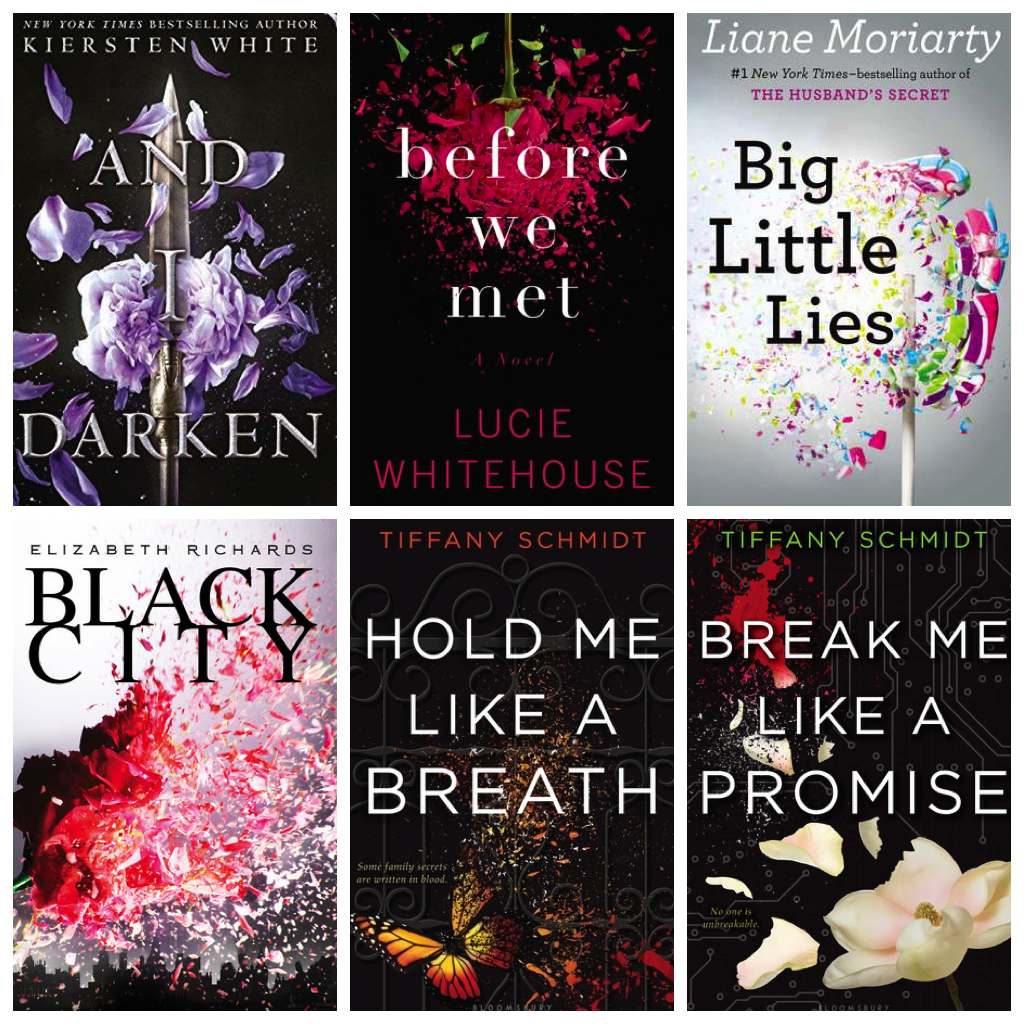 And I Darken by Kiersten White (June 28): In this first book in a trilogy a girl child is born to Vlad Dracula, in Transylvania, in 1435–at first rejected by her father and always ignored by her mother, she will grow up to be Lada Dragwlya, a vicious and brutal princess, destined to rule and destroy her enemies.
Before We Met by Lucie Whitehouse: When her husband disappears during a business trip to the U.S., Hannah, who believes she has married the perfect man, begins to have doubts when his co-workers tell a different story, prompting her to dig into his life, which unexpectedly leads her to a place of violence and fear.
Big Little Lies by Liane Moriarty: A murder … a tragic accident … or just parents behaving badly? What's indisputable is that someone is dead. But who did what? Big Little Lies follows three women, each at a crossroads: Madeline is a force to be reckoned with. She's funny and biting, passionate, she remembers everything and forgives no one. Her ex-husband and his yogi new wife have moved into her beloved beachside community, and their daughter isin the same kindergarten class as Madeline's youngest (how is this possible?). And to top it all off, Madeline's teenage daughter seems to be choosing Madeline's ex-husband over her. (How. Is. This. Possible?). Celeste is the kind of beautiful woman who makes the world stop and stare. While she may seem a bit flustered at times, who wouldn't be, with those rambunctious twin boys? Now that the boys are starting school, Celeste and her husband look set to become the king and queen of the school parent body. But royalty often comes at a price, and Celeste is grappling with how much more she is willing to pay. New to town, single mom Jane is so young that another mother mistakes her for the nanny. Jane is sad beyond her years and harbors secret doubts about her son. But why? While Madeline and Celeste soon take Jane under their wing, none of them realizes how the arrival of Jane and her inscrutable little boy will affect them all.
Black City by Elizabeth Richards: Ash, a sixteen-year-old twin-blood who sells his addictive venom, "Haze," to support his dying mother, and Natalie, the daughter of a diplomat, discover their mysterious–and forbidden–connection in the Black City, where humans and Darklings struggle to rebuild after a brutal war.
Hold Me Like A Breath by Tiffany Schmidt: Penelope Landlow has grown up with the knowledge that almost anything can be bought or sold — including body parts. She's the daughter of one of the three crime families that control the black market for organ transplants. Penelope's surrounded by all the suffocating privilege and protection her family can provide, but they can't protect her from the autoimmune disorder that causes her to bruise so easily. Penny is considered too "delicate" to handle the family business, or even to step foot outside their estate. All Penelope has ever wanted is independence — until she's suddenly thrust into the dangerous world all alone, forced to stay one step ahead of her family's enemies. As she struggles to survive the power plays of rival crime families, she learns dreams come with casualties, betrayal hurts worse than bruises, and there's nothing she won't risk for the people she loves.
Break Me Like A Promise by Tiffany Schmidt (June 7): When new legislation threatens to destroy her family's operations in the black-market organ trade, Maggie finds herself falling in love with Alex, a computer whiz who makes a shocking revelation.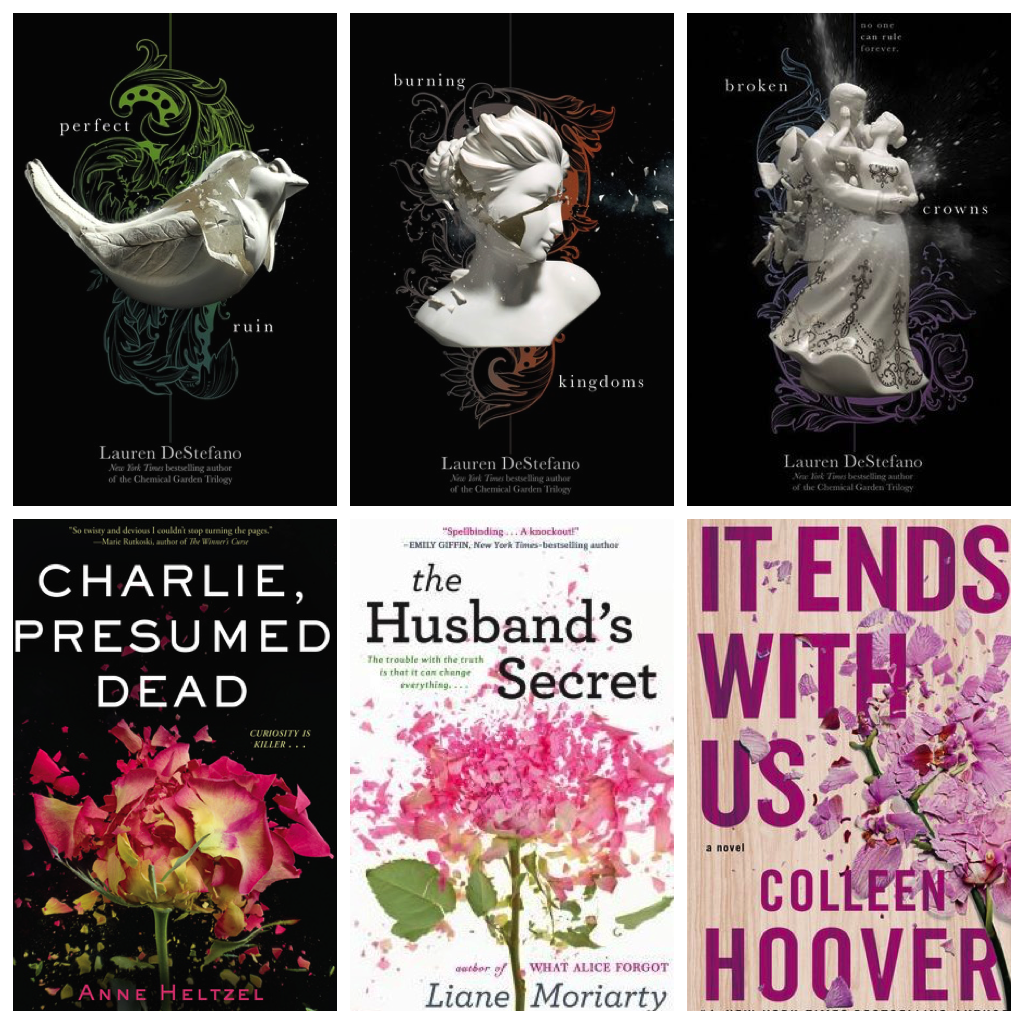 Perfect Ruin/Burning Kingdoms/Broken Crowns by Lauren DeStefano (description for first book): Sixteen-year-old Morgan Stockhour lives in Internment, a floating city utopia. But when a murder occurs, everything she knows starts to unravel.
Charlie, Presumed Dead by Anne Heltzel: Told in separate voices, Lena and Aubrey, each hiding her own secrets, set off in search of the truth about Charlie, including if he is really dead, after meeting at his funeral and learning that he was dating both of them.
The Husband's Secret by Liane Moriarty: Imagine that your husband wrote you a letter, to be opened after his death. Imagine, too, that the letter contains his deepest, darkest secret, something with the potential to destroy not just the life you built together, but the lives of others as well. Imagine, then, that you stumble across that letter while your husband is still very much alive. Cecilia Fitzpatrick has achieved it all; she is an incredibly successful businesswoman, a pillar of her small community, and a devoted wife and mother. Her life is as orderly and spotless as her home. But that letter is about to change everything, and not just for her: Rachel and Tess barely know Cecilia or each other, but they too are about to feel the earth-shattering repercussions of her husband's secret.
Discovering a tattered letter that says she is to open it only in the event of her husband's death, Cecelia, a successful family woman, is unable to resist reading the letter and discovers a secret that shatters her life and the lives of two other women.
It Ends With Us by Colleen Hoover (August 2): No description yet!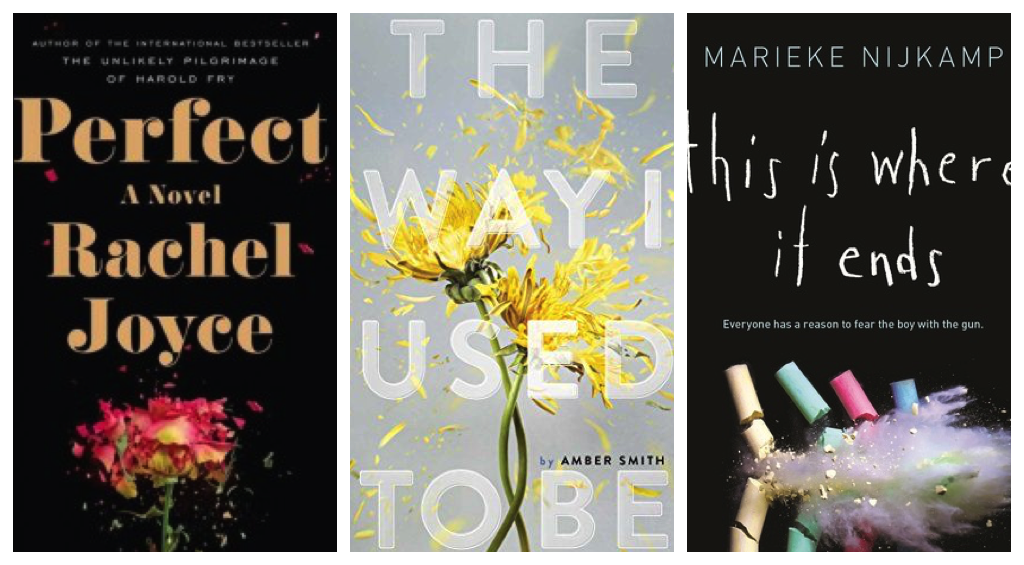 Perfect by Rachel Joyce: In the aftermath of a life-shattering accident in the English countryside in 1972, twelve-year-old Byron Hemming struggles with events that his mother does not seem to remember and embarks on a journey to discover what really did or did not happen.
The Way I Used To Be by Amber Smith (March 22): After fourteen-year-old Eden is raped by her brother's best friend, she knows she'll never be the way she used to be.
This is Where it Ends by Marieke Nijkamp: Minutes after the principal of Opportunity High School in Alabama finishes her speech welcoming the student body to a new semester, they discover that the auditorium doors will not open and someone starts shooting as four teens, each with a personal reason to fear the shooter, tell the tale from separate perspectives.