This month, I donated to the NAACP Legal Defense Fund. In their own words, this 501(c)(3) nonprofit organization "seeks structural changes to expand democracy, eliminate disparities, and achieve racial justice in a society that fulfills the promise of equality for all Americans." As the name implies, they focus on achieving justice and equality for African Americans, in the four key areas of criminal justice, economic justice, education, and political participation. However, their model has been an inspiration for other marginalized groups as well, and their successes help all Americans in the quest for justice and equality.
While they began as an arm of the National Association for the Advancement of Colored People, they became independent of the NAACP in 1957. They are perhaps best known for helping achieve the ruling in Brown v. Board of Education that outlawed racial segregation in public schools in 1954.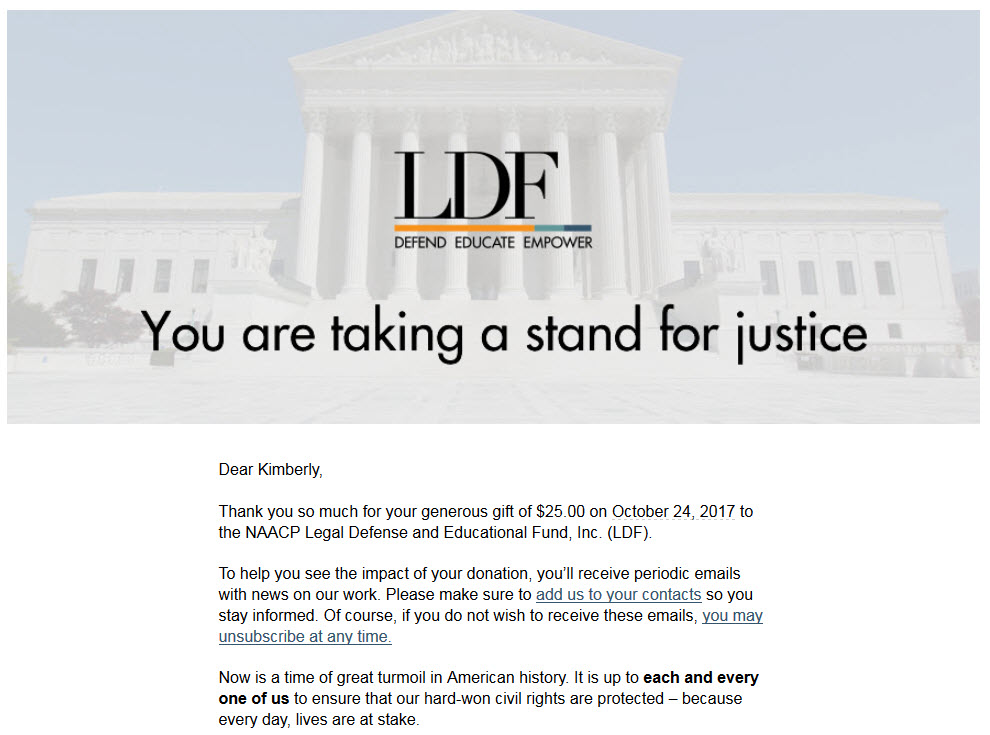 I chose to donate to the NAACP LDF this month for a number of reasons. While the current administration is a disaster for most Americans, Black Americans are more adversely affected than most, most visibly in the area of criminal justice, but insidiously in the other areas of focus as well (funding for public schools in largely Black neighborhoods and the school voucher fight, the dismantling of the Voting Rights Act in 2013, which helped usher in our current situation, and so on). Our country has never been a fair and just one for Black Americans, so the LDF's work has been (and will likely always be) necessary and ongoing.
The booklist for this month features YA titles published within the last year with Black teens as protagonists. I've focused on own voices titles, and they're all vetted by librarians and critics I trust. My library has all of these books or will very soon; I hope yours does too.
Fiction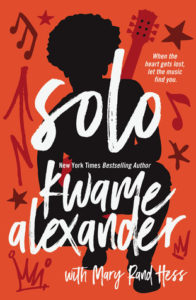 Solo by Kwame Alexander
Solo, a YA novel in poetic verse, tells the story of seventeen-year-old Blade Morrison, whose life is bombarded with scathing tabloids and a father struggling with just about every addiction under the sun—including a desperate desire to make a comeback. Haunted by memories of his mother and his family's ruin, Blade's only hope is in the forbidden love of his girlfriend. But when he discovers a deeply protected family secret, Blade sets out on a journey across the globe that will change everything he thought to be true.
Crossing Ebenezer Creek by Tonya Bolden
Freedom. Mariah has barely dared to dream of it her entire life. When General Sherman's march through Georgia during the Civil War passes the plantation where she is enslaved, her life changes instantly. Joining the march for protection, Mariah heads into the unknown, wondering if she can ever feel safe, if she will ever be able to put the brutalities of slavery behind her.
On the march Mariah meets a young man named Caleb, and a new dream takes root—one of a future with a home of her own and a true love by her side. But hope often comes at a cost. As the treacherous march continues toward the churning waters of Ebenezer Creek, Mariah sees that the harsh realities of her and her peoples' lives will always haunt them.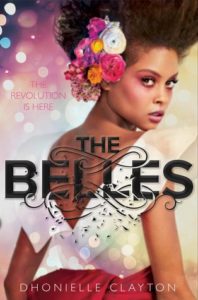 The Belles by Dhonielle Clayton (Feb. 20)
Camellia Beauregard is a Belle. In the opulent world of Orléans, Belles are revered, for they control Beauty, and Beauty is a commodity coveted above all else. In Orléans, the people are born gray, they are born damned, and only with the help of a Belle and her talents can they transform and be made beautiful.
But it's not enough for Camellia to be just a Belle. She wants to be the favorite—the Belle chosen by the Queen of Orléans to live in the royal palace, to tend to the royal family and their court, to be recognized as the most talented Belle in the land. But once Camellia and her Belle sisters arrive at court, it becomes clear that being the favorite is not everything she always dreamed it would be. Behind the gilded palace walls live dark secrets, and Camellia soon learns that the very essence of her existence is a lie—that her powers are far greater, and could be more dangerous, than she ever imagined. And when the queen asks Camellia to risk her own life and help the ailing princess by using Belle powers in unintended ways, Camellia now faces an impossible decision.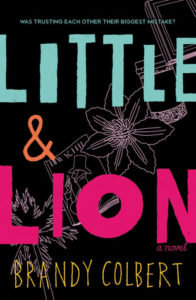 Little & Lion by Brandy Colbert
When Suzette comes home to Los Angeles from her boarding school in New England, she isn't sure if she'll ever want to go back. L.A. is where her friends and family are (along with her crush, Emil). And her stepbrother, Lionel, who has been diagnosed with bipolar disorder, needs her emotional support.
But as she settles into her old life, Suzette finds herself falling for someone new…the same girl her brother is in love with. When Lionel's disorder spirals out of control, Suzette is forced to confront her past mistakes and find a way to help her brother before he hurts himself–or worse.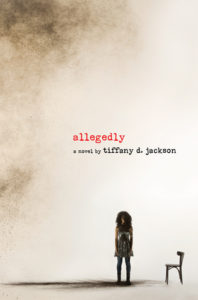 Allegedly by Tiffany D. Jackson
Mary B. Addison killed a baby.
Allegedly. She didn't say much in that first interview with detectives, and the media filled in the only blanks that mattered: A white baby had died while under the care of a churchgoing black woman and her nine-year-old daughter. The public convicted Mary and the jury made it official. But did she do it? She wouldn't say.
Mary survived six years in baby jail before being dumped in a group home. The house isn't really "home"—no place where you fear for your life can be considered a home. Home is Ted, who she meets on assignment at a nursing home.
There wasn't a point to setting the record straight before, but now she's got Ted—and their unborn child—to think about. When the state threatens to take her baby, Mary must find the voice to fight her past. And her fate lies in the hands of the one person she distrusts the most: her Momma. No one knows the real Momma. But who really knows the real Mary?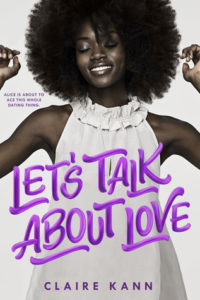 Let's Talk About Love by Claire Kann
Alice had her whole summer planned. Non-stop all-you-can-eat buffets while marathoning her favorite TV shows (best friends totally included) with the smallest dash of adulting–working at the library to pay her share of the rent. The only thing missing from her perfect plan? Her girlfriend (who ended things when Alice confessed she's asexual). Alice is done with dating–no thank you, do not pass go, stick a fork in her, done.
But then Alice meets Takumi and she can't stop thinking about him or the rom com-grade romance feels she did not ask for (uncertainty, butterflies, and swoons, oh my!).
When her blissful summer takes an unexpected turn, and Takumi becomes her knight with a shiny library employee badge (close enough), Alice has to decide if she's willing to risk their friendship for a love that might not be reciprocated—or understood.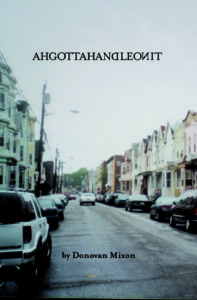 Ahgottahandleonit by Donovan Mixon
What is innocence? Where does it go? Tim doesn't read as well as his classmates in an inner-city Newark high school. He's got good street creds, though, riffing strange rap-rhymes and running like the wind. He's packed into a three-flat with his mother, sister and Uncle Gentrale. His father, a drunk, recently walked out on the family, wanting some "freedom." He says, "Ahgottahandleonit, son." He doesn't. Nor does Tim. He's a sophomore, already two years behind in school. He'll be a sophomore again if he doesn't pass his proficiency exam. He wants to do what is right, but anger boils deep inside him.
The last day of school before summer, Tim slaps Mr. Jones, the one teacher who has wanted to help. He doesn't know why. It was just there, a rage born of some dark history. Uncle Gentrale tries to explain, some crazy shit about living back down south. Marie reaches out to him for love, but that doesn't work either. In a fight with some gangbangers, the rage boils over and Tim slams Chucky in the head with a rock. Chucky dies. Tim steals his phone. He carries it, like an albatross, throughout the summer—wanting to run, to hide, to speak truth, to be free. Maybe Mr. Jones will understand. Tim wants his life to matter.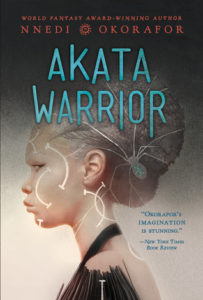 Akata Warrior by Nnedi Okorafor
A year ago, Sunny Nwazue, an American-born girl Nigerian girl, was inducted into the secret Leopard Society. As she began to develop her magical powers, Sunny learned that she had been chosen to lead a dangerous mission to avert an apocalypse, brought about by the terrifying masquerade, Ekwensu. Now, stronger, feistier, and a bit older, Sunny is studying with her mentor Sugar Cream and struggling to unlock the secrets in her strange Nsibidi book.
Eventually, Sunny knows she must confront her destiny. With the support of her Leopard Society friends, Orlu, Chichi, and Sasha, and of her spirit face, Anyanwu, she will travel through worlds both visible and invisible to the mysteries town of Osisi, where she will fight a climactic battle to save humanity.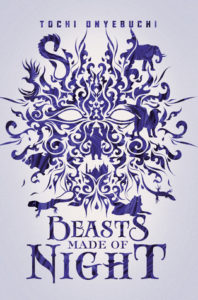 Beasts Made of Night by Tochi Onyebuchi (Oct. 31)
In the walled city of Kos, corrupt mages can magically call forth sin from a sinner in the form of sin-beasts – lethal creatures spawned from feelings of guilt.
Taj is the most talented of the aki, young sin-eaters indentured by the mages to slay the sin-beasts. But Taj's livelihood comes at a terrible cost. When he kills a sin-beast, a tattoo of the beast appears on his skin while the guilt of committing the sin appears on his mind. Most aki are driven mad by the process, but 17-year-old Taj is cocky and desperate to provide for his family.
When Taj is called to eat a sin of a royal, he's suddenly thrust into the center of a dark conspiracy to destroy Kos. Now Taj must fight to save the princess that he loves – and his own life.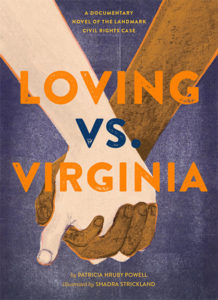 Loving vs. Virginia by Patricia Hruby Powell
From acclaimed author Patricia Hruby Powell comes the story of a landmark civil rights case, told in spare and gorgeous verse. In 1955, in Caroline County, Virginia, amidst segregation and prejudice, injustice and cruelty, two teenagers fell in love. Their life together broke the law, but their determination would change it. Richard and Mildred Loving were at the heart of a Supreme Court case that legalized marriage between races, and a story of the devoted couple who faced discrimination, fought it, and won.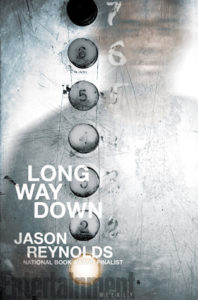 Long Way Down by Jason Reynolds
A cannon. A strap.
A piece. A biscuit.
A burner. A heater.
A chopper. A gat.
A hammer
A tool
for RULE
Or, you can call it a gun. That's what fifteen-year-old Will has shoved in the back waistband of his jeans. See, his brother Shawn was just murdered. And Will knows the rules. No crying. No snitching. Revenge. That's where Will's now heading, with that gun shoved in the back waistband of his jeans, the gun that was his brother's gun. He gets on the elevator, seventh floor, stoked. He knows who he's after. Or does he?
As the elevator stops on the sixth floor, on comes Buck. Buck, Will finds out, is who gave Shawn the gun before Will took the gun. Buck tells Will to check that the gun is even loaded. And that's when Will sees that one bullet is missing. And the only one who could have fired Shawn's gun was Shawn. Huh. Will didn't know that Shawn had ever actually USED his gun. Bigger huh. BUCK IS DEAD. But Buck's in the elevator? Just as Will's trying to think this through, the door to the next floor opens. A teenage girl gets on, waves away the smoke from Dead Buck's cigarette. Will doesn't know her, but she knew him. Knew. When they were eight. And stray bullets had cut through the playground, and Will had tried to cover her, but she was hit anyway, and so what she wants to know, on that fifth floor elevator stop, is, what if Will, Will with the gun shoved in the back waistband of his jeans, MISSES.
And so it goes, the whole long way down, as the elevator stops on each floor, and at each stop someone connected to his brother gets on to give Will a piece to a bigger story than the one he thinks he knows. A story that might never know an END…if WILL gets off that elevator.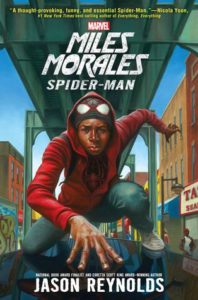 Miles Morales: Spider-Man by Jason Reynolds
Miles Morales is just your average teenager. Dinner every Sunday with his parents, chilling out playing old-school video games with his best friend, Ganke, crushing on brainy, beautiful poet Alicia. He's even got a scholarship spot at the prestigious Brooklyn Visions Academy. Oh yeah, and he's Spider Man.
But lately, Miles's spidey-sense has been on the fritz. When a misunderstanding leads to his suspension from school, Miles begins to question his abilities. After all, his dad and uncle were Brooklyn jack-boys with criminal records. Maybe kids like Miles aren't meant to be superheroes. Maybe Miles should take his dad's advice and focus on saving himself.
As Miles tries to get his school life back on track, he can't shake the vivid nightmares that continue to haunt him. Nor can he avoid the relentless buzz of his spidey-sense every day in history class, amidst his teacher's lectures on the historical "benefits" of slavery and the importance of the modern-day prison system. But after his scholarship is threatened, Miles uncovers a chilling plot, one that puts his friends, his neighborhood, and himself at risk.
It's time for Miles to suit up.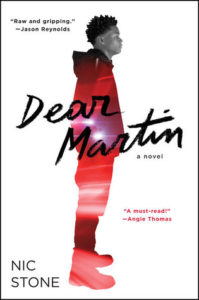 Dear Martin by Nic Stone
Justyce McAllister is top of his class and set for the Ivy League—but none of that matters to the police officer who just put him in handcuffs. And despite leaving his rough neighborhood behind, he can't escape the scorn of his former peers or the ridicule of his new classmates.
Justyce looks to the teachings of Dr. Martin Luther King Jr. for answers. But do they hold up anymore? He starts a journal to Dr. King to find out.
Then comes the day Justyce goes driving with his best friend, Manny, windows rolled down, music turned up—way up, sparking the fury of a white off-duty cop beside them. Words fly. Shots are fired. Justyce and Manny are caught in the crosshairs. In the media fallout, it's Justyce who is under attack.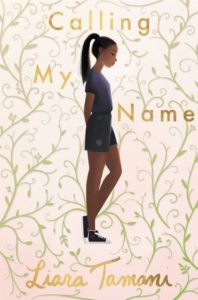 Calling My Name by Liara Tamani
Taja Brown lives with her parents and older brother and younger sister, in Houston, Texas. Taja has always known what the expectations of her conservative and tightly-knit African American family are—do well in school, go to church every Sunday, no intimacy before marriage.
But Taja is trying to keep up with friends as they get their first kisses, first boyfriends, first everythings. And she's tired of cheering for her athletic younger sister and an older brother who has more freedom just because he's a boy. Taja dreams of going to college and forging her own relationship with the world and with God, but when she falls in love for the first time, those dreams are suddenly in danger of evaporating.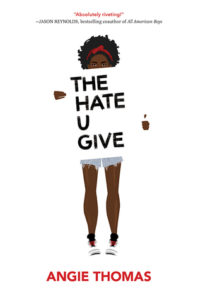 The Hate U Give by Angie Thomas
Sixteen-year-old Starr Carter moves between two worlds: the poor neighborhood where she lives and the fancy suburban prep school she attends. The uneasy balance between these worlds is shattered when Starr witnesses the fatal shooting of her childhood best friend Khalil at the hands of a police officer. Khalil was unarmed.
Soon afterward, his death is a national headline. Some are calling him a thug, maybe even a drug dealer and a gangbanger. Protesters are taking to the streets in Khalil's name. Some cops and the local drug lord try to intimidate Starr and her family. What everyone wants to know is: what really went down that night? And the only person alive who can answer that is Starr.
But what Starr does or does not say could upend her community. It could also endanger her life.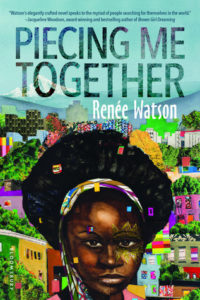 Piecing Me Together by Renee Watson
Jade believes she must get out of her neighborhood if she's ever going to succeed. Her mother says she has to take every opportunity. She has. She accepted a scholarship to a mostly-white private school and even Saturday morning test prep opportunities. But some opportunities feel more demeaning than helpful. Like an invitation to join Women to Women, a mentorship program for "at-risk" girls. Except really, it's for black girls. From "bad" neighborhoods.
But Jade doesn't need support. And just because her mentor is black doesn't mean she understands Jade. And maybe there are some things Jade could show these successful women about the real world and finding ways to make a real difference.
Nonfiction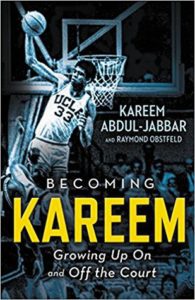 Becoming Kareem: Growing Up On and Off the Court by Kareem Abdul-Jabbar and Raymond Obstfeld (Nov. 21)
At one time, Lew Alcindor was just another kid from New York City with all the usual problems: He struggled with fitting in, with pleasing a strict father, and with overcoming shyness that made him feel socially awkward. But with a talent for basketball, and an unmatched team of supporters, Lew Alcindor was able to transform and to become Kareem Abdul-Jabbar.
From a childhood made difficult by racism and prejudice to a record-smashing career on the basketball court as an adult, Kareem Abdul-Jabbar's life was packed with "coaches" who taught him right from wrong and led him on the path to greatness. His parents, coaches Jack Donahue and John Wooden, Muhammad Ali, Bruce Lee, and many others played important roles in Abdul-Jabbar's life and sparked him to become an activist for social change and advancement. The inspiration from those around him, and his drive to find his own path in life, are highlighted in this personal and awe-inspiriting journey.
Written especially for young readers, Becoming Kareem chronicles how Kareem Abdul-Jabbar become the icon and legend he is today, both on and off the court.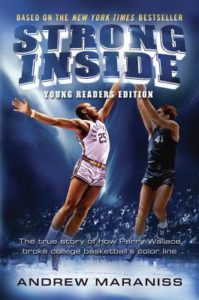 Strong Inside: The True Story of How Perry Wallace Broke College Basketball's Color Line by Andrew Maraniss
Perry Wallace was born at an historic crossroads in U.S. history. He entered kindergarten the year that the Brown v. Board of Education decision led to integrated schools, allowing blacks and whites to learn side by side. A week after Martin Luther King Jr.'s "I Have a Dream" speech, Wallace enrolled in high school and his sensational jumping, dunking, and rebounding abilities quickly earned him the attention of college basketball recruiters from top schools across the nation. In his senior year his Pearl High School basketball team won Tennessee's first racially-integrated state tournament.
The world seemed to be opening up at just the right time, and when Vanderbilt University recruited Wallace to play basketball, he courageously accepted the assignment to desegregate the Southeastern Conference. The hateful experiences he would endure on campus and in the hostile gymnasiums of the Deep South turned out to be the stuff of nightmares. Yet Wallace persisted, endured, and met this unthinkable challenge head on. This insightful biography digs deep beneath the surface to reveal a complicated, profound, and inspiring story of an athlete turned civil rights trailblazer.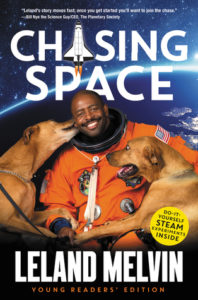 Chasing Space: Young Readers' Edition by Leland Melvin
In this inspiring memoir, adapted from the simultaneous version for adults, young readers will get to learn about Leland Melvin's remarkable life story, from being drafted by the Detroit Lions to bravely orbiting our planet in the International Space Station to writing songs with will.i.am, working with Serena Williams, and starring in top-rated television shows like The Dog Whisperer, Top Chef, and Child Genius.
When the former Detroit Lion's football career was cut short by an injury, Leland didn't waste time mourning his broken dream. Instead, he found a new one—something that was completely out of this world.
He joined NASA, braved an injury that nearly left him permanently deaf, and still managed to muster the courage and resolve to travel to space on the shuttle Atlantis to help build the International Space Station. Leland's problem-solving methods and can-do attitude turned his impossible-seeming dream into reality.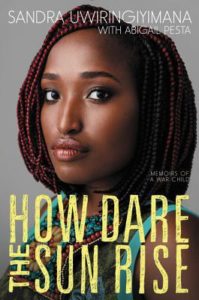 How Dare the Sun Rise: Memoirs of a War Child by Sandra Uwiringiyimana with Abigail Pesta
This profoundly moving memoir is the remarkable and inspiring true story of Sandra Uwiringyimana, a girl from the Democratic Republic of the Congo who tells the tale of how she survived a massacre, immigrated to America, and overcame her trauma through art and activism.
Sandra was just ten years old when she found herself with a gun pointed at her head. She had watched as rebels gunned down her mother and six-year-old sister in a refugee camp. Remarkably, the rebel didn't pull the trigger, and Sandra escaped.
Thus began a new life for her and her surviving family members. With no home and no money, they struggled to stay alive. Eventually, through a United Nations refugee program, they moved to America, only to face yet another ethnic disconnect. Sandra may have crossed an ocean, but there was now a much wider divide she had to overcome. And it started with middle school in New York.
In this memoir, Sandra tells the story of her survival, of finding her place in a new country, of her hope for the future, and how she found a way to give voice to her people.
Graphic Novels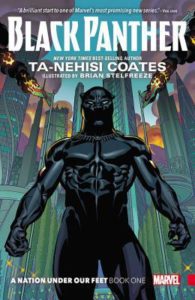 Black Panther by Ta-Nehisi Coates
A new era begins for the Black Panther! MacArthur Genius and National Book Award winner Ta-Nehisi Coates (Between the World and Me) takes the helm, confronting T'Challa with a dramatic upheaval in Wakanda that will make leading the African nation tougher than ever before.
When a superhuman terrorist group that calls itself The People sparks a violent uprising, the land famed for its incredible technology and proud warrior traditions will be thrown into turmoil. If Wakanda is to survive, it must adapt–but can its monarch, one in a long line of Black Panthers, survive the necessary change? Heavy lies the head that wears the cowl!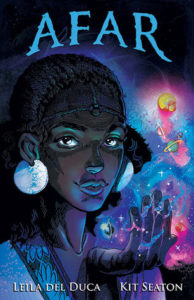 Afar by Leila del Duca and Kit Seaton
Boetema suddenly develops the ability to astrally project to other worlds, unintentionally possessing the bodies of people light years away.
Inotu, her inquisitive brother with a penchant for trouble, finds himself on the run after he's caught eavesdropping on an illegal business deal between small town business tycoons and their cyborg bodyguard. When Boetema accidentally gets someone hurt while in another girl's body, the siblings are forced to work together to solve the problems they've created on their planet and others.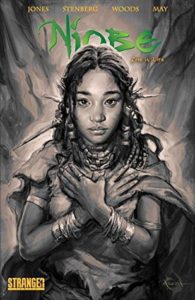 Niobe: She is Life by Sebastian Jones, Amandla Stenberg, Ashley A. Woods, and Darrell May
Niobe Ayutami. Half human, half elf. Half Ujoan, half Isintarrian. Half goddess, half devil. Niobe is a child of prophecy. Destined to be a queen and on the run since birth, Niobe was first introduced in The Untamed: A Sinner's Prayer. Now a teenager and out on her own for the first time, Niobe must find her way in a world that wants her dead. After fleeing the vampire lord, Essessa, Niobe arrives at the sacred elven grounds of her ancestors, but she finds no welcome from her kind. She does, however, meet a fellow outcast in a half orc boy who is accused of murder. But Niobe's quest to prove his innocence may expose her own past sins. Niobe: She is Life is a beauty and the beast love story threaded with murder and mystery that leads to all out war with the fate of Asunda hanging in the balance.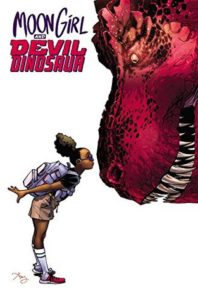 Moon Girl and Devil Dinosaur by Amy Reeder
Lunella Lafayette is an Inhuman preteen genius who wants to change the world!
That job would be a lot easier if she wasn't living in mortal fear of her latent Inhuman gene. There's no telling what she'll turn into – but Luna's got a plan. All she needs is an Omni-Wave Projector. Easy, right? That is, until a red-scaled beast is teleported from the prehistoric past to a far-flung future we call…today! Together they're the most Marvelous Team-Up of all – the Inhuman Moon Girl and time-tossed Devil Dinosaur! But will they be BFFs forever, or just until DD's dinner time?
And Lunella soon learns that there are other problems with a having a titanic T. Rex as a pet in the modern-day Marvel Universe. School, for one. Monster hunters are another – especially when they're the Totally Awesome Hulk! Then there's the fact that everyone's favorite dino didn't journey through time alone. Beware the prehistoric savages known as the Killer-Folk – New York City's deadliest tourists! Can Lunella handle all this turmoil… and keep herself from transforming into an Inhuman monster?