It appears that children's publishers are paying a bit more attention to the T in LGBT lately. Several books about transgender kids have been or will be published this year, more than I've seen in about eight years that I've really been paying attention to kidlit. "Several" still isn't a lot, and I hope this slight uptick means that the numbers will continue to grow each year – and that we'll see more of them from transgender or non-binary authors, as is the case with If I Was Your Girl by Meredith Russo. The eight below are all forthcoming this year. If you know of any that I've missed, please let me know in the comments. I haven't read any of these yet, so the quality is unknown. Descriptions are from Goodreads.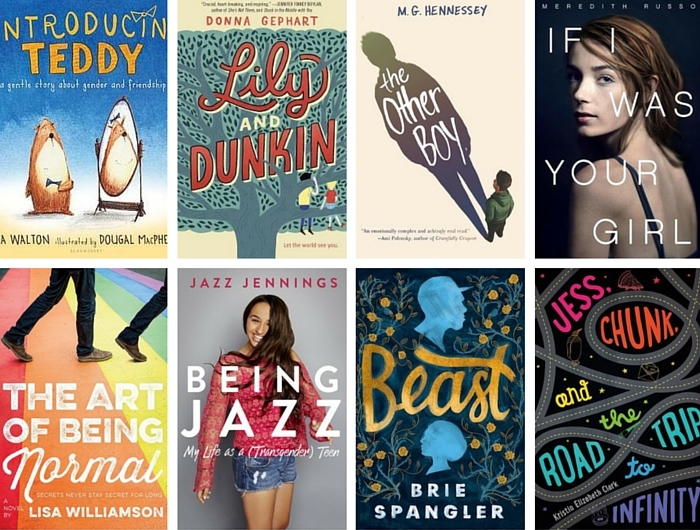 Picture Books
Introducing Teddy by Jess Walton (May 31)
Errol and his teddy, Thomas, are best friends who do everything together. Whether it's riding a bike, playing in the tree house, having a tea party, or all of the above, every day holds something fun to do. One sunny day, Errol finds that Thomas is sad, even when they are playing in their favorite ways. Errol can't figure out why, until Thomas finally tells Errol what the teddy has been afraid to say: In my heart, I've always known that I'm a girl teddy, not a boy teddy. I wish my name was Tilly, not Thomas. And Errol says, I don't care if you're a girl teddy or a boy teddy! What matters is that you are my friend. Introducing Teddy introduces the youngest readers to understanding gender identity and transition in an accessible and heart-warming story about being true to yourself and being a good friend.
Middle Grade
Lily and Dunkin by Donna Gephart (May 3)
Lily Jo McGrother, born Timothy McGrother, is a girl. But being a girl is not so easy when you look like a boy. Especially when you're in the eighth-grade. Norbert Dorfman, nicknamed Dunkin Dorfman, is bipolar and has just moved from the New Jersey town he's called home for the past thirteen years. This would be hard enough, but the fact that he is also hiding from a painful secret makes it even worse. One summer morning, Lily Jo McGrother meets Dunkin Dorfman, and their lives forever change.
The Other Boy by M. G. Hennessey (September 20)
Twelve-year-old Shane Woods is just a regular boy. He loves pitching for his baseball team, working on his graphic novel, and hanging out with his best friend, Josh. But Shane is keeping something private, something that might make a difference to his teammates, to Josh, and to his new crush, Madeline. And when a classmate threatens to reveal his secret, Shane's whole world comes crashing down. It will take a lot of courage for Shane to ignore the hate and show the world that he's still the same boy he was before. And in the end, those who stand beside him may surprise everyone, including Shane.
Young Adult
If I Was Your Girl by Meredith Russo (May 3)
Amanda Hardy is the new girl in school. Like anyone else, all she wants is to make friends and fit in. But Amanda is keeping a secret. She's determined not to get too close to anyone. But when she meets sweet, easygoing Grant, Amanda can't help but start to let him in. As they spend more time together, she realizes just how much she is losing by guarding her heart. She finds herself yearning to share with Grant everything about herself–including her past. But Amanda's terrified that once she tells him the truth, he won't be able to see past it. Because the secret that Amanda's been keeping? It's that she used to be Andrew. Will the truth cost Amanda her new life–and her new love? If I Was Your Girl is a universal story about feeling different–and a love story that everyone will root for.
The Art of Being Normal by Lisa Williamson (May 31)
David Piper has always been an outsider. His parents think he's gay. The school bully thinks he's a freak. Only his two best friends know the real truth – David wants to be a girl. On the first day at his new school Leo Denton has one goal – to be invisible. Attracting the attention of the most beautiful girl in year eleven is definitely not part of that plan. When Leo stands up for David in a fight, an unlikely friendship forms. But things are about to get messy. Because at Eden Park School secrets have a funny habit of not staying secret for long…
Being Jazz: My Life as a (Transgender) Teen by Jazz Jennings (June 7)
Jazz Jennings is one of the youngest and most prominent voices in the national discussion about gender identity. At the age of five, Jazz transitioned to life as a girl, with the support of her parents. A year later, her parents allowed her to share her incredible journey in her first Barbara Walters interview, aired at a time when the public was much less knowledgeable or accepting of the transgender community. This groundbreaking interview was followed over the years by other high-profile interviews, a documentary, the launch of her YouTube channel, a picture book, and her own reality TV series "I Am Jazz" making her one of the most recognizable activists for transgender teens, children, and adults. In her remarkable memoir, Jazz reflects on these very public experiences and how they have helped shape the mainstream attitude toward the transgender community.

Look Past by Eric Devine (October 4)
Mary is dead—murdered in a brutal way. Avery, a transgender boy who loved Mary but who was shunned by Mary's very strict Reverend father, can't just sit on the sidelines while the police, including his own Uncle Tom, handle the case. His interest in forensics takes over, and when he goes to the crime scene, his investigation puts him in harm's way. The authorities are on edge, trying to decipher who the killer is, and have no time for the outcast teen. Avery must, like the rest of the town, wait for the police to do their job. However, following Mary's funeral, Avery receives the first in a series of disturbing texts that can only come from the killer, revealing that Avery is now a target, dead-center in the continuing manhunt. With the entire town caught in the grip of fear, Avery is torn between finding the killer and protecting himself. Soon, though, even hiding and hoping is taken from Avery. The killer, in a disturbing cat and mouse game, toys with Avery's heart and his identity. If Avery plays along, can he bring Mary's murderer to justice? Or will sacrificing himself be the ultimate betrayal?
Beast by Brie Spangler (October 11)
Tall, meaty, muscle-bound, and hairier than most throw rugs, Dylan doesn't look like your average fifteen-year-old, so, naturally, high school has not been kind to him. To make matters worse, on the day his school bans hats (his preferred camouflage), Dylan goes up on his roof only to fall and wake up in the hospital with a broken leg—and a mandate to attend group therapy for self-harmers. Dylan vows to say nothing and zones out at therapy—until he meets Jamie. She's funny, smart, and so stunning, even his womanizing best friend, JP, would be jealous. She's also the first person to ever call Dylan out on his self-pitying and superficiality. As Jamie's humanity and wisdom begin to rub off on Dylan, they become more than just friends. But there is something Dylan doesn't know about Jamie, something she shared with the group the day he wasn't listening. Something that shouldn't change a thing. She is who she's always been—an amazing photographer and devoted friend, who also happens to be transgender. But will Dylan see it that way?
Jess, Chunk, and the Road Trip to Infinity by Kristin Elizabeth Clark (November 8)
The last time Jess saw her father, she was a boy. Now she's a high school graduate, soon to be on her way to art school. But first she has some unfinished business with her dad. So she's driving halfway across the country to his wedding. He happens to be marrying her mom's ex-best friend. It's not like Jess wasn't invited; she was. She just never told anyone she was coming. Surprise! Luckily, Jess isn't making this trip alone. Her best friend, Christophe-nicknamed Chunk-is joining her. Along the way, Jess and Chunk learn a few things about themselves-and each other-which call their feelings about their relationship into question.