It's been more than one or two weeks since I did a round-up of recently-received books and links I've been reading and thinking about around the web.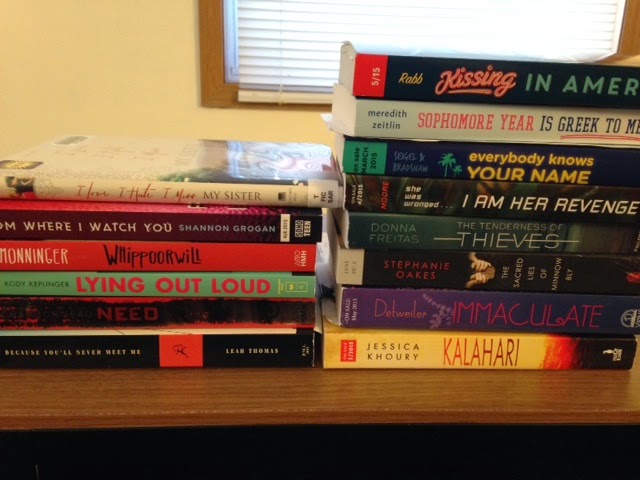 This is only part of what I could remember showing up since the last round-up, and I know I'm missing a few things. Links go to Goodreads.
I Love, I Hate, I Miss My Sister by Amelie Sarn: This had been on my radar but I kind of forgot about it. Someone on Goodreads recommended it to me based on my tastes, and I'm excited to read it. It's surprisingly short.
From Where I Watch You by Shannon Grognan (August 4): Shannon and I are part of a critique group and I read this book as a manuscript in a few different forms. Now it's in ARC form and I can't wait to see where it is. It's a mystery and there's loads of baking involved (the sweets it'll make you crave!).
Whippoorwill by Joseph Monninger (November): A dog story for YA readers!
Lying Out Loud by Kody Keplinger (April 28): This is a companion to The DUFF.
NEED by Joelle Charbonneau (November 3)
Because You'll Never Meet Me by Leah Thomas (June 2)
Kissing in America by Margo Rabb (May 26)
Sophomore Year is Greek to Me by Meredith Zeitlin (April 21)
Everybody Knows Your Name by Andrea Seigel and Brent Bradshaw (March 10)
I Am Her Revenge by Meredith Moore (April 7)
The Tenderness of Thieves by Donna Frietas (May 26): I'm really excited about a new Donna Frietas book!
Kalahari by Jessica Khoury (February 24)
Immaculate by Katelyn Detweiler (May 26) & The Sacred Lies of Minnow Bly by Stephanie Oakes (June 9): Both of these I'd picked up at ALA just days before. Both of which I'm really excited to read.
In the last couple of weeks, I've been tearing through books. I've read This Side of Home by Renee Watson, Challenger Deep by Neal Schusterman, El Deafo by Cece Bell, Razorhurst by Justine Larbalestier, and Read Between the Lines by Jo Knowles, among others. All of these were good reads, so they're all worth putting on your radars. I'll be reviewing many — but probably not all — of them in the next few weeks.
Links Around the Web:
I love everything about this interview between Faythe and Morris Award Winner Isabel Quintero. My favorite thing Isabel says comes near the end of the interview, about how she and Gabi are similar and different: "I wish that I had been less afraid to question the expectations that had been placed on me. That I had been brave enough to question the double standards and act on them-to not be afraid of boys. I was totally boy crazy in high school. I had a crush on so many boys but as soon as one showed interest I'd be scared shitless. I couldn't believe that a boy would like Isabel, the fat girl. Why would he? It wasn't until college that I realized it was okay to think about sex (I was normal!) or to like so many boys or that I was pretty awesome and guys were interested-for reals. So, to me it made sense to have a character who embodied this idea earlier on."