Remember when I talked about The V-Word anthology many moons ago (or last year early in the year)?
Now I have loads more I can share about it.
First, the cover, which you can click to make much bigger: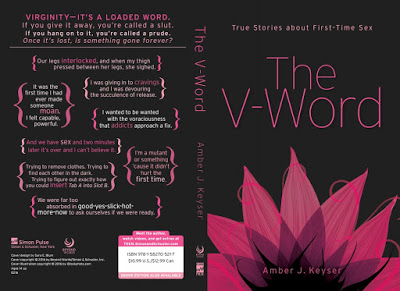 I really like how it looks so mature, without looking off-putting. It's enticing and appealing and will easily catch the eyes of teen girls — the target market.
Here's the official blurb for the anthology:
THE V-WORD: True Stories about First-Time Sex

An anthology edited by Amber J. Keyser

HAVING SEX FOR THE FIRST TIME IS A BIG UNKNOWN. LOTS OF PEOPLE WILL TELL YOU WHAT TO DO, BUT IS ANYONE TELLING YOU WHAT IT'S REALLY LIKE?

The V-Word pulls back the sheets on sex. Queer and straight. Relished and regretted. Funny and exhilarating. The seventeen women in this book (including Christa Desir, Justina Ireland, Sara Ryan, Carrie Mesrobian, Erica Lorraine Scheidt, and Jamia Wilson) write about first-time sex—hot, meaningful, cringe-worthy, gross, forgettable, magnificent, empowering, and transformative.

Whether you're diving in or whether you're waiting, we hope these stories will help you chart your own course.
Beyond Words/Simon & Schuster
Released date: February 2, 2016
Simultaneous hardcover and paperback release.

ISBN: 978-1-58270-521-7 (TP) / 978-1-58270-522-4 (HC)


Along with a bio of Amber, who edited it:

Amber J. Keyser believes in the power of sharing our experiences. She's the author of the young adult novel THE WAY BACK FROM BROKEN (Carolrhoda Lab, 2015) and numerous nonfiction titles. Connect at www.amberjkeyser.com.


The full contributor list:

Molly Bloom
Kiersi Burkhart
Chelsey Clammer
Christa Desir
Kate Gray
Justina Ireland
Laurel Isaac
Karen Jensen
Kelly Jensen
Sidney Joaquin-Vetromile
Amber J. Keyser
Alex Meeks
Carrie Mesrobian
Sarah Mirk
Sara Ryan
Erica Lorraine Scheidt
Jamia Wilson

Readers will also find a Q&A with teen librarian Kelly Jensen on how teen sex is portrayed in the media, resources for teens who want to learn more, guidelines for safer sex practices, support for girls wanting to delay sexual activity, and even a resource section for parents on how to approach this topic with their teenager.


I'm so thrilled — and completely scared — to be a part of this incredible and important anthology. I have both an essay and the Q&A included. Writing this essay was one of the most terrifying things I've ever written. It meant digging from a well of feelings I didn't know that I had. But I am really pleased with my piece, am excited to know teen girls will find it and (maybe!) relate to it, and I'm eager to see how this entire anthology comes together from start to finish. Amber has done tremendous work building a great and vital collection.
Working through the Q&A portion meant devoting weeks to reading and thinking about depictions of sexuality in YA. I wrote a bit about that here, but the book features a much longer series of thoughts and insights into what YA is doing great and what could be improved.
That cover again, though, just for good measure: