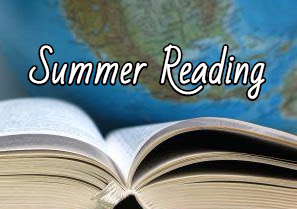 Summer has been the time I've always used to "catch up" with things, in part because summer always meant Summer Reading Club at the library, which was frantic, fast-paced, and energy zapping. I'd find it incredibly therapeutic to spend free time speeding through book after book in order to be ahead of the reading game. I wanted to be well-read for when fall approached so I could write about the newest and hottest, as well as be prepared to give great reader's advisory on those new titles.
This is the second year, though, I haven't been at a library during the summer. I…can't say I miss it much. I certainly miss working with the teens, and I definitely miss the opportunities afforded in working with people and books, but I don't miss things like the over-programming, the stress about budgeting, about bureaucracy, about time and energy and being "on," even when I felt completely and utterly "off."
Whereas last summer I was new to my job and learning the ropes, this year, I'm firmly into my routine and my projects. I know how much time is needed to accomplish the necessary things, as well as how much time I have to work on new things. Being away at BEA was an opportunity to think a lot about what I want for this summer, and in reflecting, I realized how valuable summer is not for getting ahead, but instead, for slowing down.
I'm not going to spend this summer trying to plow through things. I'm not going to pile my to-be-read plans with miles-high stacks of everything coming out this fall so I can be the first to talk about it or know about it.
Instead, I'm slowing down and investing in reading those back list titles that I've always intended to read but have yet to pick up.
I want to slow my roll — and my role! — a bit. There are so many things to know, to read, to think, to reflect, and to share. And the truth is, as much as I'd love to be ahead of the game where I can be, it's important to realize that this is a thing I can't and can never control. I don't have the time to be first, and my prioritizing of energy over time management means that sometimes I don't have the reserves in me to give everything I want to do the attention it deserves immediately. What's best for me, I realize, is having a plan but allowing myself plenty of opportunities to be flexible within that plan.
Despite having read abundantly in middle and high school, despite majoring in English, despite my library science background, there are still so many classics, especially more contemporary titles, I've missed out on. I've never read Toni Morrison, for one, and this summer I'm changing that, picking up The Bluest Eye. I've never read Margaret Atwood's classic The Handmaid's Tale, despite knowing how many books I adore reference it or are modern takes on the story. I've yet to crack open Chimamanda Ngozi Adichie's Americanah, even though it's a book I admire on my shelf every single time I walk by, thinking about how much people I know absolutely adore it.
There are less "classic-y" titles on my reading plans agenda this summer, too. I just picked up one of Megan Abbott's earlier noir titles,
This Song Is You
, after reading and thinking about this great piece on
the rise of feminist noir
(I read and enjoyed the Larssen series, even though the writing itself left so much to be desired). I've got Gillian Flynn's
Sharp Objects
to get through, as well as
Night Film
, which I think I talked about reading months and months ago. Maybe now is the time to follow through with that plan.
A handful of unread Haruki Murakami titles are sitting on my shelf, too. I've always loved his strange, surreal, magical worlds. I want to fall back into one.
I went through a big phase of buying backlist YA titles over the last couple of years, too, and I'm eager to dive into them headfirst.
Bad Apple
by Laura Ruby is one, as well as Rebecca O'Connell's
Myrtle of Willendorf
(a recommendation from
Liz
from years ago I bought and let languish on my shelves) and Laura Kasischke's
Boy Heaven
— I read
Feathered
years ago and still think about it. I admit to never having read S. E. Hinton's
The Outsiders
, despite having read some of her other work, and perhaps it's time to break that tradition, and I should certainly pick up one of the Francesca Lia Block bind-ups I've got on my shelf, too. I'm also still working through some Sarah Dessen backlist; I think I have just three left.
Do I admit here, too, that perhaps I need to finally sit down and read Harry Potter from beginning to end? I made it to book 5 or 6 one summer while I was teaching middle schoolers about Shakespeare — they pressured me to — but it's become such a cultural reference point that I feel obligated to revisit with a different, perhaps more excited, mindset.
I'm feeling way less pressure when it comes to reading now, and a big reason is that I've made the conscious decision to not just slow down, but to not feel obligated to read everything that's new. While that still makes up the bulk of my reading diet, I'm much more intentional about my choices. I'm not picking something up just because. Instead, I pick it up because I'm interested in it; I'm reading far more books across genres and styles not because of that. Perhaps it's changed how I'm blogging a bit, since I don't write reviews as much as I once did, but it's changing my reading life for the better. Choosing to be intentional about reading backlist this summer and slowing down to drink in the words, language, and stories makes me even more excited to discover new favorites.
Without doubt, making this choice will encourage more excitement and engagement with those fall titles when I'm ready for them.
What are you reading this summer? What backlist should I be looking into? I am open to YA and adult fiction, as well as really solid, engaging non-fiction — memoirs by people of color or microhistories are especially appealing to me. Tell me your reading plans and what should be on my radar.