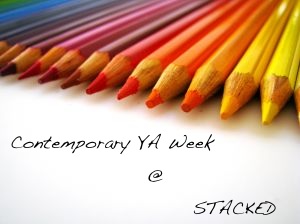 Looking for a good contemporary book featuring sports and athletics in some capacity? Here's a nice, solid list of titles to check out. As has been the theme all week, these books are all published between 2010 and today, and all descriptions come from WorldCat. If you've got a title you'd like to add, drop it in the comments.
Stupid Fast by Geoff Herbach: Just before his sixteenth birthday, Felton Reinstein has a sudden growth spurt that turns him from a small, jumpy, picked-on boy with the nickname of "Squirrel Nut" to a powerful athlete, leading to new friends, his first love, and the courage to confront his family's past and current problems.
Boy21 by Matthew Quick: Finley, an unnaturally quiet boy who is the only white player on his high school's varsity basketball team, lives in a dismal Pennsylvania town that is ruled by the Irish mob, and when his coach asks him to mentor a troubled African American student who has transferred there from an elite private school in California, he finds that they have a lot in common in spite of their apparent differences.
Stealing Parker by Miranda Kenneally: Parker Shelton pretty much has the perfect life. She's on her way to becoming valedictorian at Hundred Oaks High, she's made the all-star softball team, and she has plenty of friends. Then her mother's scandal rocks their small town and suddenly no one will talk to her. Now Parker wants a new life.
The Final Four by Paul Volponi: Four players at the Final Four of the NCAA basketball tournament struggle with the pressures of tournament play and the expectations of society at large.
Anything But Ordinary by Lara Avery: A slight error left Olympic diving-hopeful Bryce Graham in a five-year coma and now, at at twenty-two, she must adjust to a world that went on without her and to visions that may or may not be real.
Audition by Stasia Ward Kehoe: When sixteen-year-old Sara, from a small Vermont town, wins a scholarship to study ballet in New Jersey, her ambivalence about her future increases even as her dancing improves.
Curveball: The Year I Lost My Grip by Jordan Sonnenblick: After an injury ends former star pitcher Peter Friedman's athletic dreams, he concentrates on photography which leads him to a girlfriend, new fame as a high school sports photographer, and a deeper relationship with the beloved grandfather who, when he realizes he is becoming senile, gives Pete all of his professional camera gear.
Leverage by Joshua Cohen: High school sophomore Danny excels at gymnastics but is bullied, like the rest of the gymnasts, by members of the football team, until an emotionally and physically scarred new student joins the football team and forms an unlikely friendship with Danny.
Playing Hurt by Holly Schindler: Chelsea Keyes, a high school basketball star whose promising career has been cut short by a terrible accident on the court, and Clint Morgan, a nineteen-year-old ex-hockey player who gave up his sport following a game-related tragedy, meet at a Minnesota lake resort and find themselves drawn together by the losses they have suffered.
Catching Jordan by Miranda Kenneally: What girl doesn't want to be surrounded by gorgeous jocks day in and day out? Jordan Woods isn't just surrounded by hot guys, though. She leads them as the captain and quarterback of her high school football team. They all see her as one of the guys, and that's just fine. As long as she gets her athletic scholarship to a powerhouse university. But now there's a new guy in town who threatens her starting position…suddenly she's hoping he'll see her as more than just a teammate.
Head Games by Keri Mikulski: Basketball star Taylor, who doubts that she is attractive due to her height, reluctantly agrees to participate in a fashion show, an event complicated by her divided feelings about two boys and about her team's preparations for the playoffs.
The Running Dream by Wendelin Van Draanen: When a school bus accident leaves sixteen-year-old Jessica an amputee, she returns to school with a prosthetic limb and her track team finds a wonderful way to help rekindle her dream of running again.
Bunheads by Sophie Flack: Hannah Ward, nineteen, revels in the competition, intense rehearsals, and dazzling performances that come with being a member of Manhattan Ballet Company's corps de ballet, but after meeting handsome musician Jacob she begins to realize there could be more to her life.
Compulsion by Heidi Ayarbe: Poised to lead his high school soccer team to its third straight state championship, seventeen-year-old star player Jake Martin struggles to keep hidden his nearly debilitating obsessive-compulsive disorder.
Crossing Lines by Paul Volponi: High school senior Adonis struggles to do the right thing when his fellow football players escalate their bullying of a new classmate, Alan, who is transgendered.
Jersey Tomatoes are the Best by Maria Padian: When fifteen-year-old best friends Henry and Eve leave New Jersey, one for tennis camp in Florida and one for ballet camp in New York, each faces challenges that put her long-cherished dreams of the future to the test.
Queen of Secrets by Jenny Meyerhoff: Fifteen-year-old Essie Green, an orphan who has been raised by her secular Jewish grandparents in Michigan, experiences conflicting loyalties and confusing emotions when her aunt, uncle, and cousin move back from New York, and her very religious cousin tries to fit in with the other football players at Essie's high school, one of whom is Essie's popular new boyfriend.
Shutout by Brendan Halpin: Fourteen-year-old Amanda and her best friend Lena start high school looking forward to playing on the varsity soccer team, but when Lena makes varsity and Amanda only makes junior varsity, their long friendship rapidly changes.
Center Field by Robert Lipsyte: Mike lives for baseball and hopes to follow his idol into the major leagues one day, but he is distracted by a new player who might take his place in center field, an ankle injury, problems at home, and a growing awareness that something sinister is happening at school.
Perfected by Girls by Alfred Martino: Melinda Radford has difficulty everyday because she is on the boys wrestling team.