There have been a ton of great short story collections published within the last year. Kelly has been spotlighting the creation of several of them in her Anatomy of a YA Anthology series, which also includes collections of essays. Like the rest of YA, short story collections are slowly growing more diverse in all areas – race, gender, and sexuality in particular. The books on this list would all serve as great refreshers for your library's short story collections for teens. All are 2017 or 2018 publications or won awards in 2018. What others would you recommend?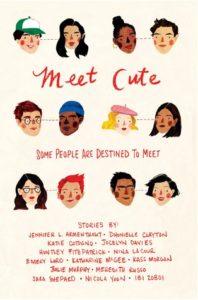 Meet Cute: Some People Are Destined to Meet
Whether or not you believe in fate, or luck, or love at first sight, every romance has to start somewhere. MEET CUTE is an anthology of original short stories featuring tales of "how they first met" from some of today's most popular YA authors.
Readers will experience Nina LaCour's beautifully written piece about two Bay Area girls meeting via a cranky customer service Tweet, Sara Shepard's glossy tale about a magazine intern and a young rock star, Nicola Yoon's imaginative take on break-ups and make-ups, Katie Cotugno's story of two teens hiding out from the police at a house party, and Huntley Fitzpatrick's charming love story that begins over iced teas at a diner. There's futuristic flirting from Kass Morgan and Katharine McGee, a riveting transgender heroine from Meredith Russo, a subway missed connection moment from Jocelyn Davies, and a girl determined to get out of her small town from Ibi Zoboi. Jennifer Armentrout writes a sweet story about finding love from a missing library book, Emery Lord has a heartwarming and funny tale of two girls stuck in an airport, Dhonielle Clayton takes a thoughtful, speculate approach to pre-destined love, and Julie Murphy dreams up a fun twist on reality dating show contestants.
This incredibly talented group of authors brings us a collection of stories that are at turns romantic and witty, epic and everyday, heartbreaking and real.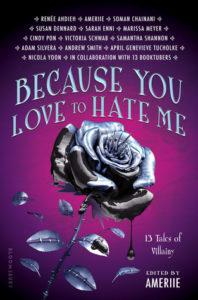 Because You Love to Hate Me: 13 Tales of Villainy edited by Ameriie
In this unique YA anthology, thirteen acclaimed, bestselling authors team up with thirteen influential BookTubers to reimagine fairy tales from the oft-misunderstood villains' points of view.
These fractured, unconventional spins on classics like "Medusa," Sherlock Holmes, and "Jack and the Beanstalk" provide a behind-the-curtain look at villains' acts of vengeance, defiance, and rage–and the pain, heartbreak, and sorrow that spurned them on. No fairy tale will ever seem quite the same again!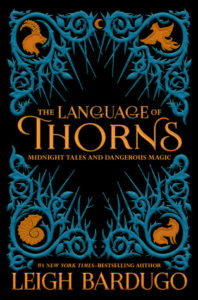 The Language of Thorns: Midnight Tales and Dangerous Magic by Leigh Bardugo
Travel to a world of dark bargains struck by moonlight, of haunted towns and hungry woods, of talking beasts and gingerbread golems, where a young mermaid's voice can summon deadly storms and where a river might do a lovestruck boy's bidding but only for a terrible price.
Inspired by myth, fairy tale, and folklore, #1 New York Times–bestselling author Leigh Bardugo has crafted a deliciously atmospheric collection of short stories filled with betrayals, revenge, sacrifice, and love.
Perfect for new readers and dedicated fans, these tales will transport you to lands both familiar and strange—to a fully realized world of dangerous magic that millions have visited through the novels of the Grishaverse.
This collection of six stories includes three brand-new tales, all of them lavishly illustrated with art that changes with each turn of the page, culminating in six stunning full-spread illustrations as rich in detail as the stories themselves.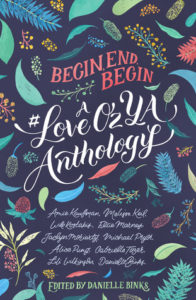 Begin, End, Begin: A #LoveOzYA Anthology edited by Danielle Binks
The YA event of the year. Bestsellers. Award-winners. Superstars. This anthology has them all. With brilliantly entertaining short stories from beloved young adult authors Amie Kaufman, Melissa Keil, Will Kostakis, Ellie Marney, Jaclyn Moriarty, Michael Pryor, Alice Pung, Gabrielle Tozer, Lili Wilkinson and Danielle Binks, this all-new collection will show the world exactly how much there is to love about Aussie YA.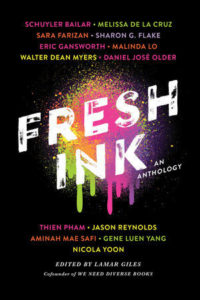 Fresh Ink edited by Lamar Giles (August 14)
Careful–you are holding fresh ink. And not hot-off-the-press, still-drying-in-your-hands ink. Instead, you are holding twelve stories with endings that are still being written–whose next chapters are up to you.
Because these stories are meant to be read. And shared.
Thirteen of the most accomplished YA authors deliver a label-defying anthology that includes ten short stories, a graphic novel, and a one-act play. This collection will inspire you to break conventions, bend the rules, and color outside the lines. All you need is fresh ink.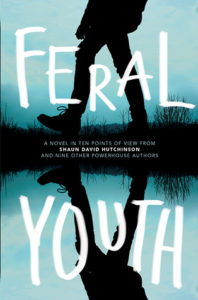 Feral Youth edited by Shaun David Hutchinson
At Zeppelin Bend, an outdoor education program designed to teach troubled youth the value of hard work, cooperation, and compassion, ten teens are left alone in the wild. The teens are a diverse group who come from all walks of life, and they were all sent to Zeppelin Bend as a last chance to get them to turn their lives around. They've just spent nearly two weeks learning to survive in the wilderness, and now their instructors have dropped them off eighteen miles from camp with no food, no water, and only their packs, and they'll have to struggle to overcome their vast differences if they hope to survive.
Inspired by The Canterbury Tales, Feral Youth features characters, each complex and damaged in their own ways, who are enticed to tell a story (or two) with the promise of a cash prize. The stories range from noir-inspired revenge tales to mythological stories of fierce heroines and angry gods. And while few of the stories are claimed to be based in truth, they ultimately reveal more about the teller than the truth ever could.
All Out: The No-Longer-Secret Stories of Queer Teens Throughout the Ages edited by Saundra Mitchell (February 27)
Take a journey through time and genres and discover a past where queer figures live, love and shape the world around them. Seventeen of the best young adult authors across the queer spectrum have come together to create a collection of beautifully written diverse historical fiction for teens.
From a retelling of Little Red Riding Hood set in war-torn 1870s Mexico featuring a transgender soldier, to two girls falling in love while mourning the death of Kurt Cobain, forbidden love in a sixteenth-century Spanish convent or an asexual girl discovering her identity amid the 1970s roller-disco scene, All Out tells a diverse range of stories across cultures, time periods and identities, shedding light on an area of history often ignored or forgotten.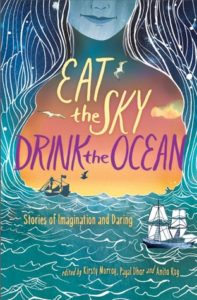 Eat the Sky, Drink the Ocean edited by Kirsty Murray, Payal Dhar, and Anita Roy
Be transported into dystopian cities and other-worldly societies. Be amazed and beguiled by a nursery story with a reverse twist, a futuristic take on TV cooking shows, a playscript with tentacles – and more, much more. Plunge in and enjoy!
A collection of sci-fi and fantasy writing, including six graphic stories, showcasing twenty stellar writers and artists from India and Australia: Isobelle Carmody, Penni Russon, Justine Larbalestier, Margo Lanagan, Lily Mae Martin, Kuzhali Manickavel, Prabha Mallya, Annie Zaidi, Kate Constable, Vandana Singh, Mandy Ord, Priya Kuriyan, Manjula Padmanabhan, Samhita Arni, Alyssa Brugman, Nicki Greenberg and Amruta Patil.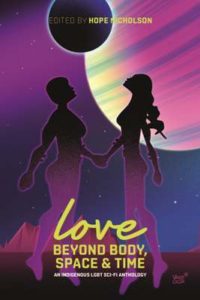 Love Beyond Body, Space, and Time edited by Hope Nicholson
"Love Beyond, Body, Space, and Time" is a collection of indigenous science fiction and urban fantasy focusing on LGBT and two-spirit characters. These stories range from a transgender woman trying an experimental transition medication to young lovers separated through decades and meeting far in their own future. These are stories of machines and magic, love, and self-love.
Unbroken: 13 Stories Starring Disabled Teens edited by Marieke Nijkamp (September 18)
A YA Anthology of short stories featuring disabled teens, written by #OwnVoices disabled authors. The stories reflect a range of genres and disabilities; contributors include bestselling authors Kody Keplinger and Francisco X. Stork, as well as newcomers Fox Benwell, Keah Brown, and more.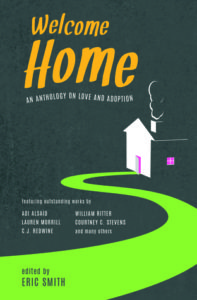 Welcome Home edited by Eric Smith
Welcome Home collects a number of adoption-themed fictional short stories, and brings them together in one anthology from a diverse range of celebrated Young Adult authors. The all-star roster includes Edgar-award winner Mindy McGinnis, New York Times bestselling authors C.J. Redwine (The Shadow Queen) and William Ritter (Jackaby), and acclaimed YA authors across all genres, like Adi Alsaid, Lauren Gibaldi, Sangu Mandanna, Karen Akins, and many more.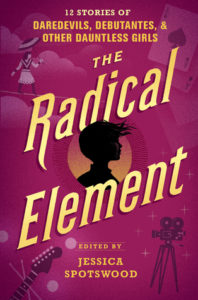 The Radical Element edited by Jessica Spotswood
In an anthology of revolution and resistance, a sisterhood of YA writers shines a light on a century and a half of heroines on the margins and in the intersections.
To respect yourself, to love yourself—should not have to be a radical decision. And yet it remains as challenging for an American girl to make today as it was in 1927 on the steps of the Supreme Court. It's a decision that must be faced whether you're balancing on the tightrope of neurodivergence, finding your way as a second-generation immigrant, or facing down American racism even while loving America. And it's the only decision when you've weighed society's expectations and found them wanting. In The Radical Element, twelve of the most talented writers working in young adult literature today tell the stories of the girls of all colors and creeds standing up for themselves and their beliefs—whether that means secretly learning Hebrew in early Savannah, using the family magic to pass as white in 1920s Hollywood, or singing in a feminist punk band in 1980s Boston. And they're asking you to join them.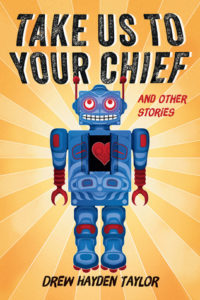 Take Us to Your Chief and Other Stories by Drew Hayden Taylor
A forgotten Haudenosaunee social song beams into the cosmos like a homing beacon for interstellar visitors. A computer learns to feel sadness and grief from the history of atrocities committed against First Nations. A young Native man discovers the secret to time travel in ancient petroglyphs. Drawing inspiration from science fiction legends like Arthur C. Clarke, Isaac Asimov and Ray Bradbury, Drew Hayden Taylor frames classic science-fiction tropes in an Aboriginal perspective.
The nine stories in this collection span all traditional topics of science fiction–from peaceful aliens to hostile invaders; from space travel to time travel; from government conspiracies to connections across generations. Yet Taylor's First Nations perspective draws fresh parallels, likening the cultural implications of alien contact to those of the arrival of Europeans in the Americas, or highlighting the impossibility of remaining a "good Native" in such an unnatural situation as a space mission.
Infused with Native stories and variously mysterious, magical and humorous, Take Us to Your Chief is the perfect mesh of nostalgically 1950s-esque science fiction with modern First Nations discourse.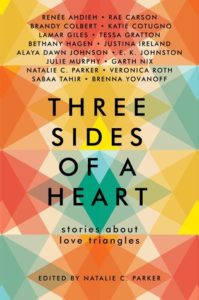 Three Sides of a Heart edited by Natalie C. Walker
You may think you know the love triangle, but you've never seen love triangles like these. These top YA authors tackle the much-debated trope of the love triangle, and the result is sixteen fresh, diverse, and romantic stories you don't want to miss.
This collection, edited by Natalie C. Parker, contains stories written by Renee Ahdieh, Rae Carson, Brandy Colbert, Katie Cotugno, Lamar Giles, Tessa Gratton, Bethany Hagan, Justina Ireland, Alaya Dawn Johnson, EK Johnston, Julie Murphy, Garth Nix, Natalie C. Parker, Veronica Roth, Sabaa Tahir, and Brenna Yovanoff.
A teen girl who offers kissing lessons. Zombies in the Civil War South. The girl next door, the boy who loves her, and the girl who loves them both. Vampires at a boarding school. Three teens fighting monsters in an abandoned video rental store. Literally the last three people on the planet.
What do all these stories have in common? The love triangle.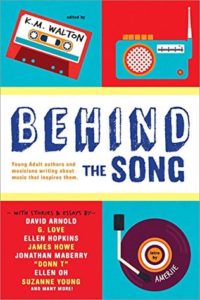 Behind the Song edited by K. M. Walton
A song to match everyone's heartbeat.
A soaring melody, a pulse-pounding beat, a touching lyric: Music takes a moment and makes it a memory. It's a universal language that can capture love, heartbreak, loss, soul searching, and wing spreading—all in the span of a few notes. In Behind the Song, fourteen acclaimed young adult authors and musicians share short stories and personal essays inspired by the songs, the albums, the musicians who move them.
So cue up the playlist and crank the volume. This is an anthology you'll want to experience on repeat.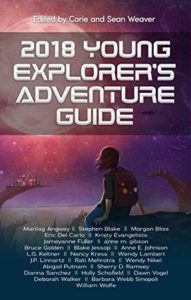 2018 Young Explorer's Adventure Guide edited by Corie and Sean Weaver
What's it like to be a space station detective? To be homesick for Mars? What do you say when your robot gets you in trouble?
Join the adventures of a diverse cast of characters in this year's Young Explorer's Adventure Guide, featuring award-winning writers alongside great new voices. If you're lucky, you might even learn how to raise a dragon from a chicken egg or where to find the best space treasure.