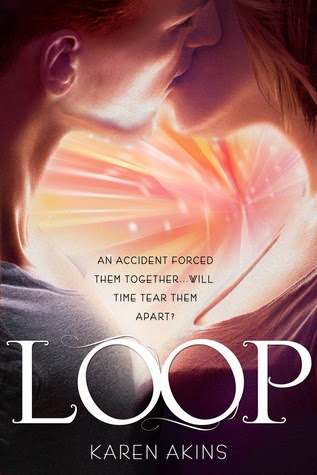 Bree Bennis attends a school for Shifters, those who were born with the ability to travel backwards in time. Her goal at the book's opening is to travel to the 21st century, complete her midterm, and carry out a little side project that will earn her the money to ensure her sick mother is able to get the care she needs. It should be doable, except that Bree runs into a bratty kid named Finn and accidentally takes him hostage while trying to complete her tasks. Oops.
She eventually escapes the 21st century and goes back to her home time, the 23rd century, knowing she'll have to return to the 21st to somehow convince Finn not to talk about her little visit. Only when she does return, she lands three years later, and Finn is no longer a bratty kid. He's her age, he's pretty hot, and he claims to have been in a relationship with her for some time. It doesn't take long to figure out he means a future version of Bree. Of course, he can't tell her about her own future, for fear of disrupting the timeline. (Picture River Song saying "Spoilers" to the Doctor here.) In true Bree fashion, in trying to extricate herself from this situation, she accidentally brings Finn along with her to the 23rd century, something that shouldn't even be possible. Oops again.
Now Bree must unravel not only how to return Finn to his own time without anyone the wiser, but also how exactly he came to know future Bree so well, and what it all has to do with the strange things going on in her boarding school.
Karen Akins' debut Loop really embraces how fun time travel can be. This is a time travel book for readers who love time travel. Do you have certain websites bookmarked whose sole purpose is to speculate on the possibility of time travel? This book is for you. This is a true speculative novel, one that continuously asks what if. What if we could time travel? What would the rules be? What would the consequences be? For readers who love those kinds of questions, this is a gem. For readers who get headaches thinking about it, it might be best to pick up a different book.
It's not just the time travel that makes this book so much fun. Bree and Finn have great snarky chemistry, and there's a slew of futuristic 23rd century technology that is fascinating to read about. The 23rd century feels real, chock full of fun little details and new slang terms. The plot itself is fast-paced and complicated, but makes sense in the end, as good time travel books should. Often when I read a book with multiple moving plot parts, I'm a little hesitant to reach the end; I've been burned with unresolved subplots and details left dangling before (seemingly unintentionally). This is especially true for time travel stories, which can be more complicated than most. Trust in Akins – it all comes together in a satisfying way.
St. Martin's Press is giving away a finished copy of Loop to one lucky reader (US residents only). Enter using the form below. The giveaway closes November 14.