I love a good space opera, which Goodreads defines as "a subgenre of speculative fiction or science fiction that emphasizes romantic, often melodramatic adventure, set mainly or entirely in space, generally involving conflict between opponents possessing powerful (and sometimes quite fanciful) technologies and abilities." The opportunities for creativity are truly limitless when you throw your characters into outer space, allowing them to explore new planets, meet aliens, and battle with spaceships. Luckily for readers like me, there are a ton of new and upcoming YA space operas to satisfy the itch. I've read two of these recently – Empress of a Thousand Skies by Rhoda Belleza and Defy the Stars by Claudia Gray – and both were quite good. I've limited the list to books published within the past 12 months, plus a few forthcoming titles to get excited about.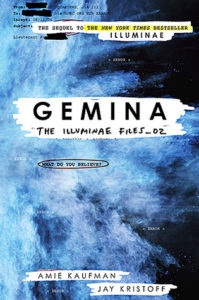 Gemina by Amie Kaufman and Jay Kristoff | October 18, 2016
Hanna is the station captain's pampered daughter; Nik the reluctant member of a notorious crime family. But while the pair are struggling with the realities of life aboard the galaxy's most boring space station, little do they know that Kady Grant and the Hypatia are headed right toward Heimdall, carrying news of the Kerenza invasion.
When an elite BeiTech strike team invades the station, Hanna and Nik are thrown together to defend their home. But alien predators are picking off the station residents one by one, and a malfunction in the station's wormhole means the space-time continuum might be ripped in two before dinner. Soon Hanna and Nik aren't just fighting for their own survival; the fate of everyone on the Hypatia—and possibly the known universe—is in their hands.
[Sequel to Illuminae]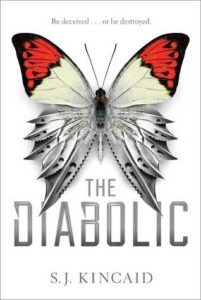 The Diabolic by S. J. Kincaid | November 1, 2016
Nemesis is a Diabolic. Created to protect a galactic Senator's daughter, Sidonia. There's no one Nemesis wouldn't kill to keep her safe. But when the power-mad Emperor summons Sidonia to the galactic court as a hostage, there is only one way for Nemesis to protect Sidonia.
She must become her.
Now one of the galaxy's most dangerous weapons is masquerading in a world of corruption and Nemesis has to hide her true abilities or risk everything. As the Empire begins to fracture and rebellion looms closer, Nemesis learns that there is something stronger than her deadly force: the one thing she's been told she doesn't have – humanity. And, amidst all the danger, action and intrigue, her humanity might be the only thing that can save her, Sidonia and the entire Empire.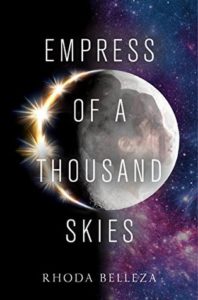 Empress of a Thousand Skies by Rhoda Belleza | February 7, 2017
The only surviving heir to an ancient Kalusian dynasty, Rhee has spent her life training to destroy the people who killed her family. Now, on the eve of her coronation, the time has finally come for Rhee to claim her throne – and her revenge. Alyosha is a Wraetan who has risen above his war refugee origins to find fame as the dashing star of a DroneVision show. Despite his popularity, Aly struggles with anti-Wraetan prejudices and the pressure of being perfect in the public eye.
Their paths collide with one brutal act of violence: Rhee is attacked, barely escaping with her life. Aly is blamed for her presumed murder. The princess and her accused killer are forced to go into hiding – even as a war between planets is waged in Rhee's name. But soon, Rhee and Aly discover that the assassination attempt is just one part of a sinister plot. Bound together by an evil that only they can stop, the two fugitives must join forces to save the galaxy.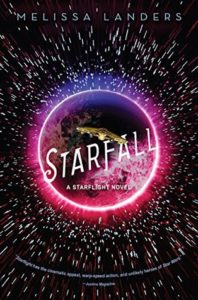 Starfall by Melissa Landers | February 7, 2017
When Princess Cassia Rose fled her home world of Eturia to escape an arranged marriage, she had no idea her sudden departure would spark a war. Now after two years hiding as a ship hand, she is finally returning to her beloved home, but not in the way she imagined. Shackled by bounty hunters, she is violently dragged back to account for her crimes. Her only solace is that the Banshee crew managed to evade capture, including Kane Arric, her best friend…with occasional benefits.
Meanwhile, Kane and the rest of the crew of the Banshee plan a desperate rescue mission. But when they arrive on Eturia, Cassia isn't exactly in need of heroics—she's claimed her birthright as Eturia's queen, but has inherited a war-torn planet simmering with rebellion. Cassia must make alliances, and Kane, the bastard son of a merchant, isn't a choice that will earn her any friends. Kane knows he will never find someone to replace Cassia—and is certain she returns his feelings—but how can he throw away his own promising future waiting on a queen?
[Sequel to Starflight]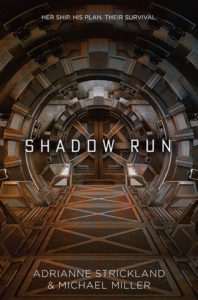 Shadow Run by AdriAnne Strickland and Michael Miller | March 21, 2017
Nev has just joined the crew of the starship Kaitan Heritage as the cargo loader. His captain, Qole, is the youngest-ever person to command her own ship, but she brooks no argument from her crew of orphans, fugitives, and con men. Nev can't resist her, even if her ship is an antique. As for Nev, he's a prince, in hiding on the ship. He believes Qole holds the key to changing galactic civilization, and when her cooperation proves difficult to obtain, Nev resolves to get her to his home planet by any means necessary.
But before they know it, a rival royal family is after Qole too, and they're more interested in stealing her abilities than in keeping her alive. Nev's mission to manipulate Qole becomes one to save her, and to survive, she'll have to trust her would-be kidnapper. He may be royalty, but Qole is discovering a deep reservoir of power–and stars have mercy on whoever tries to hurt her ship or her crew.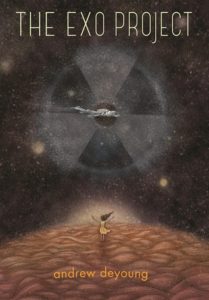 The Exo Project by Andrew DeYoung | April 4, 2017
Desperate for money to save his sick mother, seventeen-year-old Matthew agrees to participate in the Exo Project, a government plan to save the human race by flying across the galaxy in search of a habitable planet for resettlement. He thinks he's been given a death sentence: 100 years in cryostasis, followed by a quick death on some barren world.
But then he lands on Gle'ah, discovering the strange, beautiful creatures who live there, including Kiva, the captivating teenage girl who leads her planet's matriarchal society. Kiva views Matthew as a threat, and for good reason—if he tells Earth that he's found a suitable planet, it will mean the end of her people's way of life. But then Kiva and Matthew discover an emotional connection they never expected—and as they begin to delve into the secrets of Matthew's mission and the dark truth behind the seeming paradise of Gle'ah, the choices they make will have consequences for both of their worlds.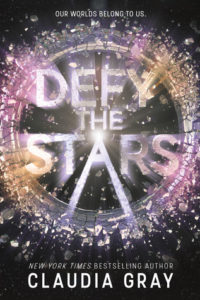 Defy the Stars by Claudia Gray | April 4, 2017
Noemi Vidal is seventeen years old and sworn to protect her planet, Genesis. She's willing to risk anything—including her own life. To their enemies on Earth, she's a rebel. Abandoned in space for years, utterly alone, Abel has advanced programming that's begun to evolve. He wants only to protect his creator, and to be free. To the people of Genesis, he's an abomination.
Noemi and Abel are enemies in an interstellar war, forced by chance to work together as they embark on a daring journey through the stars. Their efforts would end the fighting for good, but they're not without sacrifice. The stakes are even higher than either of them first realized, and the more time they spend together, the more they're forced to question everything they'd been taught was true.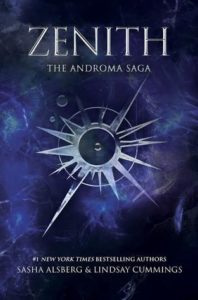 Zenith by Sasha Alsberg and Lindsay Cummings | August 1, 2017
Most know Androma Racella as the Bloody Baroness: a powerful mercenary whose reign of terror stretches across the Mirabel Galaxy. To those aboard her fearsome glass starship the Maurader, she's just Andi, their captain and protector. When a routine mission goes awry, the all-girl crew's resilience is tested as they find themselves in a most unfamiliar place: at the mercy of a sadistic bounty hunter connected to Andi's past and a harrowing betrayal.
Meanwhile, on the far side of the galaxy, a ruthless ruler waits in the shadows of the planet Xen Ptera, biding her time to exact revenge for the destruction of her people. The final pieces of her deadly plan are about to fall into place, unleashing a plot that will tear Mirabel in two.
Andi and her crew embark on a dangerous, soul-testing journey that could restore order to their ship—or just as easily start a war that will devour worlds. As the Marauder hurtles towards the unknown, and Mirabel hangs in the balance, the only thing certain is that in a galaxy run on lies and illusion, no one can be trusted.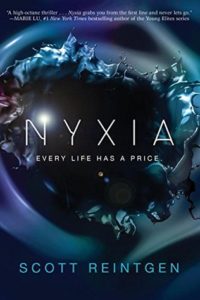 Nyxia by Scott Reintgen | September 12, 2017
Emmett Atwater isn't just leaving Detroit; he's leaving Earth. Why the Babel Corporation recruited him is a mystery, but the number of zeroes on their contract has him boarding their lightship and hoping to return to Earth with enough money to take care of his family. Forever.
Before long, Emmett discovers that he is one of ten recruits, all of whom have troubled pasts and are a long way from home. Now each recruit must earn the right to travel down to the planet of Eden–a planet that Babel has kept hidden–where they will mine a substance called Nyxia that has quietly become the most valuable material in the universe.
But Babel's ship is full of secrets. And Emmett will face the ultimate choice: win the fortune at any cost, or find a way to fight that won't forever compromise what it means to be human.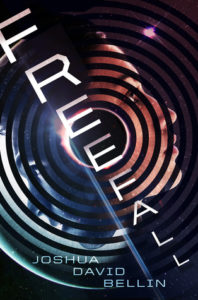 Freefall by Joshua David Bellin | September 26, 2017
In the Upperworld, the privileged 1% are getting ready to abandon a devastated planet Earth. And Cam can't wait to leave. After sleeping through a 1,000-year journey, he and his friends will have a pristine new planet to colonize. And no more worries about the Lowerworld and its 99% of rejects.
Then Cam sees a banned video feed of protesters in the Lowerworld who also want a chance at a new life. And he sees a girl with golden eyes who seems to be gazing straight though the feed directly at him. A girl he has to find. Sofie. When Cam finds Sofie, she opens his eyes to the unfairness of what's happening in their world, and Cam joins her cause for Lowerworld rights. He also falls hard for Sofie. But Sofie has her own battles to fight, and when it's time to board the spaceships, Cam is alone.
Waking up 1,000 years in the future, Cam discovers that he and his shipmates are far off-course, trapped on an unknown and hostile planet. Who has sabotaged their ship? And does it have anything to do with Sofie, and the choices—and the enemies—he made in the past?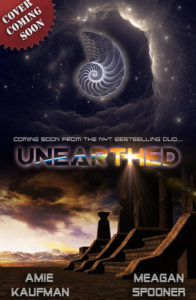 Unearthed by Amie Kaufman and Meagan Spooner | January 9, 2018
When Earth intercepts a message from a long-extinct alien race, it seems like the solution the planet has been waiting for. The Undying's advanced technology has the potential to undo environmental damage and turn lives around, and Gaia, their former home planet, is a treasure trove waiting to be uncovered.
For Jules Addison and his fellow scholars, the discovery of an alien culture offers unprecedented opportunity for study… as long as scavengers like Amelia Radcliffe don't loot everything first. Mia and Jules' different reasons for smuggling themselves onto Gaia put them immediately at odds, but after escaping a dangerous confrontation with other scavvers, they form a fragile alliance.
In order to penetrate the Undying temple and reach the tech and information hidden within, the two must decode the ancient race's secrets and survive their traps. But the more they learn about the Undying, the more their presence in the temple seems to be part of a grand design that could spell the end of the human race.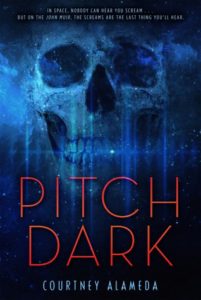 Pitch Dark by Courtney Alameda | February 20, 2018
Tuck Durante is a shipraider, combing space for Earth artifacts from a war that ended 500 years ago. When his parents' ship crashes in the dead zone and the crew goes missing, Tuck hires a ragtag rescue team.
Meanwhile, curator Lana Gray is fighting to keep the US PANAM John Muir—and the remnants of its crew—alive. Their space capsule housing Yosemite National Park was hijacked. The hijacking turned ninety-five percent of her crew into nightmarish creatures called mourners who flay, dismember, or decapitate with nothing more than sharp-pitched shrieks.
Now, despite their differences, Lana, Tuck, and their crews must work together to save the John Muir. In space, nobody can hear you scream…but on the John Muir, the screams are the last thing you'll hear.