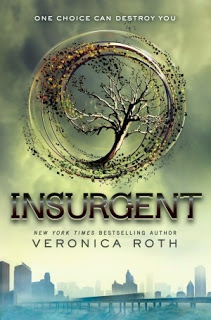 *Warning: Spoilers for
Divergent
included*
At the end of Divergent, the faction system was in shambles. Erudite had launched an attack on Abnegation and the Dauntless had been forced into becoming unwilling accomplices via a simulation. Tris, a Divergent and therefore immune to the simulation serum, and Four barely escaped with their lives. Insurgent picks up right where Divergent left off, with Tris fighting to find a safe haven and learn more about Erudite's plans. She, Four, and other possible allies bounce between Amity, Candor, the old Dauntless compound, and even the factionless safehouses in their quest to salvage what's left of their society. They also search for the reason behind the Divergents' immunity to the simulation serum and uncover a shocking truth about the nature of the faction system.
Jen:
Insurgent was, by far, my most anticipated book of 2012. I whizzed through Divergent and was amazed at the uniqueness of Roth's world in a sea of derivative dystopias. And while Insurgent was definitely a solid, fast-paced, and compelling read, I found that it paled a bit in the shadow of its predecessor. Perhaps part of this is due to the inevitably difficult role of the middle book in a trilogy, which has to continue the narrative of the first book while bridging the gap to the conclusion–all the while not simply serving as a filler journey but actually having some meat of its own. However, beyond that, a few issues still bothered me.
Perhaps it is a result of reading so many books, but I tend to forget some details about books after I've finished them, especially when a year has passed since I've read them. As a result, I was utterly confused when I first picked up Insurgent and, apart from Tris and Four, couldn't quite remember who a lot of the characters were. After re-reading Divergent, I was absolutely fine, but the reader should definitely be aware going in that there is no recap, and that the book basically picks off right where Divergent left off. This isn't necessarily a downfall of the book, but it is a choice that pulled me out of the reading experience right off the bat.
However, when I did start reading, I was impressed all over again with the strength of Roth's writing and her ability to describe the five different factions, all of which are given distinct 'personalities' and whose environments are vividly brought to life. The supposed peacefulness of the Amity compound, the destroyed wreckage of the Dauntless bunker, the modernity of the Erudite building–all stand solid and distinct from one another. I also loved how Roth introduced the world of the Factionless, and how its members, more numerous and significant than previously believed, are now making their way into the story.
One of the most impressive parts of
Insurgent
is Tris' emotions in the wake of both her parents' and Will's deaths. Drowning in her feelings of loss and culpability, Tris seems to be struggling with a combination of loss, survivor's guilt, and post-traumatic stress disorder, and Roth portrays her emotions masterfully. Tris' emotions are not wrapped up in a set period of time, but keep recurring over and over. Her guilt, especially over Will's death, also interferes with her relationships with Christina and Four, and I was quite impressed by the ensuing complexity of these relationships and the characters' interactions with each other, especially as Christina deals with the horror of having become a Dauntless 'soldier' and Four deals with the presence of his father.
Perhaps it is because of the emotional conflicts that clouded Tris and Four's relationship in this book, but I didn't feel a lot of chemistry or connection between the two, and it even seemed like theirs was a relationship that wouldn't last through the trilogy's conclusion. After building up Tris and Four's connection so much in Divergent, the lack of sparks was a bit of a let-down. I could be proven wrong, however, and this is by no means a criticism of this choice–after all, in a war zone, with lives on the line, there is not much opportunity for wooing with candlelight and roses.
However, despite these qualms, Insurgent is ultimately a great read because of the characters and the plot. The book has characters with realistic emotions and a plot filled with twists and turns. It has characters who do not turn out who we thought they were and an ending that completely reverses the tone and direction of the trilogy. While I'm still a bit doubtful about the ending–though intriguing, it seems to come out of nowhere and similar events have been seen before in other books–I am eager to see more from Veronica Roth.
Kimberly:
Like Jen, I felt that Insurgent suffered from middle volume-itis. There's a lot of action, but it all seems to be just a very, very long lead-up to an ending that didn't particularly satisfy me or (I think) make total sense. I'll be interested to see how Roth builds upon and explains the twist at the end. As it stands at the end of the book, it's a bit muddled. Perhaps that's intentional – Tris and her companions must certainly be feeling confused as well.
I'll touch on a few things I really enjoyed about Insurgent (and there are certainly a few!). Firstly, I enjoyed seeing the factionless as the large group that I knew they must be. I liked seeing a few familiar faces among the factionless and realizing they could be a serious power in the story. I loved getting to know the other factions as well – their strengths and their foibles. I also appreciated that Roth hasn't lost her ruthless touch. Terrible things happen to people we care about, and those same people often have to make terrible choices. I think the choices that Tris made – while perhaps not the wisest – were believable for her character. Too often, choices will be made for the convenience of the plot, but I didn't see that happen here.
Like Jen mentioned, the first parts of the book can be confusing if you haven't read Divergent recently (which I hadn't). I welcomed a brief bit after the first few chapters when Tris and Tobias go under truth serum and are forced to recount what happened at the end of Divergent to a crowd of Candor. It was interesting character development and it helped remind me of those events. Still, I'd recommend re-reading or at least refreshing your knowledge of Divergent before you dive in to the sequel.
When I read Divergent, I was so engaged the entire time. When I set it down, I wanted to pick it up again immediately. Unfortunately, I didn't get that same feeling while reading Insurgent, despite its quick pace and action-packed pages. I think that's pretty telling. Of course, I'm not trying to indicate that it wasn't a good book, but it didn't hook me like I wanted it to. It was a bit more uneven: some parts were thoroughly engrossing and others not so much. It's not that these sections were slow, precisely – it was more that I didn't see what purpose they served. I think some parts just needed to be tightened up a bit. Still, for fans of the first novel, this is a must-read, and I'm sure its concluding volume will be too.