I've hit a weird reading slump this summer. It's been really hard to get into anything, and it's been slow going when I have started something (even if I've liked it). I'd say I average between 10 and 15 books a month, but I think in the last two months combined I've maybe read 10 books. Since I'm not reading at my usual pace, I've also not been reviewing at my usual pace, meaning the things I finished back in early July are still sitting in a pile to be reviewed. Rather than try to write lengthy reviews for each of those titles, I thought I'd tackle a bunch of them at once. All of these are contemporary stories.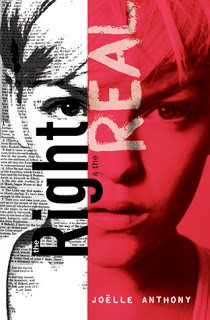 Joelle Anthony's sophomore novel, The Right & The Real tackles one of my favorite topics head on: cults. When Jamie's father marries Mira, he signs himself over to the church of The Right & The Real. But when Jamie is faced with the decision to sign herself over, she can't do it — she's not ready to make the commitment to the church and their beliefs. Even though joining the church was originally her idea, her father's commitment has her worried and for good reason. Now that she has chosen not to commit, he's kicked Jamie out of her house.
Jamie is entirely on her own to figure out her life now without her dad and without the church to back her up. Not to mention her long-time boyfriend Josh, who got her into the church in the first place, has also ditched her. As much as Jamie believes that she can go this on her own and make it work, she also misses her father terribly and worries that the church is ruining all they had as a family.
The Right & The Real was a great premise, though I didn't necessarily find the execution as strong as I wanted it to be. The challenge for me was that the story begins immediately, with little exploration into the cult itself or what makes it such a bad place to be (aside from being a cult, that is). Because I couldn't know what the threat was from within, I couldn't place what the threat was externally, either. It was challenging for me to develop an emotional connection with Jamie or for me to understand her fear and terror. So while I was on her side and worried about her well-being — particularly because she was in a desperate place figuring out basic means of survival — it was hard for me to grasp what it was that worried her about her father, about Josh, and about the ramifications of being cast out from the group.
More frustrating, though, was Jamie's insistence upon entering relationships and being saved by someone other than herself. Jamie is a strong female character — she has to be in order to make such a life-altering choice as to not join the cult — but she is fixated on the broken relationship she has with Josh. But it's not just that; she quickly develops a relationship with another boy, Trent, who ultimately is the hero in the story. And when they share a moment near the end, it felt to me like it was his ownership of her and of the situation that brought resolution to the story and Jamie herself is secondary.
Anthony's writing in the story is good, as is the pacing and there is no doubt that despite the flaws that kept this from being a knock out for me, there will be a great readership for The Right & The Real. Fans of Holly Cupala, particularly Don't Breathe a Word will enjoy this, as will those readers who enjoy other cult-centric stories, such as Carol Lynch Williams's The Chosen One and Michele Green's Keep Sweet. What was maybe most interesting to me about Anthony's book is that unlike other books that explore the cult culture, The Right & The Real is a story from the outside, rather than from the inside. Even though it made for challenges I talked about earlier, it stands out from the crowd because of this. Anthony's book is available now.
One of my all-time favorite novels is Jenna Blum's The Stormchasers (reviewed here) and when I saw the description for Lara Zielin's The Waiting Sky, I noticed immediate similarities and was sold.
Jane's mother is an alcoholic, and after a particularly horrific incident involving her mother, a car, and Jane's best friend, Jane knows she needs to get out and away, at least for a short time, to reassess what it is she needs in her life. Yes, she's 17 and even though it sounds somewhat absurd for her to have that sort of maturity about her own life, it makes sense. Jane's brother left years ago, moving from their home in Minnesota down to the southern plains to become a tornado chaser. She's going to spend the summer with him, learning the skills of the trade. It's her opportunity to feel like she has some sort of control over her life. I probably don't need to explain the metaphor there, but it is there, and it's not some sort of hypothetical. Jane really becomes a storm chaser, but this is a story that's light on the storm chasing and a lot stronger on the rebuilding a world that's collapsed beneath the weight of a storm.
After a particularly strong tornado in Nebraska, Jane and the crew stick around to help clean up the damage. Of course, there's also a budding relationship between Jane and a guy from a rivaling chasing team, Max. What I appreciated was that their interactions were short, were meaningful, but ultimately, both of them knew there wasn't a whole lot more that could emerge between them. Here's where I can employ another reference to the metaphor of the storm and how it can cause for high emotions in short bursts and leave people with what they need in the end.
As much as I liked Jane in the story — and let me say that she's likeable but she is a deeply flawed character who makes a lot of questionable choices that really hammer that home — I found myself more invested in Victor's story. He's one of the fellow storm chasers, but he is terrified of storms. The only reason he keeps doing it is for his brother's sake. Zielin weaves in a nice thread here, in that Victor's dedication to living in fear/worry about storm chasing to make his brother happy is similar to how Jane herself gave up her freedoms and ability to live for herself in dealing with her alcoholic mother. But I do question how the heck Victor can hate the movie Twister. It's a classic.
The Waiting Sky will appeal to readers who love contemporary stories, particularly those delving into families, friendships, and the meaning of each and both. There's a lot to appreciate in this and it felt very different and fresh in approach, though I found some of the writing and references to be a little stilted and dated. For the plot and for Jane as a character, I was willing to overlook those issues. The ending is a little convenient, but it did not kill the rest of what made the book work. Anyone who enjoyed Twister or enjoys the idea of storm chasing will want to track this one down. The Waiting Sky is available now. Readers who dig this one and are looking for something similar and/or something more literary will be eager to then look into Blum's The Stormchasers.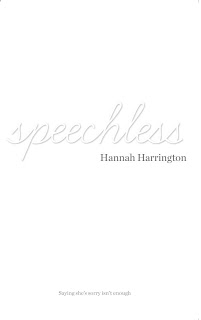 Hannah Harrington's sophomore novel, Speechless, has one of the coolest covers, I think. It's so stark that it ends up being very bold and I think it'll stand out because of that. Apologies for how vague this review is going to be, but I don't want to spoil the big reveal.
Chelsea Knot was part of the popular crowd, and she enjoys her time at the top. But when she stumbles upon a situation at a party and tells her friends, the person at the center of the situation becomes a victim not just of Chelsea opening her mouth, but of an attack initiated via her loose lips. The moment Chelsea realizes her gossiping is the reason for the violence, she takes a vow of silence. Except it's not just a vow of silence she ends up taking — Chelsea becomes outcast from her popular friends and finds herself completely alone and without anyone to confide in. If she had anything to confide, that is (she does — she just won't).
Speechless follows as Chelsea learns who she can and cannot trust, and as could be expected, it's not who she thought it was. Everything she thought she knew about the cool and the not-cool kids ends up being untrue and Chelsea finds herself befriending new people who are truly there for her. In the end, she has the chance to face the person whose entire life changed because of her decision to talk at the party and it's then she comes to realize how important those issues of trust and friendship are.
It sounds like a sweet story, but it's not. It's rough and gritty, and Chelsea is subjected to torment and bullying. Relentlessly, even. The problem for me, though, was that this was never once Chelsea's story. It was Noah's — he's the guy at the center of the secret she divulges. His story is so lost in the book because the focus and attention is on Chelsea, and maybe it's because I'm an adult reading this, I felt like she didn't deserve the attention of the story because she'd already gotten too much attention anyway. In fact, Chelsea's vow of silence and behavior following the horrible thing she did felt like a huge cry for more attention and pity, where I felt like Noah, the real victim here, deserved it way more than she did. That's not to say she ever deserved the bullying she got — she didn't — but I was much more invested in Noah's well-being than Chelsea's. For me, she got in the way of the story, despite being the catalyst for it.
Harrington knows how to write teens, though, and there's no doubt in my mind this book will appeal to them. While reading Speechless, I was reminded of Courtney Summers's Some Girls Are in terms of the bullying/abuse inflicted upon characters, of Laurie Halse Anderson's Speak, in terms of the hows and whys of Chelsea's silence, and maybe I was reminded most of Molly Backes's The Princesses of Iowa in terms of how the issues of sexuality and popularity and rumor-spreading all interweave. Readers who appreciated those stories will want to check this one out, though I think it pales in comparison to any and all of those. Speechless will be available August 28.
Review copies of all titles provided by the publishers.