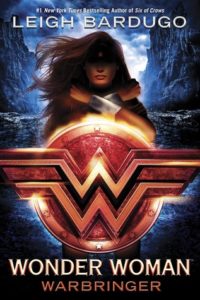 Wonder Woman: Warbringer by Leigh Bardugo
This might be the first ever media tie-in novel I've ever read, and it's a really good one. It features teenage Diana and her first adventure off of Themyscira and in the human world. It's set in the present day, so I'm not sure how it actually aligns with the movie (it doesn't seem like it does at all?) and whether this is actually canonical or if it's just licensed fan fiction. Regardless, it's a great story.
When a human girl named Alia washes up on the shores of Themyscira, Diana risks everything – including her right to live with her Amazon sisters on the island – to save her life. Alia is being hunted by powerful people who believe she is the Warbringer, a descendant of Helen of Troy who simply by existing has the ability to bring about a cataclysmic war. Diana and Alia team up with a few other human teenagers to elude Alia's hunters, hoping to get Alia to a particular place in Greece that will nullify her warbringer ability.
The book is action-packed, funny (Diana learning about odd human customs never gets old), and quite deep. Alia is biracial, Greek on her dad's side and Black American on her mom's side, and this provides a real-life example of the metaphor that Diana represents: a fish out of water feeling in your own family and your own culture, of straddling two places and not really belonging in either. Romances are hesitantly formed, friendships are tested, and there's a shocker of a twist near the end – but one that sharp-eyed readers who trust themselves will have seen coming. Bardugo is a fine writer and she was a perfect choice to tell this story.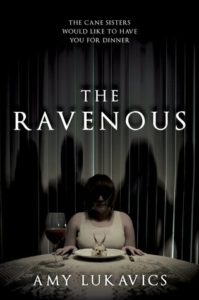 The Ravenous by Amy Lukavics
This is Lukavics' third novel, and it's taught me that she can be relied upon to provide all the chills a good horror novel usually brings. The Cane family looks loving and tight-knit to the outside world, but in reality, their relationships are highly dysfunctional. The father is always away for work (he's in the military), leaving the mother to take care of the five Cane sisters on her own. She's depressive and spends days – or even weeks – at a time in bed, leaving the eldest daughter, Juliet, to take care of the other four. Resentment abounds. Things come to a head in an argument where the youngest daughter, Rose – beloved by all her sisters – falls down the stairs in a horrible accident and dies. Only in Lukavics' world, death is not permanent, and when the girls' mother finds a way to resurrect Rose, she comes back…different, with a hunger that can only be satisfied by human flesh.
There aren't a lot of surprises in this novel, since what I wrote about above is all revealed on the jacket flap. This is essentially a zombie novel, but Lukavics makes it her own with the pitch-perfect depiction of the twisted relationship between the sisters (which only grows more twisted as the girls try to find a way to keep Rose alive the second time) and the no-holds-barred descriptions of murder and cannibalism. Lukavics does not shy away from the gruesome, and the penultimate chapter will shock even those readers who saw the events coming. The writing felt a bit weaker to me than in her previous two books; there were times when an awkward sentence drew me out of the story. But overall this is really solid horror for readers who like their scares explicit and messy.