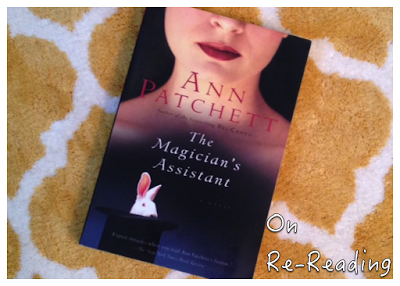 I've never been a re-reader when it comes to books. Well, that's a bit of a stretch. I'm generally not one to re-read. I like to think when I finish a book, I've read it and taken away the things I need to from it, and I can move on to the next books.
I started this year's reading a little differently though. There's always a weird pressure to pick the ideal first book to start a year, as if it somehow sets the tone for how the rest of the year will go in books. I can't be the only person who feels that way. But rather than succumb to the possibility of disappointment this year, I decided to crack open my all-time favorite book: Ann Patchett's The Magician's Assistant.
Patchett's book is one of the rare ones I've picked up and re-read over the course of my life, but it had been a good five or seven years since I last read it. For once, I didn't worry about whether the magic of the book would be lost in the re-read. I let myself go at it with my whole heart, knowing that it'll always been a book with a place in my heart.
Back in the summer of 2006, my college roommate got married in her home state of Montana. My husband and I decided we'd drive out there from Iowa, then we'd go down to Austin, Texas, in order to look at the University of Texas, where I'd been thinking about going to library school. From the trip down the belly of the plain states, one of the things we decided we would do is stop in Alliance, Nebraska — half of the setting of Patchett's work. Both of us were fans of the book, and we'd had the opportunity just months before that to go out to Los Angeles, together (my first trip on a plane!), where we'd both remarked about how that city will always be a "place" to us because of Patchett's book. Alliance was not as exciting as Los Angeles, of course, but it was neat to be where the book had drawn inspiration.
I curled up on the couch and read The Magician's Assistant nearly cover-to-cover on New Years. I loved it, maybe even more than I had before. It was so interesting to think about the things I hadn't considered in previous reads. The characters were much younger than I remembered them being, and part of that is simply that now I was of a different age myself and could compare my life experiences to their own. The language, the imagery, and the setting still hit me hard and reminded me why this book is so special to me.
It was a good start to my reading year.
My re-reading didn't begin and end there though. Just a couple of weeks later, after spending days with
Leila
at ALA talking about seminal YA titles, I couldn't stop thinking about how I would feel re-reading Laurie Halse Anderson's
Speak
. I read it when it came out — when I was 15 — but hadn't picked it up again since. I ordered it and picked it up to re-read, and I think I loved it even more than when it opened my eyes as a teenager. I had forgotten how amazingly voice-driven it was, and it's Melinda's voice that stays with me and makes me think about how powerful it is to have a voice and how much power one can wield with it. This book not only absolutely holds up, it will continue to hold up forever. It makes me want to revisit
Wintergirls
because Anderson is a writer I trust and I suspect that re-reading that book would crush me as much as
Speak
did.
But not all re-reads bring such delight. I recently picked up To Kill A Mockingbird to re-read and found myself….bored. Not only was I bored with the reading experience, I didn't feel any sense of hope or enjoyment out of the experience. If anything, I walked away from Lee's classic wondering why it was such a beloved, widely-read book. Was it because it's an easy, mostly-palatable examination of racism? Is it because we really enjoy being able to see the world through the construction of innocence Lee builds (and it's constructed — she's telling the story as an adult looking back at her youth, which is a detail easy to miss but vital to, I think, the endurance of the story and its message). Finishing this book didn't put me on the "excited" side for Go Set A Watchman. I'm happy I re-read this one and reconsidered my feelings for it, as I was able to not only see the flaws in the story, but I was able to look at my own intellectual growth and see what does and doesn't work for me. Idealism and idolization aren't aspects of fiction I find endearing or enduring in my life. At least at this point.
Earlier this summer, I talked about how I planned on spending these few warm months catching up with back list titles and slowing down a bit to savor some classics I've missed out on. So far, it's been a rousing success. One of the things I'd mentioned was finally getting around to Harry Potter. I should be fair: I've read the first four books in the series. It was back during the summer the final book came out, and I read it because I was working with teenagers who told me I needed to. And because of the circumstances under which I read it — a hot dorm room with no a/c or kitchen after long days in a hot classroom helped teach those same teenagers about Shakespeare — I never got the spark from them that I'd hoped to find.
I picked up the first three books last month at the bookstore and cannot wait to re-read them with my mind open and ready to be excited by them. Technically, half of the series is a re-read; the other half is a first read.
I'm finding that re-reading is bringing me to texts in a much different way now. After reading so much more and simply living much more, it's interesting to see what things I take away on a new read and which things I don't. I'm definitely motivated to revisit more books now and see what does and doesn't work for me now, as compared to the person I was when I initially read it. I was recently told to revisit, of all things, Sylvia Plath's The Bell Jar, a book I never found myself quite enjoying like I hoped to. I was told now that I know about how the publishing world works, I'd appreciate it on a whole other level, and that sort of recommendation makes me excited about a re-read in a way I never anticipated.
And that's the power of books — they grow with you, and like any relationship in your life, sometimes growing means becoming tighter and sometimes it means choosing to come to an amicable split.
Tell me: do you re-read? What books have you found to be immeasurably better upon re-read? Which have you found yourself disappointed in? What makes the difference to you?