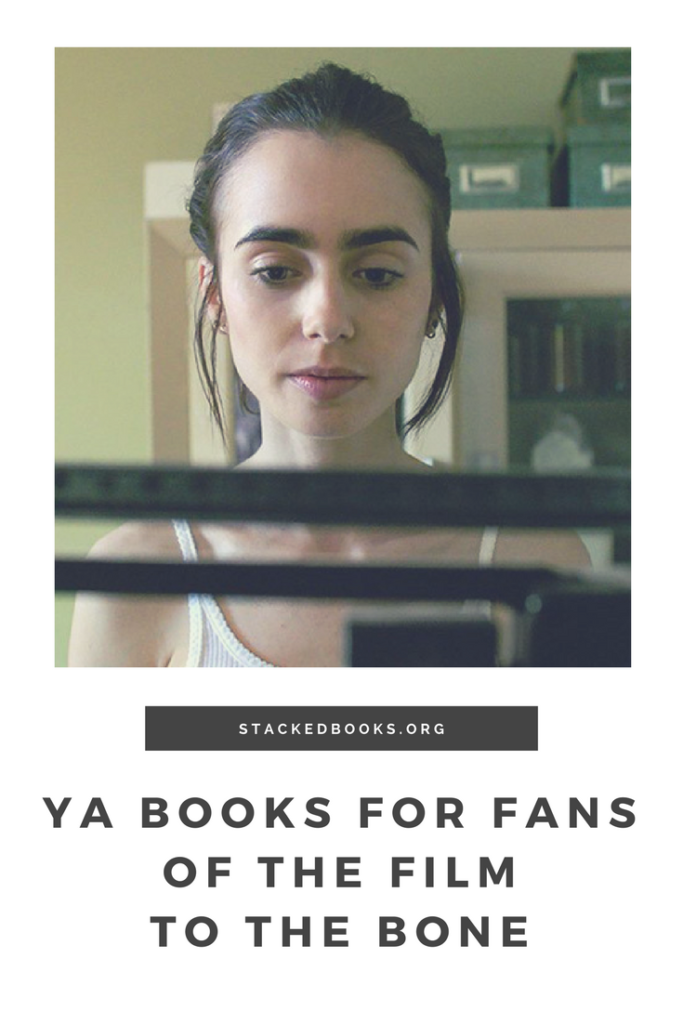 There's been a bit of controversy surrounding the new film on Netflix To The Bone. The film, starring Lily Collins, is about a 20-year-old who dropped out of college because of the eating disorder controlling her life. Collins reluctantly enters an inpatient facility, and the story centers around the kids in the treatment facility and the work it takes to find a sense of recovery from an eating disorder.
Early on in the film, as well as throughout, we learn that Collins's character (Ellen/Eli) was an artist who shared her drawings on Tumblr. Her art was part of what could be called "thinspiration," a trend that's been huge since the early years of the internet, and her art led to another struggling teenager to choose suicide…and send her last note to Eli. This has a tremendous impact on Eli, as she feels responsible for that death. We also get to see first hand how a family's dysfunction can impact someone who struggles with their mental health, as much as we get to see the ways an individual's mental health can rock family relationships.
The film, written by and performed with real people who've struggled with eating disorders, begins with a viewer warning. It notes that there will be challenging situations and images depicted, and yet, the film does a great job of imparting the message that art can and does impact people — and sometimes that impact is something you simply cannot control.
A lesson that film creators are learning through the backlash comes right back to their own work. There is a responsibility in creating art, as much as there's a responsibility in consuming it. It's an almost perfect instance of life imitating art.
Some of the backlash for To The Bone is unwarranted, though. The film's description, as well as the warning that displays immediately upon the beginning of it, are enough to tell viewers what to expect and whether or not they should proceed. This falls in line with some of the reviews I've read in recent years suggesting that books like Wintergirls by Laurie Halse Anderson need trigger warnings, despite the fact the book's description is very clear about what the content is. Were the description coy or unforthcoming about the content, that would be a different conversation. Were there a surprise instance of other disturbing topics — rape, abuse, other topics that are often talked about in trigger discussions — then further noting of that content or displeasure about the lack of warning would certainly be fair. But the film is clear in description, Netflix offers a warning, and from thereon, it's the personal responsibility of consumers to choose whether or not to proceed.
And that, too, is part of the movie's point.
I'd not recommend watching this if you're easily bothered by frank images or discussion of eating disorders, of course. Though not perfect, it's a gritty, powerful look at the way eating disorders are a mental illness that require treatment, thoughtful discussion, and more. It's the kind of film that teens will gravitate toward because of the content, the name recognition, and the fact it makes for a solid view-alike to 13 Reasons Why: a realistic show that is relatable, as well as featuring characters who aren't too far outside their own age range.
It's one I'm really glad I watched as I work my way through edits of (Don't) Call Me Crazy, as so much of what the film depicted comes through in the essays the collection will have about personal struggles with disordered eating.
The messages and takeaways of this film are worth exploring in a book list for YA readers. The books below take on eating disorders, treatment and recovery, as well as touch upon social media and the consequences of using and consuming media. I've also included titles about dysfunctional families and the ways that mental illness can impact more than the person struggling with it. The same elements that make To The Bone appealing to young viewers will make these books appealing, too.
Descriptions come from Amazon unless otherwise noted.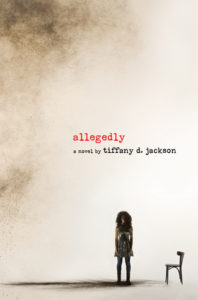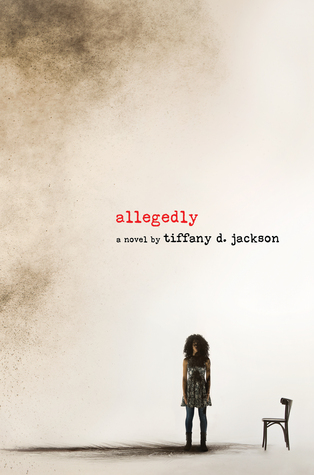 Allegedly by Tiffany D. Jackson
Mary B. Addison killed a baby.
Allegedly. She didn't say much in that first interview with detectives, and the media filled in the only blanks that mattered: A white baby had died while under the care of a churchgoing black woman and her nine-year-old daughter. The public convicted Mary and the jury made it official. But did she do it? She wouldn't say.
Mary survived six years in baby jail before being dumped in a group home. The house isn't really "home"—no place where you fear for your life can be considered a home. Home is Ted, who she meets on assignment at a nursing home.
There wasn't a point to setting the record straight before, but now she's got Ted—and their unborn child—to think about. When the state threatens to take her baby, Mary must find the voice to fight her past. And her fate lies in the hands of the one person she distrusts the most: her Momma. No one knows the real Momma. But who really knows the real Mary?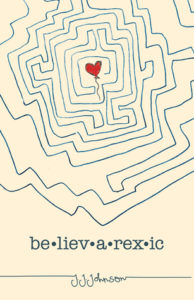 Believarexia by JJ Johnson
Fifteen-year-old Jennifer has to force her family to admit she needs help for her eating disorder. But when her parents sign her into the Samuel Tuke Center, she knows it's a terrible mistake. The facility's locked doors, cynical nurses, and punitive rules are a far cry from the peaceful, supportive environment she'd imagined.
In order to be discharged, Jennifer must make her way through the strict treatment program—as well as harrowing accusations, confusing half-truths, and startling insights. She is forced to examine her relationships, both inside and outside the hospital. She must relearn who to trust, and decide for herself what "healthy" really means.
Punctuated by dark humor, gritty realism, and profound moments of self-discovery, Believarexic is a stereotype-defying exploration of belief and human connection.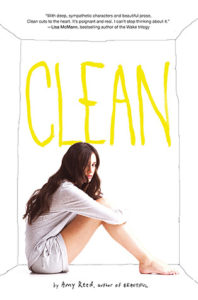 Clean by Amy Reed
You're probably wondering how I ended up here. I'm still wondering the same thing.
Olivia, Kelly, Christopher, Jason, and Eva have one thing in common: They're addicts. Addicts who have hit rock bottom and been stuck together in rehab to face their problems, face sobriety, and face themselves. None of them wants to be there. None of them wants to confront the truths about their pasts. And they certainly don't want to share their darkest secrets and most desperate fears with a room of strangers. But they'll all have to deal with themselves—and one another—if they want to learn how to live. Because when you get that high, there's nowhere to go but down, down, down.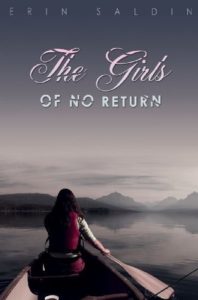 The Girls Of No Return by Erin Saldin
Erin Saldin's The Girls of No Return is a lacerating young adult debut about girls, knives, and redemption. The Alice Marshall School, set within a glorious 2-million acre wilderness area, is a place where teenage girls are sent to escape their histories and themselves. Lida Wallace has tried to negate herself in every way possible. At Alice Marshall, she meets Elsa Boone, Jules, and Gia Longchamps, whose glamour entrances the entire camp. As the girls prepare for a wilderness trek, Lida is both thrilled and terrified to be chosen as Gia's friend. Everyone has their secrets – the "Things" they try to protect; and when those come out, the knives do as well.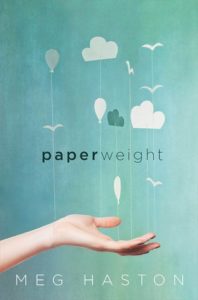 Paperweight by Meg Haston
Seventeen-year-old Stevie is trapped. In her life. And now in an eating-disorder treatment center on the dusty outskirts of the New Mexico desert.
Life in the center is regimented and intrusive, a nightmare come true. Nurses and therapists watch Stevie at mealtime, accompany her to the bathroom, and challenge her to eat the foods she's worked so hard to avoid.
Her dad has signed her up for sixty days of treatment. But what no one knows is that Stevie doesn't plan to stay that long. There are only twenty-seven days until the anniversary of her brother Josh's death—the death she caused. And if Stevie gets her way, there are only twenty-seven days until she too will end her life.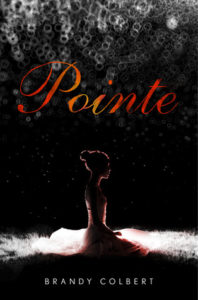 Pointe by Brandy Colbert
Theo is better now.
She's eating again, dating guys who are almost appropriate, and well on her way to becoming an elite ballet dancer. But when her oldest friend, Donovan, returns home after spending four long years with his kidnapper, Theo starts reliving memories about his abduction—and his abductor.
Donovan isn't talking about what happened, and even though Theo knows she didn't do anything wrong, telling the truth would put everything she's been living for at risk. But keeping quiet might be worse.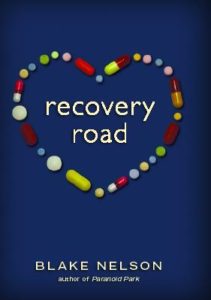 Recovery Road by Blake Nelson
Madeline is sent away to Spring Meadows rehab for drinking and rage. At the weekly movie night in town, she meets Stewart, from another rehab nearby. They fall for each other despite the crazy time. Madeline gets out and starts to regain her feet. But when Stewart joins her, both still are severely troubled, and he is getting worse.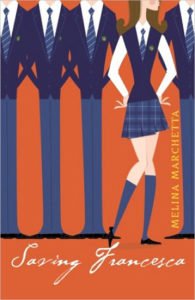 Saving Francesca by Melina Marchetta
Francesca is stuck at St. Sebastian's, a boys' school that pretends it's coed by giving the girls their own bathroom. Her only female companions are an ultra-feminist, a rumored slut, and an impossibly dorky accordion player. The boys are no better, from Thomas, who specializes in musical burping, to Will, the perpetually frowning, smug moron that Francesca can't seem to stop thinking about.
Then there's Francesca's mother, who always thinks she knows what's best for Francesca—until she is suddenly stricken with acute depression, leaving Francesca lost, alone, and without an inkling of who she really is. Simultaneously humorous, poignant, and impossible to put down, this is the story of a girl who must summon the strength to save her family, her social life and—hardest of all—herself.
Stop Pretending: What Happened When My Big Sister Went Crazy by Sonya Sones
It happens just like that, in the blink of an eye. An older sister has a mental breakdown and has to be hospitalized. A younger sister is left behind to cope with a family torn apart by grief and friends who turn their backs on her. But worst of all is the loss of her big sister, her confidante, her best friend, who has gone someplace no one can reach.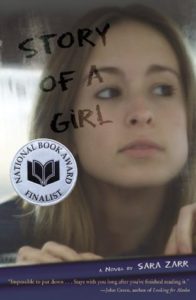 Story of a Girl by Sara Zarr
When she is caught in the backseat of a car with her older brother's best friend—Deanna Lambert's teenage life is changed forever. Struggling to overcome the lasting repercussions and the stifling role of "school slut," she longs to escape a life defined by her past. With subtle grace, complicated wisdom and striking emotion, Story of a Girl reminds us of our human capacity for resilience, epiphany and redemption.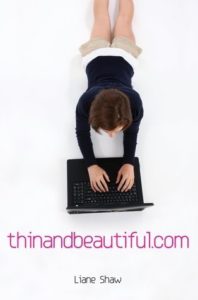 ThinAndBeautiful.com by Liane Shaw
Seventeen-year-old Maddy has always felt a hole in her life, but she has finally found a way to fill it with her quest to mold her body into her ideal, thinnest shape. When she comes across the world of -pro-ana- websites, where young people encourage each other in their mission to lose ever more weight, she realizes she is no longer alone. Finally, she has found a place where she is understood. Maddy quickly becomes addicted to the support and camaraderie she finds on thinandbeautiful.com. Now in a rehab facility where they are trying to -fix- a problem she doesn't think she has, Maddy's diary entries trace how she arrived at this point. Angry that she is barred from accessing her online friends, only the tragic consequences that come to one of her comrades in arms is enough to shock her into admitting that she does need help.
This Impossible Light by Lily Myers
Fifteen-year-old Ivy's world is in flux. Her dad has moved out, her mother is withdrawn, her brother is off at college, and her best friend, Anna, has grown distant. Worst of all, Ivy's body won't stop expanding. She's getting taller and curvier, with no end in sight. Even her beloved math class offers no clear solution to the imbalanced equation that has become Ivy's life.
Everything feels off-kilter until a decision to change the way she eats gives her a boost in confidence and reminds Ivy that her life is her own. If she can just limit what she eats—the way her mother seems to—she can stop herself from growing, focus on the upcoming math competition, and reclaim control of her life. But when her disordered eating gives way to missed opportunities and a devastating health scare, Ivy realizes that she must weigh her mother's issues against her own, and discover what it means to be a part of—and apart from—her family.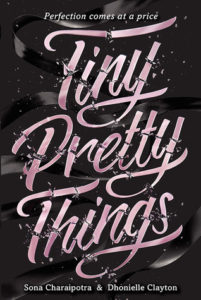 Tiny Pretty Things by Sona Charaipotra and Dhonielle Clayton
Gigi, Bette, and June, three top students at an exclusive Manhattan ballet school, have seen their fair share of drama. Free-spirited new girl Gigi just wants to dance—but the very act might kill her. Privileged New Yorker Bette's desire to escape the shadow of her ballet star sister brings out a dangerous edge in her. And perfectionist June needs to land a lead role this year or her controlling mother will put an end to her dancing dreams forever. When every dancer is both friend and foe, the girls will sacrifice, manipulate, and backstab to be the best of the best.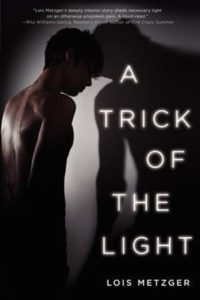 A Trick of the Light by Lois Metzger
Mike Welles had everything under control. But that was before. Now things are rough at home, and they're getting confusing at school. He's losing his sense of direction, and he feels like he's a mess. Then there's a voice in his head. A friend, who's trying to help him get control again. More than that—the voice can guide him to become faster and stronger than he was before, to rid his life of everything that's holding him back. To figure out who he is again. If only Mike will listen.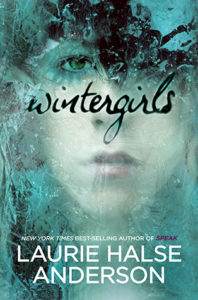 Wintergirls by Laurie Halse Anderson
"Dead girl walking", the boys say in the halls.
"Tell us your secret", the girls whisper, one toilet to another.
I am that girl.
I am the space between my thighs, daylight shining through.
I am the bones they want, wired on a porcelain frame.
Lia and Cassie are best friends, wintergirls frozen in matchstick bodies, competitors in a deadly contest to see who can be the skinniest. But what comes after size zero and size double-zero? When Cassie succumbs to the demons within, Lia feels she is being haunted by her friend's restless spirit.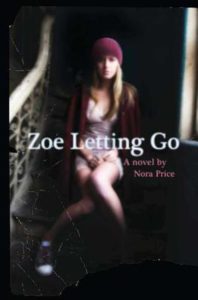 Zoe Letting Go by Nora Price
Zoe knows she doesn't belong in a hospital—so why is she in one?
 
Twin Birch isn't just any hospital. It's a strange mansion populated by unnerving staff and glassy-eyed patients. It's a place for girls with serious problems; skinny, spindly girls who have a penchant for harming themselves.
Zoe isn't like them. And she can't figure out why she was sent here. Writing letters to her best friend Elise keep her sane, grounded in the memories of her past—but mired in them, too. Elise never writes back.
Zoe is lost without her, unsure of how to navigate tenuous new friendships and bizarre rules without Elise by her side. But as her letters intertwine with journal entries chronicling her mysterious life at Twin Birch, another narrative unfolds. The hidden story of a complicated friendship; of the choices we make, the truths we tell others, and the lies we tell ourselves. The story of a friendship that has the potential to both save—and damage beyond repair. And Zoe finds she must confront the truth about her past once and for all, before she can finally let go.