While we've talked a bit about poetry this month in honor of April being poetry month, I thought it would be worth talking about an interesting trend that's popped up over the last couple of years in YA. It's not a huge trend, it's stood out to me because it's an interesting one: Emily Dickinson as inspiration to a main character or a key part of a story's plot.
I've been thinking about Emily Dickinson and the role her work played in my life growing up. I noted a couple weeks ago that her poetry was one of the few long-term exposures to a female writer I had in high school. In that class, we did a large group project, and I remember doing it with two friends, devoting an entire weekend together to talk about who she was, what she wrote, and putting together a series of explications of her work. It was clearly memorable, and even though I wouldn't count myself as one of Dickinson's big fans, her work and the influence of her work can't be overlooked.
It's not a surprise, then, that she can play such a role in YA, especially in female-driven YA. It's a voice I think teen girls relate to (or want to say they relate to) and it's one of their first exposures to both a female voice and to poetry.
Here's a roundup of a few recently Emily Dickinson flavored YA novels. All descriptions are from WorldCat, and I'm positive I'll overlook a title or two. I'm interested in books published in the last 5 to 7 years, so if you can think of others, feel free to leave them in the comments.
Death, Dickinson, and the Demented Life of Frenchie Garcia by Jenny Torres Sanchez: Struggling to come to terms with the suicide of her crush, Andy Cooper, Frenchie obsessively retraces each step of their tumultuous final encounter and looks to the poetry of Emily Dickinson for guidance.
Nobody's Secret by Michaela MacColl: When fifteen-year-old Emily Dickinson meets a charming, enigmatic young man who playfully refuses to tell her his name, she is intrigued–so when he is found dead in her family's pond in Amherst she is determined to discover his secret, no matter how dangerous it may prove to be.
And We Stay by Jenny Hubbard: Sent to an Amherst, Massachusetts, boarding school after her ex-boyfriend shoots himself, seventeen-year-old Emily expresses herself through poetry as she relives their relationship, copes with her guilt, and begins to heal.
Emily's Dress and Other Missing Things by Kathryn Burak: A new girl in Amherst, Massachusetts, comes to terms with her mother's suicide and her best friend's disappearance with the help of Emily Dickinson's poetry–and her dress.
What's really interesting about these two titles is that in both, a dress of Emily Dickinson's becomes an important part of each girl's grieving and healing process. It's almost as if the two girls in these books were attending the same boarding school a decade or so apart from one another.
Although this one is a little older, published in 2009, I wanted to include it as well: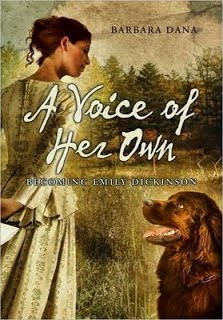 A Voice of Her Own: Becoming Emily Dickinson by Barbara Dana: A fictionalized first-person account of revered American poet Emily Dickinson's girlhood in mid-nineteenth-century Amherst, Massachusetts.