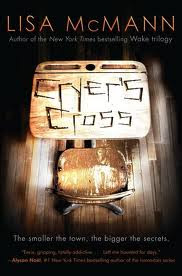 Lisa McMann's Cryer's Cross begins with a bang: "Everything changes when Tiffany Quinn disappears." The reader is immediately plunged into a poor, working-class, small town community where everyone knows each other and just twenty-four students make up Kendall Fletcher's senior class. Suspicion is immediately raised when new student Jacian Obregon enters the community, as both police and students suspect him of a possible involvement in Tiffany's death. But life goes on, and both students and adults get back to the business of living, of working the farms for their livelihood, and of returning to school in the desperate hope that they will someday escape their stifling hometown.
Kendall, who loves dance, yearns for a scholarship to Juilliard, while her best friend and kind-of-boyfriend Nico aspires to be a nurse. Yet even beyond finances and opportunity, life is always difficult for Kendall, who struggles with Obsessive-Compulsive Disorder, a condition that she keeps under wraps from everyone but her family members and Nico.
But everything changes when Nico starts acting oddly: spacing out and flaking on Kendall, not at all like his normal, supportive behavior. And then he disappears–just like Tiffany had done months earlier. As the town sends out its second search party and begins imposing strict curfew restrictions on the children and teenagers, Kendall begins an investigation of her own, finally focusing on the desk that both Tiffany and Nico had sat in in their classroom, the desk that now appears to display strange carvings. And that seems to whisper messages of persuasion and comfort when Kendall herself finally sits in the desk.
I read and devoured Lisa McMann's Wake series last year, and thus was eagerly awaiting Cryer's Cross. However, while McMann's trademark build-up of tension was fully evidenced in this book, the plot itself fell flat for me.
McMann does a wonderful job of building suspense through her writing, and her choice of using the present tense to orient the reader right in the moment with Kendall was a fantastic decision. However, I'm not sure if it is because I am so used to reading first person narratives, but the use of third person slightly disoriented me, jarring me a bit and taking me out of the story when I wish I would have been sucked further in. Perhaps this was a calculated choice on McMann's part, but it did not quite work for me.
Perhaps it was this disconnect that never quite let me into Kendall's world fully, never fully let me connect with her as a three dimensional character. The book itself felt like a framework, waiting to be filled and shaded in more fully. Similarly, Kendall's growing relationship with Jacian was rather predictable and sudden, and I just never quite felt the chemistry that I was meant to feel.
I also have mixed feelings at the treatment of Kendall's Obsessive-Compulsive Disorder in the novel. While McMann does depict Kendall's routines, compulsions, and the panic she feels when her urges are stifled, I still felt like the disorder was being given short shrift and that the author never quite showed the full effect that OCD had on Kendall's life. The disorder's ultimate contribution to the novel's conclusion was a bit of a stretch, and didn't quite match up to the way that Kendall had experienced OCD throughout the rest of Cryer's Cross.
While the evil forces working in this book were ultimately explained, the build-up to this revelation was a tad bit confusing to me. Short, not even one page sections between chapters hinted at the supernatural forces threatening Cryer's Cross, and although these sections made sense upon the book's conclusion, I then had to go back to the beginning in order to fully make sense of the clues dropped earlier in the novel. I also found the concept of the desks unconvincing, as well. While I may be reading too much into the plot, but the supernatural twist was a stretch for me.
However, where McMann excels is at creating a fast-paced, page-turning narrative that really does give the reader the creeps. The eerie atmosphere permeates every word of Cryer's Cross. I read this book in a night, eager to see exactly who kidnapped Nico and if Kendall would figure out how exactly the graffiti had a hand in the disappearances. It was also quite refreshing to see a character embrace parts of her mental illness at the end, realizing that all of her quirks and struggles aren't world-ending, but actually aided her in parts of her life.
Despite some of the weaknesses, this would be a fantastic book for reluctant readers, as well as fans of the Wake series. Paranormal fans of Becca Fitzpatrick's Hush, Hush, Jeri Smith-Ready's Shade, and Kelley Armstrong's Darkest Powers series may also enjoy this.
Cryer's Cross will be released on February 8, 2011. Review copy received from publisher.