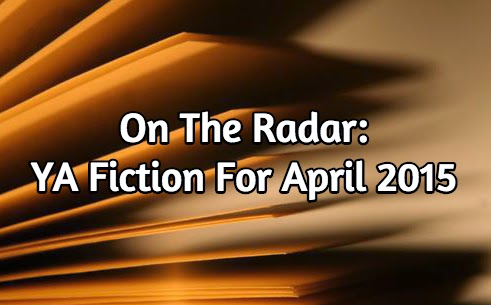 One of the most popular posts I do over at Book Riot is the round-up of upcoming YA fiction titles, and one of the most popular questions I seem to get on Twitter and in my inboxes is "what should I be looking out for in YA?" For a lot of readers, especially those who work with teens either in classrooms or in libraries, knowing what's coming out ahead of time is valuable to get those books into readers' hands before they even ask.

Each month, I'll call out between 8 and 12 books coming out that should be on your radar. These include books by high-demand, well-known authors, as well as some up-and-coming and debut authors. They'll be across a variety of genres, including diverse titles and writers. Not all of the books will be ones that Kimberly or I have read, nor will all of them be titles that we're going to read and review. Rather, these are books that readers will be looking for and that have popped up regularly on social media, in advertising, in book mail, and so forth. It's part science and part arbitrary and a way to keep the answer to "what should I know about for this month?" quick, easy, and under $300 (doable for smaller library budgets especially).
For April, here are 12 YA titles to have on your radar. All descriptions are from WorldCat, and I've noted why it should be included.
Don't Stay Up Late by R. L. Stine (April 7): Ever since a car accident killed her father and gave her a severe concussion, high school junior Lisa's been plagued by nightmares and hallucinations, and when she accepts a babysitting job in hopes it will banish the disturbing images, she faces new terror as she begins to question exactly who–or what–she's babysitting.
Why: It's the second book in the relaunch of the "Fear Street" series. Here's some staple horror.
All The Rage by Courtney Summers (April 14): After being assaulted by the sheriff's son, Kellan Turner, Romy Grey was branded a liar and bullied by former friends, finding refuge only in the diner where she works outside of town, but when a girl with ties to both Romy and Kellan goes missing and news of him assulting another girl gets out, Romy must decide whether to speak out again or risk having more girls hurt.
Why
: An important and powerful story about rape culture, victimization, and about the way we treat girls in society. Also, since it's the
Tumblr Reblog Book Club's pick
for April and May, it'll be really popular.
None of the Above by I. W. Gregorio (April 7): When Kristin Lattimer is voted homecoming queen, it seems like another piece of her ideal life has fallen into place. She's a champion hurdler with a full scholarship to college and she's madly in love with her boyfriend. In fact, she's decided that she's ready to take things to the next level with him.

But Kristin's first time isn't the perfect moment she's planned–something is very wrong. A visit to the doctor reveals the truth: Kristin is intersex, which means that though she outwardly looks like a girl, she has male chromosomes, not to mention boy "parts."

Dealing with her body is difficult enough, but when her diagnosis is leaked to the whole school, Kristin's entire identity is thrown into question. As her world unravels, can she come to terms with her new self? (Description via Goodreads).
Why: This story deals with an issue we don't see in YA: an intersex teen. This is written in an incredibly appealing way.
Eden West by Pete Hautman (April 14): Tackling faith, doubt, and transformation, National Book Award winner Pete Hautman explores a boy's unraveling allegiance to an insular cult. Twelve square miles of paradise, surrounded by an eight-foot-high chain-link fence: this is Nodd, the land of the Grace. It is all seventeen-year-old Jacob knows. Beyond the fence lies the World, a wicked, terrible place, doomed to destruction. When the Archangel Zerachiel descends from Heaven, only the Grace will be spared the horrors of the Apocalypse. But something is rotten in paradise. A wolf invades Nodd, slaughtering the Grace's sheep. A new boy arrives from outside, and his scorn and disdain threaten to tarnish Jacob's contentment. Then, while patrolling the borders of Nodd, Jacob meets Lynna, a girl from the adjoining ranch, who tempts him to sample the forbidden Worldly pleasures that lie beyond the fence. Jacob's faith, his devotion, and his grip on reality are tested as his feelings for Lynna blossom into something greater and the End Days grow ever closer. Eden West is the story of two worlds, two hearts, the power of faith, and the resilience of the human spirit.
Why: "National Book Award winner Pete Hautman" might be enough there, but it's worth noting this is a cult title, which is a popular trend in YA this year. Likewise, it explores faith and religion, and I know Kimberly found Hautman's last series — The Klaatu Diskos — extremely well done.
An Ember in the Ashes by Sabaa Tahir (April 28): Laia is a Scholar living under the iron-fisted rule of the Martial Empire. When her brother is arrested for treason, Laia goes undercover as a slave at the empire's greatest military academy in exchange for assistance from rebel Scholars who claim that they will help to save her brother from execution.
Why: There has been huge buzz around this title — I've received more than one review copy of it, and I've seen plenty of rave reviews. It's a stand alone fantasy novel.
Lying Out Loud by Kody Keplinger (April 28): High school senior Sonny Ardmore is an accomplished liar who uses lies to try and control her out-of-control life which has been further complicated by the fact that she is secretly staying every night in her best friend Amy's house because she has been kicked out by her own mother–but when she gets into a online conversation with the stuck-up new boy Ryder, who has a crush on Amy, she finds herself caught up in one lie to many.
Why: This is a companion novel to The DUFF, and with The DUFF still being a New York Times Bestseller with renewed interest following the movie, this should garner some good interest. (Interesting to note it's a different publisher than The DUFF, though set in the same world and featuring different characters).
The Remedy by Suzanne Young (April 21): Seventeen-year-old Quinn provides closure to grieving families by taking on the short-term role of a deceased loved one, until huge secrets come to the surface about Quinn's own past.
Why: This is a novel set in the same world as Young's NYT Bestselling "The Program" series. It's a prequel, though reading the other titles isn't necessary to get this one. Young might be writing some of the best authentic teen dialog in YA.
Magonia by Maria Dahvana Headley (April 28): Aza Ray Boyle's life has been defined by a unique lung disease and her evolving friendship with Jason, but just before her sixteenth birthday, she is swept up into the sky-bound world of Magonia and discovers her true identity.
Why: A stand alone fantasy likened to Neil Gaiman. Early reviews and buzz on this have been really positive.
Simon Vs. The Homo Sapiens Agenda by Becky Albertalli (April 7): Sixteen-year-old, not-so-openly-gay Simon Spier is blackmailed into playing wingman for his classmate or else his sexual identity–and that of his pen pal–will be revealed.
Why: This is a fun read, featuring a gay main character.
Challenger Deep by Neal Shusterman (April 21): A teenage boy struggles with schizophrenia.
Why: This is Shusterman, so that's already the sell on the book, but it's a powerful, authentic, painful look at mental illness. The teen boy at the center of this one is also on the younger side of teen, which stood out to me when I read it.
Miss Mayhem by Rachel Hawkins (April 7): In the sequel to REBEL BELLE, Harper Price and her new boyfriend and oracle David Stark face new challenges as the powerful Ephors seek to claim David for their own.
Why: It's the sequel to Rebel Belle. Hawkins writes in a fun style, and she's extremely appealing to teen readers.
Palace of Lies by Margaret Peterson Haddox (April 7): After a terrible fire destroys her home and kills her twelve sister-princesses, Desmia must rise above those who intend to manipulate her and sieze power for themselves–and find out the truth.
Why: The third and final book in "The Palace Chronicles" series. These are especially good for the younger YA reading set.
Since I'm trying really hard to keep these lists to between 8 and 12 titles, I know I have to leave some really good stuff off. But if you have it in your budget to add one more title in April, I'd also put Amy Spalding's fun, funny, and romantic Kissing Ted Callahan (And Other Guys) in your cart.