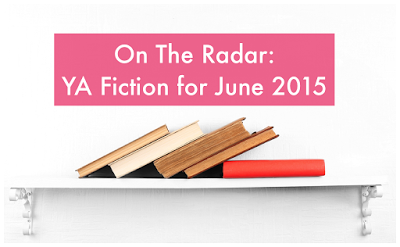 One of the most popular posts I do over at Book Riot is the round-up of upcoming YA fiction titles, and one of the most popular questions I seem to get on Twitter and in my inboxes is "what should I be looking out for in YA?" For a lot of readers, especially those who work with teens either in classrooms or in libraries, knowing what's coming out ahead of time is valuable to get those books into readers' hands before they even ask.

Each month, I'll call out between 8 and 12 books coming out that should be on your radar. These include books by high-demand, well-known authors, as well as some up-and-coming and debut authors. They'll be across a variety of genres, including diverse titles and writers. Not all of the books will be ones that Kimberly or I have read, nor will all of them be titles that we're going to read and review. Rather, these are books that readers will be looking for and that have popped up regularly on social media, in advertising, in book mail, and so forth. It's part science and part arbitrary and a way to keep the answer to "what should I know about for this month?" quick, easy, and under $300 (doable for smaller library budgets especially).
For June, here are 12 titles to have on your radar. All descriptions are from WorldCat, and I've noted why it should be included.
The Witch Hunter by Virginia Boecker: Set in an alternative 16th-century England, Elizabeth Grey is the only girl in the king's elite group of witch hunters. When she's framed for being a witch herself, Elizabeth finds freedom at the hands of the world's most wanted wizard and her loyalties are tested.


Why: This one has gotten some solid buzz, along with a sizable distribution of review copies. I've heard positive things, though I haven't picked it up myself.
The Summer of Chasing Mermaids by Sarah Ockler: After a boating accident takes her beautiful singing and speaking voice from her, Elyse d'Abreau, the youngest of six sisters, leaves her home in Tobago to stay in an Oregon seaside town where Christian Kane, a notorious playboy, challenges her to express herself and to overcome her fear of the sea.
Why: Sarah Ockler is a mainstay in contemporary YA fiction. Bonus points for a great cover.




Emmy & Oliver by Robin Benway: Sheltered seventeen-year-old Emmy's childhood best friend Oliver reappears after disappearing with his father ten years ago.
Why: Like Ockler, Benway is a staple name in YA. Her new book looks to be no different.
Shadowshaper by Daniel José Older: When the murals painted on the walls of her Brooklyn neighborhood start to change and fade in front of her, Sierra Santiago realizes that something strange is going on–then she discovers her Puerto Rican family are shadowshapers and finds herself in a battle with an evil anthropologist for the lives of her family and friends.
Why: An urban fantasy novel featuring a girl of color. Let's talk about that killer cover, too. I am dying to read this, even though it's not my usual genre.




Because You'll Never Meet Me by Leah Thomas: Ollie, who has seizures when near electricity, lives in a backwoods cabin with his mother and rarely sees other people, and Moritz, born with no eyes and a heart defect that requires a pacemaker, is bullied at his high school, but when a physician who knows both suggests they begin corresponding, they form a strong bond that may get them through dark times.
Why: If there were one book I got more review copies of than any other this year, it might be this one. Interestingly, there are some parallels between this one's description and the forthcoming Everything Everything by Nicola Yoon.




Finding Audrey by Sophie Kinsella: Fourteen-year-old Audrey is making slow but steady progress dealing with her anxiety disorder when Linus comes into the picture and her recovery gains momentum.
Why: Sophie Kensella is a huge name in adult fiction ("chick lit," though I loathe the term) and the reviews for her first YA title have been solid. This one features a younger-than-usual teen, too, which is a bonus.


The Devil You Know by Trish Doller: Exhausted and rebellious after three years of working for her father and mothering her brother, eighteen-year-old Arcadia "Cadie" Wells joins two cousins who are camping their way through Florida, soon learning that one's a murderer.
Why: Trish Doller has been building a name for herself in contemporary realistic YA, and her first foray into the thriller genre is going to keep her reputation going in a positive direction. This is a fast-paced read, perfect for summer.




The Stars Never Rise by Rachel Vincent:
Why: Another urban fantasy title for shelves by Rachel Vincent, who made a name for herself in the adult urban fantasy realm.




The Book of Spirits and Thieves by Morgan Rhodes: A mysterious book and ancient magic bring together four young people in modern-day Toronto and the ancient kingdoms of Mytica.
Why: Morgan's kicking off a new series with this one, and her previous series, "Falling Kingdoms," has been popular.
I Am The Traitor by Allen Zadoff (book three in "The Unknown Assassin" series): After breaking free of The Program, Boy Nobody is on a mission of his own to reclaim his life and rescue his friend Howard from the secret organization that has turned him and other orphaned children into trained assassins–but he has no idea who, if anyone, he can trust, or what the consequences will be if he succeeds in bringing down The Program.
Why: This is the third book in Zadoff's "Unknown Assassin" series, which is great for those more reluctant readers who want a fast-paced thriller.
More Happy Than Not by Adam Silvera: After enduring his father's suicide, his own suicide attempt, broken friendships, and more in the Bronx projects, Aaron Soto, sixteen, is already considering the Leteo Institute's memory-alteration procedure when his new friendship with Thomas turns to unrequited love.
Why: A "light science fiction" title by debut author Silvera features a queer character.
Delicate Monsters by Stephanie Kuehn: When nearly killing a classmate gets seventeen-year-old Sadie Su kicked out of her third boarding school in four years, she returns to her family's California vineyard estate. Here, she's meant to stay out of trouble. Here, she's meant to do a lot of things. But it's hard. She's bored. And when Sadie's bored, the only thing she likes is trouble.
Emerson Tate's a poor boy living in a rich town, with his widowed mother and strange, haunted little brother. All he wants his senior year is to play basketball and make something happen with the girl of his dreams. That's why Emerson's not happy Sadie's back. An old childhood friend, she knows his worst secrets. The things he longs to forget. The things she won't ever let him.
Haunted is a good word for fifteen-year-old Miles Tate. Miles can see the future, after all. And he knows his vision of tragic violence at his school will come true, because his visions always do. That's what he tells the new girl in town. The one who listens to him. The one who recognizes the darkness in his past.
But can Miles stop the violence? Or has the future already been written? Maybe tragedy is his destiny. Maybe it's all of theirs. (via Goodreads)
Why: Kuehn is the 2014 winner of the Morris Award for a debut novel, and her third offering takes all she's done well so far and amps it up another notch. This is a diverse read, and it's super dark.