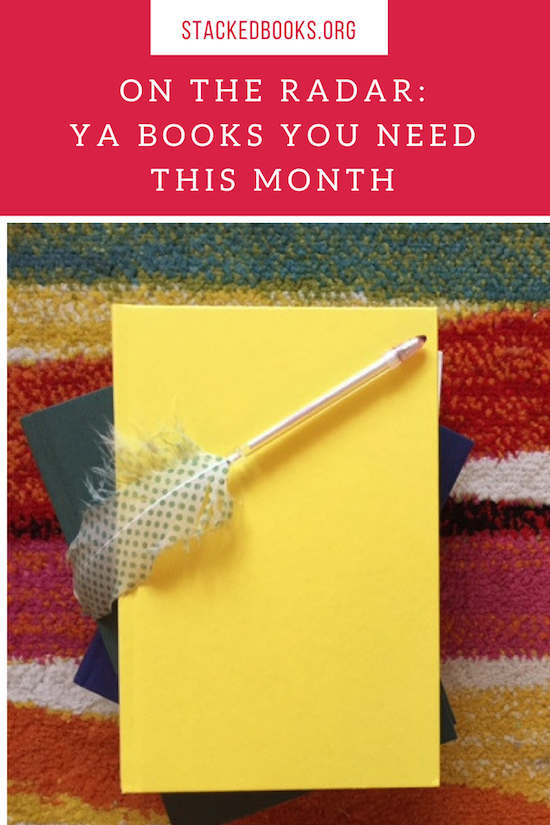 "On The Radar" is a monthly series meant to highlight between 9 and 12 books per month to fit a budget of roughly $300 or less. These lists are curated from a larger spreadsheet I keep with a running list of titles hitting shelves and are meant to reflect not only the big books coming out from authors readers know and love, but it's also meant to showcase some of the titles that have hit my radar through review copies, publicity blasts, or because they're titles that might otherwise not be readily seen or picked up through those traditional avenues. It's part science and part art.
For September, I have cheated something pretty fierce, but for good reason. I've pulled 17 titles (I know), but I've done so because not all of these might be right for your purchasing purposes. Many titles this month are coming out as part of a series or from authors who have huge followings, and I wanted to hit not only those titles, but others which should be noted alongside the louder ones. Some of these have had great buzz or earned solid reviews or have something about them that make them worth knowing for the month of September.
Book descriptions come from Goodreads and reasons for putting on your radar are mine and mine alone! Titles are alphabetical, with pub dates beside them. Titles with a * in front of them are books that are starting or a continuation of a series.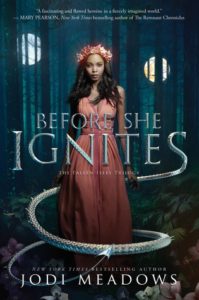 *Before She Ignites by Jodi Meadows (9/12)
Before
Mira Minkoba is the Hopebearer. Since the day she was born, she's been told she's special. Important. Perfect. She's known across the Fallen Isles not just for her beauty, but for the Mira Treaty named after her, a peace agreement which united the seven islands against their enemies on the mainland.
But Mira has never felt as perfect as everyone says. She counts compulsively. She struggles with crippling anxiety. And she's far too interested in dragons for a girl of her station.
After
Then Mira discovers an explosive secret that challenges everything she and the Treaty stand for. Betrayed by the very people she spent her life serving, Mira is sentenced to the Pit–the deadliest prison in the Fallen Isles. There, a cruel guard would do anything to discover the secret she would die to protect.
No longer beholden to those who betrayed her, Mira must learn to survive on her own and unearth the dark truths about the Fallen Isles–and herself–before her very world begins to collapse.
Why it should be on your radar: It's the first in a new series by Jodi Meadows, and it's a series that involves dragons.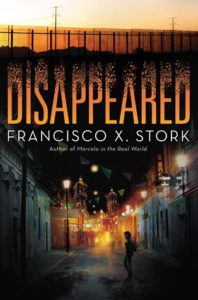 Disappeared by Francisco X. Stork (9/26)
Four Months Ago
Sara Zapata's best friend disappeared, kidnapped by the web of criminals who terrorize Juarez.
Four Hours Ago
Sara received a death threat – and with it, a clue to the place where her friend is locked away.
Four Weeks Ago
Emiliano Zapata fell in love with Perla Rubi, who will never be his so long as he's poor.
Four Minutes Ago
Emiliano got the chance to make more money than he ever dreamed – just by joining the web.
In the next four days, Sara and Emiliano will each face impossible choices, between life and justice, friends and family, truth and love. But when the web closes in on Sara, only one path remains for the siblings: the way across the desert to the United States.
Why it should be on your radar: A new Francisco X Stork book, and this one is about drug cartels…which has been one of the odd microtrends of this year.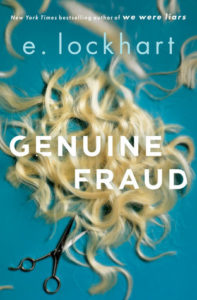 Genuine Fraud by E. Lockhart
The story of a young woman whose diabolical smarts are her ticket into a charmed life. But how many times can someone reinvent themselves? You be the judge.
Imogen is a runaway heiress, an orphan, a cook, and a cheat.
Jule is a fighter, a social chameleon, and an athlete.
An intense friendship. A disappearance. A murder, or maybe two.
A bad romance, or maybe three.
Blunt objects, disguises, blood, and chocolate. The American dream, superheroes, spies, and villains.
A girl who refuses to give people what they want from her.
A girl who refuses to be the person she once was.
Why it should be on your radar: A new book from E Lockhart has been generating a lot of buzz and will continue to do so.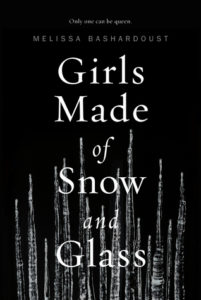 Girls Made of Snow and Glass by Melissa Bashardoust (9/5)
At sixteen, Mina's mother is dead, her magician father is vicious, and her silent heart has never beat with love for anyone—has never beat at all, in fact, but she'd always thought that fact normal. She never guessed that her father cut out her heart and replaced it with one of glass. When she moves to Whitespring Castle and sees its king for the first time, Mina forms a plan: win the king's heart with her beauty, become queen, and finally know love. The only catch is that she'll have to become a stepmother.
Fifteen-year-old Lynet looks just like her late mother, and one day she discovers why: a magician created her out of snow in the dead queen's image, at her father's order. But despite being the dead queen made flesh, Lynet would rather be like her fierce and regal stepmother, Mina. She gets her wish when her father makes Lynet queen of the southern territories, displacing Mina. Now Mina is starting to look at Lynet with something like hatred, and Lynet must decide what to do—and who to be—to win back the only mother she's ever known…or else defeat her once and for all.
Why it should be on your radar: A stand alone fantasy called Frozen meets The Bloody Chamber.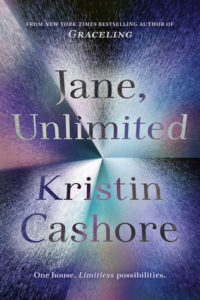 Jane, Unlimited by Kristin Cashore (9/19)
Jane has lived an ordinary life, raised by her aunt Magnolia—an adjunct professor and deep sea photographer. Jane counted on Magnolia to make the world feel expansive and to turn life into an adventure. But Aunt Magnolia was lost a few months ago in Antarctica on one of her expeditions.
Now, with no direction, a year out of high school, and obsessed with making umbrellas that look like her own dreams (but mostly just mourning her aunt), she is easily swept away by Kiran Thrash—a glamorous, capricious acquaintance who shows up and asks Jane to accompany her to a gala at her family's island mansion called Tu Reviens.
Jane remembers her aunt telling her: "If anyone ever invites to you to Tu Reviens, promise me that you'll go." With nothing but a trunkful of umbrella parts to her name, Jane ventures out to the Thrash estate. Then her story takes a turn, or rather, five turns. What Jane doesn't know is that Tu Reviens will offer her choices that can ultimately determine the course of her untethered life. But at Tu Reviens, every choice comes with a reward, or a price.
Why it should be on your radar: Kristin Cashore fans have been waiting for a new book from her for years and years, and this one goes in an entirely different genre direction than her "Graceling" series. I have to say, I've read middling reviews on this one, but that won't stop it from being picked up.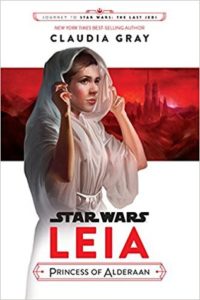 The Last Jedi, Leia by Claudia Gray (9/1)
A young adult novel, written by New York Times Best-selling author Claudia Gray, about sixteen-year-old Princess Leia, set before A New Hope.
Why it should be on your radar: There is virtually no description of the book, but it's part of the YA Star Wars novels, and it's by Claudia Gray. That's enough reason.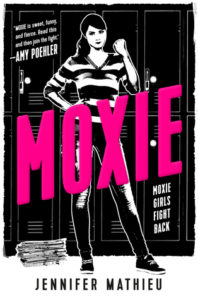 Moxie by Jennifer Mathieu (9/19)
MOXIE GIRLS FIGHT BACK!
Vivian Carter is fed up. Fed up with a school administration at her small-town Texas high school that thinks the football team can do no wrong. Fed up with sexist dress codes, hallway harassment, and gross comments from guys during class. But most of all, Viv Carter is fed up with always following the rules.
Viv's mom was a tough-as-nails, punk rock Riot Grrrl in the '90s, and now Viv takes a page from her mother's past and creates a feminist zine that she distributes anonymously to her classmates. She's just blowing off steam, but other girls respond. As Viv forges friendships with other young women across the divides of cliques and popularity rankings, she realizes that what she has started is nothing short of a girl revolution.
Why it should be on your radar: Aside from the controversy surrounding the Kirkus review of this title, Mathieu's latest is a feminist read which has been optioned by Amy Poehler's production company. Lots of buzz already and I suspect it'll only grow.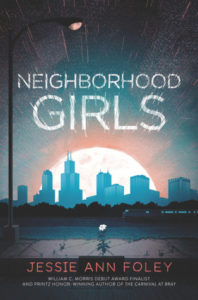 Neighborhood Girls by Jessie Ann Foley (9/12)
When Wendy Boychuck's father, a Chicago cop, was escorted from their property in handcuffs for his shady criminal practices, she knew her life would never be the same. Her father gets a years-long jail sentence, her family falls on hard times, and the whispers around town are impossible to ignore. If that wasn't bad enough, she gets jumped walking home from a party one night. Wendy quickly realizes that in order to survive her father's reputation, she'll have to make one for herself.
Then Wendy meets Kenzie Quintana—a cigarette-smoking, Catholic-school-uniform-skirt-hiking alpha—and she knows that she's met her savior. Kenzie can provide Wendy with the kind of armor a girl needs when she's trying to outrun her father's past. Add two more mean girls to the mix—Sapphire and Emily—and Wendy has found herself in Academy of the Sacred Heart's most feared and revered clique. Makeover complete.
But complete is far from what Wendy feels. Instead, she faces the highs and lows of a vapid, toxic friendship, the exhaustion that comes with keeping up appearances, and the only loss that could hurt more than losing herself
Why it should be on your radar: Foley's first book, The Carnival at Bray, was a Morris and a Printz short list title. This is her sophomore release.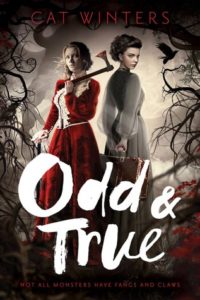 Odd and True by Cat Winters (9/12)
Trudchen grew up hearing Odette's stories of their monster-slaying mother and a magician's curse. But now that Tru's older, she's starting to wonder if her older sister's tales were just comforting lies, especially because there's nothing fantastic about her own life—permanently disabled and in constant pain from childhood polio.
In 1909, after a two-year absence, Od reappears with a suitcase supposedly full of weapons and a promise to rescue Tru from the monsters on their way to attack her. But it's Od who seems haunted by something. And when the sisters' search for their mother leads them to a face-off with the Leeds Devil, a nightmarish beast that's wreaking havoc in the Mid-Atlantic states, Tru discovers the peculiar possibility that she and her sister—despite their dark pasts and ordinary appearances—might, indeed, have magic after all.
Why it should be on your radar: Cat Winters was a Morris finalist a few years back, and she's continued putting out really unique titles. This one is part historical, part gothic-y horror, and it's a stand alone.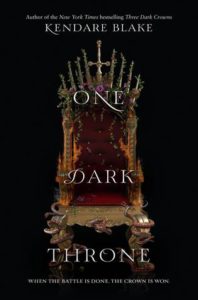 *One Dark Throne by Kendare Blake (9/19)
The battle for the Crown has begun, but which of the three sisters will prevail?
With the unforgettable events of the Quickening behind them and the Ascension Year underway, all bets are off. Katharine, once the weak and feeble sister, is stronger than ever before. Arsinoe, after discovering the truth about her powers, must figure out how to make her secret talent work in her favor without anyone finding out. And Mirabella, once thought to be the strongest sister of all and the certain Queen Crowned, faces attacks like never before—ones that put those around her in danger she can't seem to prevent.
Why it should be on your radar: It's the sequel to Three Dark Crowns.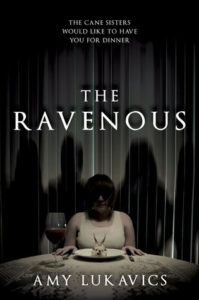 The Ravenous by Amy Lukavics (9/26)
From the outside, the Cane family looks like they have it all. A successful military father, a loving mother and five beautiful teenage daughters. But on the inside, life isn't quite so idyllic: the Cane sisters can barely stand each other, their father is always away, and their neglectful mother struggles with addiction and depression.
When their youngest and most beloved sister, Rose, dies in a tragic accident, Mona Cane and her sisters are devastated. And when she is brought back from the dead, they are relieved. But soon they discover that Rose must eat human flesh to survive, and when their mother abandons them, the sisters will find out just how far they'll go to keep their family together.
Why it should be on your radar: Amy Lukavics is writing some the darkest, creepiest horror in YA right now. Readers itching for that will gobble this up.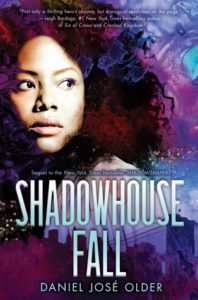 *Shadowhouse Fall by Daniel José Older (9/12)
Sierra and her friends love their new lives as shadowshapers, making art and creating change with the spirits of Brooklyn. Then Sierra receives a strange card depicting a beast called the Hound of Light — an image from the enigmatic, influential Deck of Worlds. The shadowshapers know their next battle has arrived.
Thrust into an ancient struggle with enemies old and new, Sierra and Shadowhouse are determined to win. Revolution is brewing in the real world as well, as the shadowshapers lead the fight against systems that oppress their community. To protect her family and friends in every sphere, Sierra must take down the Hound and master the Deck of Worlds… or risk losing them all.
Why it should be on your radar: It's the sequel to the New York Times bestseller and fan favorite Shadowshaper.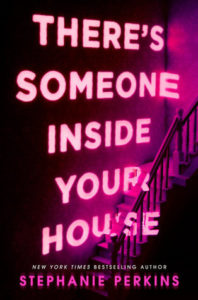 There's Someone Inside Your House by Stephanie Perkins (9/26)
One-by-one, the students of Osborne High are dying in a series of gruesome murders, each with increasing and grotesque flair. As the terror grows closer and the hunt intensifies for the killer, the dark secrets among them must finally be confronted.
International bestselling author Stephanie Perkins returns with a fresh take on the classic teen slasher story that's fun, quick-witted, and completely impossible to put down.
Why it should be on your radar: Stephanie Perkins wrote a horror novel. And this horror novel sounds fabulous, too, given the love Perkins has for the genre.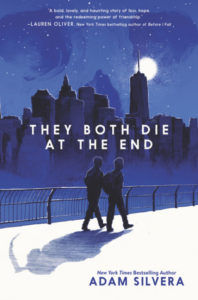 They Both Die At The End by Adam Silvera (9/5)
On September 5, a little after midnight, Death-Cast calls Mateo Torrez and Rufus Emeterio to give them some bad news: They're going to die today. Mateo and Rufus are total strangers, but, for different reasons, they're both looking to make a new friend on their End Day. The good news: There's an app for that. It's called the Last Friend, and through it, Rufus and Mateo are about to meet up for one last great adventure and to live a lifetime in a single day.
Why it should be on your radar: As Adam Silvera grows as a writer, so does his fan base. It's his second release of the year and it's another title featuring queer and diverse characters.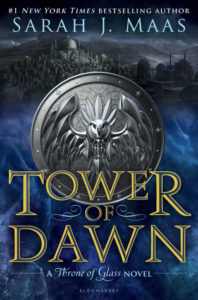 *Tower of Dawn by Sarah J. Maas (9/5)
Chaol Westfall has always defined himself by his unwavering loyalty, his strength, and his position as the Captain of the Guard. But all of that has changed since the glass castle shattered, since his men were slaughtered, since the King of Adarlan spared him from a killing blow, but left his body broken.
His only shot at recovery lies with the legendary healers of the Torre Cesme in Antica—the stronghold of the southern continent's mighty empire. And with war looming over Dorian and Aelin back home, their survival might lie with Chaol and Nesryn convincing its rulers to ally with them.
But what they discover in Antica will change them both—and be more vital to saving Erilea than they could have imagined.
Why it should be on your radar: This is the sixth book in the wildly popular "Throne of Glass" series.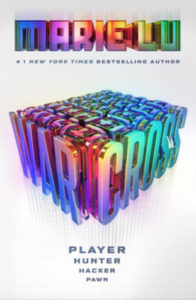 *Warcross by Marie Lu (9/12)
For the millions who log in every day, Warcross isn't just a game—it's a way of life. The obsession started ten years ago and its fan base now spans the globe, some eager to escape from reality and others hoping to make a profit. Struggling to make ends meet, teenage hacker Emika Chen works as a bounty hunter, tracking down players who bet on the game illegally. But the bounty hunting world is a competitive one, and survival has not been easy. Needing to make some quick cash, Emika takes a risk and hacks into the opening game of the international Warcross Championships—only to accidentally glitch herself into the action and become an overnight sensation.
Convinced she's going to be arrested, Emika is shocked when instead she gets a call from the game's creator, the elusive young billionaire Hideo Tanaka, with an irresistible offer. He needs a spy on the inside of this year's tournament in order to uncover a security problem . . . and he wants Emika for the job. With no time to lose, Emika's whisked off to Tokyo and thrust into a world of fame and fortune that she's only dreamed of. But soon her investigation uncovers a sinister plot, with major consequences for the entire Warcross empire.
Why it should be on your radar: It's the first book in a new series by bestseller Marie Lu.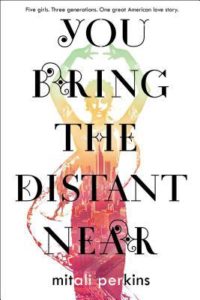 You Bring The Distant Near by Mitali Perkins (9/12)
This elegant novel captures the immigrant experience for one Indian-American family with humor and heart. Told in alternating teen voices across three generations, You Bring the Distant Near explores sisterhood, first loves, friendship, and the inheritance of culture–for better or worse.
From a grandmother worried that her children are losing their Indian identity to a daughter wrapped up in a forbidden biracial love affair to a granddaughter social-activist fighting to preserve Bengali tigers, Perkins weaves together the threads of a family growing into an American identity.
Here is a sweeping story of five women at once intimately relatable and yet entirely new.
Why it should be on your radar: Perkins writes cross cultural novels that are really damn good, and this one sounds no different. I've read a lot of great reviews of this one, too.