Deep into Cybils reading and deep into thinking about how we don't spend enough time talking about nonfiction for young readers, I could think of no reason not to do a round-up of upcoming titles. And in the midst of perusing publisher catalogs to do so, I got asked for recommended titles for 2017, which only made me feel like this is really a thing we as a reading community and we (as in us here) can do as bloggers.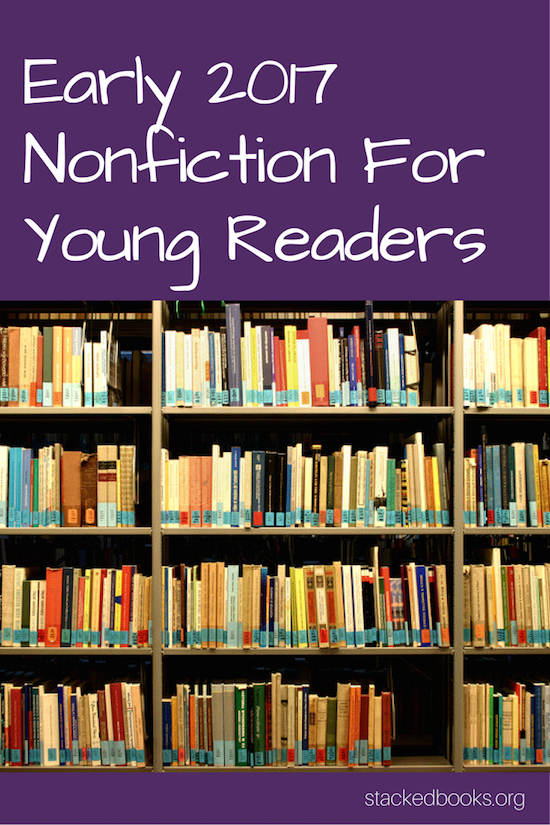 A couple of notes: an interesting aspect of nonfiction for young readers is that divisions between middle grade and YA aren't as clear-cut as they are for fiction. Many nonfiction titles go for the 10-14 age range, which cuts through both the YA and middle grade field. Thus, some of these titles will certainly fall on the younger side while others, the older side. I know I'm going to miss titles, and I've purposely left off the series titles that libraries purchase (you know the kind — they're 80 pages, full color, good for reports and not so much on the narrative).
This guide covers some December 2016 titles, and it follows through to May 2017. I'll do another round-up like this in May, covering books through the end of the year. Get ready to get your nonfiction reading on.
All publication dates are via publisher catalogs on Edelweiss and all descriptions are from Goodreads.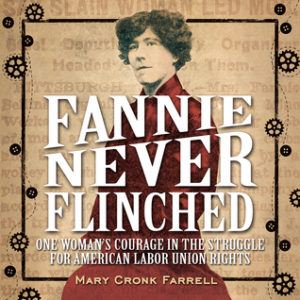 Fannie Never Flinched: One Woman's Courage in the Struggle for American Labor Union Rights by Mary Cronk Farrell (available now)
Fannie Sellins (1872–1919) lived during the Gilded Age of American Industrialization, when the Carnegies and Morgans wore jewels while their laborers wore rags. Fannie dreamed that America could achieve its ideals of equality and justice for all, and she sacrificed her life to help that dream come true. Fannie became a union activist, helping to create St. Louis, Missouri, Local 67 of the United Garment Workers of America. She traveled the nation and eventually gave her life, calling for fair wages and decent working and living conditions for workers in both the garment and mining industries. Her accomplishments live on today.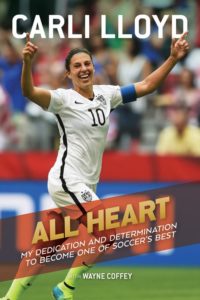 All Heart : My Dedication and Determination to Become One of Soccer's Best by Carli Lloyd, Wayne Coffey (December 6)
In the summer of 2015, the U.S. women's national soccer team won the World Cup behind an epic performance by Carli Lloyd. Carli, a midfielder, scored three goals in the first sixteen minutes–the greatest goal-scoring effort in the history of World Cup finals.
But there was a time when Carli almost quit soccer. She struggled with doubts and low confidence. In All Heart, adapted from When Nobody Was Watching specifically for younger readers, Carli tells the full inspiring story of her journey to the top of the soccer world–an honest, action-packed account that takes readers inside the mind of a hardworking athlete.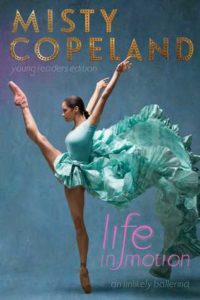 Life in Motion: Young Reader's Edition by Misty Copeland and Brandy Colbert (December 6)
Determination meets dance in this middle grade adaptation of the New York Times bestselling memoir by the first African-American principal dancer in American Ballet Theatre history, Misty Copeland.
As the first African-American principal dancer at the American Ballet Theatre, Misty Copeland has been breaking down all kinds of barriers in the world of dance. But when she first started dancing—at the late age of thirteen—no one would have guessed the shy, underprivileged girl would one day make history in her field.
Her road to excellence was not easy—a chaotic home life, with several siblings and a single mother, was a stark contrast to the control and comfort she found on stage. And when her home life and incredible dance promise begin to clash, Misty had to learn to stand up for herself and navigate a complex relationship with her mother, while pursuing her ballet dreams.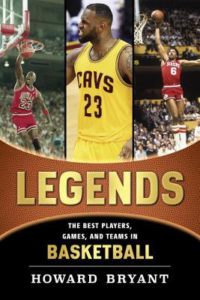 Legends: The Best Players, Games, and Teams in Basketball by Howard Bryant (December 20)
Fast-paced, adrenaline-filled, and brimming with out-of-this-world athleticism, basketball has won the hearts of fans all across America yet it is particularly popular among kids and teens. Giants of the game like Steph Curry, LeBron, and Michael Jordan have transcended the sport to become cultural icons and role models to young fans. From the cornfields of Indiana and the hills of North Carolina, to the urban sprawl of New York City, Chicago and L.A., love of the game stretches from coast to coast.
Featuring Top Ten Lists to chew on and debate, and a Top 40-style Timeline of Key Moments in Basektball History, this comprehensive collection includes the greatest dynasties, from the Bill Russell-era Celtics, to the Magic Jonson-led Lakers, to the Jordan-led Bulls, right up to the Tim Duncan-led Spurs. All the greats take flight toward the hoop in this perfect book for young fans who dream about stepping on an NBA court.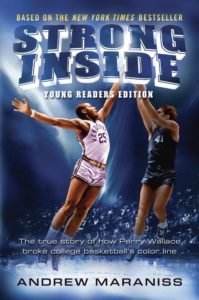 Strong Inside (Young Readers Edition) : The True Story of How Perry Wallace Broke College Basketball's Color Line by Andrew Maraniss (December 20)
Perry Wallace was born at an historic crossroads in U.S. history. He entered kindergarten the year that the Brown v. Board of Education decision led to integrated schools, allowing blacks and whites to learn side by side. A week after Martin Luther King Jr.'s "I Have a Dream" speech, Wallace enrolled in high school and his sensational jumping, dunking, and rebounding abilities quickly earned him the attention of college basketball recruiters from top schools across the nation. In his senior year his Pearl High School basketball team won Tennessee's first racially-integrated state tournament.
The world seemed to be opening up at just the right time, and when Vanderbilt University recruited Wallace to play basketball, he courageously accepted the assignment to desegregate the Southeastern Conference. The hateful experiences he would endure on campus and in the hostile gymnasiums of the Deep South turned out to be the stuff of nightmares. Yet Wallace persisted, endured, and met this unthinkable challenge head on.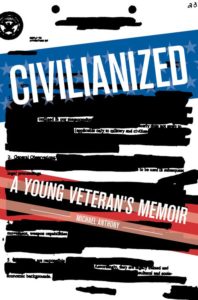 Civilianized : A Young Veteran's Memoir by Michael Anthony (December 26)
After twelve months of military service in Iraq, Michael Anthony stepped off a plane, seemingly happy to be home—or at least back on US soil. He was twenty-one years old, a bit of a nerd, and carrying a pack of cigarettes that he thought would be his last. Two weeks later, Michael was stoned on Vicodin, drinking way too much, and picking a fight with a very large Hell's Angel. At his wit's end, he came to an agreement with himself: If things didn't improve in three months, he was going to kill himself. Civilianized is a memoir chronicling Michael's search for meaning in a suddenly destabilized world.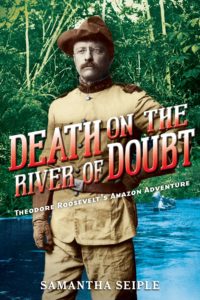 Death on the River of Doubt: Theodore Roosevelt's Amazon Adventure by Samantha Seiple (January 3)
In October 1913, Theodore Roosevelt arrived in Rio de Janeiro, Brazil, on a tour of South America. The thrill-seeking adventurer had no idea that he would soon receive an offer he couldn't refuse: the chance to lead an expedition deep into the Amazon jungle to chart an unmapped river with his son Kermit and renowned Brazilian explorer Candido Mariano da Silva Rondon.
Death on the River of Doubt takes readers inside the thrilling journey that unfolds as Roosevelt, Rondon, Kermit, and their companions navigate an unpredictable river through an unforgiving jungle. With new threats at every turn, from bloodthirsty piranhas and raging rapids to starvation, disease, and a traitor in their own ranks, it seems that not everyone will make it out alive.
Through it all, the indomitable Teddy Roosevelt remained determined to complete their mission and rewrite the map of the world. Or die trying.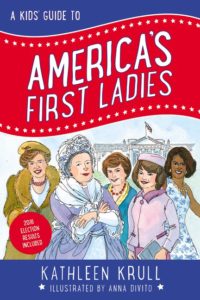 A Kids' Guide to America's First Ladies by Kathleen Krull, Anna DiVito (January 3)
Find out what our country's First Ladies thought, did, and advocated for as they moved into the White House.
Why did the Patriots love Martha Washington?
What causes did Eleanor Roosevelt support and lead?
What did Jacqueline Kennedy do to establish her legacy long after she left the White House?
How did Hillary Clinton turn her role as First Lady into a political career of her own?
Packed with anecdotes and sidebars, a timeline of the advancement of women's rights, and humorous illustrations and portraits, Kathleen Krull's introduction to the First Ladies of the United States brings vividly to life the women to hold the role as they paved the way for American women in times of change.
Pathfinders : The Journeys of 16 Extraordinary Black Souls by Tonya Bolden (January 3)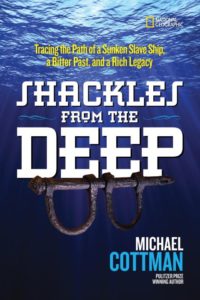 Shackles From the Deep : Tracing the Path of a Sunken Slave Ship, a Bitter Past, and a Rich Legacy by Michael Cottman (January 3)
A pile of lime-encrusted shackles discovered on the seafloor in the remains of a ship called the Henrietta Marie, lands Michael Cottman, a Washington, D.C.-based journalist and avid scuba diver, in the middle of an amazing journey that stretches across three continents, from foundries and tombs in England, to slave ports on the shores of West Africa, to present-day Caribbean plantations. This is more than just the story of one ship it's the untold story of millions of people taken as captives to the New World. Told from the author's perspective, this book introduces young readers to the wonders of diving, detective work, and discovery, while shedding light on the history of slavery.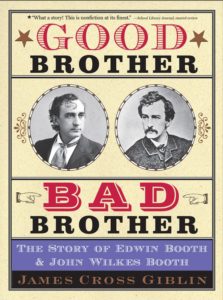 Good Brother, Bad Brother : The Story of Edwin Booth and John Wilkes Booth by James Cross Giblin (January 10)
Edwin Booth and his younger brother John Wilkes Booth were, in many ways, two of a kind. They were among America's finest actors, having inherited their father's commanding stage presence along with his penchant for alcohol and impulsive behavior. In other respects, the two brothers were very different. Edwin was more introspective, while John was known for his passionate intensity. They stood at opposite poles politically, as well: Edwin voted for Abraham Lincoln; John was an ardent advocate of the Confederacy.
Award-winning author James Cross Giblin draws on first-hand accounts of family members, friends, and colleagues to create vivid images of Edwin Booth and his brother John Wilkes, best known today as the man who shot Abraham Lincoln. He traces the events leading up to the assassination and describes the effects of John Wilkes's infamous deed on himself, his family, and his country.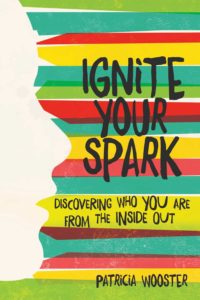 Ignite Your Spark : Discovering Who You Are from the Inside Out by Patricia Wooster (January 10)
Forge your own path, engage your passions, and light thousands of sparks to become the person you want to be with this interactive guide filled with quizzes and activities to help you along the way.
It's no secret that your teen years can be tumultuous, confusing, and even sucky, but that doesn't mean you can't light a fire in your life. Covering topics from relationships, self-image, and school to goals, failures, and willpower, Ignite Your Sparkfeatures thought-provoking quizzes, "Ignite Your Life" activities, and profiles of kids and adults alike who have ignited their own spark to accomplish extraordinary things.
Your teen years don't have to be a struggle, and with this handbook for self-discovery and personal fulfillment, you will find that the ability to ignite your own spark has been within you all along.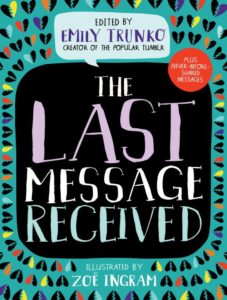 The Last Message Received by Emily Trunko, Zoë Ingram  (January 10)
What if a message someone sends you today is the last you ll ever receive from them? Would you respond differently, or even at all, if you knew that the end of a friendship, a brutal breakup, or worse might be coming, and that this might be your only chance?
The collection The Last Message Receivedincludes over a hundred final text messages, social media posts, emails, and more. Adapted from the popular Tumblr The Last Message Received followed by more than 85,000 people and selected as a finalist for the Shorty Award the Last Message Received book features sudden endings and the type of loss that will inspire readers to reflect on what s essential in their own lives and the importance of celebrating the people they love every day.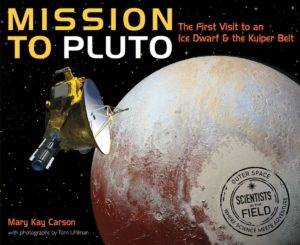 Mission to Pluto : The First Visit to an Ice Dwarf and the Kuiper Belt by Mary Kay Carson, Tom Uhlman (January 10)
Follow a spacecraft the size of a piano, named New Horizons, on the first ever spacecraft mission to Pluto, the space entity formerly known as a planet, in the latest addition to the epic and authoritative Scientists in the Field series.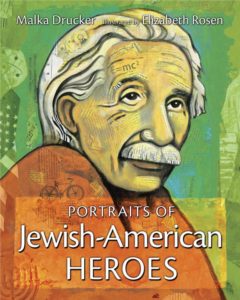 Portraits of Jewish-American Heroes  by Malka Drucker, Elizabeth Rosen (January 17)
From its beginnings, America, founded on religious freedom, has been a land of opportunity for Jews, socially, economically, and spiritually, writes Rabbi Malka Drucker in introducing twenty compelling individuals who have enriched our country by their achievements. In areas including science, sports, filmmaking, and civil rights, we meet male and female heroes who set an example, made a positive difference, and took a risk to do it. This beautifully produced volume spans three centuries of history, beginning with Haym Solomon and ending with Daniel Pearl. Each individual's likeness, spirit, and contribution are captured in a distinctive and striking color portrait created with a variety of different media.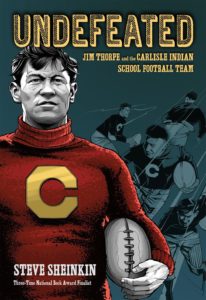 Undefeated: Jim Thorpe and the Carlisle Indian School Football Team by Steve Sheinkin (January 17)
When superstar athlete Jim Thorpe and football legend Pop Warner met in 1904 at the Carlisle Indian Industrial School in Pennsylvania, they forged one of the winningest teams in American football history. Called "the team that invented football," they took on the best opponents of their day, defeating much more privileged schools such as Harvard and the Army in a series of breathtakingly close calls, genius plays, and bone-crushing hard work.
But this is not just an underdog story. It's an unflinching look at the persecution of Native Americans and its intersection with the beginning of one of the most beloved—and exploitative—pastimes in America, expertly told by nonfiction powerhouse Steve Sheinkin.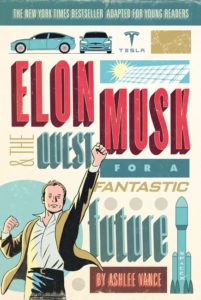 Elon Musk and the Quest for a Fantastic Future Young Readers' Edition by Ashlee Vance (January 24)
There are few people in history who could match Elon Musk's relentless drive and vision. A modern combination of famous inventors and industrialists like Thomas Edison, Henry Ford, and Steve Jobs, Elon is the man behind companies such as SpaceX, Tesla Motors, SolarCity, and PayPal that are transforming the way we live.
Written with exclusive access to Elon, his family, and his friends, this book traces Elon's journey from a kid in South Africa to a young man in the United States, his dramatic technical inventions, and his world-changing companies. Elon has sparked new levels of innovation in the world, and this book gives young readers a detailed but fast-paced look at his story.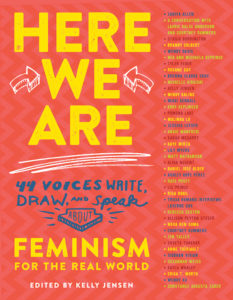 Here We Are : 44 Voices Write, Draw, and Speak about Feminism for the Real World edited by Kelly Jensen (January 24) (I'm familiar with this one)
Let's get the feminist party started!
Here We Are is a scrapbook-style teen guide to understanding what it really means to be a feminist. It's packed with essays, lists, poems, comics, and illustrations from a diverse range of voices, including TV, film, and pop-culture celebrities and public figures such as ballet dancer Michaela DePrince and her sister Mia, politician Wendy Davis, as well as popular YA authors like Nova Ren Suma, Malinda Lo, Brandy Colbert, Courtney Summers, and many more. Altogether, the book features more than forty-four pieces, with an eight-page insert of full-color illustrations.
Here We Are is a response to lively discussions about the true meaning of feminism on social media and across popular culture and is an invitation to one of the most important, life-changing, and exciting parties around.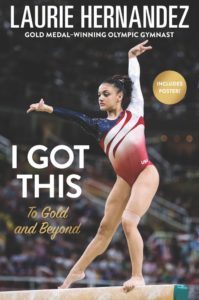 I Got This : To Gold and Beyond by Laurie Hernandez (January 24)
At sixteen years old, Laurie Hernandez has already made many of her dreams come true—and yet it's only the beginning for this highly accomplished athlete. A Latina Jersey girl, Laurie saw her life take a dramatic turn last summer when she was chosen to be a part of the 2016 US Olympic gymnastics team. After winning gold in Rio as part of the Final Five, Laurie also earned an individual silver medal for her performance on the balance beam. Nicknamed "the Human Emoji" for her wide-eyed and animated expressions, Laurie continued to dance her way into everyone's hearts while competing on the hit reality TV show Dancing with the Stars, where she was the youngest-ever winner of the Mirrorball Trophy.
Poignant and funny, Laurie's story is about growing up with the dream of becoming an Olympian and what it took to win gold. She talks about her loving family, her rigorous training, her intense sacrifices, and her amazing triumphs.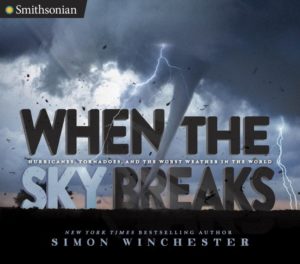 When the Sky Breaks : Hurricanes, Tornadoes, and the Worst Weather in the World by Simon Winchester (January 31)
Simon Winchesteris an avid weather watcher. He s scanned the skies in Oklahoma, waiting for the ominous finger of a tornado to touch the Earth. He s hunkered down in Hong Kong when typhoon warning signals went up. He s visited the world s hottest and wettest places, reported on fierce whirlpools, and sailed around South Africa looking for freak winds and waves.
He knows about the worst weather in the world.
A master nonfiction storyteller, Winchester looks at how, when, where, and why hurricanes, typhoons, cyclones, and tornadoes start brewing, how they build, and what happens when these giant storms hit. His lively narrative also includes an historical look at how we learned about weather systems and where we re headed because of climate change. Stunning photographs illustrate the power of these giant storms.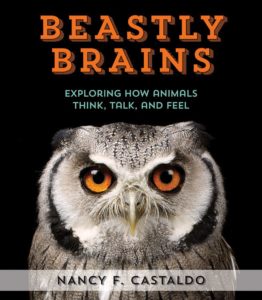 Beastly Brains : Exploring How Animals Think, Talk, and Feel by Nancy Castaldo (February 7)
Nancy Castaldo delves into the minds of animals and explores animal empathy, communication, tool use, and social societies through interviews and historical anecdotes. Researchers from Charles Darwin to Jane Goodall have spent years analyzing the minds of animals, and today s science is revolutionizing old theories and uncovering surprising similarities to our own minds. Humans are notalone in our ability to think about ourselves, make plans, help each other, or even participate in deception. You ll think differently about the animals on this planet maybe it s their world and we re just living in it!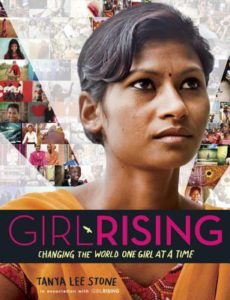 Girl Rising : Changing the World One Girl at a Time by Tanya Lee Stone, Girl Rising (February 14)
Worldwide, over 62 million girls are not in school.
But one girl with courage is a revolution.
Girl Rising, a global campaign for girls' education, created a film that chronicled the stories of nine girls in the developing world, allowing viewers the opportunity to witness how education can break the cycle of poverty.
Now, award-winning author Tanya Lee Stone deftly uses new research to illuminate the dramatic facts behind the film, focusing both on the girls captured on camera and many others. She examines barriers to education in depth—early child marriage and childbearing, slavery, sexual trafficking, gender discrimination, and poverty—and shows how removing these barriers means not only a better life for girls, but safer, healthier, and more prosperous communities.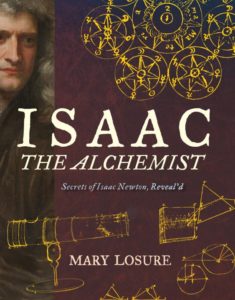 Isaac the Alchemist: Secrets of Isaac Newton, Reveal'd by Mary Losure (February 14)
Before Isaac Newton became the father of physics, an accomplished mathematician, or a leader of the scientific revolution, he was a boy living in an apothecary s house, observing and experimenting, recording his observations of the world in a tiny notebook. As a young genius living in a time before science as we know it existed, Isaac studied the few books he could get his hands on, built handmade machines, and experimented with alchemy a process of chemical reactions that seemed, at the time, to be magical. Mary Losure s riveting narrative nonfiction account of Isaac s early life traces his development as a thinker from his childhood, in friendly prose that will capture the attention of today s budding scientists as if by magic. Back matter includes an afterword, an author s note, source notes, a bibliography, and an index.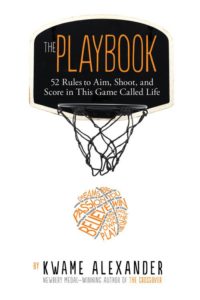 The Playbook : 52 Rules to Aim, Shoot, and Score in This Game Called Life by Kwame Alexander, Thai Neave  (February 14)
You gotta know the rules to play the game. Ball is life. Take it to the hoop. Soar. What can we imagine for our lives? What if we were the star players, moving and grooving through the game of life? What if we had our own rules of the game to help us get what we want, what we aspire to, what will enrich our lives?
Illustrated with photographs by Thai Neave, The Playbook is intended to provide inspiration on the court of life. Each rule contains wisdom from inspiring athletes and role models such as Nelson Mandela, Serena Williams, LeBron James, Carli Lloyd, Steph Curry and Michelle Obama. Kwame Alexander also provides his own poetic and uplifting words, as he shares stories of overcoming obstacles and winning games in this motivational and inspirational book just right for graduates of any age and anyone needing a little encouragement.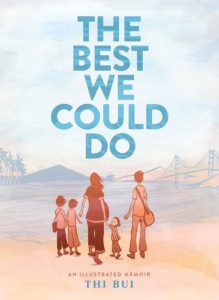 The Best We Could Do : An Illustrated Memoir by Thi Bui (March 3)
This beautifully illustrated and emotional story is an evocative memoir about the search for a better future and a longing for the past. Exploring the anguish of immigration and the lasting effects that displacement has on a child and her family, Bui documents the story of her family's daring escape after the fall of South Vietnam in the 1970s, and the difficulties they faced building new lives for themselves.
At the heart of Bui's story is a universal struggle: While adjusting to life as a first-time mother, she ultimately discovers what it means to be a parent—the endless sacrifices, the unnoticed gestures, and the depths of unspoken love. Despite how impossible it seems to take on the simultaneous roles of both parent and child, Bui pushes through. With haunting, poetic writing and breathtaking art, she examines the strength of family, the importance of identity, and the meaning of home.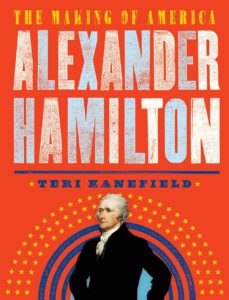 Alexander Hamilton : The Making of America by Teri Kanefield (March 7)
The America that Alexander Hamilton knew was largely agricultural and built on slave labor. He envisioned something else: a multi-racial, urbanized, capitalistic America with a strong central government. He believed that such an America would be a land of opportunity for the poor and the newcomers. But Hamilton's vision put him at odds with his archrivals who envisioned a pastoral America of small towns, where governments were local, states would control their own destiny, and the federal government would remain small and weak.
The disputes that arose during America's first decades continued through American history to our present day. Over time, because of the systems Hamilton set up and the ideas he left, his vision won out. Here is the story that epitomizes the American dream—a poor immigrant who made good in America. In the end, Hamilton rose from poverty through his intelligence and ability, and did more to shape our country than any of his contemporaries.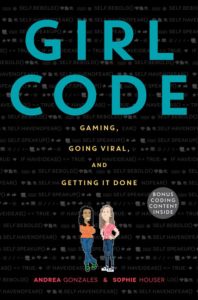 Girl Code : Gaming, Going Viral, and Getting It Done by Andrea Gonzales, Sophie Houser (March 7)
Fans of funny and inspiring books like Maya Van Wagenen's Popular and Caroline Paul's Gutsy Girl will love hearing about Andrea "Andy" Gonzales and Sophie Houser's journey from average teens to powerhouses. Through the success of their video game, Andy and Sophie got unprecedented access to some of the biggest start-ups and tech companies, and now they're sharing what they've seen. Their video game and their commitment to inspiring young women have been covered by the Huffington Post, Buzzfeed, CNN, Teen Vogue, Jezebel, the Today show, and many more.
Get ready for an inside look at the tech industry, the true power of coding, and some of the amazing women who are shaping the world. Andy and Sophie reveal not only what they've learned about opportunities in science and technology but also the true value of discovering your own voice and creativity.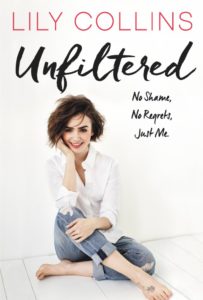 Unfiltered : No Shame, No Regrets, Just Me by Lily Collins (March 7)
In this groundbreaking debut essay collection, featuring never-before-seen photos, actress Lily Collins―star of Mortal Instruments and Rules Don't Apply―is opening a poignant, honest conversation about the things young women struggle with: body image, self-confidence, relationships, family, dating and so much more.
For the first time ever, Lily shares her life and her own deepest secrets, proving that every single one of us experiences pain and heartbreak. We all understand what it's like to live in the light and in the dark. For Lily, it's about making it through to the other side, where you love what you see in the mirror and where you embrace yourself just as you are. She's learned that all it takes is one person standing up and saying something for everyone else to realise they're not alone.
By turns hilarious and heartbreaking, Lily's honest voice will inspire you to be who you are and say what you feel. It's time to claim your voice! It's time to live your life unfiltered.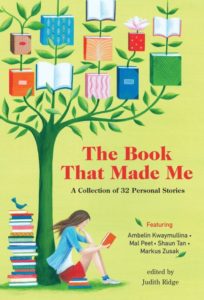 The Book that Made Me : A Collection of 32 Personal Stories edited by Judith Ridge (March 14)
Just as authors create books, books create authors and these essays by thirty-one writers for young people offer a fascinating glimpse at the books that inspired them the most.
What if you could look inside your favorite authors heads and see the book that led them to become who they are today? What was the book that made them fall in love, or made them understand something for the first time? What was the book that made them feel challenged in ways they never knew they could be, emotionally, intellectually, or politically? What book made them readers, or made them writers, or made them laugh, think, or cry? Join thirty-one top children s and young adult authors as they explore the books, stories, and experiences that changed them as readers for good.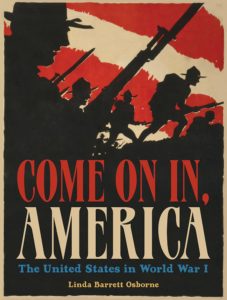 Come On In, America : The United States in World War I by Linda Barrett Osborne (March 14)
On April 6, 1917, the United States declared war on Germany and joined World War I. German submarine attacks on American ships in March 1917 were the overt motive for declaring war, but the underlying reasons were far more complex. Even after the United States officially joined, Americans were divided on whether they should be a part of it. Americans were told they were fighting a war for democracy, but with racial segregation rampant in the United States, new laws against dissent and espionage being passed, and bankers and industrial leaders gaining increased influence and power, what did democracy mean?
Come On In, America explores not only how and why the United States joined World War I, but also the events—at home and overseas—that changed the course of American history.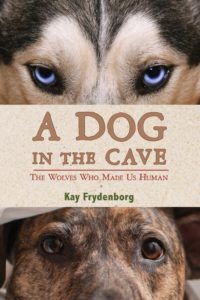 A Dog in the Cave : Coevolution and the Wolves Who Made Us Human by Kay Frydenborg (March 14)
We know dogs are our best animal friends, but have you ever thought about what that might mean?
Fossils show we've shared our work and homes with dogs for tens of thousands of years. Now there's growing evidence that we influenced dogs' evolution—and they, in turn, changed ours. Even more than our closest relatives, the apes, dogs are the species with whom we communicate best.
Combining history, paleontology, biology, and cutting-edge medical science, Kay Frydenborg paints a picture of how two different species became deeply entwined—and how we coevolved into the species we are today.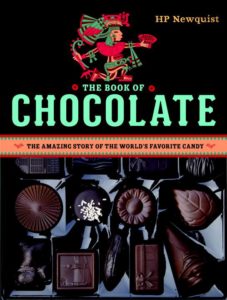 The Book of Chocolate : The Amazing Story of the World's Favorite Candy by HP Newquist (March 21)
Chocolate . . .
– Its scientific name means food of the gods.
– The Aztecs mixed it with blood and gave it to sacrificial victims to drink.
– The entire town of Hershey, Pennsylvania was built by Milton Hershey to support his chocolate factory. Its streetlights are shaped like chocolate Kisses.
– The first men to climb to the top of Mount Everest buried a chocolate bar there as an offering to the gods of the mountain.
– Every twenty-four hours, the U.S. chocolate industry goes through eight million pounds of sugar.
– Its special flavor is created by a combination of 600 to 1000 different chemical compounds.
Join science author HP Newquist as he explores chocolate s fascinating history. Along the way you ll meet colorful characters like the feathered-serpent god Quetzalcoatl, who gave chocolate trees to the Aztecs; Henri Nestle, who invented milk chocolate while trying to save the lives of babies who couldn t nurse; and the quarrelsome Mars family, who split into two warring factions, one selling Milky Way, Snickers, and 3 Musketeers bars, the other Mars Bars and M&M s. From its origin as the sacred, bitter drink of South American rulers to the familiar candy bars sold by today s multimillion dollar businesses, people everywhere have fallen in love with chocolate, the world s favorite flavor.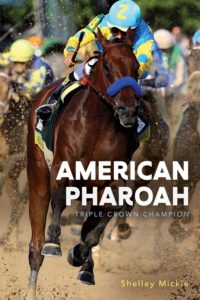 American Pharoah : Triple Crown Champion by Shelley Fraser Mickle (March 28)
When American Pharoah won the American Triple Crown and the Breeders' Cup Classic in 2015 he became the first horse to win the "Grand Slam" of American horse racing, by winning all four races. His story captured American's imagination, and this inspired account will also feature the handlers who saw his promise: owner, Ahmed Zayat of Zayat Stables, trainer Bob Baffert, and jockey Victor Espinoza.
With American Pharoah, Shelley Mickle tells the story of this beloved horse's life from birth to his historic achievement of becoming the twelfth Triple Crown winner.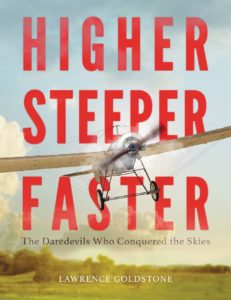 Higher, Steeper, Faster : The Daredevils Who Conquered the Skies by Lawrence Goldstone (April 18)
Aviator Lincoln Beachey broke countless records: he looped-the-loop, flew upside down and in corkscrews, and was the first to pull his aircraft out of what was a typically fatal tailspin. As Beachey and other aviators took to the skies in death-defying acts in the early twentieth century, these innovative daredevils not only wowed crowds, but also redefined the frontiers of powered flight.
Higher, Steeper, Faster takes readers inside the world of the brave men and women who popularized flying through their deadly stunts and paved the way for modern aviation. With heart-stopping accounts of the action-packed race to conquer the skies, plus photographs and fascinating archival documents, this book will exhilarate readers as they fly through the pages.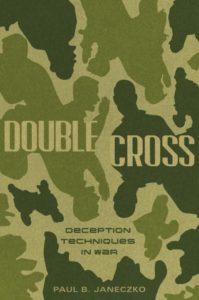 Double Cross: Deception Techniques in War  by Paul B. Janeczko (April 25)
How does deception factor into fighting wars, and is it effective? In an intriguing companion to The Dark Game, Paul B. Janeczko reveals the truth about the strategic lies of war.
The biblical account of Gideon. The ancient story of the Trojan horse. Deceptive techniques have been used in war through the ages. But while the principles have changed very little, the technology behind fooling the enemy has evolved dramatically. Paul B. Janeczko s fascinating chronology focuses on the American Civil War, World Wars I and II, and the Korean War, the Vietnam War, and the Gulf Wars to reveal evolving attitudes toward the use and effectiveness of deceptive operations. Find out the secret plan behind the invasion of Normandy and the details of General Schwarzkopf s "Hail Mary play" during the Gulf War, among many other strategies and maneuvers designed to pull the wool over enemies' eyes. Back matter includes source notes, a bibliography, and an index.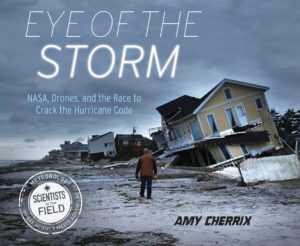 Eye of the Storm : NASA, Drones, and the Race to Crack the Hurricane Code by Amy Cherrix (April 25)
Ten million Americans live in hurricane danger zones, but how do we know if or when to evacuate? We must predict both whena storm will strike and how strong it will be. A daring NASA earth science mission may have finally found a way to crack this hurricane code.
Dr. Scott Braun is the principal investigator for the Hurricane and Severe Storm Sentinel mission (HS3), which flies repurposed military drone over hurricanes so that scientists can gather data. But the stakes are high and time is running out.
In the first Scientists in the Field book entirely about weather, meet the NASA team on the cutting edge of meteorological field science.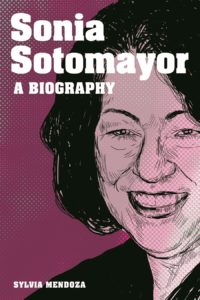 Sonia Sotomayor : A Biography by Sylvia Mendoza (April 25)
Arguably one of the most prominent US Supreme Court Justices at the moment, Sonia Sotomayor has paved her own way to enact profound changes and reforms, despite the obstacles that stood in her way. And she certainly has had her share of adversity: she was diagnosed with diabetes when she was just eight years old, lived in housing projects in the Bronx in her youth, and fought (and still is fighting) against blatant discrimination throughout her career. Now in her early 60s, Justice Sotomayor has already made history in being appointed to the Court as the first Latina justice, the third woman justice, and one of the three youngest justices in this position.
In this new biography, journalist Sylvia Mendoza chronicles the true story of Sotomayor's incredible journey in a narrative format. Readers will follow along to see how this powerhouse of a woman came to be who she is today, from growing up as a young girl reading Nancy Drew mysteries and learning to give herself insulin injections to attending school at Princeton, and finally to wearing the black robes of a Supreme Court Justice. Through courage, perseverance, and an indomitable spirit, Sotomayor proves that anyone can take hold of her own destiny if she works hard and stays true to herself.
Year One : A Real-World Survival Guide by Genevieve Morgan (May 2, No cover yet)
Picking up where Undecided left off, Year One is a user-friendly, fun-but-practical guide to the next phase. Whether you are a recently graduated twenty-something, or just experimenting with independence, this guide will help you face the challenges of flying solo in this great wide world. Written in the same conversational style as its predecessor, it will help readers navigate personal finance and budgeting, employment issues, housing and roommates, health, hygiene, romance, and taking care of yourself. With easy-to-read graphs, checklists, fun tips, and interviews with folks who survived and thrived their first years on their own, Year One will sweat the smaller stuff for you so you can focus on putting down the roots that are the real source of adult happiness.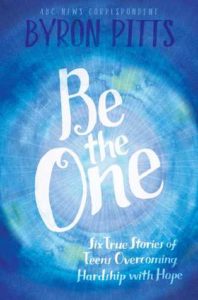 Be the One : Six True Stories of Teens Overcoming Hardship with Hope by Byron Pitts (May 16)
Emmy Award–winning ABC News chief national correspondent and Nightline coanchor, Byron Pitts shares the heartbreaking and inspiring stories of six young people who overcame impossible circumstances with extraordinary perseverance.
Abuse.
Bullying.
War.
Drug Addiction.
Mental Illness.
Violence.
None of these should be realities for anyone, much less a young person. But for some it is the only reality they have ever known. In these dark circumstances, six teens needed someone to "be the one" for them—the hero to help them back into the light. For Tania, Mason, Pappy, Michaela, Ryan, and Tyton, that hero was themselves. Through stirring interviews and his award-winning storytelling, Byron Pitts brings the struggles and triumphs of these everyday heroes to teens just like them, encouraging all of us to be the source of inspiration in our own lives and to appreciate the lives of others around us.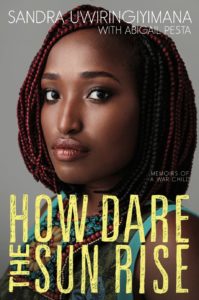 How Dare the Sun Rise : Memoirs of a War Child by Sandra Uwiringiyimana, Abigail Pesta (May 16)
This profoundly moving memoir is the remarkable and inspiring true story of Sandra Uwiringyimana, a girl from the Democratic Republic of the Congo who tells the tale of how she survived a massacre, immigrated to America, and overcame her trauma through art and activism.
Sandra was just ten years old when she found herself with a gun pointed at her head. She had watched as rebels gunned down her mother and six-year-old sister in a refugee camp. Remarkably, the rebel didn't pull the trigger, and Sandra escaped.
Thus began a new life for her and her surviving family members. With no home and no money, they struggled to stay alive. Eventually, through a United Nations refugee program, they moved to America, only to face yet another ethnic disconnect. Sandra may have crossed an ocean, but there was now a much wider divide she had to overcome. And it started with middle school in New York.
In this memoir, Sandra tells the story of her survival, of finding her place in a new country, of her hope for the future, and how she found a way to give voice to her people.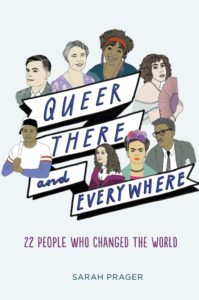 Queer, There, and Everywhere : 23 People Who Changed the World by Sarah Prager, Zoe More O'Ferral (May 23)
This first-ever LGBTQ history book for young adults will appeal to fans of fun, empowering pop-culture books like Rad American Women A-Z and Notorious RBG.
World history has been made by countless lesbian, gay, bisexual, transgender, and queer individuals—and you've never heard of many of them. Queer author and activist Sarah Prager delves deep into the lives of 22 people who fought, created, and loved on their own terms. From high-profile figures like Abraham Lincoln and Eleanor Roosevelt to the trailblazing gender-ambiguous Queen of Sweden and a bisexual blues singer who didn't make it into your history books, these astonishing true stories uncover a rich queer heritage that encompasses every culture, in every era.
By turns hilarious and inspiring, the beautifully illustrated Queer, There, and Everywhere is for anyone who wants the real story of the queer rights movement.
The Triangle Shirtwaist Factory Girls : A Kaleidoscopic Account by Christine Seifert (May 30, No cover yet)
The twentieth century ushered in a new world filled with a dazzling array of consumer goods. For the first time in American history, fashion could be mass produced. Even the poorest immigrant girls could afford a blouse or two. But these same immigrant teens toiled away in factories in appalling working conditions. Their hard work and sacrifice lined the pockets of greedy factory owners who were almost exclusively white men. The tragic Triangle Waist Factory fire in 1911 resulted in the deaths of over a hundred young people, mostly immigrant girls, who were locked in the factory.
That fire signaled a turning point in American history. This book will examine the events leading up to the fire, including a close look at how fashion and the desire for consumer goods—driven in part by the excess of the Gilded Age—created an unsustainable culture of greed. Told from the perspective of six young women who lived the story, this book will remind us why what we buy and how we vote really matter.